While NVIDIA has been pushing stereoscopic 3D gaming since January with its GeForce Vision 3D technology, that has been relegated to desktop PCs. Now, Acer is introducing the world's first stereoscopic 3D laptop with the Aspire 5738D. Launching in December for $799, this laptop's 15.6-inch display has been coated with a special 3D film that clings to the panel pixel by pixel, enabling the LCD technology to deliver 3D visuals by wearing the included polarizer glasses.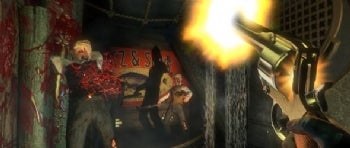 The laptop comes with TriDef 3D Experience software preinstalled, which brings 3D games, movies and photos to life without needing a special graphics card like NVIDIA's GeForce Vision. (The laptop comes equipped with an ATI Mobility Radeon HD 4570 graphics card.) The TriDef Media Player plays back videos and pictures in 3D, while TriDef Ignition turns PC games running on Direct X9 and above into 3D experiences.
"For this first offering, we took a current notebook and added this polarized laser on top of the normal screen, but in the future we will also study specific products which are given better feedbacks like larger screen laptops and PCs," said Gianpiero Morbello, vice president of marketing and branding, Acer. "We're currently working with the many technology companies on the market to expand our 3D offerings in the near future."
Morbello said the primary focus for Acer, which also owns PC makers Gateway and Packard Bell, is 3D gaming.
"Gaming is actually also an area where we're investing a lot overall, not only with 3D, because gaming is growing everywhere in the world," said Morbello. "It's exploding. People are playing for hours and hours. We're very interested in that area, and of course, mapping this 3D into the traditional gaming experience is a step ahead in the market."
While NVIDIA has been focusing on the more hardcore gamers with its Vision stereoscopic 3D set-up, Acer is aiming for mainstream consumers with its 3D technology and its $799 price point.
"Both options offer a 3D experience, but the technology behind each approach differs," said John Miedema, product marketing manager at Acer. "NVIDIA's solution requires the NVIDIA GeForce VGA card and kit, while ours is more generic. Also, the NVIDIA solution is more expensive. We chose to offer a more value-based proposition system to reach a certain price point and aim at a broader audience." The TriDef 3D Ignition Game technology currently supports over 120 games on the market from the Call of Duty franchise to Left 4 Dead to BioShock and Battlefield 2. (NVIDIA's technology supports over 300 games.) Miedama said shooters like Crysis: Warhead and racing games like Dirt make the best use of the 3D technology. For a full list of supported 3D games, check out this list, which includes everything from Portal to Assassin's Creed.