Tools for Tracking Your Social Media Efforts
Without a blockbuster, affordable tool (à la Google Analytics) that provides data on how your social media efforts are meeting your goals, you may need to use several other kinds of tools and do the math yourself. The entrepreneurs and analysts we interviewed recommend several.
--Bit.ly is a URL shortener. When you use Bit.ly to shorten URLs in your Twitter or other posts, you can track the click data and referrer info, among other details.
--SocialToo is a largely free service for Twitter and Facebook users. It lets you create social media surveys, monitor your social networks, and get analytics for your social media accounts.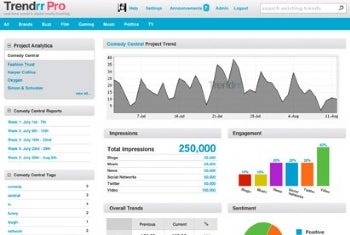 --Trendrr allows you to track topics, companies, or just about anything across a variety of social media, including blog posts, Delicious bookmarks, and Google searches. You can create graphs that display the information you're tracking, such as the number of tweets per day related to a campaign you've rolled out. Trendrr offers free and paid ($49 to $999 per month) plans.
--Tealium provides a mashup of social media metrics and Web analytics. You can track such things as which visitors to your site have seen your YouTube videos, how much traffic to your site is a result of media coverage, and so on. The Tealium Social Media service starts at $250 per month and charges a startup fee of $2000 and up.
--Hootsuite is a Twitter client that provides graphs and user demographics for tracking links, clicks, and what people are saying about your brand in tweets. The service is currently free.
--Scout Labs lets you monitor what people are saying about your company (or your competitors) on Twitter, Facebook, MySpace, and social networks and blogs in foreign languages. The service, which also rates the comments it finds as positive or negative, starts at $99 per month.
How Far Do You Take Social Networking?
Keep in mind that you don't need to turn social media into a huge project, nor do you have to hire expensive consultants. Once you've figured out your goals, your strategies, and your methods of measuring success, you've done the heavy lifting. From there, you might not need to spend more than 30 minutes every day or so on new tweets, blog posts, or Facebook updates.
Oh, one more thing: To be a social media success, you might need to rethink your company.
"We're in the business of changing minds about the food supply from plow to plate," says Naked Pizza's Leach. "We spend a lot of time thinking about that, and communicating what we think. We encourage our employees to talk about us on their social networks.
"The fact is," Leach says, "we're a social media company that happens to sell pizza."
PCWorld Contributing Editor James A. Martin recently launched a blog about social media and search engine optimization . He's the coauthor of Getting Organized in the Google Era .