Rumors are circulating that the next generation iPhone may actually already exist. Log data captured by analytics firm PinchMedia related to the iBart app have identified the existence of an iPhone 3.1. That is literally the only fact backing this rumor, but it hasn't slowed down speculation of what the next iPhone might entail.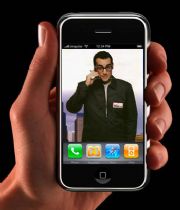 Let's start with what's known. Analytic data collected for Pandav's iBart app captured information about an iPhone 3.1 device. The current iPhone 3GS is the iPhone 2.1. Apple typically only changes the first number of the device identified when there is a significant hardware change. So, the existence of an iPhone 3.1 suggests more than a minor incremental update to the current iPhone 3GS.
Actually, there is one other piece of the rumor puzzle that can be confirmed at this point. Another Apple sleuth has noted that the company has also listed an opportunity seeking a full-time employee to develop the iPhone maps application.
The job description states "We want to take Maps to the next level, rethink how users use Maps and change the way people find things. We want to do this in a seamless, highly interactive and enjoyable way. We've only just started." The translation is "we just recently had a falling out with Google and now we have to catch up to the fact that Google Nav is a free feature on competing devices like the Verizon Droid.'
These two facts have been combined with speculation about a 4G-capable, Verizon-compatible iPhone to fuel speculation that perhaps the iPhone 3.1 detected by PinchMedia is an early prototype of the device expected to be unveiled in June of 2010. Dropping exclusivity with AT&T is another long-standing rumor and could help Apple fight off the onslaught of Android devices.
The iPhone is due for a significant update. The evolution from the iPhone, to the iPhone 3G, and then to the iPhone 3GS has come with an expansion of features and capabilities, but newer devices like the Droid, and the upcoming HTC HD2 raise the bar for device hardware.
One rumor is that the next-generation iPhone will include a multi-core processor. That would make sense. Bells and whistles aside, what the next-generation iPhone really needs is a faster processor and a higher resolution display.
Because the iPhone already exists, and the standard development cycle suggests that we should expect a new device of some sort next year, it seems reasonable to assume that this mysterious iPhone 3.1 could be a prototype of that device. From that perspective, at least the iPhone speculation has more meat than the on-again off-again rumors of the Apple tablet PC.
Of course, maybe the log data reflecting the iPhone 3.1 just means that someone in the Bay area has bought an iPhone Supreme.
Tony Bradley tweets as @PCSecurityNews, and can be contacted at his Facebook page .