I'm not saying Firefox is ugly, but when it plays in the sandbox, the cat covers it up. Thank you, thank you, I'm here all week.
Actually, I didn't realize just how gray and drab-looking Firefox was until I started fiddling with Personas 2.0.
This new feature from Mozilla Labs lets you choose from thousands of themes with which to spruce up Firefox.
Granted, the browser has supported themes for years, but those require downloading, installing, etc.--and in my experience, many of those themes are just overkill.
Personas are more like window dressing: They add a splash of color and design to the menu/tab/toolbar area, but that's it.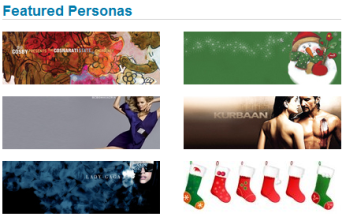 Even better, you get to see a live preview of any theme before installing it. Just mouse over any theme in the Personas gallery, wait a second or two, and presto: It appears. You can do likewise in the Personas menu that gets added to Firefox under Tools, Personas.
The only downside to using Personas is the time you spend looking at all the different options--and trying to settle on just one. (It would be cool if it could automatically apply a different one each day or something, much like Windows 7 can cycle wallpapers. Maybe version 3.0...)