Om Malik at GigaOm, November 16th, 2006: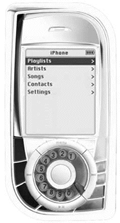 Apple, it is rumored has signed a deal that will allow the Cupertino-based computer company to source 12 million iPod-based phones from a Taiwanese electronics manufacturer. In itself, the news is hardly a surprise for the iPhone has been subject of rampant speculation.
What is surprising the speculation that Apple will sell these phones unlocked, allowing consumers to pop in their SIM cards and use it as a phone. In the US, that would mean getting a SIM card from either the Cingular or T-Mobile. If this is indeed true, and it is not clear if it is so, then Apple will be lending a helping hand to the mobile phone makers.
The introduction of the unlocked iPhone will do two things – it would basically get US buyers savvy to the idea of buying full priced unlocked phones. Secondly, it is going to cause a behavior change – of buying phones instead of freebies.

It won't be a mass-market phenomenon in the early stages, but eventually (as shown by iPod Nano and iPod Shuffle), Apple will bring the iPhone prices down to a mass-market price point.
Scorecard: The iPhone isn't an "iPod-based" phone in any real sense and has never been sold unlocked (except in countries where it's been mandated by law). On the other hand, it did start out at an uncommonly high, unsubsidized price before switching to a lower, more crowd-pleasing subsidy model.
Katie Marsal at AppleInsider, November 20th, 2006: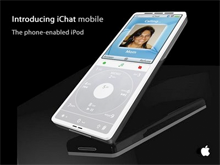 Apple Computer, which recently released its first mobile handset to manufacturing, is working on a second model that will incorporate messaging capabilities, according to one Wall Street analyst.
"From our understanding, it will leverage off existing iChat software that runs on Macs," American Technology Research analyst Shaw Wu told clients on Monday. "We believe it will focus initially on mobile IM as opposed to e-mail."
Wu said it's unclear when Apple hopes to deliver the second device to market, as it appears to remain in the development phase. He said this newly uncovered handset is likely the company's 'smart phone' and could be branded as "iChat mobile."
Scorecard: Shaw Wu understood incorrectly; more than three years later, Apple hasn't shipped a phone that includes built-in instant messaging at all.
Ryan Block at Engadget, December 3rd, 2006: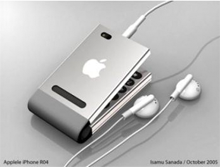 So apparently last night Kevin Rose, of Digg and Diggnation fame, apparently confirmed information he knew about the iPhone on his eponymous vidcast. According to Kevin, who, to his credit, accurately predicted one of Apple's most secretive and hyped launches of 2005, the iPod nano, the iPhone will feature the following:
January launch on "all" providers, both CDMA and GSM
Extremely small form factor
Two battery design (with single charger) — one for playing music, the other for phone functions
Flash memory: 4GB for $249, 8GB for $449
"Slide-out keyboard"
Possibly touchscreen
There's obviously a lot there to process — some new rumor, some old rumor, and some which does and does not jibe with what we've heard. According to a trusted source of Engadget's, whose iPhone information has gone heretofore unpublished, it's pretty safe to say it won't have a QWERTY keyboard (although it may be a slider), touchscreen is out, and it's only going to be GSM with 3G at launch, going with a singular carrier in the US (guess which).
Scorecard: Kevin Rose was wrong about the iPhone launching in January; wrong about it launching on all carriers; wrong about it being available in both CDMA and GSM flavors; wrong about it being extremely small (it was thin, but wide and tall); wrong about the two-battery design; right about the capacities but wrong about their prices; and wrong about the slide-out keyboard. And right about it possibly having a touchscreen. Ryan Block, meanwhile, was right about it not having a QWERTY keyboard, wrong about it not having a touchscreen, right about it being GSM, wrong about it being 3G, and right about it launching on one carrier.