SLIDESHOW
Google's Nexus One: First Look
Google's Android 2.1 OS is now available on the HTC Nexus One phone. Here's an early look at the new device.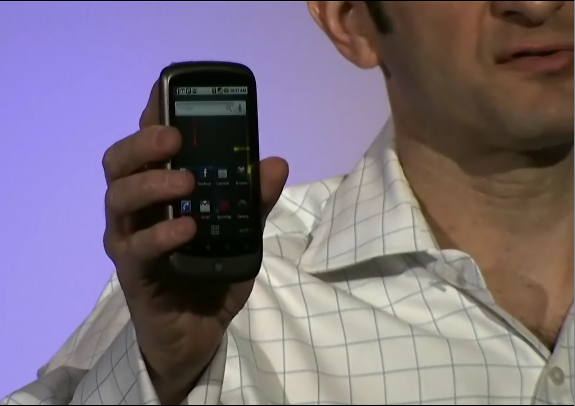 Google Unveils Nexus One
Today at the Googleplex in Mountain View, California, Google unveiled the latest version of its Android operating system, Android 2.1, along with a new device built specifically to run the new OS. The HTC Nexus One is the new high-end handset for Google's Android OS, featuring a 1GHz Qualcomm Snapdron processor. Click on to see more of the new flagship in Android phones.
(All photos courtesy of Google.)
Nexus One With Logo
The HTC Nexus One sports a stunning 480 x 800 OLED screen that displays Android 2.1's 3D graphics beautifully.
Nexus One Apps
The retooled Apps menu in Android 2.1 lets you scroll through your apps with a fingertip--a flourish that rivals the iPhone's interface for slickness.
Nexus One Predecessors
The Nexus One is the latest in a growing line of Google Android phones, though it is the first to offer Android 2.1. Other phones, including the HTC Droid Eris and the Motorola Droid, will feature Android 2.1 in the near future.
Nexus One: Thin As a Pencil
According to Google, the Nexus One is as thick as a No. 2 pencil, and weighs as much as a keychain Swiss Army knife.
Nexus One Specs
In addition to its 1GHz processor and 480 x 800 OLED display, the Nexus One sports a multicolor trackball that serves as a notification device, light and proximity sensors, and a 5-megapixel camera with an LED flash.
Google Earth
Google's new Google Earth app for Android 2.1 includes the ability swipe your way through 3D landscapes. The display updates quickly and the graphics are richly detailed.
Nexus One Back
The Nexus One's 5-megapixel camera is mounted on the back of the device. The phone includes a 3.5mm stereo jack and supports stereo audio via Bluetooth as well. In addition, customers can customize their phone with personalized engraving on the rear bezel.
Next Up: Check out these related slideshows
Today's Best Tech Deals
Picked by PCWorld's Editors