OLED TVs: Taking Their Sweet, Sweet Time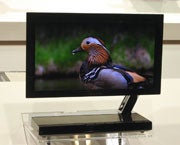 TV manufacturers won't rest until television screens are no thicker than a piece of paper, so the announcement by Sony and Samsung of OLED televisions at CES 2008 was hardly surprising.
OLED (organic light-emitting diode) technology emits its own light (as opposed to requiring a backlight, as LCD TVs do), thus permitting much thinner screens.
At this point, OLED screens aren't a completely imaginary animal--Sony sells a tiny 11-inch OLED TV for $2700, and OLED screens exist on several phones and music players--but we've yet to see a revolution in mass-produced big-screen OLED TVs (or even small OLED TVs).
Wireless HDMI: HDMI Ports on Your HDTV Are Still a Priority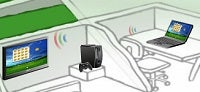 At CES 2007, Philips tantalized show attendees with rumors of a wireless HDMI device. The device, supposedly slated to debut in May of that year at a suggested retail price of $300, would be able to transmit uncompressed high-definition video over the air from up to 25 feet away. Moreover, the device would work with existing DVD players, making a true 1080p HD experience possible without a bunch of messy cables.
In November 2007, though, Philips rescheduled the debut of wireless HDMI to 2008. Then, at CES 2008, Belkin announced its own foray into the wireless high-def market with Flywire, which one-upped Philips's design by adding six input ports instead of just one for the ultimate wireless experience (including S-video and component video).
Belkin has since put its product on hold indefinitely. The good news? As of October 2009, you can (finally) snag Philips's wireless HDMI device, albeit for a slightly higher price ($800) than initially anticipated.
And finally, the inevitable committee--the Wireless Home Digital Interface (WHDI) Consortium--announced late last year that it had finished its WHDI specs, so perhaps we can at last see on the horizon an HD-friendly wireless living room that isn't a mirage.
This Year's Best Candidate for Vaporware Status? TransferJet Technology
The first devices with TransferJet, a new type of high-speed wireless data transfer technology spearheaded by Sony, will be released in February 2010.
The first devices to incorporate TransferJet will be Sony CyberShot cameras, followed by other Sony products (such as VAIO laptops).
So why is this "vaporware"? Because we're unlikely to see TransferJet en masse as a technology this year. So far, Sony is the only company with plans to release TransferJet-enabled devices (and, so far, just in a digital camera); only one other company--Toshiba--has even shown a TransferJet prototype.
Plus, it's already been two years since TransferJet was first announced (at CES 2008), and back then a cadre of electronics companies--including Canon, JVC, Nikon, Olympus, Panasonic, Pioneer, Samsung, and Sharp--had signed on.
So don't get your hopes up that TransferJet will soon appear in everything from cell phones to laptops, because it's probably not going to happen this year.
More CES Madness:
• "The Biggest Bummers of CES 2010"