Find Your Windows 7 Desktop
Today's Best Tech Deals
Picked by PCWorld's Editors
Top Deals On Great Products
Picked by Techconnect's Editors
Compact PCs: Byte-Size Media Machines
Dell Inspiron Zino HD
The ideal home theater PC can dish out high-definition media while remaining unobtrusive-qualities the Dell Inspiron Zino HD excels at. The minuscule 8-by-8-inch shell will fit just about anywhere you can think of, is whisper-quiet, and can connect to your HDTV or monitor using HDMI or VGA connections. It also has two eSATA ports and four USB slots (perfect for connecting external hard drives full of media), and a multiformat media card reader lets you view photos on the big screen.
The Zino HD starts at $250 and scales up to specs that include a 1TB hard disk. The $557 configuration we tested had Windows 7 Home Premium (64-bit), 802.11n Wi-Fi (important for streaming HD video), 320GB storage, and 3GB of DDR2 memory. Its 1.5GHz AMD Athlon 3250e dual-core processor also offers a considerable performance gain over the Intel Atom CPUs that compact PCs commonly use. The Zino HD's built-in optical drive (a DVD player/writer) is another rarity in a PC of its size.
The Zino HD's ATI Mobility Radeon HD 3200 graphics processor makes it far from a gaming machine, but most compact PCs aren't de­­signed to tackle gaming, anyway. You'll be using it to consume video, and the Zino HD will handle high-def media just fine, whether you're streaming from Hulu or watching DVDs.
Pro: For almost $600, the Inspiron Zino HD presents a well-equipped, attractive package in a compact, colorful shell. Home theater buffs should benefit from its potent processor and quiet operation, but anyone in need of a compact PC would do well to consider it.
Con: While its performance is admirable, your upgrade options are limited, as are your connectivity ports. Its price tag also brushes up alongside those of budget midsize towers, which will likely deliver better performance. If you aren't fixed on a mini size, look at such alternatives.
Asus EeeBox 1501
Although Dell's Inspiron Zino HD makes a stellar home theater PC, offering compelling performance at a fair price, people on tighter budgets hoping to find something a little cheaper without sacrificing too much versatility should consider the Asus EeeBox 1501.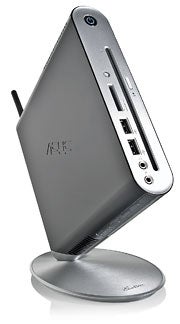 At 7.5 by 7.5 by 1.5 inches, the newest EeeBox is one of the smallest mini-PCs we've encountered. Running Windows 7 Home Premium (32-bit), the system achieved a WorldBench 6 score of 38. That puts it right on a par with rival Atom-based compact PCs, though they all lag noticeably behind the Zino HD.
Inside the 1501, you'll find a 1.66GHz Intel Atom N330 dual-core processor. Intel's Atom chips are a popular choice for small, cheap PCs, as they offer low power consumption while letting a model remain competitively priced. But they also don't hold a candle to the performance we've seen from the Zino HD's AMD chip. Rounding out the 1501's internals are 2GB of DDR2 memory, a 250GB hard drive, and nVidia Ion graphics. Ion is a great asset, allowing even middling CPUs to tackle high-definition content while maintaining their svelte dimensions. Even with capable media playback under its belt, the 1501 will likely be of most use to folks who are looking for an inexpensive productivity machine but still want to be able to enjoy high-definition media.
To make up for its lack of raw performance, the EeeBox 1501 offers quite a few compelling features. Make what you will of the unit's eye-catching, tilted alignment, but with its slot-loading DVD burner, the EeeBox keeps a trim design while also possessing a quirky sort of elegance.
The system packs a total of six USB ports, an HDMI port, a multiformat card reader, and an eSATA port, in addition to 802.11n Wi-Fi and a gigabit ethernet port. The package makes for a nice range of options, though not quite as many as you'll find in more capable PCs. Nevertheless, the EeeBox 1501 fits an impressive offering into very little space.
Pro: Although it makes a competent Internet kiosk for the techno-savvy grandparent or cash-strapped college student, the Eee Box 1501 isn't afraid to let its hair down and stream a bit of Hulu. Some people might also find it easy on the eyes.
Con: At $500, the EeeBox 1501's price is a bit steep. You can find other models in the compact category that offer similar performance but take some $50 to $100 off the cost.
Check out These, Too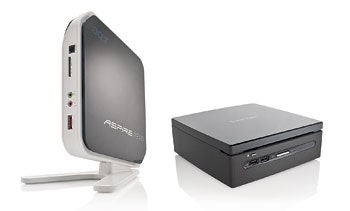 Acer AspireRevo R3610
An HDMI port and nVidia Ion graphics make the AspireRevo R3610 a media-capable machine. With a petite 1.2-inch shell and a $330 price, it'll disappear in your living room but leave your wallet intact.
Viewsonic VOT530
The VOT530 packs a Core 2 Duo laptop processor into a chassis that's just 2 inches tall. You also get whisper-quiet operation and a roomy 320GB hard drive, while a plethora of ports and 802.11n Wi-Fi keep you connected.
Next: All-in-Ones--Reach Out and Multitouch
Shop Tech Products at Amazon