Find Your Windows 7 Desktop
All-in-Ones: Reach Out and Multitouch
Sony VAIO L117FX/B
In the upper echelons of the all-in-one bracket, the Sony VAIO L117FX/B could let you do away with your TV altogether. Just connect your cable or satellite receiv­er to its built-in TV tuner, and you can enjoy widescreen, high-definition playback on its vivid, 24-inch-diagonal display. An HDMI input means that your video game consoles can come along for the ride, too. The built-in speakers offer fairly decent performance, but you'll likely want to replace them with your own set before long.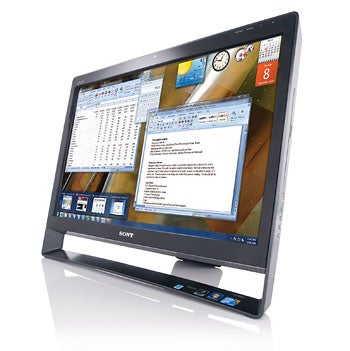 Does a 24-inch screen offer enough viewing real estate for your living room? The answer will vary from person to person. In cramped quarters, or in a private room, an all-in-one PC with potent media capabilities will run circles around the average TV set-and this VAIO doesn't need to be fully powered on to function as a traditional display for your gaming or TV-watching needs.
The VAIO's 1TB hard drive will allow you to make ample use of its DVR capabilities. If you do manage to fill that hard drive, feel free to offload some of your media using the built-in Blu-ray player/writer. The machine also offers a full range of wireless functionality: a wireless keyboard and mouse, speedy 802.11n Wi-Fi, and Bluetooth and Bluetooth Stereo support. Couch surfers will appreciate the bundled remote control and a design that lets them leave their machine on a television stand or shelf, operating it from the couch.
If you must have some peripherals and cables hanging off of the slim, sleek chassis, you'll also find a multiformat card read­­er, five USB ports, a FireWire port, audio and microphone inputs, and gigabit ethernet. The generous connectivity op­­tions will make expanding the PC's functionality a bit easier. It lacks an eSATA connection for external storage, but otherwise the selection available is enough for most users.
The VAIO is no performance slouch either, earning top honors on our list of the best big-screen all-in-ones. Powered by a 2.66GHz Intel Core 2 Quad Q8400s processor and 6GB of DDR2-800 memory, it achieved a score of 105 in WorldBench 6-among the highest results in its category. And let's not forget the coup de grâce: multitouch. The screen takes full advantage of Windows 7's capabilities here. It's a fine representative of what all-in-one PCs can offer.
This VAIO has a lot to like, and Sony charges accordingly: Expect to pay around $2000, though configurations in the L Series with fewer features are cheaper. But as is often the case with all-in-ones, you could find a tower PC and a monitor with comparable specs for a few hundred dollars less.
Pro: Whether you're looking for an interactive TV, a gaming ma­­chine, or just a conversation piece, you can't really go wrong here. Impressive hardware performance, a gorgeous chassis, and a vibrant 24-inch display make this multitouch all-in-one the PC to beat.
Con: The Sony VAIO is pricey, even for an all-in-one-it starts at $1300 and can go up to $2000. You will pay a premium for that shapely chassis, so if looks aren't a priority, keep hunting: Perfectly capable alternatives are available for less.
MSI Wind Top AE2220
When shopping for an all-in-one PC, you'll often need to contend with an unfavorable price-to-performance ratio. In the case of the VAIO L117FX/B, an energy efficient quad-core processor keeps things svelte while bolstering the machine's score-and its hefty price tag. But Sony also excels at designing attractive products. Consumers have grown accustomed to paying a premium for Sony goods, if only to have something to show off to their friends. Smaller PC makers don't have that luxury. They generally outfit their products with less-expensive laptop and netbook components, trading performance for affordability-as their customers want.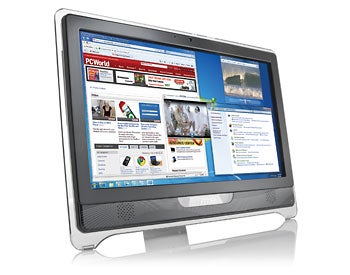 A few rungs down the all-in-one ladder, we find the MSI Wind Top AE2220. If you're in the market for a touch-friendly all-in-one that isn't necessarily a media powerhouse, it's a strong contender. The AE2220's 21.6-inch widescreen display delivers high-def media at 1920 by 1080 resolution. Like the VAIO, it sports a multitouch screen with full Windows 7 gesture support, courtesy of Windows 7 Home Premium.
The MSI Wind Top's similarities to the Sony VAIO continue: Its VGA and HDMI inputs let you use the device as an external display for a video game console or other device. And it comes bundled with a wireless keyboard and mouse, plus 802.11n Wi-Fi. It also has six USB ports and an eSATA port (handy for external hard drives), a combo Blu-ray player/DVD burner, and a multiformat card reader.
So the AE2220 appears to offer a package similar to the VAIO's, in a marginally smaller, less attractive shell. But it can't hope to compete with Sony's all-in-one in performance. The AE2220 is powered by a 2.2GHz T6600 Core 2 Duo-an energy-efficient laptop processor. It also has a 500GB hard drive, 4GB of DDR2-800 memory, and integrated nVidia Ion graphics. While Ion GPUs can deliver competent performance, they're usually in netbooks and nettops, and are no match for the VAIO L117FX/B's potent discrete graphics. The AE2220 earned a respectable score of 90 in our WorldBench 6 test suite. That looks even better when you consider the price tag-the MSI Wind Top AE2220 can be had for $800, significantly less than Sony's aesthetically superior offering. And performance runs in the family: The AE2220's smaller sibling, the 20-inch AE2010, is our highest-ranked budget all-in-one PC.
Pro: You get strong performance, high-definition Blu-ray playback, and a multitouch display. It may not be as chic as the Sony VAIO, but the money you save with MSI's Wind Top AE2220 will more than make up for that.
Con: If you aren't dead set on an all-in-one design, $800 can buy you a marginally superior PC and a 22-inch monitor. While the MSI is not as fast (or as attractive) as Sony's offering, you will still be paying a premium for a svelte chassis.
Check Out These, Too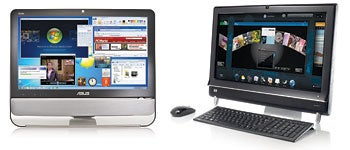 Asus EeeTop ET2203T
The single-touch EeeTop ET2203T lacks Windows 7's gestures but boasts a 21.6-inch, high-definition screen. Features for media buffs include a Blu-ray player and discrete mobile graphics from ATI, for a home theater experience packed into a small space.
HP TouchSmart 600 Quad
HP's custom TouchSmart software creates touch-friendly widgets out of popular Web destinations like Hulu and Twitter. The multitouch-capable TouchSmart 600 Quad includes Intel's Core i7 quad-core processor, for top-tier performance in a slender shell.
Next: Towers--Data-Crunching Monoliths
Shop Tech Products at Amazon