Find Your Windows 7 Desktop
Towers: Data-Crunching Monoliths
Maingear Shift
The Maingear Shift is the quintessential performance desktop: Billed as a "personal supercomputer," it delivers blistering performance by stacking all of the latest components and technology into its imposing metal chassis, overclocking them, and implementing liquid cooling and clever airflow mechanics to keep all those up-to-date parts humming along smoothly.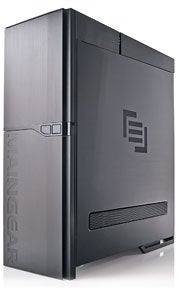 The Shift is powered by a 3.33GHz Intel Core i7 975 Ex­­treme Edition processor overclocked to 4GHz. At $1000 for the chip alone, the 975 Extreme is the fastest processor that money could buy at the time of writing, but Intel's upcoming six-core Core i7-980X processor could soon change that.
Meanwhile, the Shift's pair of Intel X25-M 80GB solid-state drives ($250 each), arranged in RAID 0, serve as the boot drive for Windows 7 Ultimate Edition (naturally); a 2TB Western Digital Caviar Black hard drive ($300) handles storage. And don't forget the three XFX Radeon HD 5870 graphics cards ($400 each) that are paired with 6GB of DDR3-2000 RAM.
The Shift achieved a score of 181 in WorldBench 6--one of the most im­­pressive performances we've seen on our test suite. In our gaming tests, we saw a whopping 204 frames per second in Unreal Tournament 3 (2560 by 1600 resolution, highest settings).
The final price tag: just over $7000.
As for the Maingear Shift's case, a unique, vertically mounted design offers improved cable management and airflow. The case is beautiful inside and out, with a brushed-metal exterior that's free of garish paint jobs or decals, and a meticulously organized interior that makes tinkering a hassle-free endeavor.
The Shift also has a grand total of ten USB slots, an eSATA port, two FireWire 400 ports, three HDMI and DisplayPort connections, integrated 7.1 surround sound, a multiformat card reader, and a Blu-ray burner-a bundle that should handily take care of just about every media-related need a user could dream up. Should you wish to expand the machine's innards even further, four free hard-drive bays and three free 5.25-inch bays are available. Maingear also offers an extensive warranty program, and prides itself on its customer service.
Is $7000 too much? For most users, the answer is likely an emphatic yes. High-powered PCs that approach the Shift's level of performance can be had for far less, especially if you are willing to roll up your sleeves and build one yourself.
While this configuration of the Shift would make a rather convincing poster child for excess, some users--if their pockets are deep enough--will throw caution to winds for such a dream PC.
Boutique PC shops are the premier source for excessively powerful performance PCs, and everything is made to order. The Shift, which starts at $2600, can push well beyond $7000-or even past the $20,000 barrier, if taking out a second mortgage strikes your fancy.
Pro: If you're looking for raw performance, enough fistfuls of cash will buy it. If you're a bit thriftier, however, you should be able to find an ap­­preciable middle ground by knowing exactly what configuration you need and maintaining a strict budget.
Con: While such super-PCs are expensive in themselves, buying one from a boutique shop entails paying a premium-and labor isn't cheap. If you'd rather not build your own PC outright, do a bit of comparison shopping before you buy, as you could save a bit of cash handling some upgrades yourself.
HP Pavilion HPE-170t
Fortunately, performance machines are available for the rest of us, too. Though the plain midsize-tower chassis won't turn many heads, the HP Pavilion HPE-170t delivers where it counts. We'll start with two pleasing numbers: a WorldBench 6 score of 146, and a price tag of just under $1500.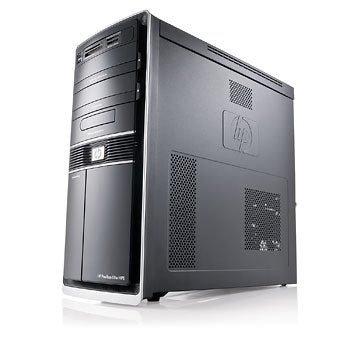 The HPE-170t is powered by a 2.8GHz Intel Core i7 860 CPU, with 8GB of DDR3 memory. Windows 7 Home Premium (64-bit) is housed on the two 500GB hard drives, which are ar­­ranged in RAID 0 for a total of 1TB of storage space. Graphics performance comes from an nVidia GeForce GTX260 graphics card with a pair of DVI ports. Whereas the Maingear Shift achieved 204 frames per second in Unreal Tournament 3, the HPE-170t managed a very respectable yet comparably paltry 66 frames per second (2560 by 1600 resolution, highest settings).
The HPE-170t offers a total of nine USB slots, two FireWire ports, a multiformat card reader, and an HDMI port, while a combo Blu-ray/DVD-burner drive is coupled with integrated 5.1-channel audio to round out the multimedia faculties. For networking, you'll find gigabit ethernet and 802.11n Wi-Fi. The latter is a curious addition to a performance desktop, but not without merit. If your desktop is already pinned down underneath a myriad of cables, an ethernet cable is just one more. Taking advantage of the gigabit ethernet will result in a faster networking experience. But if you would rather keep things tidy or your PC is in an inconvenient location, 802.11n Wi-Fi is just fine for streaming media and files.
Once you slide off the HPE-170t's case, the Maingear Shift's premium price starts to make a bit more sense. Inside the HP, you'll find a haphazard mess of cables, with little room to tinker or to add more components. While the Shift offers an ex­­pansive case with room to grow, the limited expandability of the HPE-170t is indicative of its much lower price bracket-and of the kind of buyer that this machine is built for.
A casual user who simply wants a beefy workhorse and who is unlikely to take off the PC's case would do well to consider the HPE-170t when looking for a tower system with a bit of spring in its step. If you're a power user or gamer hunting for bleeding-edge performance, you probably haven't made it this far: You're still fawning over the Shift--and that's fine, too. Keep the level of performance you want in mind, but don't dismiss a reasonably priced machine without giving it a thorough evaluation.
Pro: The performance takes this tower ever so close to the deep end of the PC pool for only a fraction of the investment. It's a great way for folks with stricter budgets to enjoy high-end performance.
Con: The confined chassis leaves your future upgrade options limited, which will likely disappoint PC enthusiasts who are looking for tower-sized expandability.
Check Out These, Too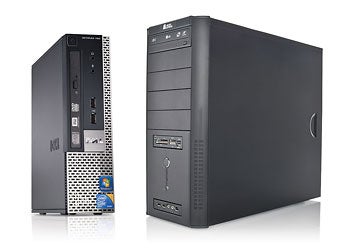 Dell OptiPlex 780 USFF
A mere 9.4 inches tall, Dell's business-centric OptiPlex 780 USFF is powered by a Core 2 Duo desktop processor with Intel's vPro technology-your IT department will thank you. And the Energy Star 5.0-compliant 180W power supply will keep Accounting happy, too.
Micro Express MicroFlex 75B
The potent Intel Core i5-750 processor makes the MicroFlex 75B a strong performer. Its chassis offers lots of room to add hard drives, plus a gaggle of ports for your peripherals.
Shop Tech Products at Amazon