"The best charger is the one that shipped with your laptop" is old advice that needs updating because there are often superior options available either as your principal laptop charger, as a spare, or as a flexible travel charger.
You know that the charger that came with your laptop will work, but it won't do much else and there are third-party USB-C chargers available that do much more.
Some laptops still ship with their own cumbersome AC power brick and barrel-shaped DC connector, but most premium laptops today also or solely charge via USB-C—including all the models in our roundup of the best laptops.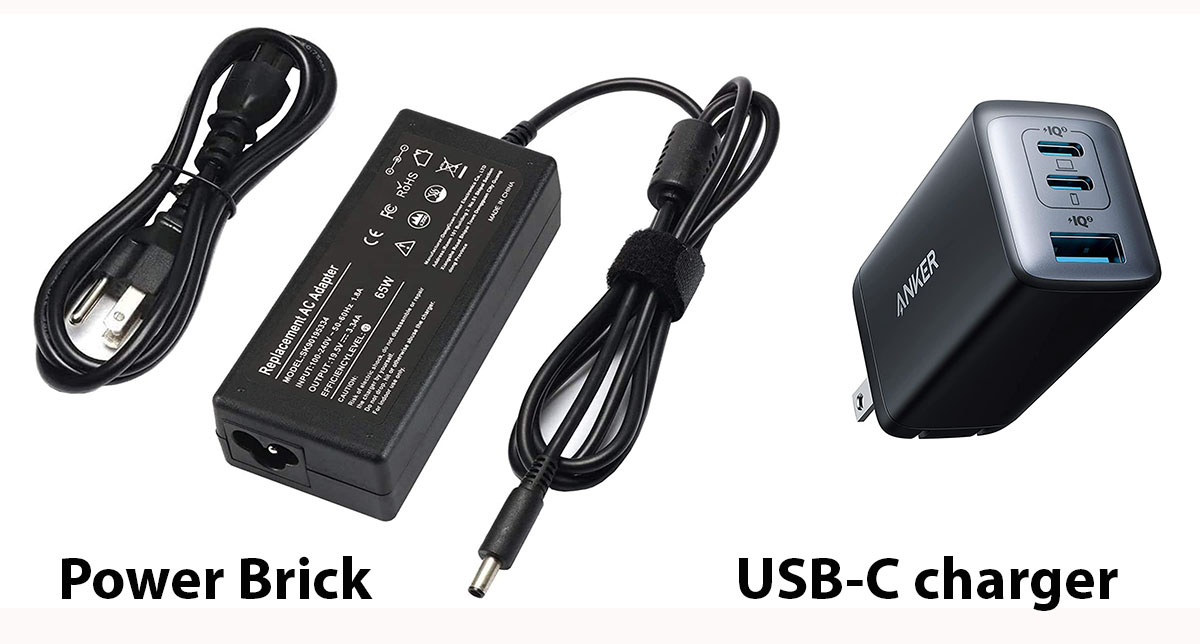 Foundry
USB-C chargers are smaller and more convenient than proprietary chargers, and will work with multiple and varied devices, making them a more flexible, more portable solution.
Thunderbolt ports on laptops are compatible with—and look identical to—USB-C, the reversible connector that is fast replacing the rectangular USB-A standard.
Of course, not every laptop with a USB-C port can be charged with a USB-C charger. The determining factor is support for USB Power Delivery. Assuming that your laptop supports charging via USB-C, the following are the best USB-C PD chargers you can pair with your device.
Smaller laptops often require just a 35W or 45W charger, mid-sized 65W and larger laptops 100W or higher.
You can learn more about wattages and what else to look for in a USB-C charger and how we test them below our recommendations.
What to look for in a USB-C PD charger
As mentioned above, the primary requirement is that your laptop includes a USB-C port that can carry power as well as data. Older laptops that came with their own power brick might have data-only USB-C but not power-supporting USB-C.
USB-C laptop chargers use a certified technology called USB Power Delivery (USB PD), a specification that enables power delivery along with data over a single cable.
All the chargers tested here are certified by the USB Implementers Forum (USB-IF), and are from reliable, trusted brands—you'll find cheaper, less-well-known brands online but for safety's sake we recommend you chose a proven brand, such as Anker, Ugreen, Satechi, Belkin, Plugable or Aukey, as well as big brands such as HP, Dell, Google and Samsung that follow the latest safety standards.
Chargers can get hot, so you want to trust that yours won't catch fire or otherwise damage your laptop. That's why we avoid cheaper brands that we haven't heard of or tested.
USB PD 3.0 supports up to 100W of power to the laptop. USB PD 3.1 can reach 240W, which is useful for larger laptops that require over 100W for charging at full speed while in use, and for fast-charging compatible laptops.
Wattage
Once you know that your laptop supports USB PD charging, the most important specification to look for when choosing a laptop charger is the amount of power it can supply to your laptop—measured in watts (W).
The wattage you should look for will depend on the maximum power draw of your laptop—that is, the draw when you are using a bunch of apps at the same time or pushing the graphics functions, not when you're just browsing the web or sending emails. This level of maximum power is what the manufacturer considers when it decides on the wattage of the charger it includes with the laptop.
When idle or doing mundane jobs that draw only a small amount of power from the charger, laptops can recharge fully on a lower-wattage charger—so a 45W charger can top up an idle 65W laptop but much slower than a 65W charger.
That said, when buying a new USB-C charger, buy at least the same wattage as the charger that shipped with your laptop.
Smaller laptops may require just a 30W or 45W charger, while medium laptops usually need 65W, and 100W is required for larger 15-inch and larger notebooks.
Don't worry if your laptop requires just 45W and you fancy that 100W charger—using a higher-power charger won't harm your lower-powered laptop as it will regulate the power from the charger.
Using a higher-wattage charger than your laptop requires is recommended when choosing a charger with multiple ports, as the stated wattage is the maximum output, and charging other devices at the same time will start lowering the power going to the laptop.
For more charging questions answered, see our laptop charging FAQ at the end of this article.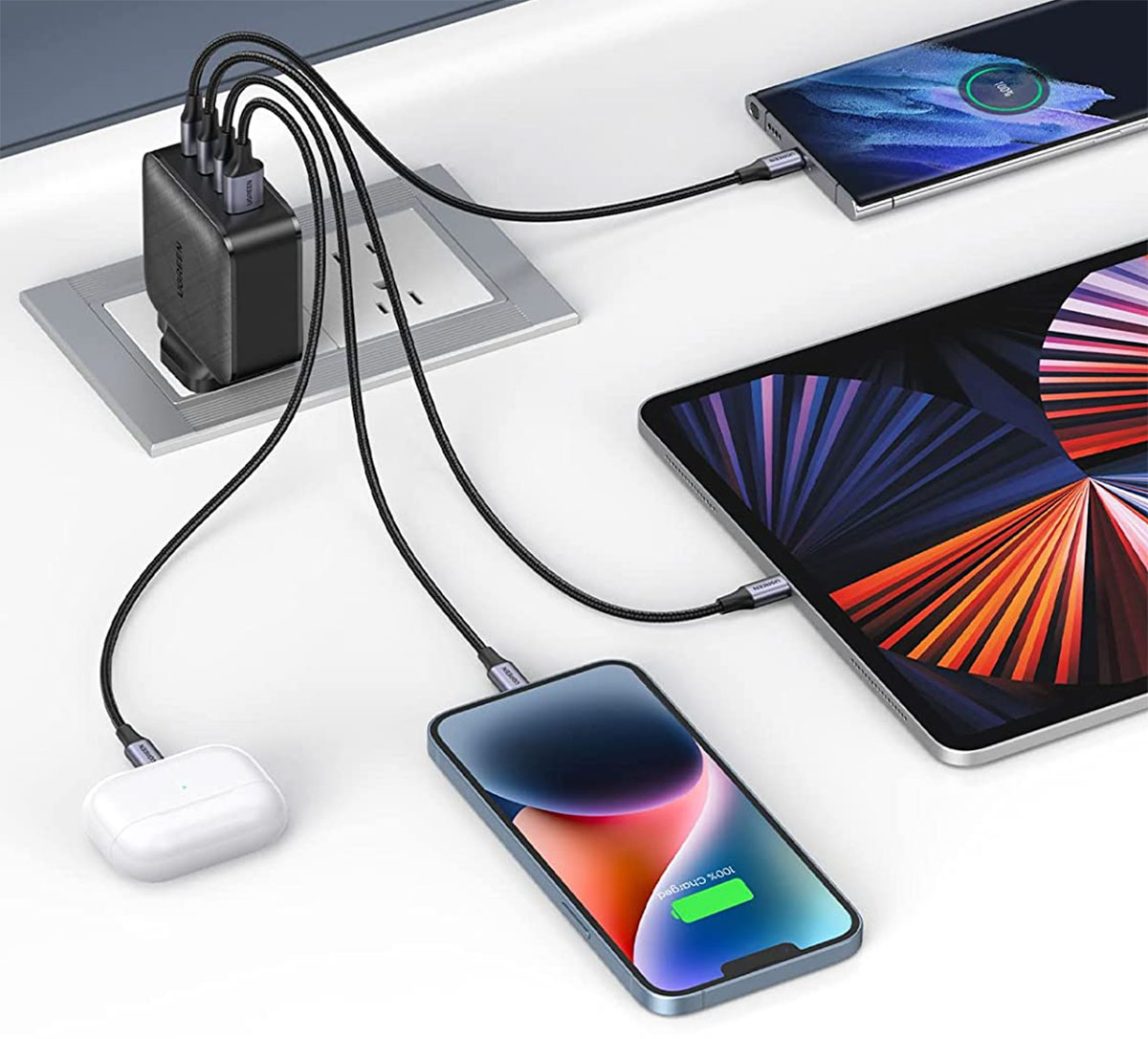 Ugreen
Multiple ports for more devices
Standard laptop chargers have just one USB-C port or connector, but many third-party USB-C chargers boast multiple ports—sometimes both USB-C and older USB-A.
These are useful if you want to charge more than just your laptop—with multiple ports on your charger, you can power up your phone, tablet, or headphones at the same time as your laptop.
If you want to use more than one charging port, consider your maximum requirement—say, 65W for the laptop and another 15W for a phone and maybe 5W for a smartwatch or headphones. A charger with a higher wattage can distribute the excess power to other connected devices at the same time as you power your laptop.
Multi-port chargers will have a variety of charging options between ports and devices.
Go for GaN
Look for chargers built with modern Gallium Nitride (GaN) technology that runs cooler than older silicon tech, meaning that devices built with it can charge devices faster and with less heat dissipation than traditional chargers and are noticeably smaller, too.
Newer GaN 2 can operate at even higher voltages and temperatures.
Dimensions given in our reviews are for the U.S. models, which are also pictured for each product, but UK models are mostly also available. Due to their sturdy three-pin Type G plug, UK models are usually wider than their U.S. Type A and B plug counterparts.
Fast charging
Modern laptops support fast charging, where the battery can be pumped up to at least 50 percent capacity—sometimes greater—in around 30 minutes.
A laptop with fast-charging support is easier to keep close to a full charge. If the battery is fully drained, fast charging helps you get back to work fast, and you can quickly top up the battery when required—even just a few minutes of charging can save you when you don't have much time near a power socket.
Anker
Choose the right charging cable
Some USB-C laptop chargers ship with a cable, but most don't. Make sure the cable you use supports power delivery, as some are for data-transfer only.
The wisest choices for USB PD cables are based on the latest Thunderbolt 4 or USB4 standards, which are both backwards compatible with Thunderbolt 3 and USB-C, and supports both charging and up to 40Gbps data transfer. But Thunderbolt/USB4 is more expensive and often available in shorter lengths than USB-C cables.
Look for a USB-C PD or Thunderbolt cable. If you want to charge at over 100W, this should support USB PD 3.1. Not all cables are marked as supporting 240W so make sure you check the PD rating before your purchase.
Plugable sells 240W-supporting PD 3.1 charging cables that it labels Extended Power Range (EPR) in USB4 EPR or Thunderbolt 4 EPR—both are backwards compatible with USB-C. Anker's 765 USB-C to USB-C Cable also supports PD 3.1.
The maximum length for power cables is 2m. Anything longer, and less power will reach the connected device.
Find more of the best USB-C cables in our roundup.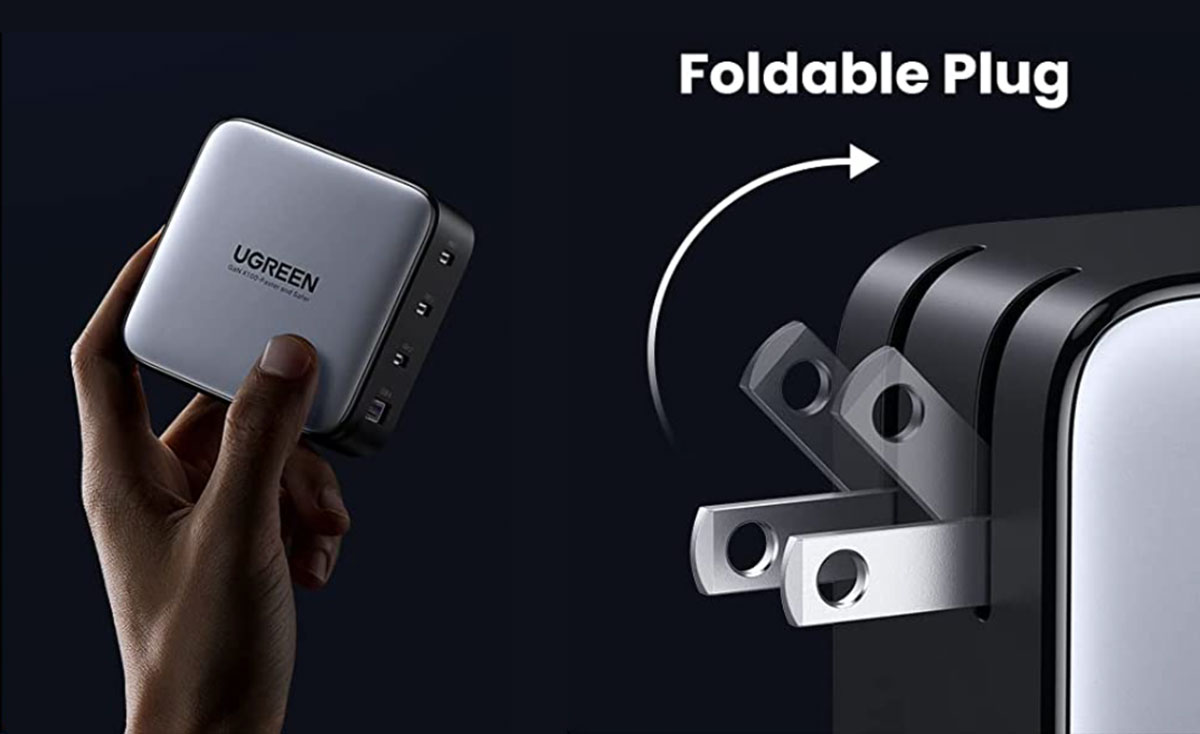 Ugreen
Wall charger or desktop charger
A wall charger features plug prongs and connects directly into the wall power socket. Straight-to-socket wall chargers are small and portable—most will fit in your pocket. They might not have as many ports as a desktop charger but can still have several ports to choose from.
If you carry your charger around with you a lot, look for a wall charger that has foldable plug prongs, which makes it more comfortable and smaller. These are more common with U.S. Type A plugs than UK Type G plugs.
A desktop charger is separated from the socket by a power cable (usually detachable), with the charger instead sitting on your desk. Desktop chargers always feature multiple ports, and sometimes a separate power supply that will hide under the desk.
They are great for keeping your device-charging organized and in one neat package but are usually less portable than wall chargers.
There are also handy power strips with USB PD ports as well as extra sockets—useful in a home or office environment with few power sockets.
Another laptop-charging solution is to use a docking station or hub. These boast even more ports than a desktop charger, such as HDMI/DisplayPort, ethernet, and card readers. Check out our recommended best Thunderbolt and USB-C DisplayLink docks and best USB-C hubs.
FAQ
---
1.
Can I charge my laptop with USB-C?
Probably. If your laptop supports USB PD (Power Delivery), you can charge it using a USB-C PD charger.
It has to be USB PD for charging, as some USB-C ports are data only.
If your laptop came with a USB-C port on its power adapter, then the answer is almost certainly yes, but you might want to check the product documentation or ask the manufacturer for clarification.
2.
Can I charge my laptop with any USB-C charger?
Probably. A few years back, some laptop manufacturers, such as HP, were fussy about which USB PD chargers would work with its products. But today, compatibility is mainly universal.
3.
Can I use a charger with a higher wattage than my laptop?
Yes. Power regulation means that it is safe to charge a 45W laptop with a 100W charger, for example. Laptops are designed to draw up to only a certain level of power when running at full speed.
4.
Can a higher-wattage charger power-up a laptop faster?
Possibly. A more powerful charger—with a higher wattage than the charger that shipped with your laptop—might charge your laptop a little faster, but this is certainly not guaranteed.
5.
Can I use a charger with a lower wattage than my laptop?
Yes, but you should try not to. You can charge a 100W laptop with a 65W charger, for example, but it's not advisable as the laptop battery could drain faster than it is being charged, especially if in use at the time.
Charging an idle laptop should mean that its battery will be fully charged with a lower-wattage charger, but it will take much longer than with the correctly rated charger. As a one-off it should be fine, but we do not recommend it in the long term. Using a lower-rated charger could result in overheating, which is never a good thing with electronics.
6.
Will my laptop charge faster if not in use?
Yes. When your laptop is idle or you are using only light apps such as email, it will be draining only a small amount of power from its battery, so it will charge faster. If you are using performance-hungry apps at the same time as charging, the charger will take longer to catch up as the laptop's battery is constantly draining while in use.
7.
Can I charge my phone using a laptop charger?
Yes, you can use a laptop charger to charge your phone. Some chargers feature more than one port, and the lower wattage ports are perfect for phone charging—but you can also charge a phone with a 140W charging port if you want to, although it's safer for the phone if you use a lower-wattage port.
8.
Can I use any cable to charge a laptop?
No. You must use a USB-C cable that supports power delivery. Some USB-C cables can't carry as much power as others. A USB PD 3.0 cable can carry 100W of power. A USB PD 3.1 cable can carry 240W of power.
9.
Can I use a UBC-C cable to charge a Thunderbolt or USB4 laptop?
Yes. Thunderbolt 3, Thunderbolt 4, and USB4 are backwards compatible with USB-C for data and charging.
Thunderbolt and USB4 also have higher data-transfer bandwidth—up to 40Gbps—than USB-C, which is rated between 5Gbps and 20Gbps.
10.
Can I use a Thunderbolt cable with a USB-C charger?
Yes. Thunderbolt is backwards compatible with USB-C so a Thunderbolt cable can be used with a USB-C laptop or USB-C charger.
You still need to ensure that the Thunderbolt cable can handle the right amount of power you require. All Thunderbolt 3 or 4 and USB4 cables can handle 100W of power, but some support up to 240W.
11.
Should I charge my laptop to 100%?
Only if you need to. If you are going on a road trip and need all the juice your laptop battery can supply, then by all means charge it to 100 percent before heading out.
But it's easier on the battery if you keep it charged between 40 and 80 percent—no lower and no higher if you can.
Batteries charged to the full 100 percent might have only 300-500 discharge cycles, but batteries charged only up to 80 percent could get to nearly 4x that number of recharging cycles.
12.
Should I fully drain my laptop battery to 0%?
No. As with our advice not to fully charge a lithium-ion laptop battery too often, it's better for long-term battery life if you keep it charged between 40 and 80 percent.