Keyboards are getting ridiculously expensive, and gaming keyboards doubly so. Roccat wants $230 for its best keyboard because it's really, really shiny. Corsair's is $280, because it's thin. Razer's most expensive model is $250, because it's Razer. Asus wants the same for the ROG Azoth…but might actually be able to justify it.
See, the Azoth is indeed a gaming keyboard, but it's also a mechanical enthusiast keyboard. It's packing all the high-end features like a rotary wheel, pre-lubed switches, PBT keycaps, built-in case foam. And on top of that it also has some serious gaming chops, including a somewhat bodacious built-in OLED screen. I haven't seen one of those since before mechanical keyboards became the norm.
At a glance
Expert's Rating
Pros
Amazing customization
Great battery life
Lots of included tools
Cons
Mostly unnecessary screen
Awkward control knob
Terrible software
Our Verdict
The ROG Azoth is a competent high-end keyboard that adequately mixes both gaming and customization features. But the headline OLED screen is mostly useless, it makes the knob awkward, and its terrible customization software drags down the entire experience.
Price When Reviewed
249.99
Best Prices Today: Asus ROG Azoth keyboard
Is it worth it? Well, yes…if you're in the very specific niche of wanting both an enthusiast-grade mechanical keyboard and a high-end wireless gaming keyboard. It's also a pretty great starting point if you want to dive into the deep end of the mechanical keyboard customizing scene. But some of its signature features—the screen and three-way knob in particular—are let-downs. And the terrible software actually manages to make otherwise good hardware materially worse.
Further reading: See our roundup of the best gaming keyboards to learn about competing products.
Asus Azoth features
For the sake of brevity, I'm going to list out the features of the Azoth instead of describing them in prose. Because I ain't got all day, and neither do you.
USB, 2.4GHz wireless, and triple-device Bluetooth connection
Popular 75% layout (only the right Shift key is non-standard)
High-quality PBT keycaps
Pre-lubed ROG NX switches and stabilizers
Hot-swap switch sockets
RGB lighting
OLED screen for controls, animations, and system info
Three-way control knob
Gasket mounting
Triple-layer interior case foam
Aluminum-polycarbonate body with dual-stage keyboard feet
Onboard memory and on-the-fly macro recording
Switch lubing kit included
That is a lot of keyboard features, even for the high $250 price tag. It covers more or less everything you could ever want out of both a high-end gaming keyboard and a high-end, pre-made mechanical keyboard, with the possible exception of oddballs like optical switches. "Azoth," an ancient alchemical term for an end-all, be-all cure, an "endgame" medicine if you will, is appropriate.
I honestly can't decide what's the more outlandish feature: an OLED screen (previously seen years ago on devices like the Logitech G19, or in a more recent modular form in Corsair's iCue Nexus) or a built-in station that helps you disassemble and lube your switches. And yes, the kit includes lube and a brush.
What is the screen on the Asus Azoth for?
Let's focus on that screen, since it's the most obvious standout feature. It's about two inches diagonal, black and white only—because color would just be ridiculous, right?—and paired with what Asus calls a "control knob" sitting on the right side of the board. This includes a little toggle that can also click in, in addition to a big, round side button. It is NOT a wheel, though it's where you'd expect a wheel to be on a keyboard like this.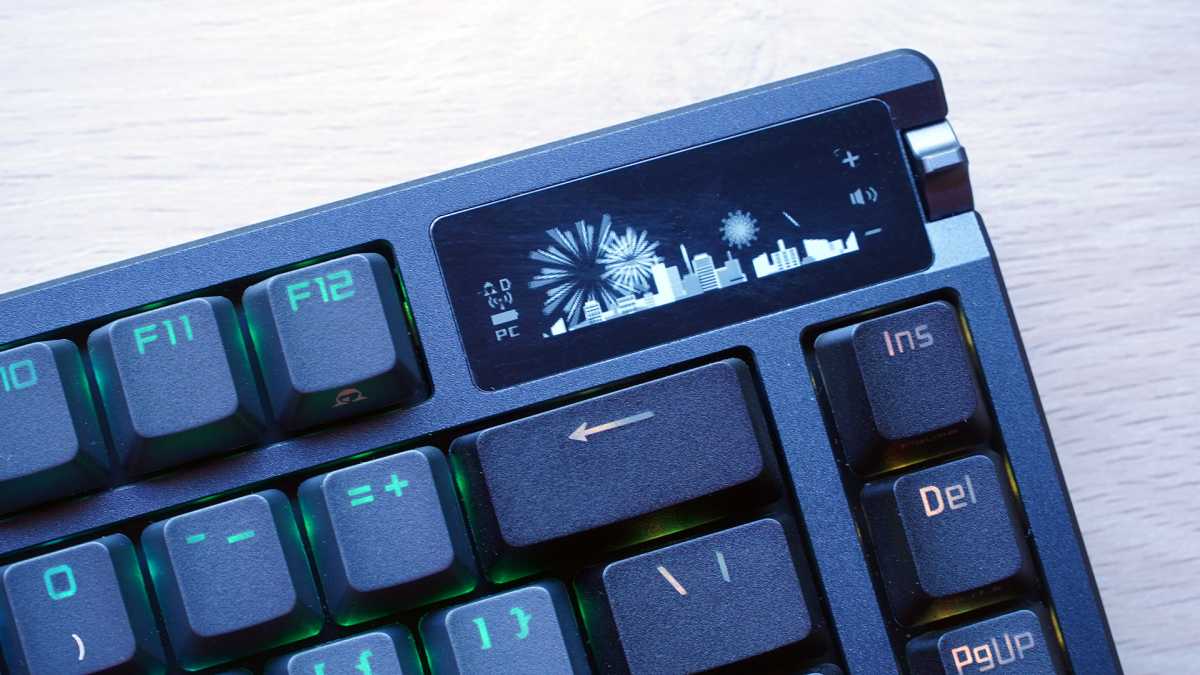 Michael Crider/Foundry
The screen switches between pre-programmed functions with a press of the big side button, at which point the toggle does different things. Pressing the button will cycle through volume adjustment, multimedia controls, lighting brightness, OLED screen brightness, and the keyboard's RGB lighting effect.
You might be thinking, "Hey, there's nothing in there that I can't control with standard function keys." In which case, you're right! But on top of a new and more visual way to control all those functions, when not in active use the OLED screen can display system info like your CPU and GPU temperatures, show a music equalizer, a bit of custom scrolling text, or in its most superfluous mode, a pre-made or custom animation. These are, basically, screen savers.
Frankly, I found the screen an extremely superfluous addition to the keyboard. The only real benefit is a constant readout of system information, which can just as easily be shown in-game overlays on the monitor—you know, that thing your eyes are already looking at.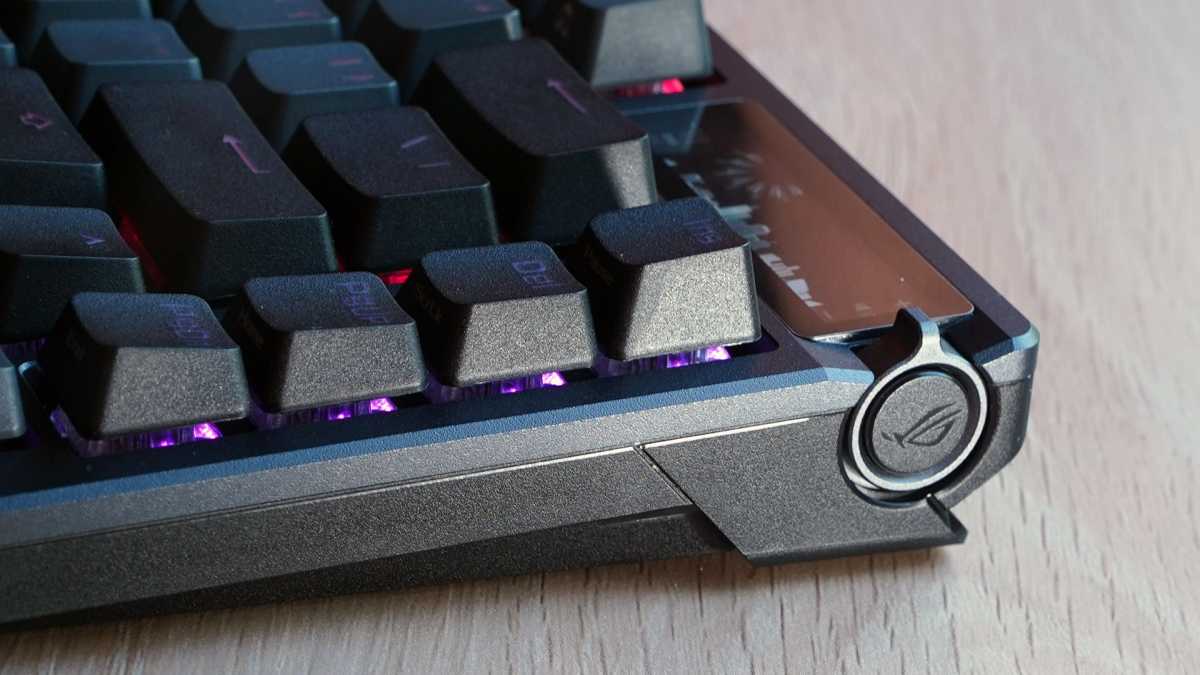 Michael Crider/Foundry
But I'd be able to ignore this, if it weren't for the knob. See, in going with a toggle with a click-in function (kind of like a thumbstick on a modern game controller), Asus has almost literally re-invented the rotary wheel. That click-in function—which defaults to a mute button in my preferred volume setting—is extremely finicky, and I often found myself pressing it while trying to raise or lower the volume. Ergonomically, it's a step backwards from the more common wheel design.
Towards the end of my testing period, I found myself going to my custom-bound mouse controls, holding down a thumb button and using the mouse scroll wheel, to change my volume. Let me repeat that: I went to a sub-function of mouse controls rather than the dedicated knob that's supposed to make this function easier. That's a big L in terms of usability. So the most unique aspects of this keyboard's physical design, the screen and the knob, are superfluous at best and actively detrimental at worst.
How is the Asus Azoth as a mechanical board?
As mentioned above, the Azoth ticks pretty much every single box in the premium boutique mechanical keyboard checklist. Our review unit came with Asus' custom NX Brown switches, which are indeed a fair bit smoother than ordinary tactile Browns, presumably owing to being lubed from the factory.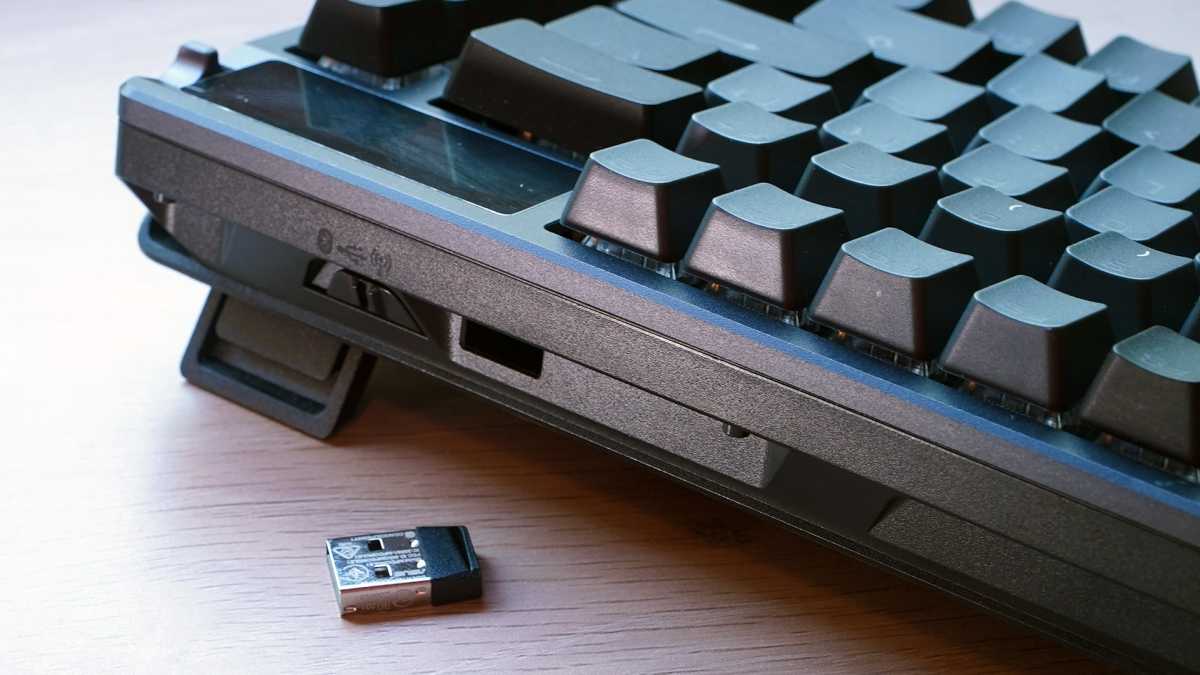 Michael Crider/Foundry
The triple-layered interior foam is impressive—even more than you usually get with premium designs—though somewhat wasted with tactile switches. If you want a "silent" build this is a great place to start, just swap out the switches for something with some sound damping and you'll have it about as quiet as it can get. The stabilizers are pre-lubed as well for some nice, smooth travel, and even the space beneath the space bar has some extra-generous foam.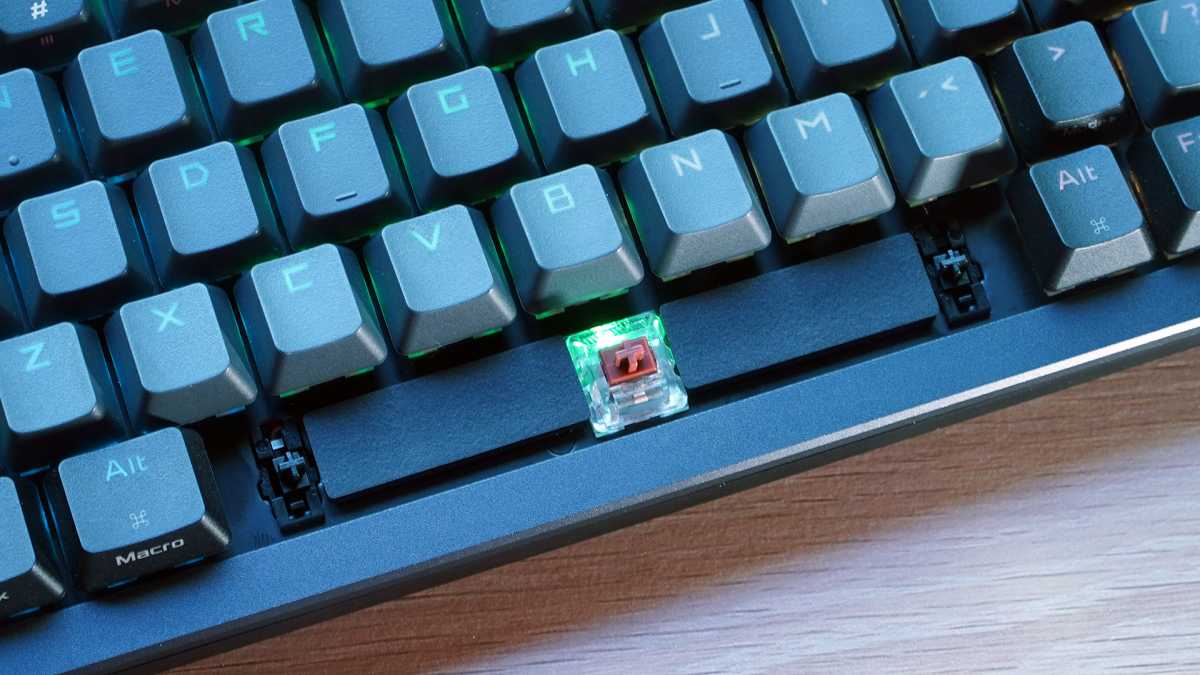 Michael Crider/Foundry
Stylistically, I'm not in love with the board. The PBT keycaps feel nice, a very rough texture that's great for typing. But the legends are very hard to spot when the backlight isn't on, and the white printing on the numerical and function keys clashes with the all-black gamer look. The case has a lot of extraneous geometry, very in keeping with the ROG theme, but I like the easy-to-find power mode switch and handy USB dongle both on the top side. Both are great choices for a board that makes a good traveling companion. It's definitely chunky and heavy, but less than it might have been thanks to a plastic bottom.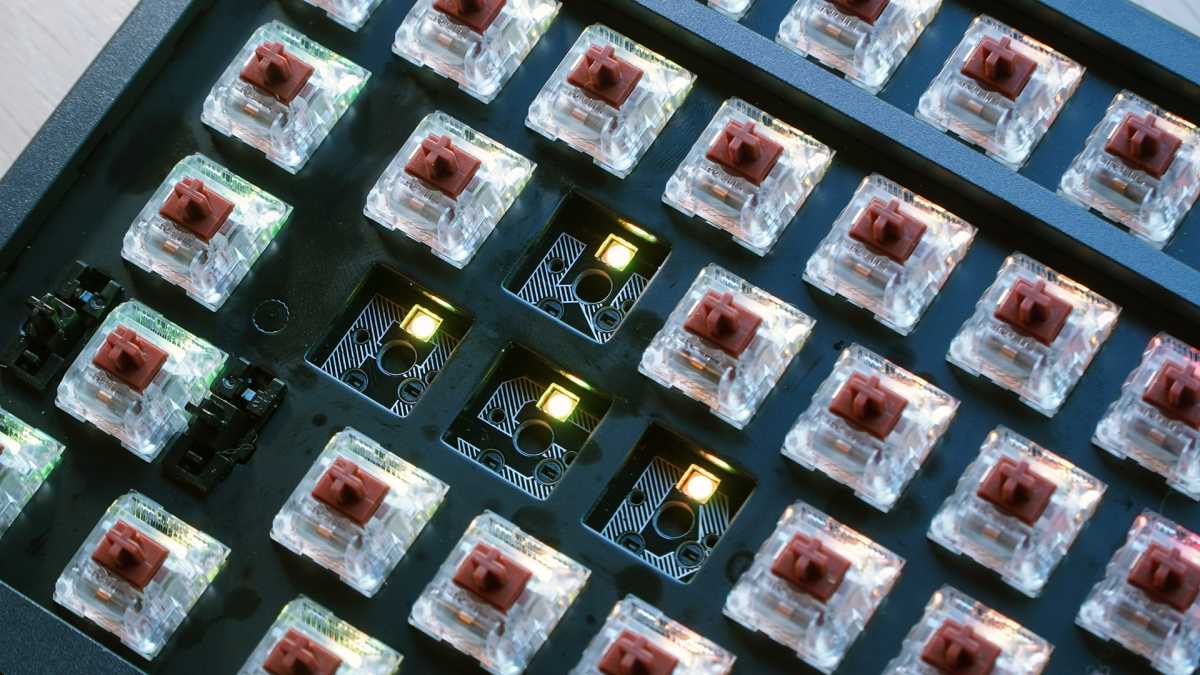 Michael Crider/Foundry
In terms of typing, I found no faults. The customized switches and gasket mounting give it a premium feel with medium give. And if you didn't understand that sentence, that's fine, please indulge me in my keyboard nerddom: It's nice. But you'll have to forgive me again, because Asus include a whole extra set of tools on top of the usual keycap and switch puller—a bona fide switch lubing station.
Asus Azoth switch lubing kit
For the uninitiated, it's possible to (very carefully and slowly) disassemble all the plastic parts in a keyboard switch and lube them up to make them feel even more smooth, optionally replacing bits like the stem or the spring from other switches. For those with the time, money, and saintly patience, this creates an incredibly custom experience. It's the keyboard equivalent of custom-tuning your car. And even as a self-avowed mechanical keyboard nut who's built several of his own by hand, I admit I've never gone this far.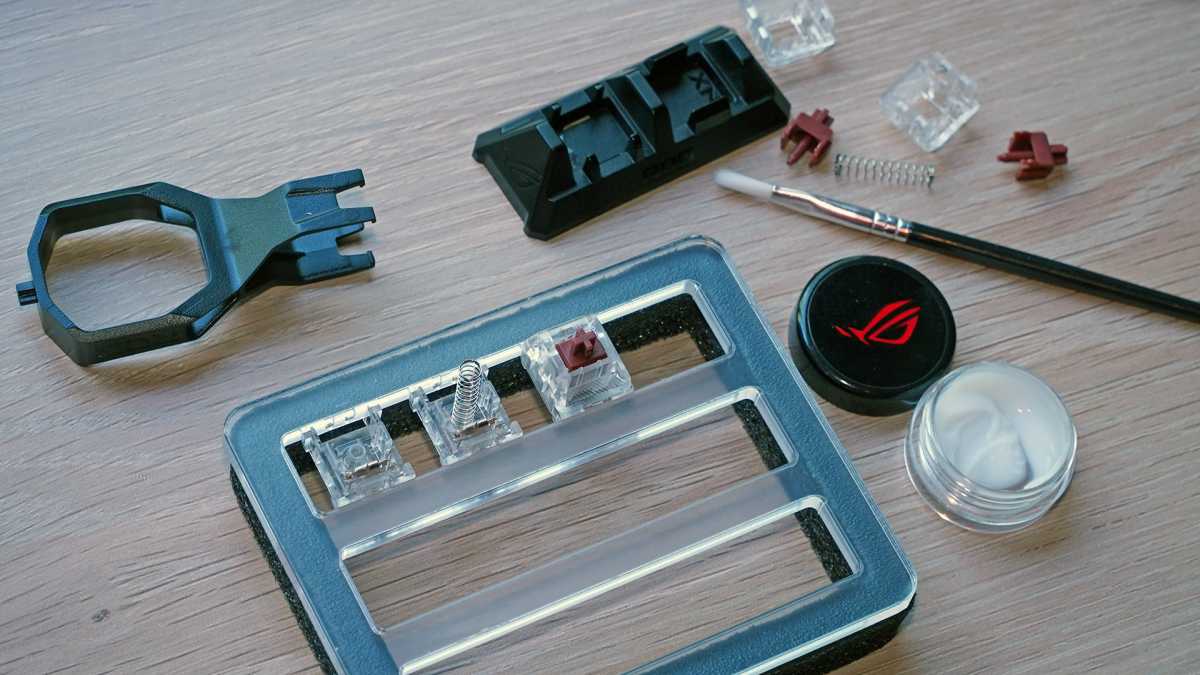 Michael Crider/Foundry
The lubing station consists of a plastic brace to hold your switch, a grabber tool to help you pull it apart and put it back together, a tray on which to rest your disassembled switches, a brush, and a small bit of lube in a tube. It should be noted again here that all the switches that come with the board and even the stabilizers (those extra bits under the long keycaps) are pre-lubed, so if you stick with the Asus switches, you won't need to mess with any of this for six months to a year.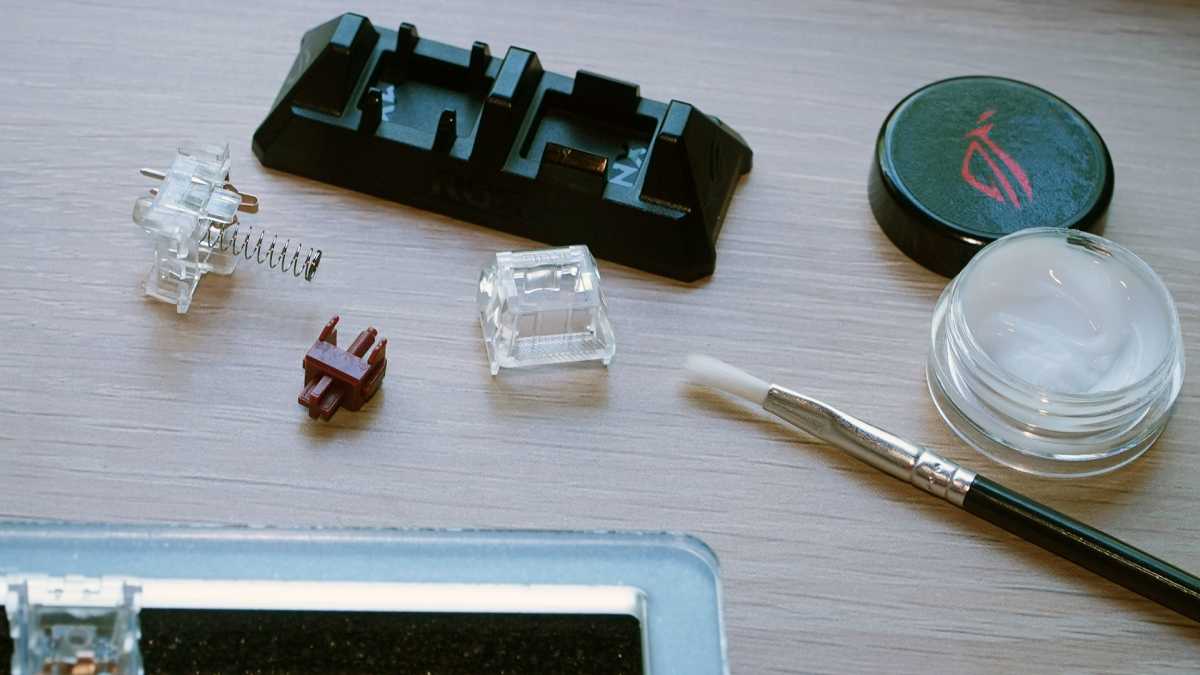 Michael Crider/Foundry
And you won't need to do so after that either, because lubing switches is something that only the most obsessive keyboard nerds do. But seen as an inclusion for a set that's meant as an entry point for ultimate customization, it's a nice bonus. Perhaps not so nice that I would have paid extra for it, but I really doubt that's the case here—if anything's pushing the price up it's that screen.
How is the Asus Azoth software?
So we've established that the Azoth is impressive as a boutique-grade mechanical board. How is it for gaming? Again, pretty darn good. The tactile switches that came with our review unit aren't ideal for fast-paced gameplay, but they're so smooth that I really didn't mind. The 2.4GHz connection and 1,000Hz polling rate are ideal for a wireless board, the battery lasts a week with the lights on and about a U.S. election cycle with the lights off. All pretty great.
There is one huge downside for the Azoth, and it applies to both typing enthusiasts and gamers. It's Asus Armoury Crate, the management and driver program. Normally I find even the worst of these are at least easy to ignore once you've set up your settings the first time, but that OLED screen required a bit more testing and tweaking. And incidentally, it's probably why it was impossible to use something universal like VIA or QMK, as less gamer-focused boards do.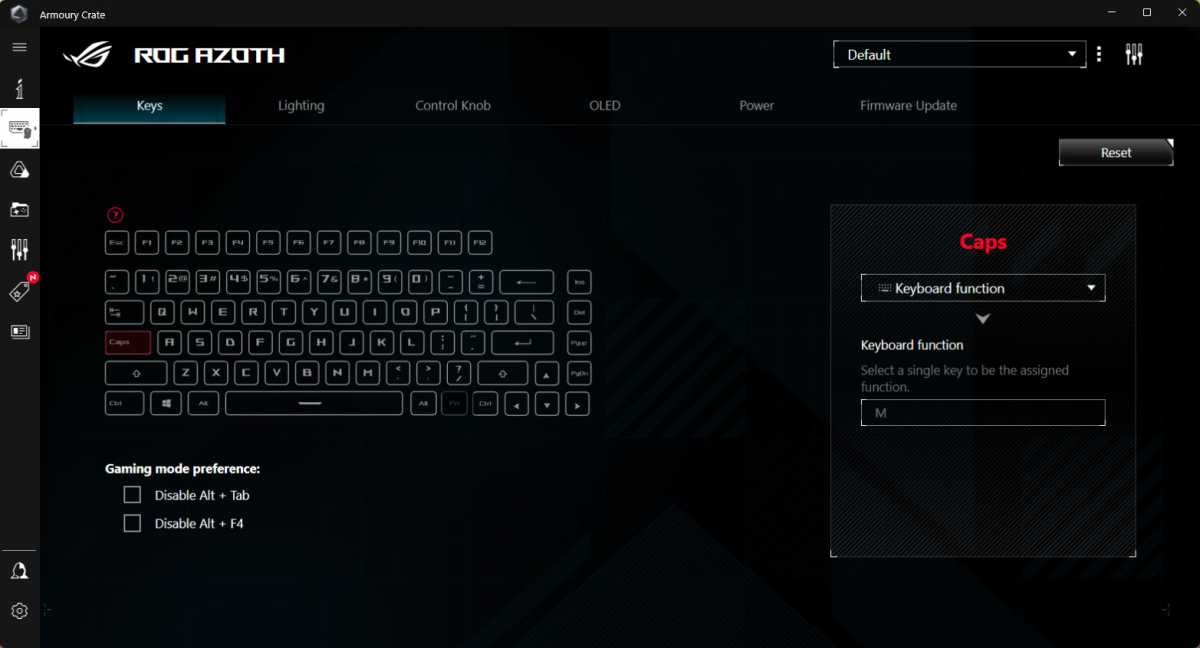 Michael Crider/Foundry
And Armoury Crate is, in no uncertain terms, crap. I never managed to open the damn program without at least a minute of waiting. Whenever I did, it wanted to update my motherboard (also from Asus, and you wonder why I haven't installed its Windows driver program?).
Just finding the part of the program that actually manages the keyboard is a pain, because this thing is also trying to serve up ads for different Asus hardware, create system-wide app-based performance profiles, set Asus-brand desktop wallpaper, launch games from different PC game stores (in multiple tabs, for some reason), and sell me games in those stores!
Asus, what the absolute hell? You know you're making devices for PC gamers, right? PC gamers who hate software bloat that slows down their systems? Who do you think is going to a driver program looking to buy new PC games?!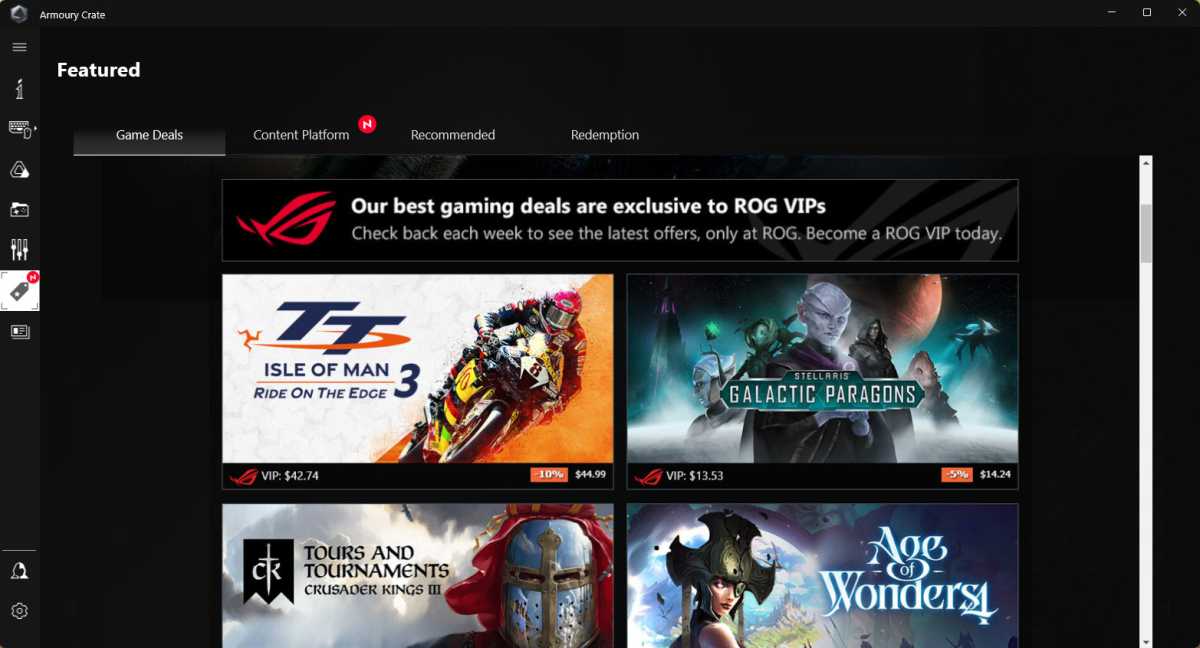 Michael Crider/Foundry
Once I managed to actually get into the part of this program that's designed to manage the keyboard itself, it's serviceable. Extremely slow and annoying, but serviceable, and it's the only way you're going to customize that screen and control knob. But good grief, this is the worst software I've ever had to deal with for a PC peripheral, and it's actively discouraging me from trying other Asus hardware.
Michael Crider/Foundry
Asus, strip all the unnecessary crap out of Armoury Crate at the earliest opportunity. Failing that, release a version that only manages your hardware, and doesn't try to do anything else to Windows. Or sell me stuff. Good freakin' grief.
Is the Asus Azoth worth it?
Asus positions the ROG Azoth as both an entry point for those who want to get into the premium, customizable mechanical keyboard world, and an "endgame" for the same people, an end-all, be-all of mechanical keyboards.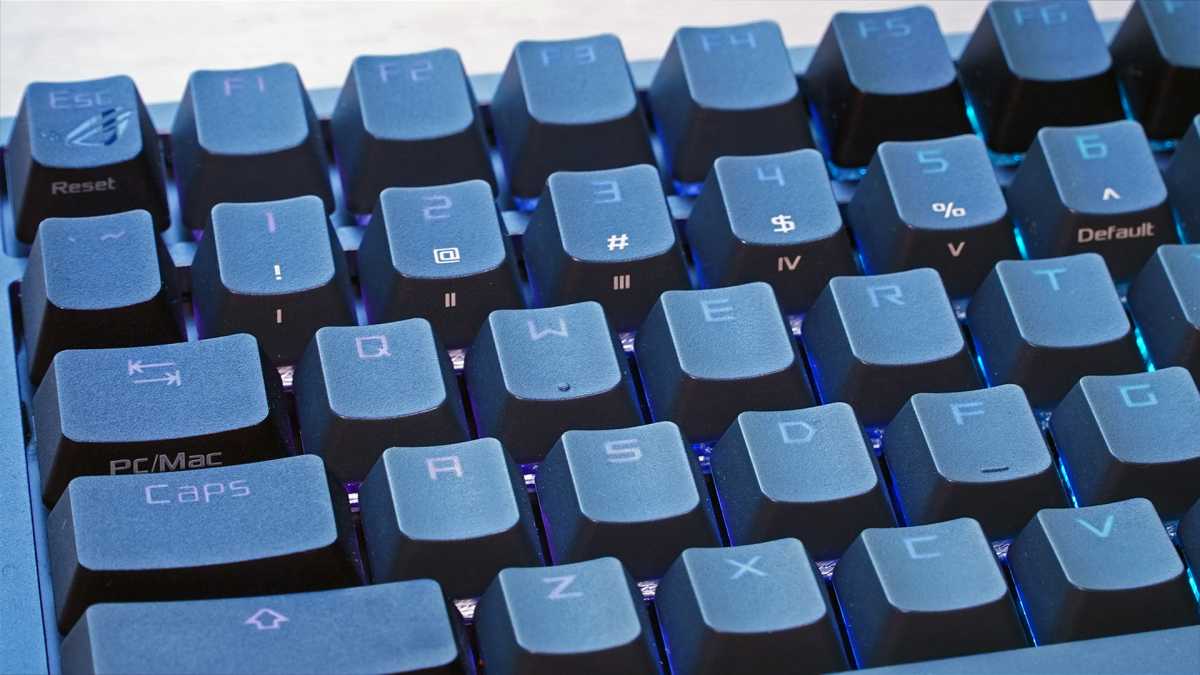 Michael Crider/Foundry
It isn't that. Frankly, anyone who's that obsessed with keyboards is going to go to a group buy or build their own. And if you're just curious about this market, you're not ready to drop triple digits on a keyboard anyway—check out the excellent and frugal G.Skill KM250, and use the difference to buy some fun games. Or maybe a lubing station and some extra switches, if you're really all-in on the customization.
But as a $250 alternative to other super-premium keyboards that offer a lot less functionality, like Corsair's K100 Air, the Azoth is pretty good. Premium materials, a good layout, and nice extras like the lubing kit make this a decent middle ground between a premium keyboard for gamers and for obsessive tweakers. I could take or leave the fancy screen, and I'd much rather have a regular dial — maybe a cheaper "Azoth Lite" model without the OLED and a more conventional dial would be a good idea.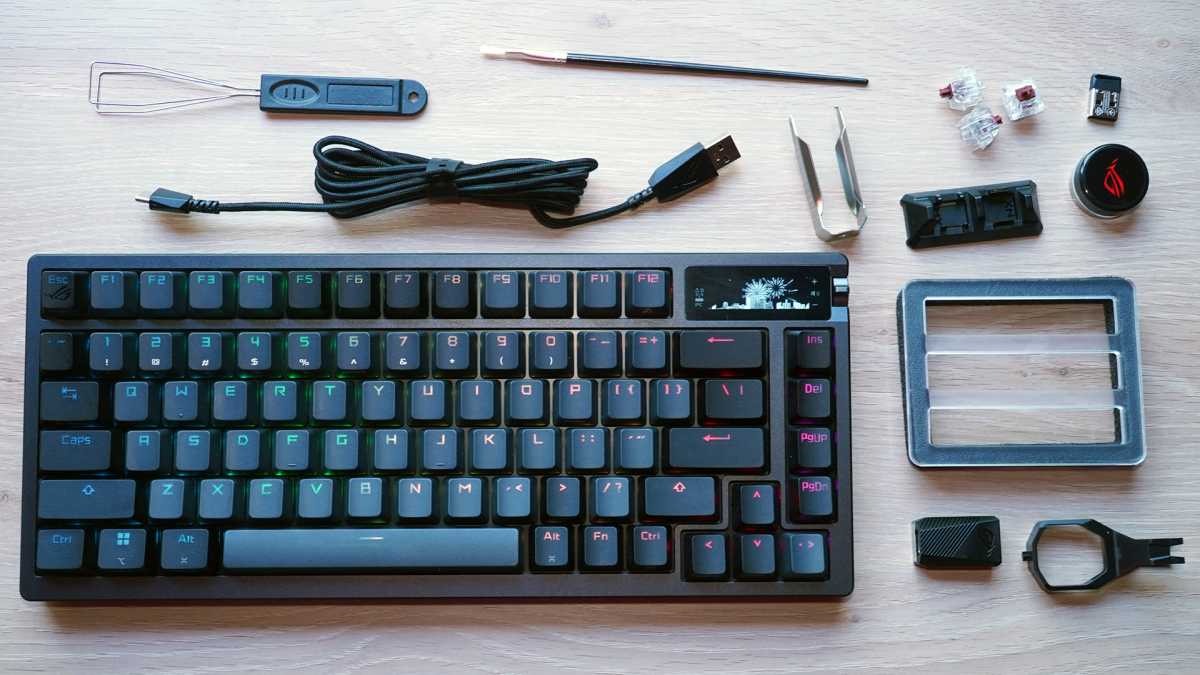 Michael Crider/Foundry
It's just a shame that an otherwise decent experience is ruined by such terrible software. And because of the nature of the screen and knob, you'll have no choice but to engage with them at least some of the time. Asus needs to fix Armoury Crate, or do away with it entirely and replace it with something smaller and less scatterbrained. It's actively hurting the hardware it's supposed to be enhancing.