At a glance
Expert's Rating
Pros
Super-quick key actuation thanks to 8,000Hz hyperpolling
Eight dedicated macro keys put more options at your fingertips
The RGB is superb, with both per-key RGB illumination and an immersive RGB underglow throughout
Cons
The Green switch model's keys don't bounce enough for long typing sessions
You'll need a lot of desk space to place it down
It's quite heavy, so not ideal for carrying to LAN parties
Our Verdict
The Razer BlackWidow V4 Pro keyboard is loaded with options, is super quick, and can be easily programmed for a truly bespoke gaming experience.
Price When Reviewed
229.99
Best Prices Today: Razer BlackWidow V4 Pro
The Razer Black Widow V4 Pro mechanical keyboard crept into Razer's peripherals line-up as the first V4 product the company ever made—and indeed it's an ideal test case to show off just how lavish the company's V4 products are likely to get.
The keyboard's merits read like a list of esteemed honors, including features like its Doubleshot ABS keycaps, 8,000Hz hyperpolling rate, eight dedicated macro keys, and some of the glitziest RGB you're ever likely to see. It comes with a silver spoon price of $229.99 USD, which admittedly is a tough pill to swallow, but we think serious gamers aren't going to be too fussed about the price once they get a taste of what's on offer.
Further reading: See our roundup of the best gaming keyboards to learn about competing products.
Razer BlackWidow V4 Pro design and build
The V4 Pro is a hefty full-sized battle station of a keyboard. Measuring 1.7 x 18.25 x 9.25 (HWD) inches with the wrist rest attached, it was so big I needed lots of free space around me just to use it. For size comparison, it's half an inch wider than its predecessor the Razer BlackWidow V3 Pro. It also weighs 2.40 pounds (again with the wrist rest attached), which may make some gamers who like to carry their keyboards to LAN parties wince at the prospect.
That said, if you do have the room to house it, it's a luxury that you'll enjoy for just about anything you do on your computer—be that gaming, mucking about in Windows, or even for those long hours of recreational spreadsheeting you like to do each night after work.
Why? Because Razer has poured its very best technologies into the V4 Pro and it really shows. Take the keys for instance: They feature delicately carved concave tops so your fingertips sit neatly in place without sliding off. Per-key RGB lighting also shines brightly though each key cap, which incidentally, are made Doubleshot, which means the lettering is sealed beneath a coating so it's virtually impossible to rub off.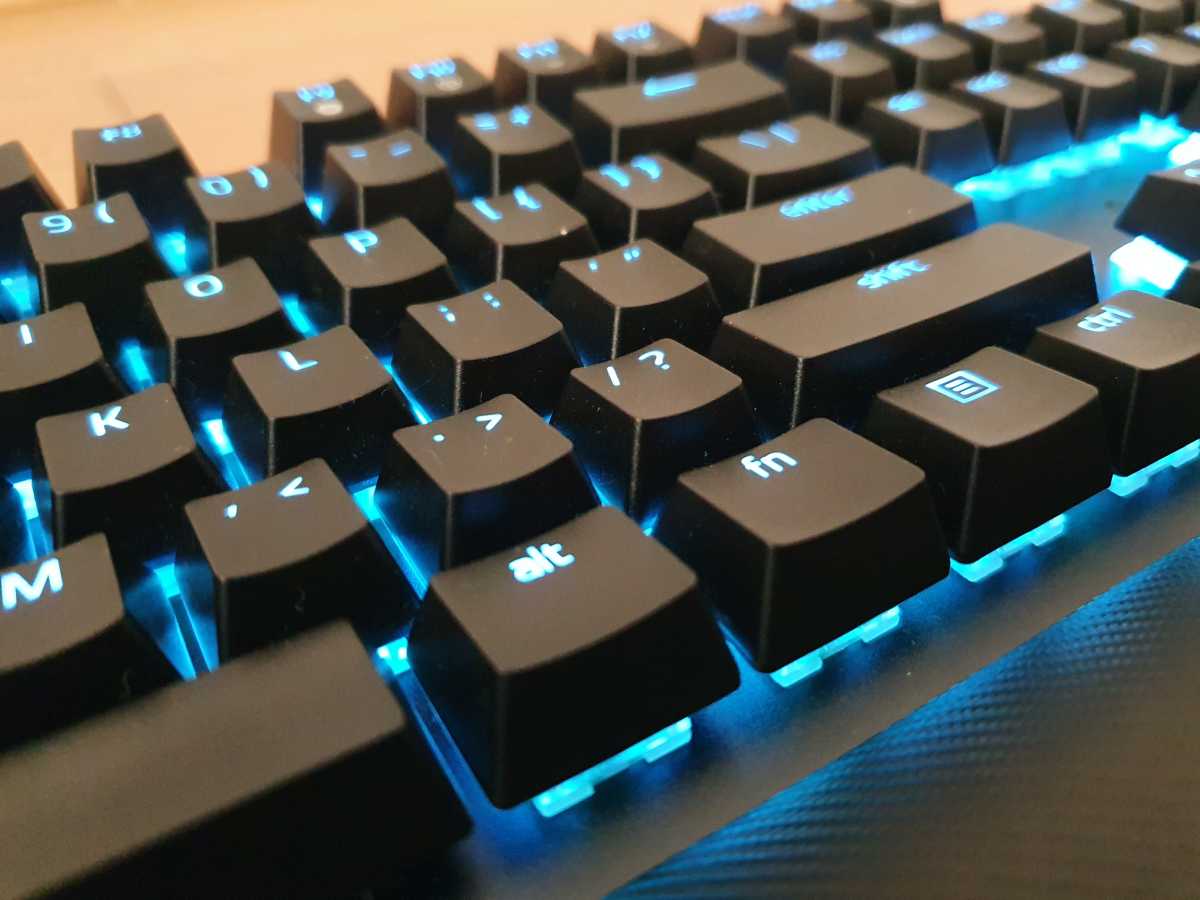 Dominic Bayley / IDG
As for the switches, the V4 Pro comes with the very best Razer has to offer—either Green (Clicky) or Yellow (Linear) full-sized mechanical switches, each rated for an exceptionally hardy 100 million presses.
The switch variants do differ slightly in how they respond and feel. For instance, the Yellow switches are said to be quieter and smoother. They have an actuation point situated 1.2mm above the keyboard and provide 45g of actuation force. Green, on the other hand, have a higher 1.9mm actuation point and deliver 50g of force, so they're a little more tailored for preventing accidental keystrokes.
For layout, the V4 Pro is very thorough, with just about everything but the kitchen sink thrown in for keys, including an array of four media buttons and eight macro keys—the latter of which weren't included in the V3 Pro and which will undoubtedly prove very popular with MMO gamers.
Five of these macros are located as a neat row numbered M1-M5 on the keyboard's far left flank, while another three can be found on the left side of the chassis. The V4 Pro's Command Dial is also a winner. It's very tall and joystick-like and located in the top-left corner, the opposite of where it was in the V3 Pro. It supports up to eight programmable functions, four of which are ready to use in the default setting.
Razer BlackWidow V4 Pro software
Razer's downloadable Synapse software allows you to customize the BlackWidow's functionality by assigning or changing the commands and modifying what the keyboard's Command Dial can do. You can't remap the Command Dial, but you can turn on an additional four functions that are switched off in the default setting. You can also personalize the dial's RGB indicator colors so that you can more easily identify each function.
In Synapse you can also set up and edit the five onboard profiles or swap between saved configurations. All the profiles will, however, remain locked into Synapse itself, so you won't be able to export them out elsewhere.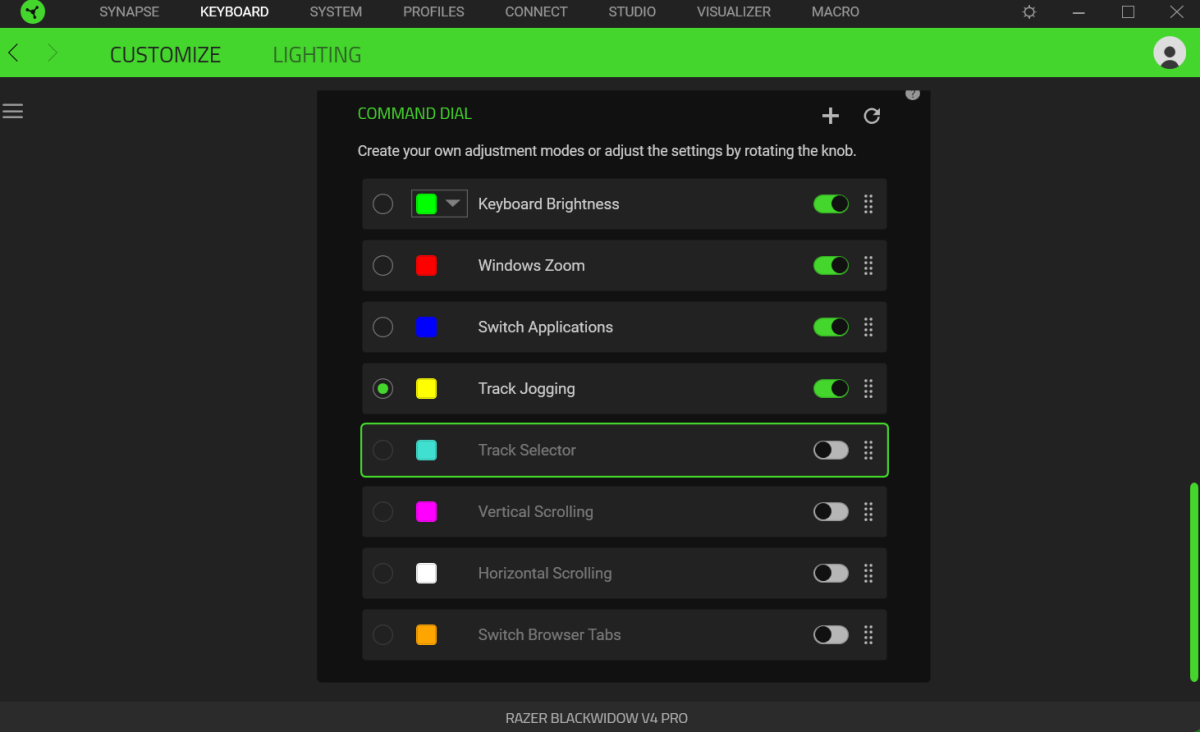 Dominic Bayley / IDG
With all its glorious RGB lighting zones the BlackWidow V4 Pro makes an ideal candidate for tweaking in Razer's Chroma Studio, where you can create unique lighting effects and colors for keys or even assign specific effects or color combinations to individual games. If you've collected other Razer Chroma RGB products, you can also synchronize your RGB lighting across these devices to create some dazzling light shows.
Razer BlackWidow V4 Pro gaming performance
Throwing down $229.99 for a keyboard—the V4's current price—is no small feat these days, so I was super keen to see if it performed well enough to make me want to pay that much. However, what's on offer seems to match the reality of the keyboard's stiff price.
I had plenty of key options for all my various gaming and working needs. But I also really enjoyed using the Command Dial, which proved invaluable for zooming into Microsoft Word pages when my eyes got a little blurry from staring at my screen for too long. The Command Dial also felt a lot taller and easier to use than the equivalent control dial in the V4 Pro's near rival, the Corsair K100.
The keyboard's big size also allowed me to locate keys a little more naturally than some smaller keyboards, and I really enjoyed the extra space I had to stretch out and relax into my games.
Additionally, the RGB lighting was always a stunning sight to see, and the media controls, which do a better job separating out individual commands than in the V3 Pro, made controlling my various media programs much easier and quicker than normal.
Among all the V4 Pro's various features, however, the highlight for me was definitely the macro keys. Indeed, the V4 Pro's macros are like the keyboard equivalent of the Razer Naga V3 Pro's mouse buttons—both offer so many options to assign spells or commands for skills that they've quickly became invaluable to my gameplay. In fact, so useful were these eight keys for binding essential actions in Final Fantasy XIV, they actually allowed me to finish quests in half the time I normally do.
Razer
That's not to say the V4 Pro doesn't have lots to offer gamers of other game types too. With an incredibly quick 8,000Hz hyperpolling rate, you get virtually instantaneous key actuation, which is ideal for frantic FPS gaming.
Indeed, in games like Insurgency or those belonging to the Rainbow Six, Battlefield, or Call of Duty franchises, you'll really want to take my advice and go and bind your flashbang or grenade actions to your keyboard, because you may not see a faster deployment than you will with the V4 Pro.
I found the configuration to my liking too, although changing from my ROCCAT Magma keyboard to the V4 Pro did take some getting used to at first. In fact, I found myself miss-hitting keys quite a lot in the beginning. That's simply because keys like: Left Shift, Left Tab, Caps, and Left Ctrl are located further to the right than in most conventional keyboards, so I had to somewhat reorient myself quickly.
In my Green switch variant, the keys were exceptionally quick and nippy too. They made a fair amount of noise, although it was a deeply satisfying sort—each press sounding like a clean snip cut by an exceptionally sharp pair of scissors, that had me wanting to press them more and more.
Also consider…
Corsair K100 Air Keyboard
Price When Reviewed:
$279.99
Yet it must be said that for long typing stints, like writing this review, the Green switches didn't quite have enough cushioning to be anywhere near as comfortable as I've found the Yellow switches in my Razer DeathStalker V2 Pro keyboard to be. That isn't a big deal—it just meant I had to mainly stick to gaming on my review unit.
Regardless, the V4 Pro's chassis is just ideal for gaming no matter what switches you have loaded. The outside of the chassis feels incredibly robust thanks to its immovable aluminum alloy plate.
Using the plush leatherette wrist rest was another experience I savored in the V4 Pro. It felt remarkably soft, but also lit up my desktop with more of that immersive RGB underglow—a nice touch that really lifted the overall aesthetic of my gaming den.
best low-profile gaming keyboard
Razer Deathstalker V2 Pro keyboard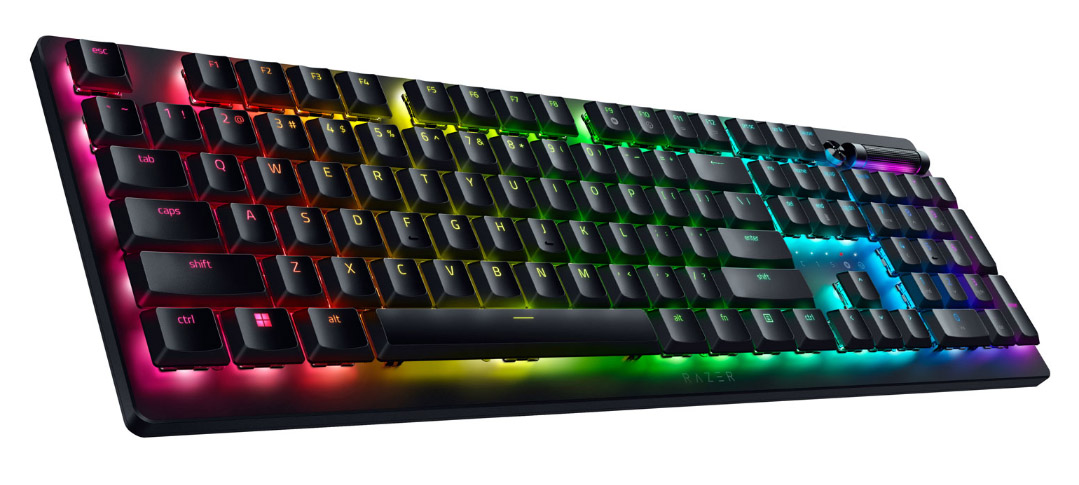 Price When Reviewed:
$249.99
Should you buy the Razer BlackWidow V4 Pro?
It doesn't take brain surgery to see that the BlackWidow V4 Pro is a very capable premium gaming keyboard. A more appropriate question is: Would you spend $230 on it? I was already leaning that way, but just to make sure, I did a very quick comparison with near-rival the Corsair K100 RGB mechanical keyboard, which currently retails for $159.76 on Amazon. It also comes with additional macro keys and a multi-function dial.
On its own merits the K100 actually measures up pretty well against the V4 Pro, despite being $70 cheaper. However, there are a few reasons why I'd still choose the V4 Pro over it.
The first factor is the macro keys—the K100 has six while the V4 Pro has a full eight. Admittedly, that doesn't sound like much but even a few more macros can make a big difference in MMOs with high command loads. Having those extra options also means I don't have to cannibalize keys elsewhere and jeopardize an even flow to my key mapping—which in turn saves unnecessary mucking around in Synapse.
Additionally, while both keyboards feature RGB, only Razer's wrist pad complements the board with its own dazzling RGB, so on the whole it looks a little more premium than the K100's palm rest. The Razer to me also appears a lot less cluttered in terms of its layout too, which at the end of the day, makes finding keys a more organic and enjoyable experience.