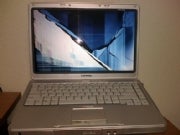 Not all PCs die peacefully. Some, sadly, experience tragic endings: A pavement pummeling, a swimming pool soak, a keyboard crackup, and the ever-popular motherboard meltdown.
Ever owned a laptop that met with a particularly gruesome death? If so, we want to hear about it! Better yet, we'd like you to send us a photo of the gnarled notebook, as well as a brief description of what led to its ill-fated demise.
We'll include the best (well, worst, actually) laptop horror stories in an upcoming PCWorld article. So if you're dying to share your tech tale of woe, we're all ears.
Please send your photos and stories to pcwtips@gmail.com