At a glance
Expert's Rating
Pros
Handsome design
Excellent keyboard
Lots of connectivity
Strong CPU and GPU performance
Cons
Heavy and bulky
Mediocre display
Short battery life
Our Verdict
Lenovo's Legion 5 Pro is a homebody, but strong performance and competitive pricing make it an excellent choice for gamers.
Price When Reviewed
$1,699.99
Best Prices Today: Lenovo Legion 5 Pro
Lenovo's Legion brand has established itself as a go-to option for gamers who want solid performance at a reasonable price. The new Legion 5 Pro looks to reinforce this with the latest Intel 13th-Gen processors and Nvidia RTX 4060 graphics. They provide a notable boost over last year's model and maintain the Legion 5 Pro's position as a go-to gaming laptop for those looking to spend less than $2,000.
Looking for more options? If so, check out our roundup of the best gaming laptops available right now.
Lenovo Legion 5 Pro: Specs and features
The Lenovo Legion 5 Pro is updated with the latest Intel and Nvidia hardware. This includes the Intel Core i7-13700HX, a 16-core processor with 24 threads and a maximum Turbo Boost frequency of 5GHz. It's joined by Nvidia's RTX 4060, which in this iteration can tap up to 140 watts of power.
CPU: Intel Core i7-13700HX
Memory: 16GB LPDDR5
Graphics/GPU: Nvidia RTX 4060 (140-watt TGP)
Display: 16-inch 2,560 x 1,600 165Hz IPS
Storage: 512GB PCIe Gen4 SSD
Webcam: 1080p with electronic privacy shutter
Connectivity: 1x USB-C 3.2 Gen 2 with DisplayPort 1.4 and 140 watts Power Delivery, 1x USB-C 3.2 Gen 2 with DisplayPort 1.4, 3x USB-A 3.2 Gen 1,1x HDMI 2.1, 1x Ethernet, 1x 3.5mm combo audio
Networking: WiFi 6E, Bluetooth
Biometrics: None
Battery capacity: 80 watt-hours
Dimensions: 14.3 x 10.25 x 1.05 inches
Weight: 5.51 pounds
MSRP: $1,699.99 MSRP, $1,449.99 retail
Pricing starts at $1,259.99 through Lenovo's website. That will snag you a less capable machine with an Intel Core i5-13500HX and Nvidia RTX 4060. The model I tested was priced at $1,449.99, less than $200 more than the entry-level despite a big upgrade to both the CPU and GPU.
Lenovo Legion 5 Pro: Design and build quality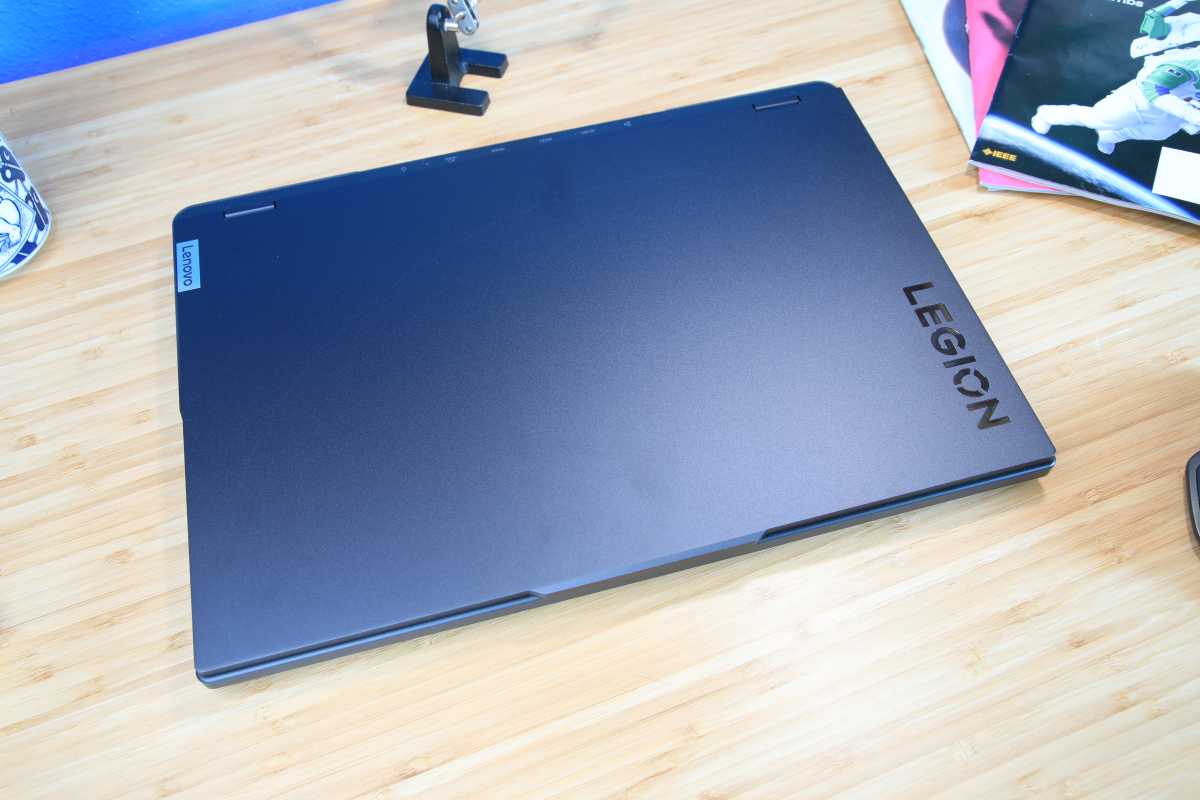 IDG / Matthew Smith
The Lenovo Legion Pro 5 is cloaked in a reserved navy-blue and black chassis. It uses simple, mostly untextured plastics that don't look or feel remarkable but manages a more polished, professional vibe than alternatives such as the Acer Predator Helios, Asus TUF Gaming A16, and Dell Inspiron Gaming. It's clearly a laptop designed for performance yet won't attract unwanted attention in a meeting.
It won't take up the entire table, either. Measuring at 14.3 inches wide and 10.25 inches deep, the Lenovo Legion Pro 5 is reasonably compact for a 16-inch gaming laptop, though it will still feel most laptop bags to capacity. Its size is most noticeable in profile, as the Legion Pro 5 measures a tad over an inch thick—a trait you'll certainly notice while handling the machine. It also tips the scales at 5.6 pounds, which is similar to competitive laptops but rather noticeable when placed in a backpack or messenger bag.
Lenovo's build quality doesn't disappoint. The chassis is solid and uncomplaining, with no creaks or groans to betray its plastic origins. There's some give here and there, most notably in the display lid when you're opening and closing it, but nothing to sound alarm bells. In fact, it's right up there with the competition, offering a similar degree of rigidity and durability.
Lenovo Legion 5 Pro: Keyboard, trackpad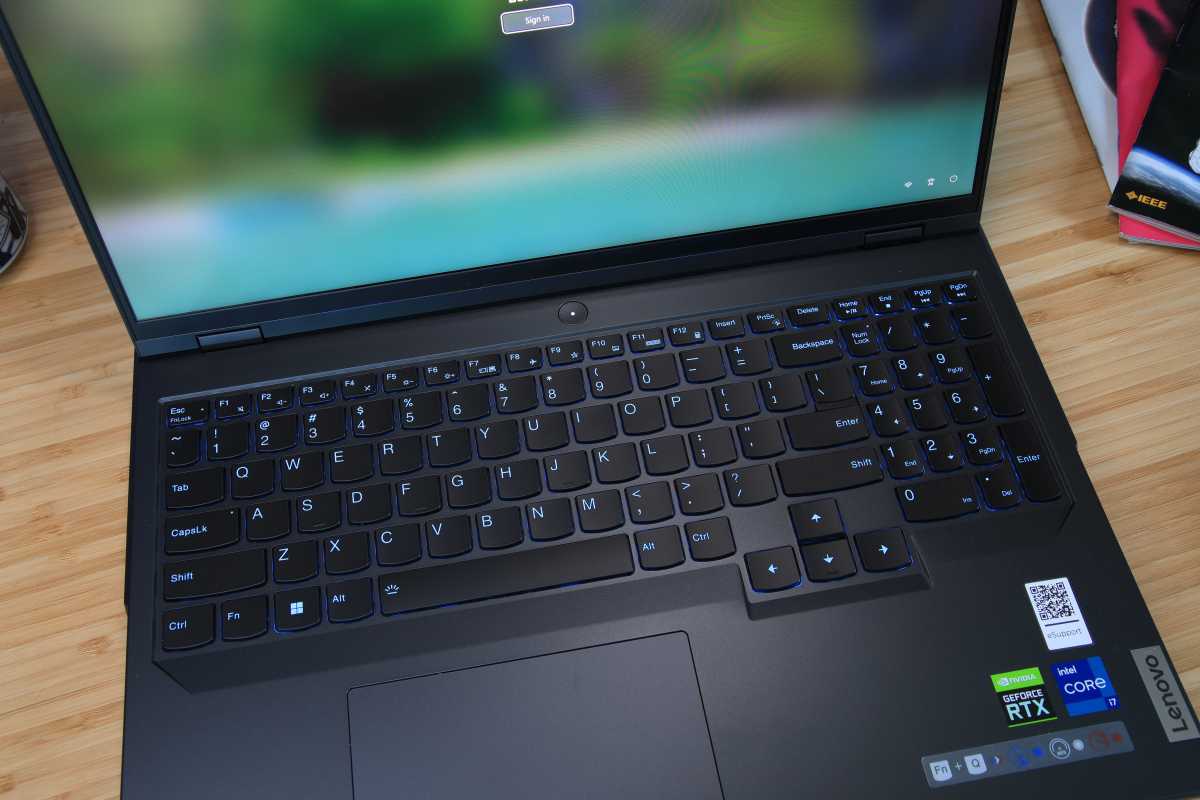 IDG / Matthew Smith
The Lenovo Legion Pro 5 has an excellent keyboard with plenty of key travel and a snappy, decisive bottoming action that rewards each keystroke with firm tactile feedback. It beats peers such as the Acer Predator Helios 300 and MSI Katana/Sword, which, while not terrible, feel lackluster in comparison. The Legion Pro 5 even has an edge over most professional laptops including the MacBook Pro 16 and Dell XPS 15.
A numpad is included and shifts the keyboard off-center, a layout decision I dislike. The touchpad follows suit, also veering off-center to align with the keyboard, which eats into the palmrest space on the laptop's left side.
The keyboard is backlit and offers RGB color customization across 4 zones, which is par for the course in this category. The software might throw users for a loop, as it's tucked away in Lenovo's Vantage software that has grown bloated over the last few years. Still, the backlight does its job and can look as reserved or garish as you'd like.
The touchpad measures a respectable 4.5 inches wide and 3 inches deep—not huge for a 16-inch laptop, but serviceable. It offers a smooth, responsive surface, and Windows 11 multi-touch gestures are a breeze to use. I experienced a few palm rejection snafus that led to some unwanted mouse clicks, but these weren't frequent enough to cause serious concern.
Lenovo Legion 5 Pro: Display, audio
IDG / Matthew Smith
The Lenovo Legion 5 Pro sports a 2560×1600 IPS display that refreshes at a brisk 165Hz. These are common specifications in the mid-range gaming laptop arena, and it's rare to see any gaming laptop below $2,000 with a significantly higher resolution or refresh rate. More expensive gaming laptops, like the Razer Blade, put their increased budget to good use with OLED or Mini-LED panels.
Maximum brightness comes in at an eye-catching 419 nits which, combined with the display's matte coat, makes the display comfortable to view in bright rooms. The contrast ratio is rather modest, however, with a maximum measured contrast of just 890:1. That's low even for a mid-range gaming laptop and leads to disappointing shadow detail in dark scenes. Darker games, like Resident Evil 4 or Diablo IV, look hazy and flat on this monitor.
Bright, colorful games fare better. The display's color gamut spans 99 percent of sRGB and 79 percent of DCI-P3. These results are behind the best laptops: Razer's Blade 16 with Mini-LED display, for example, can achieve 100 percent of both color gamuts. However, the Legion 5 Pro's results greatly exceed budget alternatives like the MSI Sword, which only managed 70 percent of the sRGB color gamut. The Legion 5 Pro is remarkably accurate, too. Color accuracy, color temperature, and gamma results are spot-on their targets, which means games look as their creators intended.
The 165Hz refresh rate ensures fluid, clear motion and provides a responsive gaming experience. However, the Legion 5 Pro doesn't gain any ground here, as displays with similar refresh rates are the norm across budget and mid-range gaming laptops.
Lenovo offers an upgraded display option with the same 2,560 x 1,600 resolution, improved brightness, and a 240Hz refresh rate. I wasn't able to test the display, but my experience with other laptops that boast similar display specifications leads me to expect it will look noticeably better in most games. Lenovo charges a mere $30 for the upgrade, so I highly recommend opting for the 240Hz panel.
The Legion 5 Pro's downward-firing speakers produce decent audio, though their location means audio can be muffled depending on the surface the laptop is placed on. The speakers strike a balance between lows and highs and rarely sound muddy. Maximum volume is a bit low, however, so the speakers are most enjoyable in a quiet room.
Lenovo Legion 5 Pro: Webcam, microphone, biometrics
The Lenovo Legion 5 Pro has a 1080p webcam. It's a nice upgrade over the 720p webcams that are more common in modern gaming laptops. The image looks sharp in good lighting and provides a pleasant, colorful look. Significant noise creeps into the video and introduces a grainy, soft look in poorly lit rooms, but the problem is less noticeable than with most laptops. An electronic privacy shutter with a physical switch is included, too.
A dual-array microphone handles the laptop's audio capture. It works as expected, providing strong, clear audio capture with good noise cancellation, but captured audio sounds hollow and distant when played back through a decent pair of headphones. This is typical for a laptop and shouldn't cause a problem in video calls.
Biometric login is not supported, which is typical for a gaming laptop. Even the most expensive laptops sometimes omit this feature, though it can be found on alternatives like the Razer Blade 16.
Lenovo Legion 5 Pro: Connectivity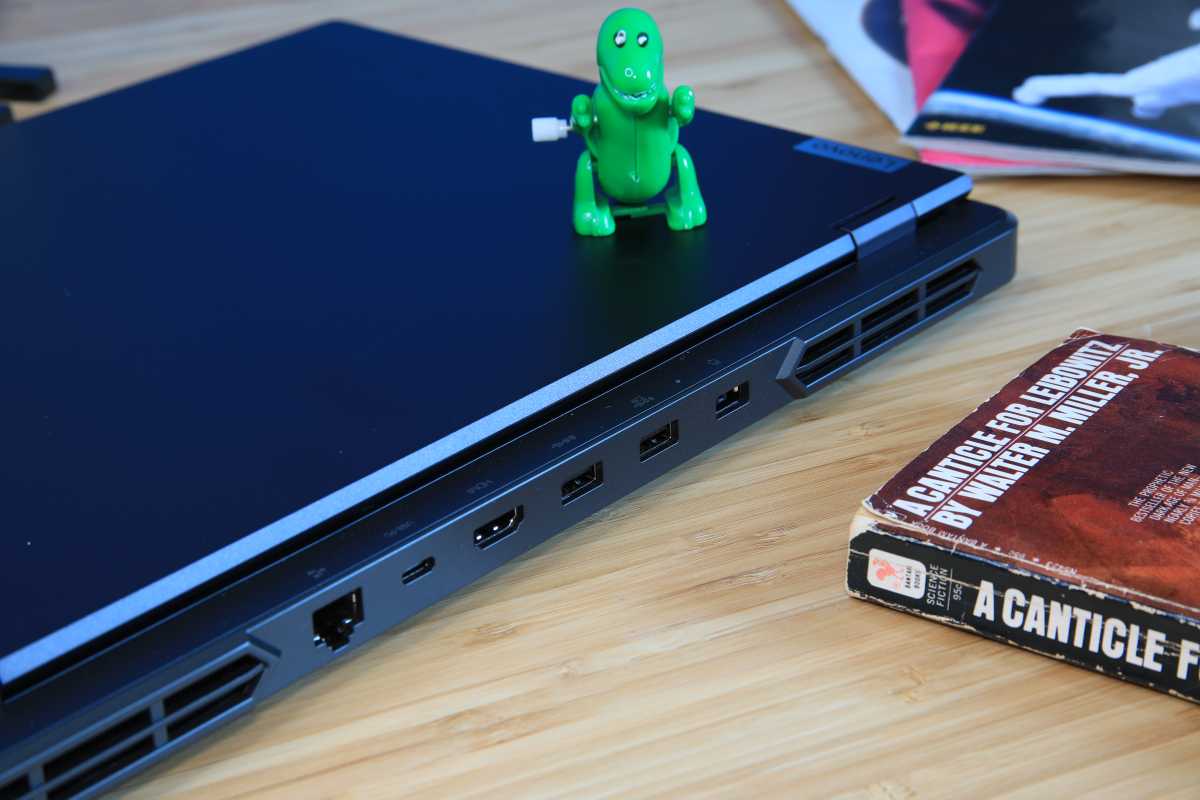 IDG / Matthew Smith
Lenovo's Legion 5 Pro scores high marks in connectivity. The highlight is a USB-C port with DisplayPort Alternate Mode and up to 140 watts of Power Delivery. This is not enough to fully power the laptop at maximum load, as it ships with a 300 watt power adapter, but enough to power and charge the laptop in less demanding tasks. Owners have the option of leaving the 300 watt power brick at home when the Legion 5 Pro's maximum performance potential isn't required.
Additional USB connectivity spans a second USB-C port, which supports DisplayPort but not Power Delivery, and three USB-A ports. That's a total of five USB ports, which is excellent for any laptop sold in 2023. They're joined by an HDMI 2.1 port, Ethernet port, and 3.5mm combo audio jack. Most ports are on the rear of the laptop, instead of the sides, which makes for easy cable management when the laptop is on a desk.
Wireless connectivity includes Wi-Fi 6E and Bluetooth 5.1, which is standard for most modern gaming laptops. Wi-Fi performance is quite good when connected to a Wi-Fi 6 or Wi-Fi 6E router and will leave many gamers without a need to connect to wired Ethernet, though it's there if you want it.
Lenovo Legion 5 Pro: Performance
The Lenovo Legion 5 Pro has muscular mid-range specifications which include an Intel Core i7-13700HX processor with a total of 16 processor cores (eight Performance-cores and eight Efficient-cores) and a maximum clock speed of 5GHz. It's paired with 16GB of DDR5 memory and a 512GB solid state drive. The Core i7-13700HX is the quickest processor available in the Legion 5 Pro, but Lenovo offers RAM upgrades up to 32GB and storage upgrades up to 1TB.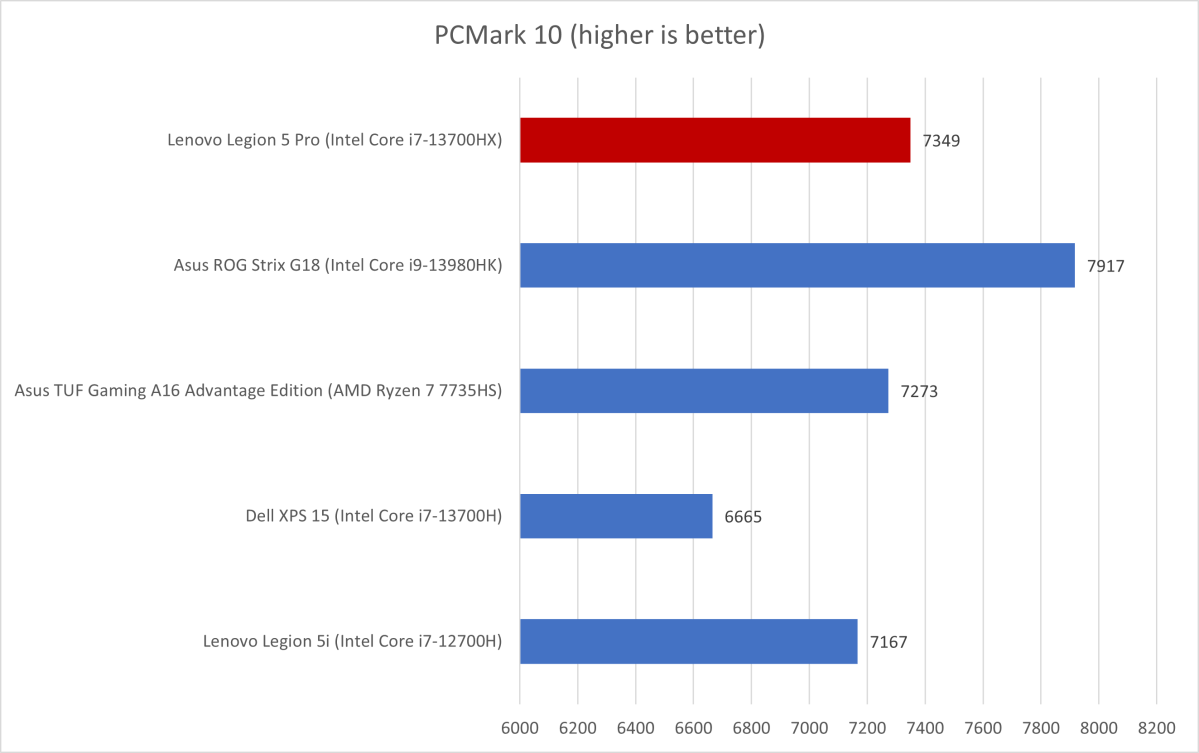 IDG / Matthew Smith
Lenovo starts off strong with a PCMark 10 score of 7349. Though hardly record-setting, it's a respectable score that is towards the top end of mid-range gaming laptops, and it represents a system that is capable of strong overall performance.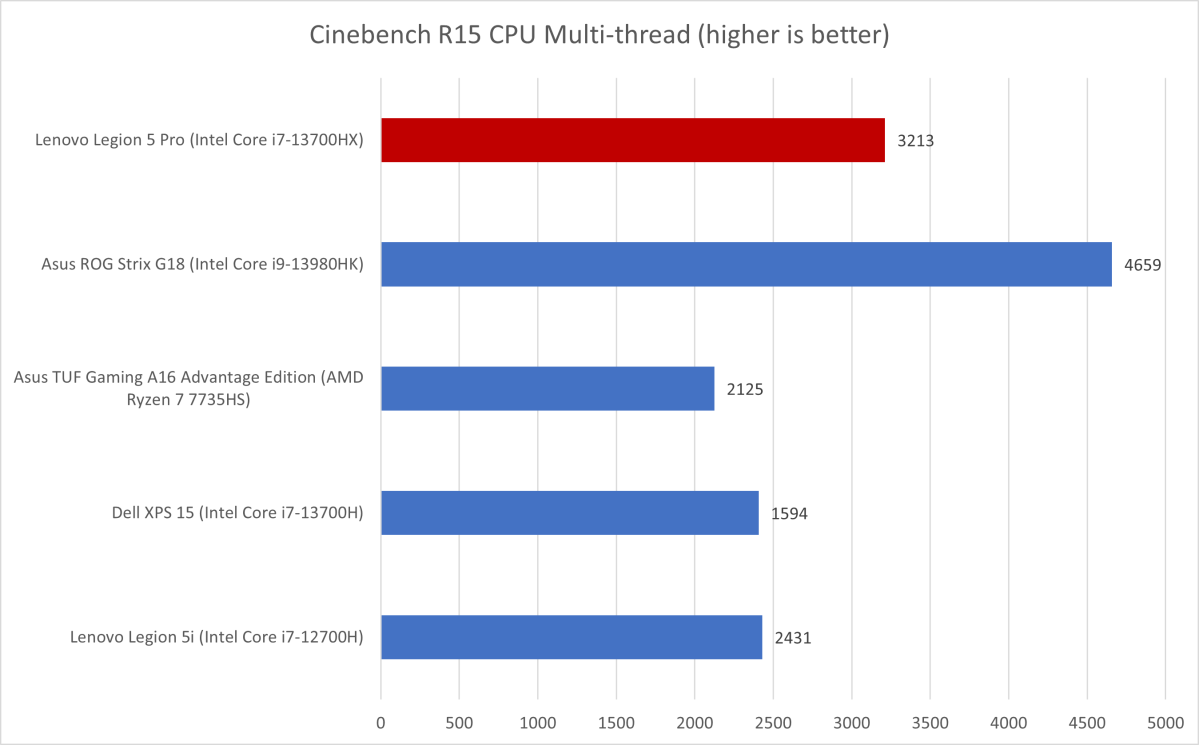 IDG / Matthew Smith
Cinebench R15 paints the Legion 5 Pro in an even better light with a score of 3213. This is a big improvement over last year's Legion 5 with Intel Core i7-12700H, and extremely competitive with other performance laptops. Asus' ROG Strix G18 is the only machine that leaps ahead, which is to be expected, as it equips a much more powerful Core i9-13980HX processor.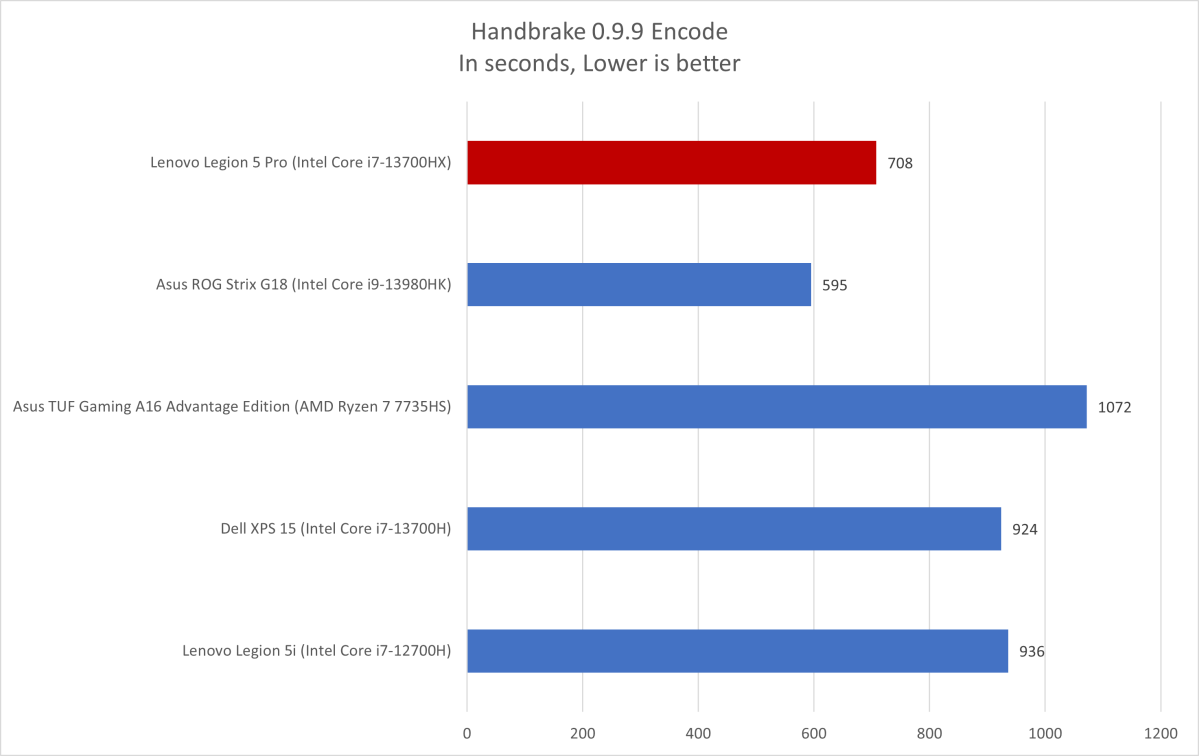 IDG / Matthew Smith
Handbrake removes any shadow of doubt about the Legion 5 Pro's processor performance. It once again achieves the second-best score and provides a major lift over last year's model. Those who depend on apps that require significant CPU horsepower will be extremely pleased.
This is a gaming laptop, however, and excellent processor results don't always translate to great game performance. There's reason to be suspicious, too, as the laptop I tested had Nvidia RTX 4060 mobile graphics. It's a respectable budget option, but can it really deliver in the most demanding 3D games?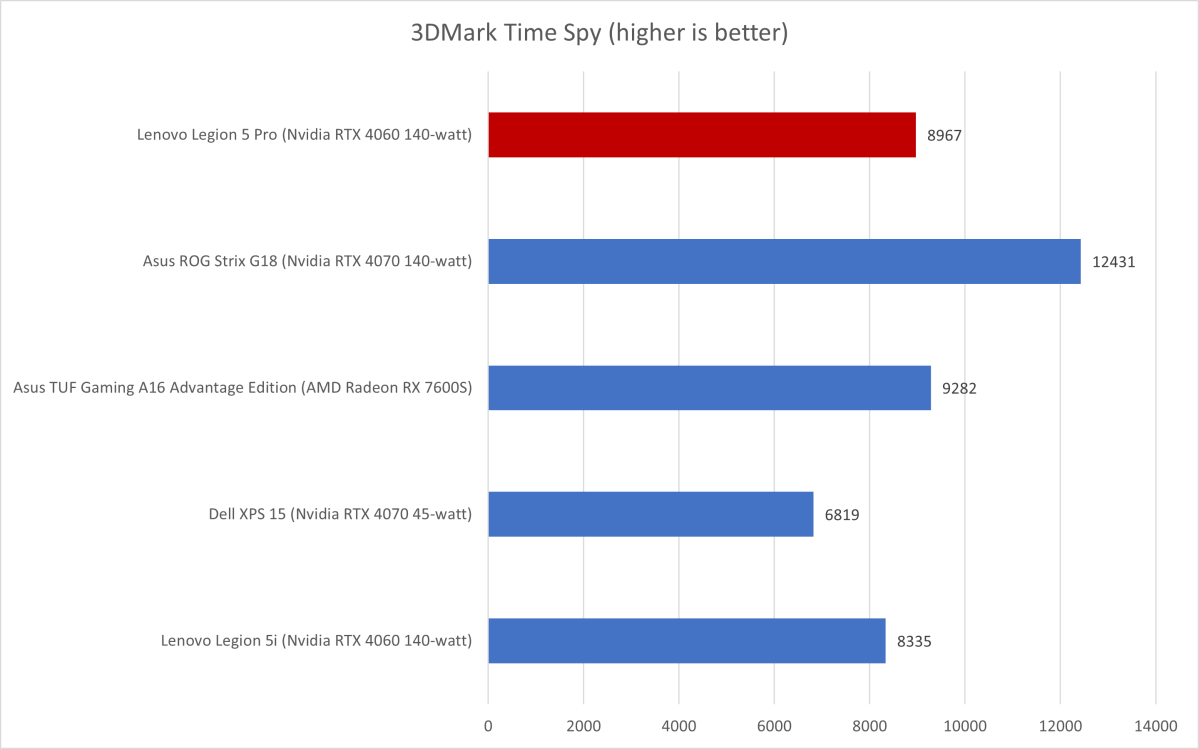 IDG / Matthew Smith
3DMark's Time Spy benchmark is good news for the Legion 5 Pro, hitting a combined score of 8967. That's extremely competitive with similarly priced laptops and indicates that the Legion 5 Pro can handle most modern 3D titles. However, the new Legion 5 Pro with RTX 4060 is only a tad quicker than the old model with RTX 3060.
IDG / Matthew Smith
Shadow of the Tomb Raider hits an impressive average of 130 frames per second. That's a solid score for a mid-range gaming laptop and marks a more significant improvement over the older Legion model with RTX 3060.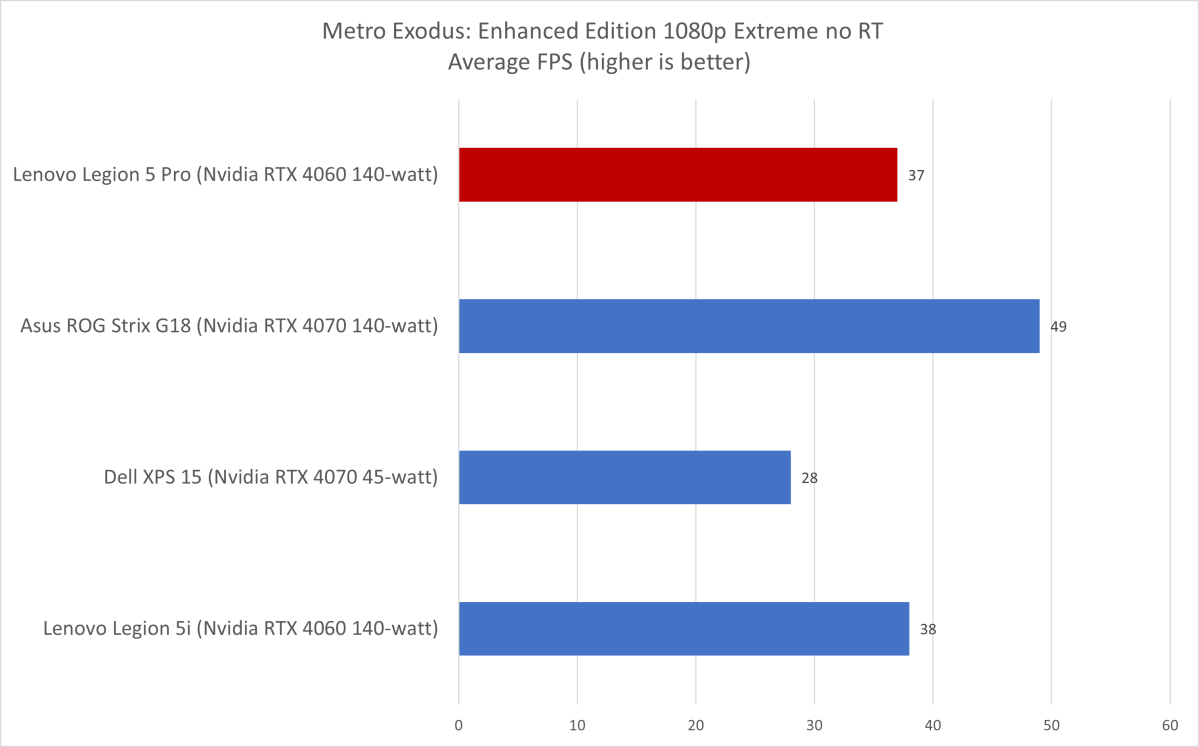 IDG / Matthew Smith
Metro Exodus, on the other hand, averaged a disappointing 37 frames per second. That's not an unusual score for laptops in this price range (in fact, it's rather strong), but it basically ties the old Legion with RTX 3060. This would seem to suggest the RTX 3060 and RTX 4060 face a similar performance bottleneck in this game.
I used Cyberpunk 2077 to judge the Legion 5 Pro's ray tracing performance. The game averaged 80 frames per second at 1080p and Ultra detail. That plummeted to just 26 FPS with ray-tracing on and set to Ultra. Fortunately, Nvidia's DLSS with DLSS 3 Frame Generation restored most of that loss, kicking the average back up to a highly playable 74 FPS. Even Cyberpunk 2077's new Overdrive mode is playable, averaging 44 FPS when DLSS is on.
Lenovo Legion 5 Pro: Battery life
The Lenovo Legion 5 Pro is a powerful mid-range gaming laptop—and while this is good for performance, it can be a negative for battery life. Lenovo's modest 80 watt-hour battery doesn't inspire confidence, either, and ultimately fails to deliver.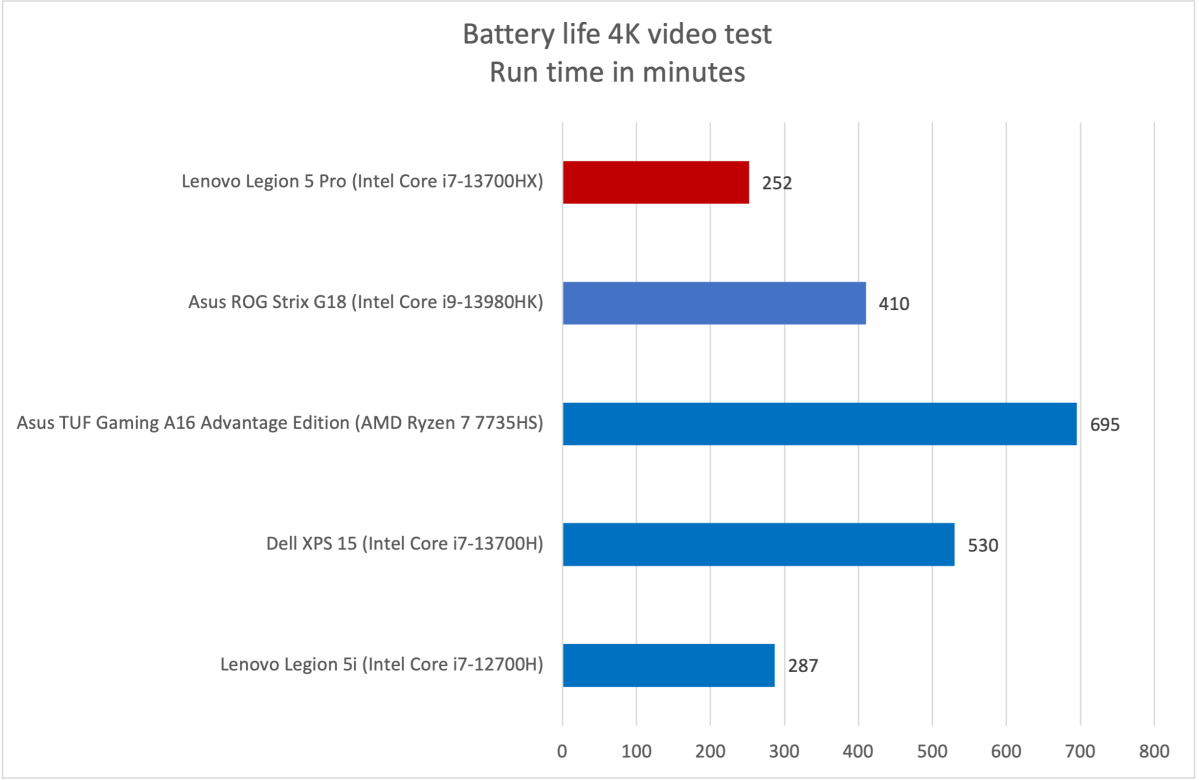 IDG / Matthew Smith
I measured four hours and 12 minutes of battery life in our standard video test loop, which repeats a 4K file of the short film Tears of Steel. Web browsing extended the battery life by a hair to four hours and 19 minutes, which remains unremarkable.
Lenovo Legion 5 Pro: Should you buy it?
Lenovo's Legion 5 Pro remains an easy recommendation. Its robust build, professional exterior, and excellent keyboard set it apart from rivals, and it delivers solid performance for both productivity and gaming. The Legion 5 Pro is a large, heavy laptop, and mediocre battery life makes it a poor travel companion. Still, it's a great choice for gamers who need a fast laptop at a reasonable price.
Best Prices Today: Lenovo Legion 5 Pro