It's been eight years since Steam introduced the ability to refund purchased games, a much-needed option for the de facto standard storefront of PC gaming. Users can get their money back, no questions asked, so long as they've had the game for less than two weeks and played for less than two hours. But the system is awkward, requiring a dive into the support menu and the approval of a Steam employee. There's a better and more straightforward option on the horizon, and it quietly became available yesterday.
The new feature is called Timed Trial, essentially a 90-minute demo of a full game. The first title to offer a Timed Trial is EA's remade version of Dead Space. Users can click "Play Now," download the full game, and play for an hour and a half without having to buy anything…and without needing to wait for Steam to review your request for a refund, or for a refund to hit your PayPal account. It's a more streamlined way to do things, and frankly it's long overdue.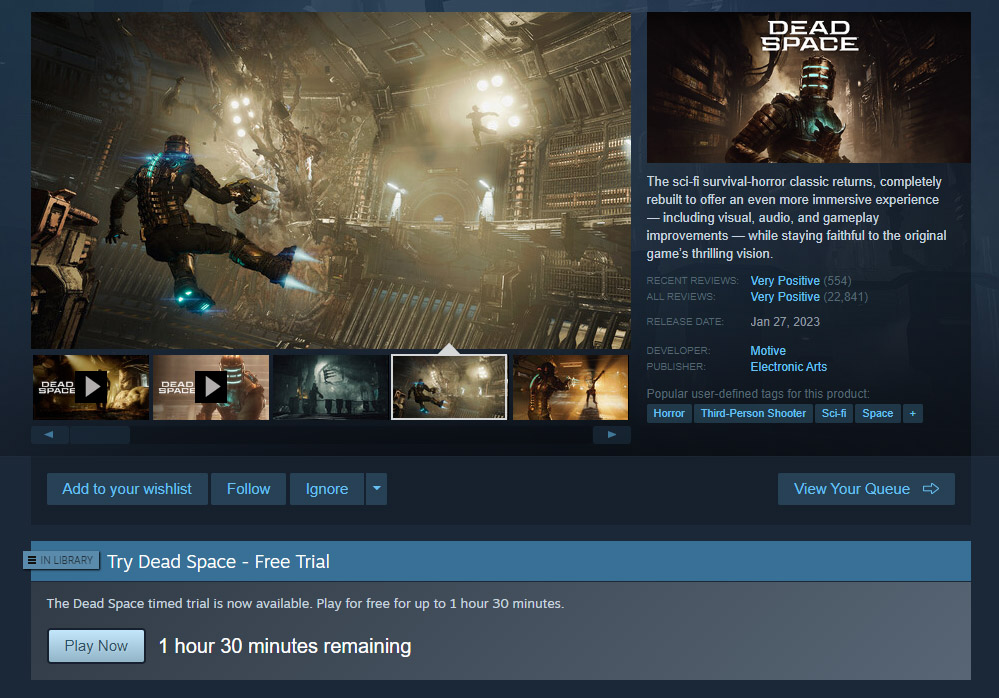 Valve
Steam doesn't appear to be adjusting its existing refund policy, at least for the moment, and nothing is stopping developers from offering stand-alone demos if the first 90 minutes of a game isn't a great fit for a preview. (Some games like Final Fantasy or Metal Gear Solid would barely get through the opening cutscenes in that time limit.) At the time of writing, Dead Space is the only game that uses the new feature, spotted by Kotaku — presumably Valve is working with publishers and developers to expand it more widely since this feature is part of Steam itself.
What's spurred on this change in the long-running status quo? My gut says Xbox Game Pass. Microsoft's buffet-style subscription service is still the best deal around for PC gamers (especially if you use this trick to get it cheap), and it lets them sample a wide variety of titles with little to no commitment. PlayStation Plus has a similar feel, though it's less focused on offering brand new titles. Getting rid of the need to spend extra money on a game you're only kinda-sorta sure you want, and removing the annoying process of applying for a refund, is a win-win for Steam.