AMD continues its march into Chromebooks today with its first Ryzen 7000 processors for the inexpensive laptops powered by Chrome OS.
AMD announced the Ryzen 7000 Mobile series this past January, bouncing across four separate architectures that make up the new processors for laptops. AMD's efforts in Chromebooks date back to 2020, with Ryzen 5000 C-series chips for Chromebooks debuting last year.
Now, AMD has announced four new C-series chips for Chromebooks: the Ryzen 5 7520C, the Ryzen 3 7320C, the Athlon Gold 7220C, and the Athlon Silver 7120C. AMD says they're all designed for mainstream Chromebooks.
The details of the new chips are:
Ryzen 5 7520C: 4 cores/8 threads, 2.8GHz base, 4.3GHz boost
Ryzen 3 7320C: 4 cores/8 threads, 2.4GHz base, 4.1GHz boost
Athlon Gold 7220C: 2 cores/4 threads, 2.4GHz base, 3.7GHz boost
Athlon Silver 7120C: 2 cores/2 threads, 2.4GHz base. 3.5GHz boost
Remember, according to AMD's mobile Ryzen naming scheme, all of these chips are from the same 6nm "Zen 2" generation. All consume 15W, and all use the same Radeon 610M graphics core.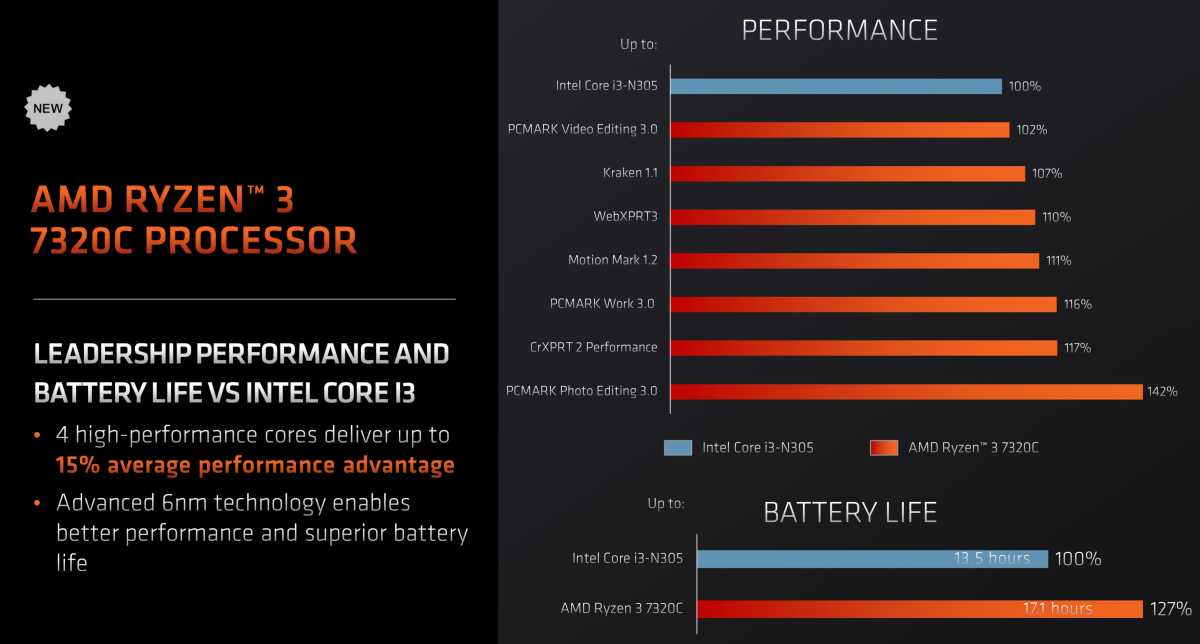 AMD
Because of this, AMD is drawing comparisons with its two chief competitors: The company claims these chips are within shouting distance of the battery life of the MediaTek Kompanio Arm chip, while offering greater performance; similarly, they have better battery life than an Intel Core i3-N305 Chromebook chip, while edging it out in performance, too. AMD is claiming that a Chromebook with a 57 watt-hour battery and a 15.6-inch display will operate for about 17.1 hours.
Dell will use the 7020C-series chips inside the Dell Latitude 3445, beginning in the second quarter, and AMD will ship the Asus Chromebook CM34 Flip (CM3401), a 14-inch Chromebook, with the Ryzen 5 7520C inside it.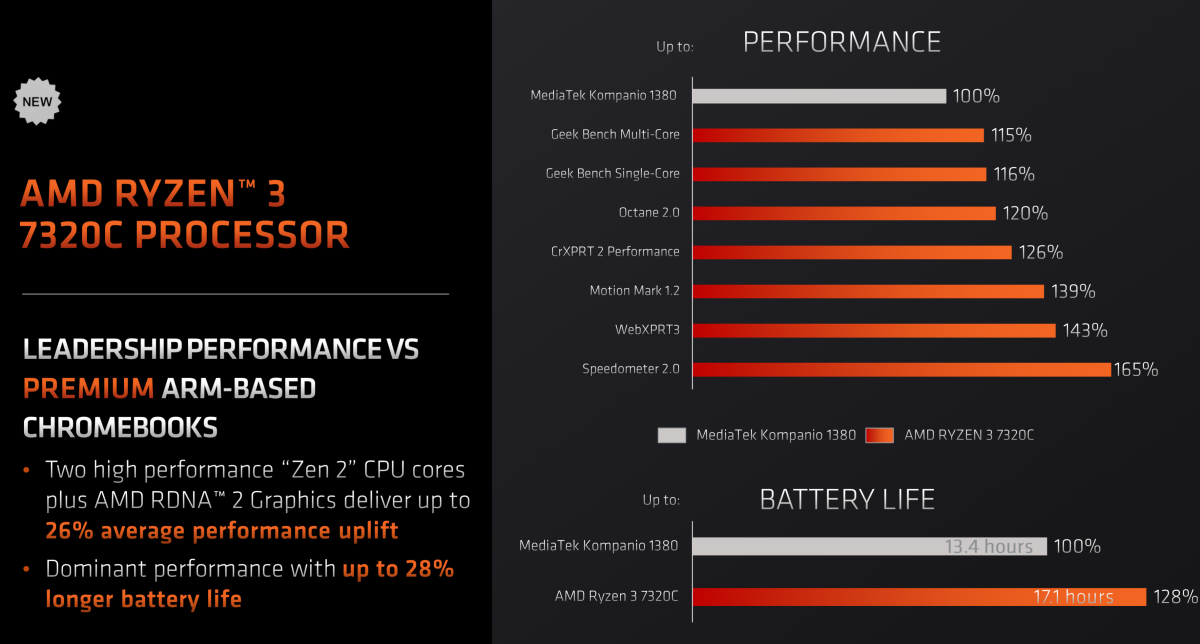 AMD
Chromebook sales have plunged as demand spiked during the pandemic and quickly fell off. Worldwide shipments of Chromebooks declined by 48 percent in 2022, after spiking 180.5 percent growth in 2021, according to IDC. AMD is still a very minor player, with about 10 percent of the market. MediaTek and Intel hold 35 percent and 30 percent, respectively.