At a glance
Expert's Rating
Pros
4K image quality is pretty good in certain conditions
Excellent mic quality
Two-year warranty
Cons
Poor design limits what displays it can connect to
The EPOS control app promises more than it delivers
Our Verdict
The EPOS Expand Vision 1 proves to be more trouble than it's worth, even for a 4K webcam.
Price When Reviewed
$239.00
Best Prices Today: EPOS Expand Vision 1
The EPOS Expand Vision 1 webcam is perhaps the smallest 4K, 30Hz webcam we've seen, a compact little device that comes with its own nifty carrying case. But whatever EPOS did to shrink this webcam down sacrificed something essential: It has trouble simply holding on to some displays.
Simply put, this is one of those products that might work for you, or it might not—and at over $150, you might not want to deal with the hassle of finding out.
We really don't have many complaints with either the 4K webcam itself or the integrated dual noise-cancelling mics. A small dial built into the webcam closes a hardware iris that serves a privacy shutter, and a small white LED signals when the camera is active.
Further reading: See our roundup of the best webcams to learn about competing products.
EPOS is one of the few webcam manufacturers to bundle everything inside a nice protective carrying case, which the compact (2.3 x 1.2 x 1.7in) webcam neatly fits into. It's the angled USB-C connector that signals something's a little different about this camera, however. The cable is relatively lengthy, at about 46 inches, long enough to allow the webcam to perch on top of a desktop monitor. That's where the problems start.
Webcams don't need to be deep, but they usually are. Take the eMeet SmartCam C960: It's not a particularly pretty webcam, with a camera assembly that's just over an inch deep. The Expand Vision 1 is similar, or about 1.2 inches at most. But eMeet wasn't afraid to attach it to a base that's almost 2.5 inches long, and so the C960 does its job: it comfortably grips virtually all of the displays you'll want to attach it to.
EPOS sacrifices this flexibility in favor of aesthetics. EPOS uses a similar "jaws" design to allow the webcam to grab on to a monitor, but the ridges aren't long enough or pronounced enough to provide solid contact. To be fair, the Expand Vision 1 held well to one desktop monitor. Another, a slightly thicker display aimed at the professional space, simply was too thick for the Expand Vision 1. I managed to fit the Expand Vision 1 onto my laptop, but I had to tilt the display to accommodate the camera because the front jaw or tooth wasn't long enough. It was just too much hassle to align properly, let alone actually use.
Fortunately, the images the camera produces are pretty good. It was a little surprising how well the Expand Vision 1 did in what I consider a more dimly-lit office environment compared to a more brightly-lit room upstairs. While the EPOS documentation claims that this webcam can shoot video at up to 4K at 60Hz, Windows reported that this webcam would only shoot video at 30Hz, at all of its supported resolutions.
Mark Hachman / IDG
EPOS does ask you to download a utility that can help control the Expand Vision 1. At first the utility couldn't find the camera; I had to re-connect a second time for the two to pair.
There's really no point in using it, though. The utility promises pan and zoom features, as well as a controllable field of view from a "wide angle" to a closeup. The changes are infinitesimal, however. The white balance is slightly better, though not by much.
The one plus? As you might expect from a company whose official name is EPOS Audio, this webcam's mics are excellent.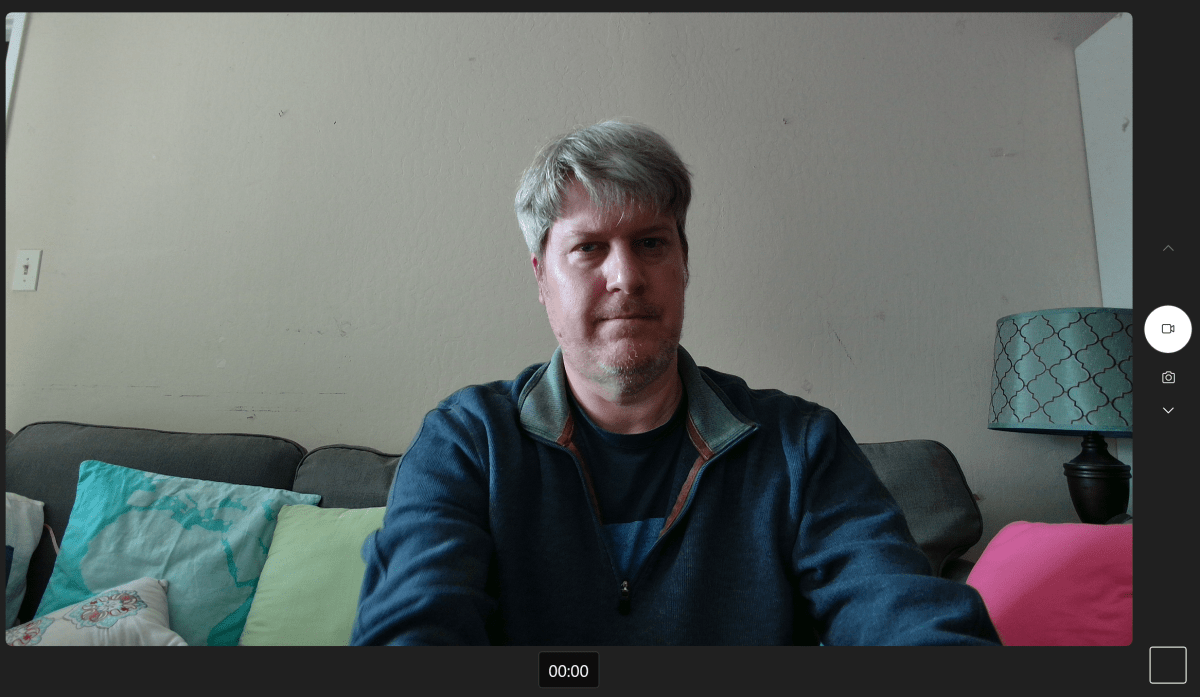 Mark Hachman / IDG
Should you buy the EPOS Expand Vision 1?
Simply put, the webcam market is just too competitive for us to recommend a webcam with the shortcomings of the EPOS Expand Vision 1. Again, you may find that this compact webcam fits your monitor. But with issues connecting to laptops as well as thicker displays, we don't recommend that you buy it.
Best Prices Today: EPOS Expand Vision 1