At a glance
Expert's Rating
Pros
High-quality build
Gorgeous screen
Excellent battery life
Diverse port selection
Competitive performance
Cons
Obnoxious bloatware
High-pitched fans
Physical trackpad button instead of a linear motor
Our Verdict
A no-compromises ultraportable that's not just another pretty face.
Price When Reviewed
$1,399
Best Prices Today: Asus Zenbook S 13 OLED (2023)
It used to be that in order to get a laptop's profile as thin as possible, laptop makers would have to make big sacrifices. A perfect example for me is the original 2008 MacBook Air—this ultrabook whittled its ports down to three, one USB, one charging port, and the headphone jack and used the same slow hard drives as an iPod, making it a frustrating computing experience no matter how you sliced it.
Thankfully, thin-and-light computers have come a long way since 2008 and Asus has put out what looks like a no-compromises device. It features the latest Intel Core 10-core chip and a gorgeous OLED screen, which is all packed into a super light frame made from metal and ceramic. On paper, it seems like it could give even Apple's honed Airs a run for their money and save for a couple of gripes, that's absolutely the case. Asus has designed one exciting ultrabook.
Looking for more options? Check out our roundup of the best laptops available right now.
Asus Zenbook 13 S OLED: Specs and features
Our review unit came loaded with an Intel Core i7-1355U CPU, Intel Iris Xe graphics, 32GB of RAM, and 1TB of NVMe PCIe SSD storage. For more details, check out the bulleted list below:
CPU: Intel Core i7-1355U (10 cores, 12 threads)
Memory: 32 GB LPDDR5
Graphics/GPU: Intel Iris Xe Graphics
Display: 13.3-inch 2880×1800 16:10 OLED, 550 nits peak HDR brightness
Storage: 1 TB M.2 NVMe PCIe 4.0 SSD
Webcam: 1080p IR camera
Connectivity: 2x Thunderbolt 4, 1x USB-A 3.1 Gen , 1x HDMI 2.1, 3.5 mm headset jack
Networking: Intel AX211 with Wi-Fi 6E, Bluetooth 5.3
Biometrics: Windows Hello facial recognition
Battery capacity: 63Wh
Dimensions: 11.66 W x 8.52 L x 0.46 H inches
Weight: 2.2 pounds, 2.6 pounds with AC adapter
Price as Reviewed: $1,399
Asus Zenbook 13 S OLED: Design and build quality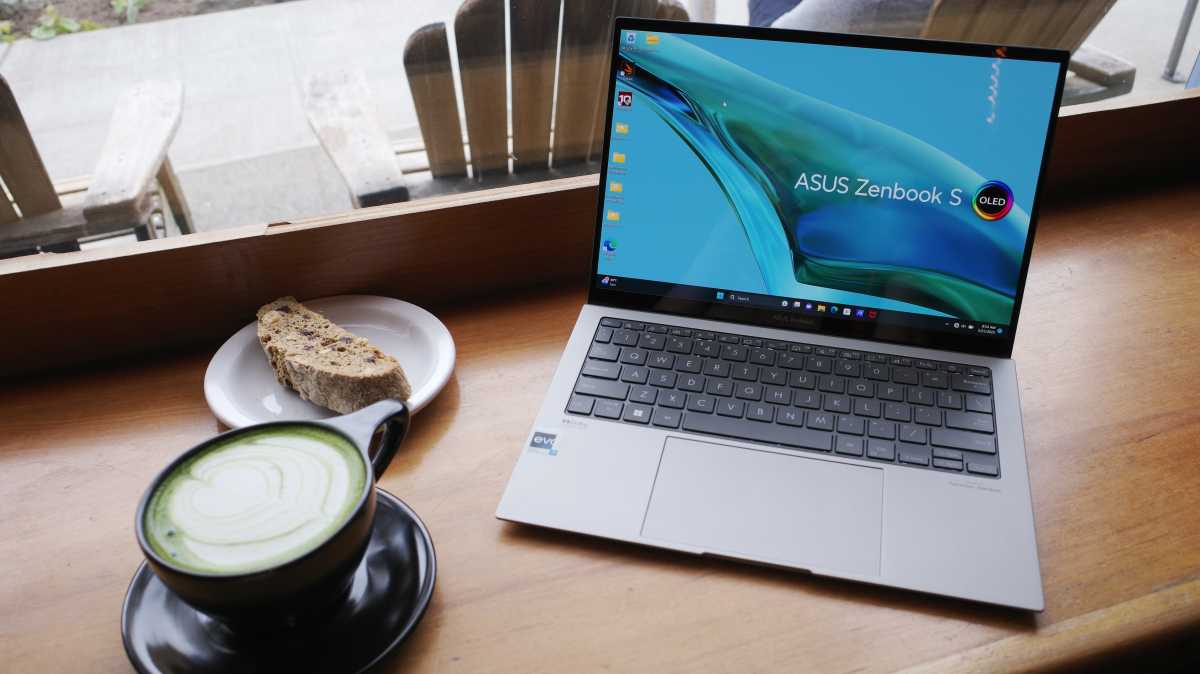 IDG / Brendan Nystedt
I'm not a snob about my computers—I've enjoyed everything from chunky machines made from recycled plastic to the latest thin-and-light models. That said, taking the Asus Zenbook S 13 OLED out of its box for the first time was memorable. Its thin profile and 2.2 lb weight make it feel almost fake at first, like one of those display model computers you'd find at Ikea on the show floor. But it's not fake! This actual computer crams a keyboard, all its chips, a good-sized battery, and even its signature OLED display into a super tiny package.
All of that could be a soggy noodle of a computer if not engineered properly. Thankfully, I found very little flex or wobble here, showing that Asus has done a thorough engineering job. Even the thin screen feels relatively stout, and for all the vigorous typing I could muster, I never felt the bottom of the computer torque or strain under the pressure. Metal is the primary material at work here, but the back of the display is a stylish ceramic material with attractive engraved lines. It's subtly eye-catching.
Asus Zenbook 13 S OLED: Connectivity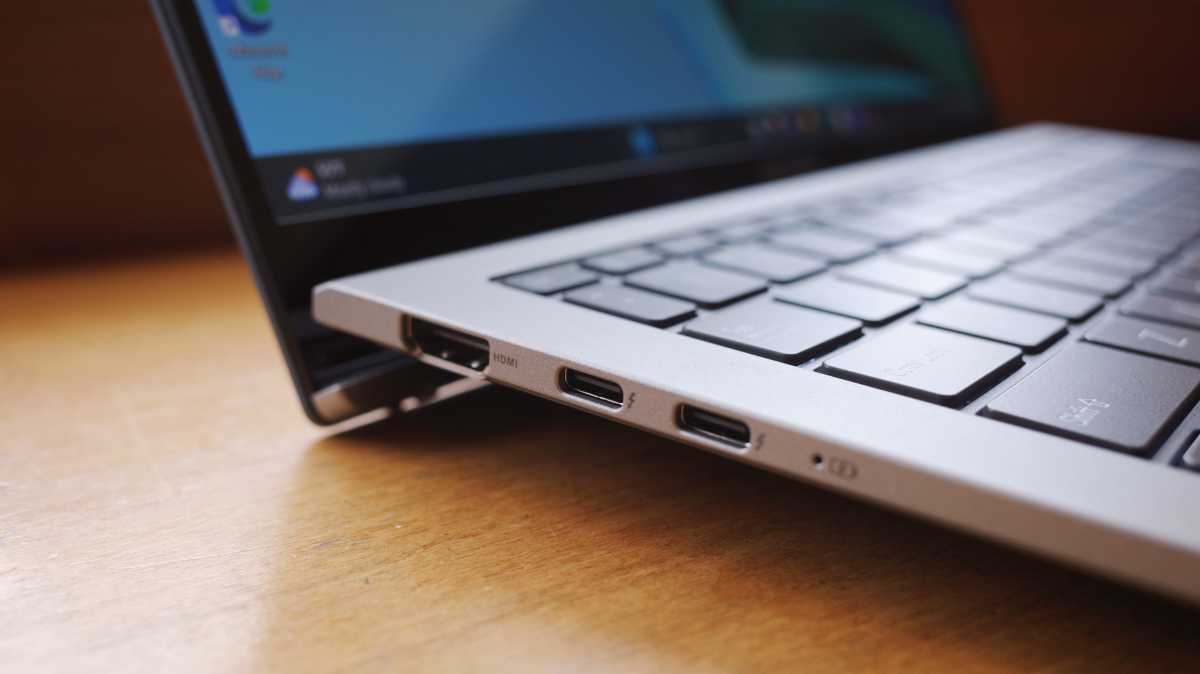 IDG / Brendan Nystedt
Recently, I sampled a really great HP computer, the Dragonfly Pro. Maybe the worst aspect of that machine was its lack of ports, rocking only a handful and only the latest and greatest Thunderbolt or USB-C. But it's important to remember that there are still a lot of accessories out there that need dedicated connectors, and that not everyone wants to replace all their perfectly good cables for USB-C ended ones. That's why it's so nice to see that Asus has split the difference with the Zenbook S 13 OLED. Not only do you get two Thunderbolt 4 ports, with all their Swiss Army USB-C goodness (these are the only way to charge the computer). But that's not all you get. There's a headphone jack, a real USB-A port, and a real HDMI 2.1 port too.
While I can get by with adapters and dongles, it's just so nice that I could plug the Zenbook S 13 OLED right up to a USB-A memory card reader I had lying around. I was also able to quickly use my old Yubikey for two-factor authentication. To be honest, even though I'm used to juggling new and old cables in my day-to-day, it's refreshing to not have to worry if I grabbed the right cable. Any USB cable will work!
With its Intel AX211 onboard WiFi, the Asus Zenbook S 13 provided a reliable internet experience, with great reception even from the corners of my house where some devices drop off. Along with WiFi 6E speeds (assuming you have a compatible router), you'll get modern Bluetooth 5.3 as well. There's no cellular internet option, unfortunately.
Asus Zenbook 13 S OLED: Keyboard and trackpad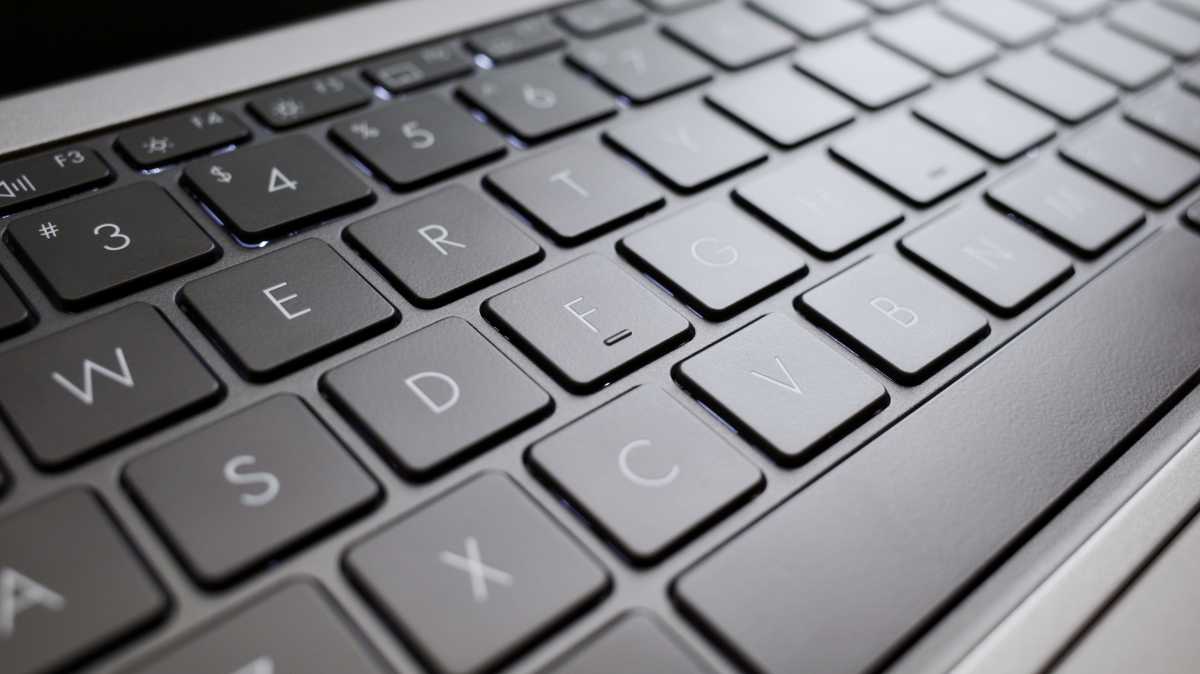 IDG / Brendan Nystedt
The distance a key travels often dictates the comfort and responsiveness of a keyboard. Thankfully, the short-throw keys on this Asus feel precise and comfortable. They're a little clicky which I appreciate, leaving no question when you've pressed a key. The pressure needed to actuate each button only needs a light touch. Even for longer typing sessions, my fingers never got fatigued and there wasn't any kind of learning curve—I got my hands on the home row and away I went.
If I had to point out any weak point with the Asus Zenbook, it might be the trackpad. Although I had a fine time with it, its use of a physical clicker made it feel a little old-school when compared to some modern competition. The MacBook and even competing HP models may use a linear induction motor to provide a click which I'd prefer in a thin computer like this. But hey, I've absolutely used worse trackpads on recent PCs, so maybe mediocre isn't a terrible fate. At least it's responsive enough, correctly ignored my palms while typing, and has a smooth-feeling glass material as its touch surface.
Asus Zenbook 13 S OLED: Display, speakers, webcam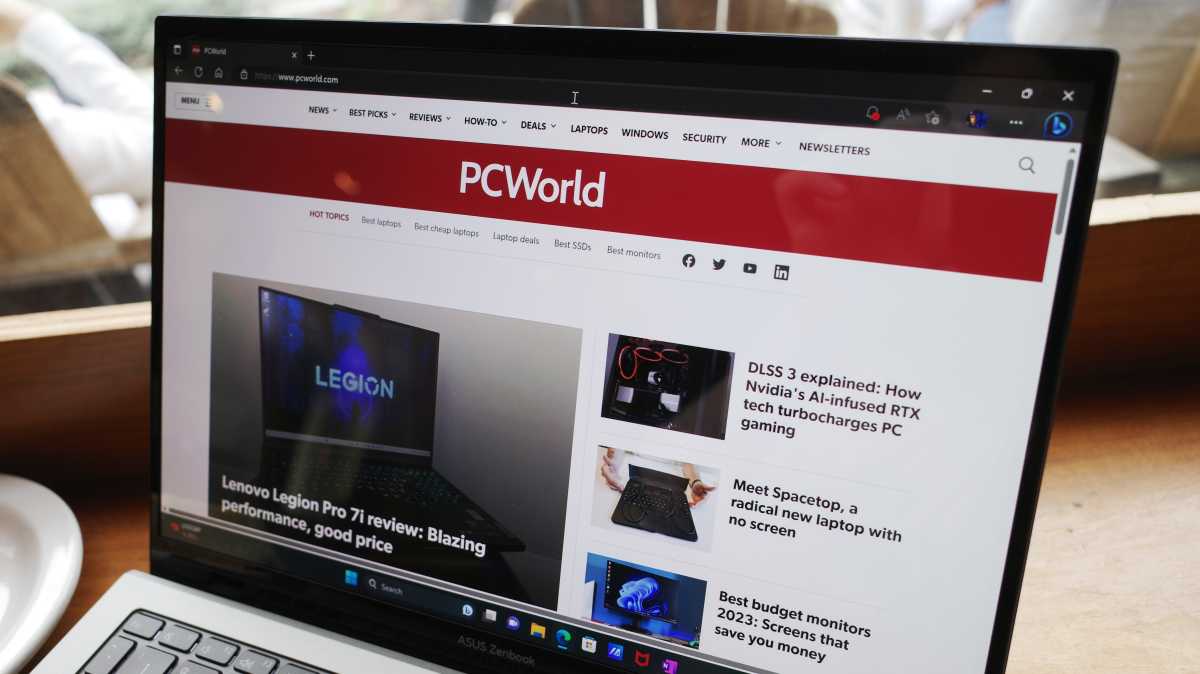 IDG / Brendan Nystedt
Not only is the Zenbook S 13 OLED thin as a finely-honed sword, this laptop sports an awesome, high-res OLED panel. We'll get into this a bit later but in my experience, big OLED laptop screens used to be expensive and have a big battery life penalty. Thankfully, neither of those seem to be an issue at this point, and the benefits outweigh any drawbacks.
The benefits are gorgeous colors and incredibly dark blacks, making for a screen with an overall rich and realistic look. The peak brightness on this screen is 500 nits when watching HDR content. The high resolution of the panel, 2880×1800, is mostly an asset to the Zenbook, but I still ran into some dialogue boxes in Windows that didn't scale properly, looking tiny on the screen. Maybe the only downside to this screen is the lack of a touch layer, something I missed just since I use so many touch-enabled computers in my daily life. For a lot of people this is far from a deal breaker, and I'm here to say that the vivid, constrast-y OLED screen is a huge upgrade from whatever LCDs you've tried in the past.
IDG / Brendan Nystedt
Perched atop the OLED screen is a so-so webcam that's a 1080p resolution. I found that it made my skin look washed out in direct light, and that it wasn't very detailed overall, but your mileage may vary. Thankfully, the camera has Windows Hello integration, so you can at least log in hands-free, even if you don't look your best on Zoom calls.
In the premium laptop space, we expect punchy speaker systems. While the Zenbook S 13 OLED misses the mark on deep bass sounds and perhaps has less volume than competing machines, the midrange is satisfyingly detailed. If you were hoping to get room-filling sound, you'll be disappointed. But if you infrequently use your laptop's speakers or tend towards spoken word content, you'll appreciate the speakers in the Zenbook S 13 OLED.
Asus Zenbook 13 S OLED: Performance
At this point in 2023, you're going to see more laptops like this Asus with the latest Intel 13th gen chips inside. While it's not a big leap above the previous generation of processor, there's still a lot to like here. In our battery of tests, the i7-1355U, with its two performance cores and 8 efficiency cores, gives this thin laptop quite a lot of muscle. But there's definitely a penalty for smooshing such a sophisticated processor into a small space—fan noise. If you're sensitive to high-pitched noises, you'll notice the fans as soon as you start something that taxes the processor. I thought it was somewhat akin to a mosquito flying in my ear—it's that skull-shatteringly piercing.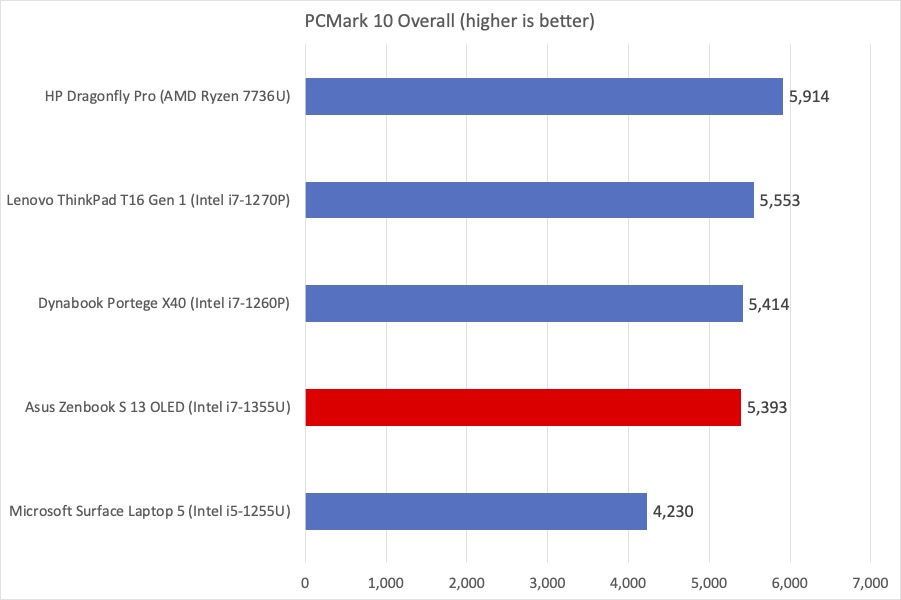 IDG / Brendan Nystedt
We benchmark every laptop with the PCMark 10 suite. This software gives us a great baseline, using everyday tasks to gauge a computer's true performance. Unlike the AMD-powered competitors (like the HP Dragonfly Pro on this chart), you'll only get a pair of high-powered cores, which puts the Asus Zenbook S 13 OLED behind those models. All that said, the i7-1355U held its own against older Intel chips, with its performance coming in only slightly behind performance-focused P-spec Intel chips from the previous generation. Those laptops tended to run hotter and have worse battery life, so it's nice to see that there is a meaningful performance upgrade year-over-year.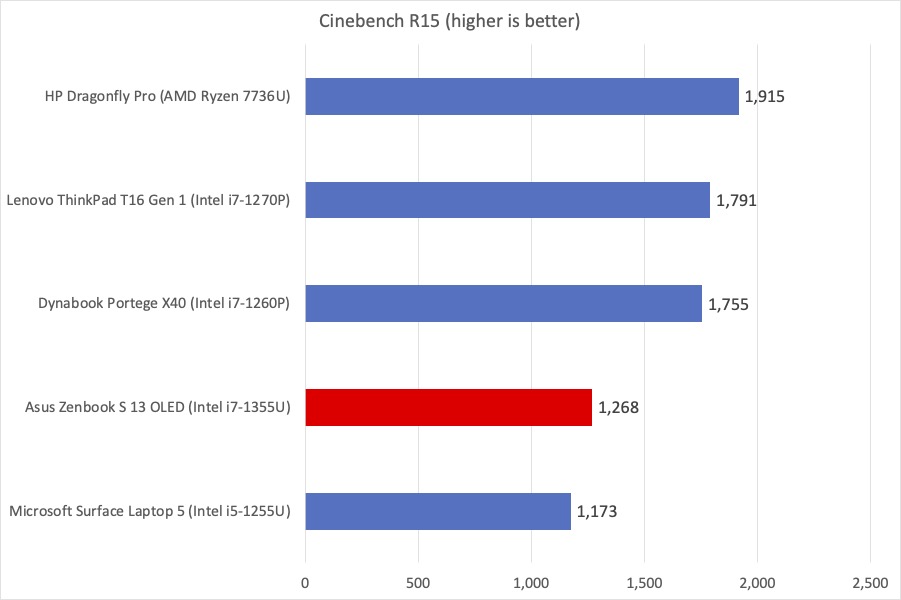 IDG / Brendan Nystedt
In this performance test, we use Cinebench R15 to get a sense for how well all a laptop's processors work together to render 3D graphics. The lack of high-performance cores didn't help the Asus Zenbook S 13 OLED out here as it's bested by most other laptops in its class, but we'd bet that people aren't buying these ultraportable devices for heavy 3D rendering sessions.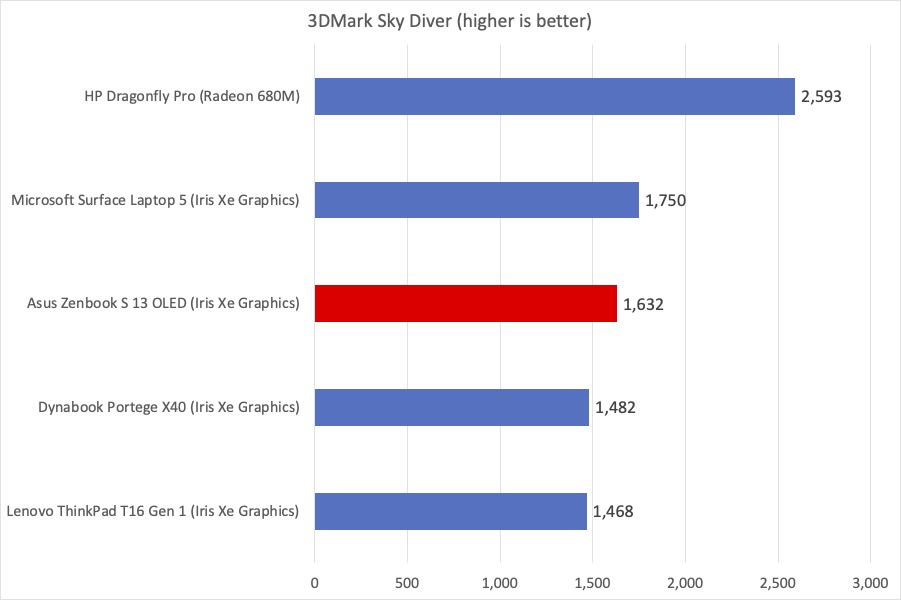 IDG / Brendan Nystedt
We've seen Intel's integrated Iris Xe Graphics improve substantially over the years, and at this point you can get good enough performance for simple tasks. The 3DMark Time Spy benchmark we use is a torture test for these kind of laptops, but when compared to other similar Intel-based machines you can expect it to be competitive. It's still a far cry from AMD-based laptops with their stronger Radeon integrated graphics, but we weren't expecting this generation of Intel chips to improve the graphics by much anyway.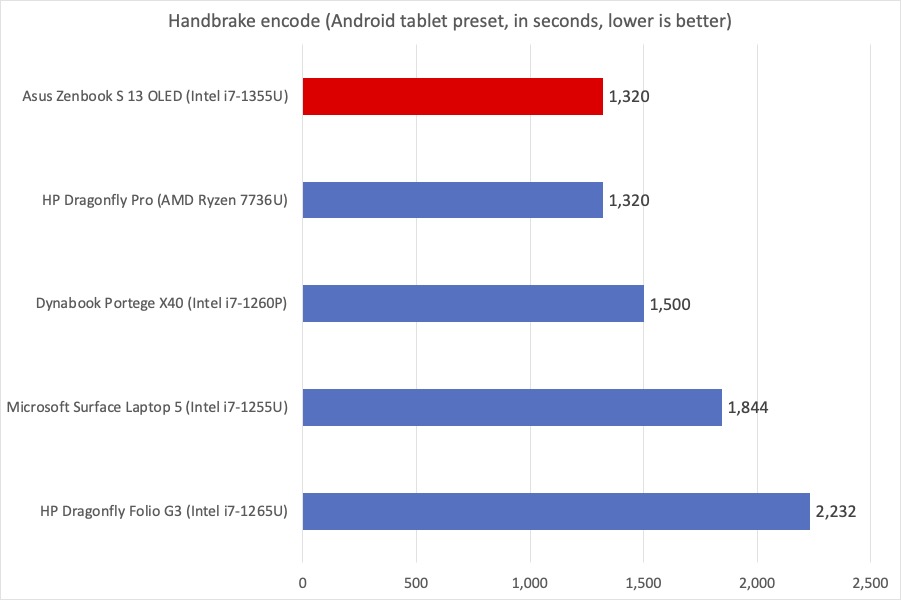 IDG / Brendan Nystedt
We test every laptop by reencoding a high-res video file into a small file intended for a tablet device. It seems like Intel's put in a bit of work into its QuickSync video technology, because the i7-1355U in the Zenbook S 13 OLED managed to match the more powerful AMD-based Dragonfly Pro in this test.
Asus Zenbook 13 S OLED: Battery life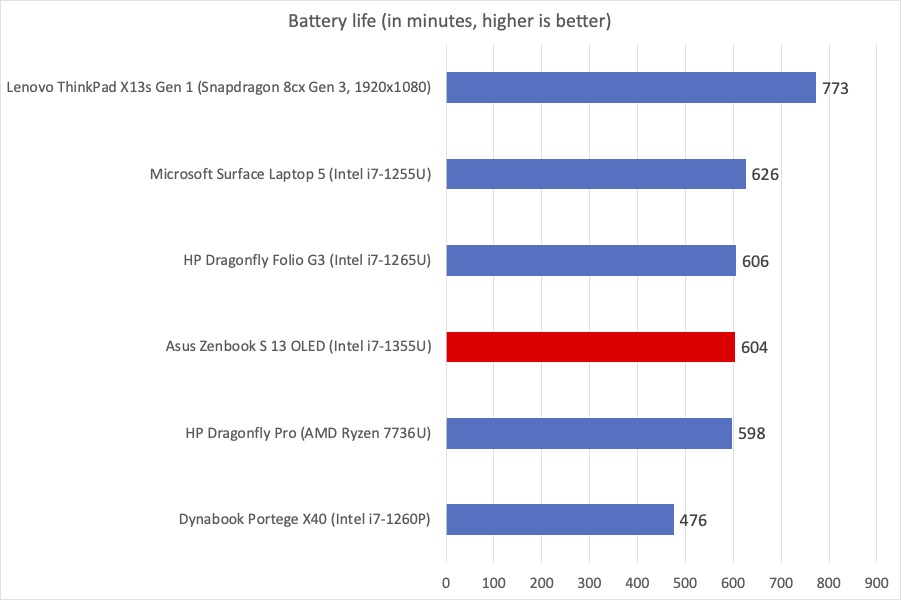 IDG / Brendan Nystedt
As we mentioned earlier, OLED screens in laptops used to be bad news for battery life. But not here—the Asus Zenbook 13 S OLED lasted more than 10 hours in our 4K video looping test. That makes it competitive with other recent laptops we've seen in this class, like the HP Dragonfly Pro, while being almost a full pound lighter. It seems like a really impressive feat that this laptop can be so light, plenty powerful, but also last most of a day without a charge. Anecdotally, I lost around 9% over a half hour while using this machine pretty intensely, with a YouTube video playing, the screen brightness cranked up, and plenty of tabs open in Microsoft Edge.
Asus Zenbook 13 S OLED: Bloatware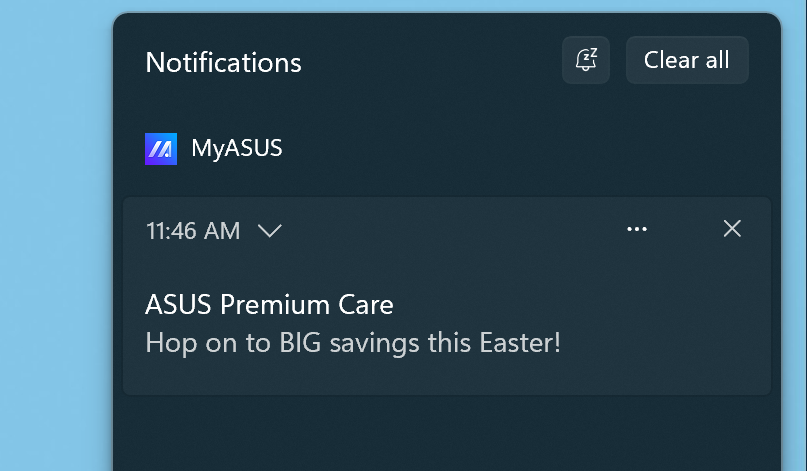 IDG / Brendan Nystedt
Although Asus comes close to matching the MacBook Air experience with the Zenbook S 13 OLED, there's one thing that the Mac does better: you're certain to get a clean install of the operating system. The Zenbook S 13 OLED came preloaded with some really annoying utilities, one that could even mess with the long-term operation of this computer's awesome OLED screen.
As always, the worst offender was the included antivirus software. McAfee wasted no time bullying me about "Early Bird" deals so I can get a low rate locked in once my trial expires. I understand that the PC business relies on kickbacks from these software vendors, but for a premium laptop this is ridiculous. Putting scary messages, spinning clocks, and ticking countdown timers on the screen simply leaves a bad taste in my mouth, and I feel bad for anyone who has to deal with this kind of manipulative marketing.
Then there are the built-in Asus utilities. There's a utility named GlideX that should let you extend the Zenbook's display to a tablet, but it makes users subscribe for extra features and to remove display ads. Strangely, there's also an app included called ScreenXprt, which as far as I can tell builds on Windows 11's already pretty great window managing system, duplicates the camera and microphone off buttons from the keyboard, and lets users add shortcuts to screen snipping (which already has a keyboard command as well). The worst part of this is that is sticks a transparent logo in the corner. As you may know, OLED screens can be particularly sensitive to static graphics, which can burn in over time and this app could do just that. The MyASUS app, meant to give users support, sent a notification telling me of some great spring deals…no thanks!
Although the Asus hardware team has put in great work, the people picking out the software really need to think about how these little things can kill someone's buzz.
Asus Zenbook 13 S OLED: Should you buy it?
2023 has been a great year for PC laptops, even if people aren't buying them as ravenously as during previous years. If you've been holding off a purchase waiting for improved chips, nicer screens, and great battery life before you upgrade, then Asus has put all of these things into a device that has few compromises—the Zenbook S 13 OLED even has a, useful selection of ports. If power isn't your priority, this laptop could cover all the bases for typical kinds of work, and its vivid OLED screen is simply gorgeous for watching your favorite movies or streaming shows.
Even the negatives here are pretty negligible…if I all I can complain about are the trackpad being a clicky button instead of a motor (that's a first world problem for sure!), a slight whine from the fans, and some bloatware that you can easily and quickly uninstall, then that says a lot. Even for the $1,399 price, you get plenty of storage, a future-proof amount of RAM, and a very competent processor. The M2 MacBook Air or Dell XPS 13 Plus, optioned out to a similar tier, both cost more than $2,000. Simply put, the Asus Zenbook S 13 OLED is a no-brainer buy.
Best Prices Today: Asus Zenbook S 13 OLED (2023)