At a glance
Expert's Rating
Pros
Great 1080p gaming performance
Power efficient
AV1 encoding, DisplayPort 2.1 (optional)
The first good budget card since the pandemic kicked off
Only needs 8-pin power connector (no adapter needed)
Reference card is almost silent
Cons
Ray tracing performance is bad
Upscaling features (FSR/DLSS) look ugly at 1080p
8GB of VRAM; may need to dial graphics from Ultra to High in some particularly intensive games, even at 1080p
Our Verdict
After years of terrible GPU prices, the $269 Radeon RX 7600 is a breath of fresh air. It offers excellent 1080p gaming in a power efficient package at an affordable price—if you don't mind skipping ray tracing.
Price When Reviewed
$269
Best Prices Today: AMD Radeon RX 7600
Now this is a graphics card release we can finally praise.
AMD's new $269 Radeon RX 7600 (launching May 25) delivers fantastic 1080p gaming that can keep even a high refresh rate monitor well-fed in a tiny, quiet, incredibly power-efficient package. Better yet, while Nvidia continues to push either stagnant generational performance upgrades or exorbitant prices for its rival GeForce RTX 40-series graphics cards, AMD's budget champion delivers a massive step-up in frame rates for $60 less than its predecessor's launch price.
Budget gaming requires compromise, and the Radeon RX 7600 isn't good at ray tracing, especially since image upsampling technologies like FSR 2.0 and Nvidia's DLSS don't look great at 1080p resolution. Don't get it twisted though; other than the ferociously powerful (and pricey) RTX 4090 and Radeon RX 7900 XTX flagships, this modest GPU is the first of this generation worth paying attention to—and the first new sub-$300 graphics card to get excited about since the pandemic threw the world into chaos. Seriously.
Let's go.
What are the AMD Radeon RX 7600's specs and features?
AMD built the Radeon RX 7600 using the same RDNA 3 graphics cores that debuted in the flagship 7900-series GPUs. This new architecture offers dedicated AI accelerators, AV1 encoding, DisplayPort 2.1 (RTX 40-series has 1.4a), second-generation ray tracing and Infinity Cache hardware, and more.
One difference between this and the RX 7900-series? While the more advanced GPUs use a cutting-edge chiplet design that flanks the main die with memory controllers, this budget chip sticks to a traditional single 6-nanometer die (204mm2) that packs everything in.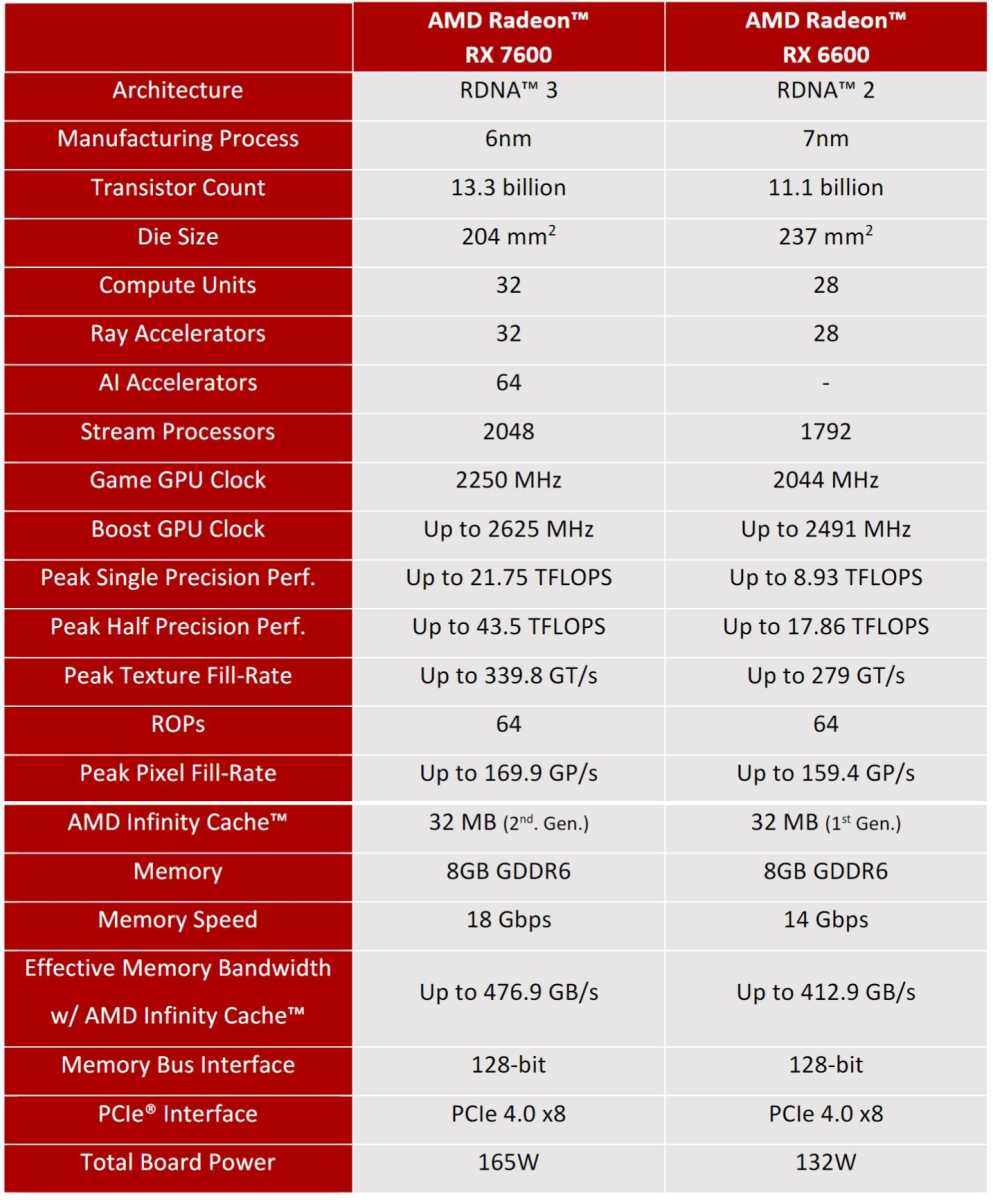 AMD
As you can see, the Radeon RX 7600 packs in more hardware for a lower price than the older (still-good) Radeon RX 6600. Memory and GPU clock speeds are up, stream processor and RT accelerator counts are up, and AI accelerators make their debut as part of AMD's AI push. Spoiler alert: The Radeon RX 7600 delivers a proper generational performance upgrade, unlike Nvidia's $400 GeForce RTX 4060 Ti.
Like the 4060 Ti (and the Radeon RX 6600 before it), the Radeon RX 7600 is outfitted with 8GB of GDDR6 memory and a narrow 128-bit bus. That means this graphics card really is built for 1080p gaming—a reasonable expectation for an affordable graphics card like this. You can certainly play at 1440p resolution if you dial back some settings, but it may hit its limits quickly with the way modern games have been gobbling up VRAM. AMD's on-die Infinity Cache helps keep things humming at 1080p as well. Bumping up to 1440p will result in more data being sent over that pokey 128-bit bus. You won't want that. (We delve into a wonky discussion about memory capacity, bus widths, and on-die cache configurations in the specifications section of our RTX 4060 Ti review.)
The Radeon RX 7600 should play the vast majority of games at Ultra settings and high frame rates just fine at 1080p resolution, but some especially memory-hungry games may require minor graphics tuning to fit inside the 8GB memory buffer. PCWorld contributor Keith May has been testing the custom Sapphire Pulse Radeon RX 7600 and reports that Hogwarts Legacy and The Last of Us—two of the worst VRAM offenders—soar at High settings while still looking spectacular. Again, it's a reasonable compromise at this price point. (It isn't at $400, Nvidia.) You can see his analysis in the video above.
Brad Chacos/IDG
When asked about the 8GB capacity, AMD's Aaron Steinman said, "We still believe (and testing supports) that even the most demanding modern games deliver a very good experience for 1080p gaming. And memory is expensive."
This GPU draws down slightly more juice than its predecessor but delivers much higher performance and the best idle power use we've ever seen—it's wonderfully efficient. Power is supplied via a single 8-pin connector, without needing to use an ugly 12VHPWR adapter like you do on the 4060 Ti. The reference card AMD sent over isn't only a reasonable two-slots thick, it's also adorably tiny at just 8 inches long. Despite the pint-sized cooler, the reference card runs damned near silent—another testament to the 7600 GPU's efficiency.
The reference card packs a single HDMI port and three of those speedy DisplayPort 2.1 connections. (Note that this is optional, however; AMD's partners can use DisplayPort 1.4 on custom 7600 cards instead to save money.)
Brad Chacos/IDG
If you're into streaming, you'll appreciate the inclusion of cutting-edge AV1 encoders, especially now that YouTube and OBS support AV1 uploads. We tested AMD's new RDNA 3 AV1 encoder on the Radeon RX 7900 XTX and it's fantastic. The Record & Stream options in AMD's Adrenalin software is a whole lot better than it used to be, too, as we covered in the same evaluation by "Stream Professor" EposVox:
"AMD ships their own recording and streaming software with their GPUs, akin to Nvidia Shadowplay. Except, it's far far better than Shadowplay in almost every way. More settings, more capabilities, more features. Nvidia really needs to update Shadowplay ASAP."
Don't sleep on it. Don't sleep on any of AMD's Adrenalin Software, while you're at it. Nvidia gets (and deserves) a lot of credit for excellent software features like DLSS 3, Reflex, and Nvidia Broadcast, but Team Red has some darned beneficial software of its own.
Brad Chacos/IDG
Smart Access Memory boosts performance on modern systems more reliably than any PC combo of Intel and Nvidia chips. A new Smart Access Video feature improves DaVinci Resolve encoding performance by up to 32 percent in Ryzen + Radeon systems. FSR 2.0 gives Nvidia's DLSS a tough fight, while Radeon Super Resolution brings the simpler FSR 1.0 technology right inside AMD's driver to let you increase performance via upscaling in any game. Radeon Boost and Anti-Lag keep temperatures and latency low. You can also use Adrenalin to overclock or even undervolt your graphics card.
The one thing missing is a DLSS 3 Frame Generation competitor, but AMD is working on it with FSR 3.0, scheduled to launch sometime this year.
Enough talk. On to the benchmarks!
Our test system
We test graphics cards on an AMD Ryzen 5900X PC used exclusively for benchmarking GPUs. We test with PCIe Resizable BAR (also known as Smart Access Memory on Ryzen systems) active, as most modern gaming PCs released in the last four years support the performance-boosting feature, either natively or via a motherboard firmware update. Nvidia also recommends turning on the optional "Hardware-accelerated GPU scheduling" option in Windows to let the RTX 40-series stretch its legs to the fullest, so we've made that tweak as well. Most of the hardware was provided by the manufacturers, but we purchased the storage ourselves.
AMD Ryzen 5900X, stock settings
AMD Wraith Max cooler
MSI Godlike X570 motherboard
32GB G.Skill Trident Z Neo DDR4 3800 memory, XMP active
Corsair HX1500i power supply (and optional $20 12VHPWR 600 cable for Nvidia GPUs)
We test a variety of games spanning various engines, genres, vendor sponsorships (Nvidia, AMD, and Intel), and graphics APIs (DirectX 9, 11, DX12, and Vulkan), to try to represent a full range of performance potential. Each game is tested using its in-game benchmark, sanity checked by Nvidia's FrameView tool, at the highest possible graphics presets unless otherwise noted, with VSync, frame rate caps, real-time ray tracing or DLSS effects, and FreeSync/G-Sync disabled, along with any other vendor-specific technologies like FidelityFX tools or Nvidia Reflex. We've also enabled temporal anti-aliasing (TAA) to push these cards to their limits.
We run each benchmark at least three times and list the average result for each test. Outside of esports, we've limited our benchmarks to 1440p and 1080p resolutions. With this memory configuration, the Radeon RX 7600 is a 1080p graphics card, but it's worth showing what you get at 1440p as well, both for practical reasons and to see how the GPU's performance scales as you ramp up resolution. We test features like ray tracing and DLSS in a separate section, as upscaling features like DLSS and AMD's rival FSR tweak the look of games to help them run faster.
Usually we present our data in a series of per-game bar charts, but given some severe time restraints, we're running our data in raw charts today and supplementing it with additional performance commentary instead. (Hit me up on Twitter to let me know if you love it or hate it!) Those time restrictions also prevented us from running new benchmark data for the $330 16GB Intel Arc A770, alas, which is another strong contender in this price segment.
AMD Radeon RX 7600 1080p gaming performance
This is a graphics card built for 1080p gaming, so let's start there!

Brad Chacos/IDG
As you can see, the Radeon RX 7600 delivers spectacular 1080p gaming even at Ultra settings, delivering 80 frames per second or more in all games except the exceptionally beautiful Red Dead Redemption 2 cranked to the absolute max—and even then, it still hits the golden 60fps mark. If you exclude Counter-Strike: Global Offensive's ludicrously high frame rates, the Radeon RX 7600 averages 107fps across our suite, a properly generational 35 percent increase over its predecessor.
Nvidia's new $400 RTX 4060 Ti is faster than the RX 7600 by another 20 percent on average if you're looking to push a high-refresh rate 1080p monitor even further, but costs $130 more than AMD's offering. The Radeon RX 7600 offers plenty of performance for a whole lot less money—and it holds the lead in Cyberpunk 2077 performance here!
Note, however, that thanks to its 8GB memory capacity, you may need to reduce graphics from Ultra to High in particularly VRAM-intensive modern games, such as Hogwarts Legacy and The Last of Us. Games still look great on High and that compromise is much more welcome in a $269 graphics card than a $400 one.
AMD Radeon RX 7600 1440p gaming performance
Next up: Higher resolution.
Brad Chacos/IDG
The Radeon RX 7600 can definitely be used to play games at 1440p, as our testing shows—it averages 75fps+ across our suite, only dipping below 60fps in Cyberpunk 2077 and Watch Dogs Legion. But the 8GB of VRAM and tiny 128-bit bus means you'll already need to drop graphics settings in a lot of modern games (including Watch Dogs), and memory demands are only getting higher.
Note how the Radeon RX 6700 XT (which has 12GB and a 256-bit bus for $350 on the street) overtakes the new 7600 in Cyberpunk 2077 by about 10 percent after falling behind it at 1080p. Averaged overall, the 6700 XT was 12 percent faster than the 7600 at 1080p but leaps up to a 20 percent lead at 1440p.
The RTX 4060 Ti, the only other modern sub-$500 GPU available thus far, is once again much faster than the 7600 for much more money, but since it has a similarly skimpy memory configuration, it shouldn't be considered for 1440p gaming either.
AMD Radeon RX 7600 ray tracing and FSR performance
You don't want to use the Radeon RX 7600 for ray tracing, or activate FSR to increase performance.
Sure, this GPU packs in AMD's second-gen RT accelerator hardware, which shined in the monstrous Radeon RX 7900 XTX, but as you can see in the benchmarks below, it pretty much sucks down here on more affordable hardware, especially without an assist from FSR image upscaling. That said, ray tracing is more of a "nice to have" than a "must have" in budget GPUs.
And you shouldn't use FSR (or DLSS) on a 1080p graphics card, in my opinion. As I detailed in-depth in my RTX 4060 Ti review, image upscaling works wonders at higher 1440p and 4K resolutions, but upscaling games to 1080p from an internal 720p (or worse, in the case of the Balanced preset tested below) resolution results in jagged, blurry visuals. It's ugly and not worth the extra frames.

Brad Chacos/IDG
We included FSR/DLSS data above for you to reference, but recommend leaving both ray tracing and upscaling off on this card. You can enable it at lower settings in more lightly ray traced games like F1 22 and Hitman if you'd like, but we don't think the hit to performance is worth the visuals ray tracing provides at Medium settings. Also note that only RTX 40-series cards support DLSS 3, and Watch Dogs Legion lacks FSR support, hence the various "Not applicable" fields above.
Given AMD's poor ray tracing showing and our advice to skip upscaling at this resolution, the $400 GeForce RTX 4060 Ti might actually be worth considering if you need those cutting-edge lighting effects—though we'd recommend waiting to see how the $300 RTX 4060 handles when it launches in July instead.
How are the Radeon RX 7600's power and thermals?
Just like the RTX 4060 Ti, they're excellent, though not as excellent as Nvidia's efficiency.
We test power draw by looping the F1 22 benchmark at 4K for about 20 minutes after we've benchmarked everything else (to warm up the GPU) and noting the highest reading on our Watts Up Pro meter, which measures the power consumption of our entire test system. The initial part of the race, where all competing cars are onscreen simultaneously, tends to be the most demanding portion.
This isn't a worst-case test; this is a GPU-bound game running at a GPU-bound resolution to gauge performance when the graphics card is sweating hard. If you're playing a game that also hammers the CPU, you could see higher overall system power draws. Consider yourself warned.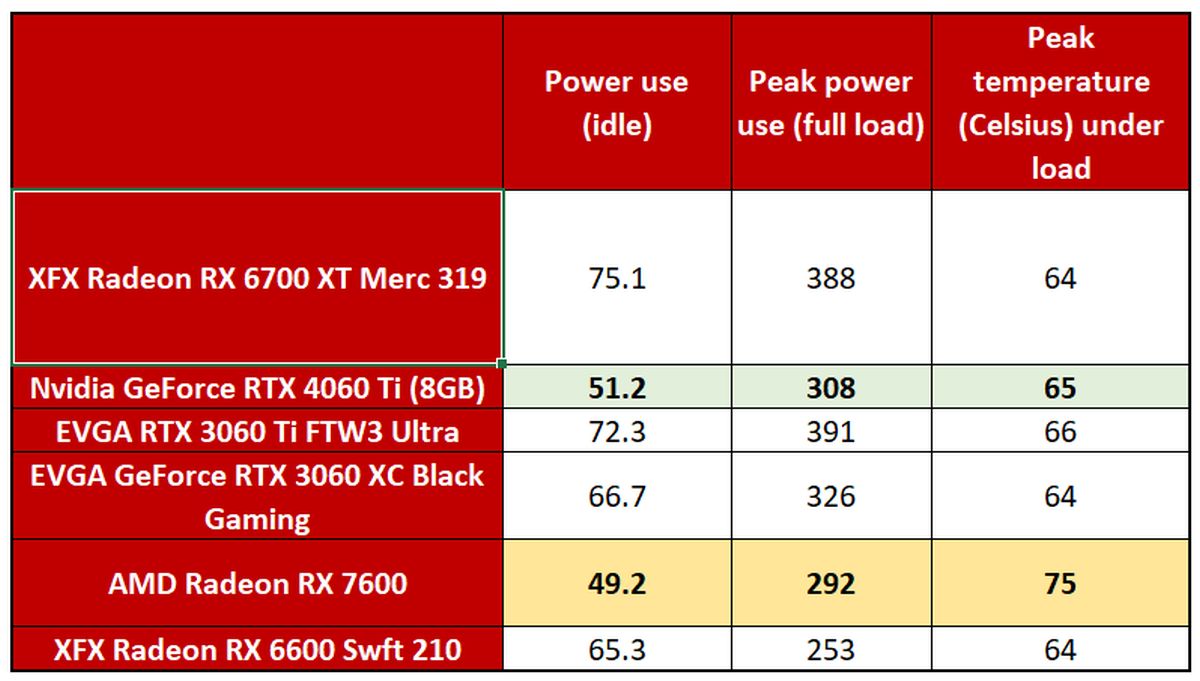 Brad Chacos/IDG
Yes, the Radeon RX 7600 consumes about 15 percent more power than its predecessor at peak under load, but it delivers a whopping 35 percent average performance increase in return—a superb result. By contrast, the RTX 4060 Ti is only faster than the RTX 3060 Ti by single digit percentage points. And while we thought the ultra-low idle power measurements of the RTX 4060 Ti were bonkers, AMD does slightly better here. You love to see it from both camps!
We test thermals by leaving GPU-Z open during the F1 22 power draw test, noting the highest maximum temperature at the end.
The tiny AMD reference RX 7600 hits much higher temperatures than the other GPUs we tested, but don't be fooled: 75 degrees Celsius is still plenty cool for a graphics card, and in exchange for the higher temps, AMD gives you damned near utterly silent noise levels. The reference Radeon RX 7600 ran quieter than any other GPU we tested here and was virtually inaudible over the rest of our system fans. Quiet fans offer a much better day-to-day experience than unnecessarily low heat levels, and the reference card's diminutive design can fit into a lot more PCs than the other, longer cards. I'll take it!
Should you buy the Radeon RX 7600?
If you're looking for a graphics card with low power and enough oomph to power a high refresh rate 1080p monitor, the $269 Radeon RX 7600 is a spectacular option. It's an excellent affordable graphics card. It can handle 1440p gaming as well, but the 8GB VRAM capacity and tiny memory bus width means it will struggle more at that resolution as games become more demanding.
Some games are already too demanding, with titles like Hogwarts Legacy and The Last of Us already blowing past the 8GB memory capacity even at 1080p. In our experiential testing, dropping settings to High results in a highly playable experience that looks and runs great. That's acceptable on an affordable GPU like the RX 7600, but unacceptable on a $400 graphics card like Nvidia's new RTX 4060 Ti, which offers a similar memory configuration.
At 1080p resolution, the RTX 4060 Ti runs about 20 percent faster than the Radeon RX 7600 on average, but for 48 percent more money. Considering that the Radeon RX 7600 delivers already-exceptional 1080p gaming performance, it's a no-brainer.
Brad Chacos/IDG
Unless you want to play ray traced games. The Radeon RX 7600's second-gen RT accelerators offer mostly unplayable performance on this budget card. Considering that image upsampling technologies like FSR and DLSS look terrible at 1080p resolution, you can't use those to claw back performance after flipping on ray tracing—your game will look worse even with those fancy rays flying around, though ray tracing is more of a "nice to have" than "must have" at this price. If you want ray tracing and DLSS 3's Frame Generation capabilities, you might consider the 4060 Ti, but I'd counsel waiting to see how the $299 RTX 4060 performs when it launches in July.
Alternatively, if you don't care about DLSS 3 and ray tracing, but want a beefier memory setup for better future-proofing and the ability to dabble in more 1440p games, the last-gen Radeon RX 6700 XT offers 12GB and a big 256-bit for just $350 on the street these days. That's $80 more than the budget-friendly Radeon RX 7600, however (though it's faster as well). If you need to save even more money, the Radeon RX 6600 remains a fine option for 1080p/60Hz gaming at around $200. Both last-gen cards lack the newer GPU's AV1 encoding, AI accelerators, and DisplayPort 2.1 capabilities, if that matters to you, but otherwise offer feature parity.
On the other hand, if you want AV1 encoding along with playable ray tracing and solid 1080p gaming performance—especially in modern DirectX 12 games—Intel's Arc A750 is another compelling option, especially now that Intel has slashed its price to just $199. The Arc A750 is currently our top pick for 1080p gaming with ray tracing. It's comparable to the Radeon RX 6600 in gaming, but takes a firm lead in those aforementioned categories, sometimes toppling even the RTX 3060. Intel's debut consumer GPUs launched with troublesome drivers but are in a much better place now.
Bottom line? After years of wandering in a GPU wasteland, and months of tolerating Nvidia's stagnant-to-downright–exorbitant RTX 40-series releases, the Radeon RX 7600 is a breath of fresh air. It offers a truly generational performance uplift (35 percent) for less money than its predecessor (18 percent), along with modern features like AV1 encoding and DisplayPort 2.1, all wrapped in a tiny, silent, affordable package. It's the only GPU we've been excited about this generation aside from flagships selling for quadruple digits.
The Radeon RX 7600 is the graphics card that gamers on a budget have been begging for forever. Go buy it…unless you want ray tracing.
Best Prices Today: AMD Radeon RX 7600