Microsoft's toolbox of utility software just added a classic: Mouse Without Borders, a terrific app that allows you to control multiple PCs using the same mouse. PowerToys also added Peek, which allows you to preview a number of different files that Windows' own File Explorer doesn't support.
Both utilities are packaged within PowerToys 0.70.0. (At press time, Microsoft had published the release notes for version 0.70, though the utility itself balked at upgrading to that version.)
Mouse Without Borders has been around for a long time — since 2018, when it was originally released as a Microsoft Garage incubator project. Five years later, Microsoft has polished the app up to .NET 7 standards and brought it into PowerToys, which includes over a dozen utilities that Windows itself doesn't.
Mouse Without Borders may have some real benefits in a world where workers work from home on both a work and personal PC. The concept is simple enough. Provided that both PCs allow you to load the Mouse Without Borders app, you can simply mouse from one PC to the other. When you drag the mouse cursor to the edge of the screen, a PC with multiple monitors simply moves the cursor from one display to the next. With Mouse Without Borders, the cursor moves from one computer to the next. It's as simple as that. Furthermore, you can also share the Windows clipboard between PCs, even transferring small files (under 100MB) between them!
Microsoft
Mouse Without Borders requires you to set a security key, enter it on the other PCs, then "arrange" them like you would multiple monitors. You may need to adjust any firewall settings.
Granted, we've seen this before. Samsung Flow is a nifty twist on Mouse Without Borders, with not just multiple PCs but phones and tablets brought into the mix. Logitech also has its own proprietary version, too, also called Logitech Flow. Still, Mouse Without Borders is a tool that's worth installing, just for when you're feeling lazy. All you'll need is for both PCs to powered on and connected to the same wireless network.
Peek is just as simple. You're probably familiar with the File Explorer preview pane; Peek is simply a preview window. By tapping the activation shortcut (Ctrl + Space) you'll get a sneak peek of the image or file in then Peek pane. Unfortunately, Microsoft's documentation doesn't list which file types are currently supported, but that should come soon.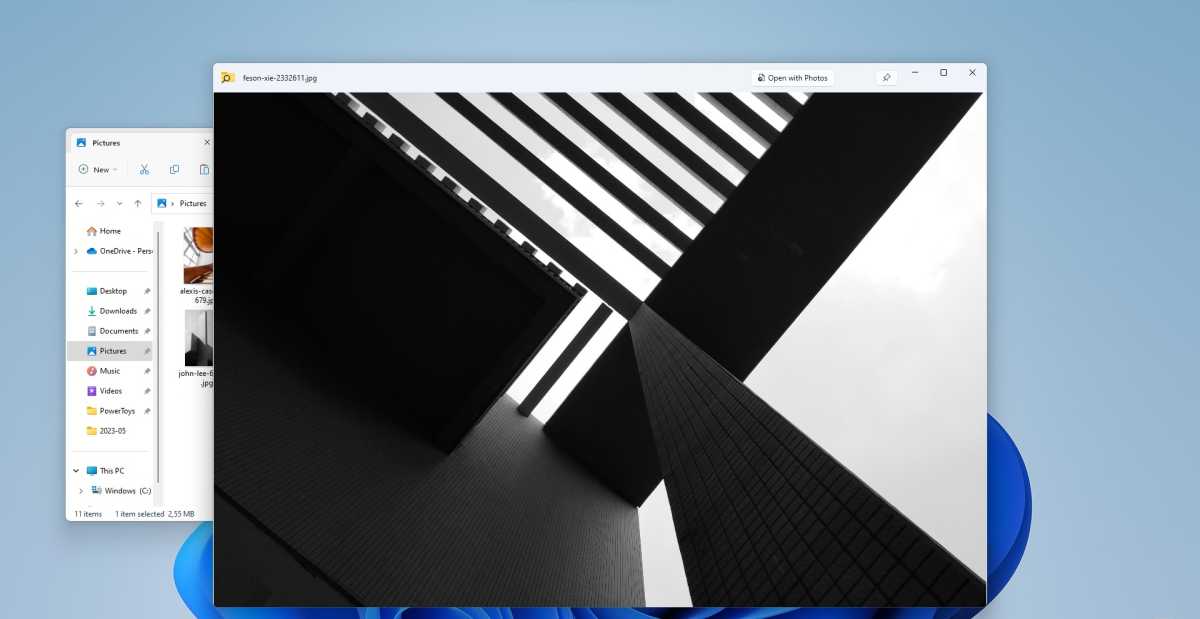 Microsoft
Either way, make sure you download PowerToys regardless. It's a handy collection of free Windows utilities that might just make your life a little easier.