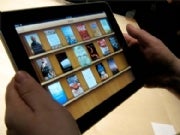 The iPad is nearly here. It goes on sale Saturday, and UPS willing, arrives at the doors of the hundreds of thousands of customers who pre-ordered the tablet starting last month.
What's next?
Well, you can forget the run up, the hype, what consumer pigeon hole it fits, or even whether it will Change the World As We Know It. That's all history.
Now what do you do? And do with it?
Those are just the first of the questions you'll have about Apple's media tablet, so like a good story, that's where we'll start.
Can I still get one Saturday? Yes, but you may have to stand in line.
All Apple's U.S. stores will have a limited supply of iPads for sale to walk-in customers Saturday starting at 9 a.m. local time, and Best Buy stores that stock Apple hardware will have an even more limited number (reportedly, just 15 for each store, five each of the three storage configurations).
iPads that have been reserved by others, but not picked up by 3 p.m. will be returned to sale inventory at that time by each Apple store.
If you did reserve an iPad for store pick-up, make sure you're there by 3 p.m.
What's in the box? Not a heck of a lot. There's the iPad, of course, and Apple's typically terse "documentation," which is nothing more than a small booklet. Also included is a tiny power adapter and six-foot cord, and a cable to connect the iPad to a Mac's or PC's USB port.
How much does it cost to get on the Internet? Do I have to use AT&T? Slow down, buddy. Unless you're Marty McFly, the iPad you have only connects over Wi-Fi.
So, if you're at home, your Web cruisin' over the wireless network adds nothing to your monthly nut. Out and about? Stay within range of a hot spot -- and here, payment mileage may vary -- to stay on the Internet.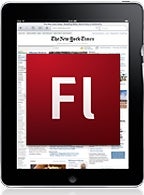 Flash, no Flash, I'm not a freakin' camera. What Web sites work with the iPad? Good question. Apple's feud with Adobe over Flash is famous. (CEO Steve Jobs reportedly called Adobe "lazy" for not optimizing Flash to suit Apple's requirements, or taste.)
Sites that stick with Flash will sport swaths of blank real estate on the iPad, but some sites have revamped to support HTML5 instead. Apple posted a short list of what it dubbed "iPad ready" sites Thursday that includes CNN, the New York Times, Flickr and Major League Baseball.
There are, of course, tons more that will look just fine on the iPad. Others, just as obviously, may stink.
(For the Web site dev/design details, check out this tech note, "Preparing Your Web Content for iPad".)
Will iPhone apps work on the iPad? Yes, but they'll appear in the center of the display and in actual iPhone size. In other words, tiny. At your option, you can double the size of an iPhone app, which makes it not only larger but likely a bit "jaggy," what with the way the mode simply enlarges pixels.
Has Apple stocked the App Store with iPad-specific software? Naturally.
In fact, iPad apps started to show up before the tablet hit consumers' hands. By Thursday's end, more than 2,000 iPad-specific apps, ranging in price from nothing to $9.99 (and some higher), appeared in the App Store within iTunes.
From our admittedly unscientific survey, iPad paid app prices will be much higher than those for the iPhone. The most frequently listed paid app prices seemed to be $4.99 and $6.99.
Here's hoping that app developers don't try to stick customers with a 5X price jump.
Does my iPad have a hard drive? Negative.
Instead, it uses NAND-based memory to duplicate the functions of a spinning hard disk, which would suck up enough power to send battery miser Steve Jobs over the edge. All your applications, videos, photographs, downloaded music, movies, television programs and other data goes into the flash memory.
Depending on how much money you decided to throw at Apple, your iPad has 16GB, 32GB or 64GB of storage space. Each step up cost you $100.
Compared to a new Mac or PC, the iPad's storage is Lilliputian: The low-end MacBook Pro, for example, has a 160GB hard drive, while the cheapest iMac sports 500GB. But it's in line with the capacity of its closest cousin, the dinky iPod Touch.