At a glance
Expert's Rating
Pros
Great typing feel
New auto-brightness
Lower price
Cons
Smart Actions is limited
Iffy Bolt wireless connection
Our Verdict
The new version of the MX Keys doesn't change much, but it's still one of the best non-mechanical keyboards on the market. It helps that it gets a small price decrease!
Price When Reviewed
$109.99
Best Prices Today: MX Keys S Keyboard
Logitech has a lot in common with companies like Honda. Go into a store, buy a Logitech keyboard without doing any research, and you can expect it to be pretty decent at the very least. So to extend the analogy, the MX sub-brand is its Acura: higher quality, more capability, and of course higher prices, but still focused on that rock-solid core functionality. That being the case, what can you do to the MX Keys keyboard from 2019, which is about as good as the low-profile, high-style format can get?
Switch to a trendy full mechanical design? Nope, already did that. Slap on a screen, maybe go crazy with the lighting or add some emoji keys? Doesn't really fit the MX brand's button-down, almost Apple-like aesthetic. In the end, Logitech decided to keep the hardware of the MX Keys S mostly untouched, and focus on expanding its capability with software. Oh, and it chopped 10 bucks off the price.
The result is a keyboard that's better than the original, but not so much so that it demands an upgrade. (Which is fine, because a lot of the expanded software functionality is coming to the older MX Keys.) That makes it an easy recommendation for anyone who wants a premium keyboard and isn't a fan of clicky mechanical models, so long as you're not married to Logitech's Unifying Receiver module.
Further reading: See our roundup of the best wireless keyboards to learn about competing products.
What's new in the MX Keys S?
Physically, it's almost impossible to tell the difference between the MX Keys S and the original MX Keys. That's fine: It's a solid, no-nonsense design with a full-size layout, unashamedly taking cues from Apple's Magic keyboard (especially in this white-on-aluminum colorway) while making the keys feel even better. Despite costing less than the larger Apple version and being equally happy with both Mac and Windows, the MX Keys S includes both Bluetooth and support for Logitech's proprietary Bolt wireless dongle (included in the box). It's easy to switch between three devices with any combination of those connections.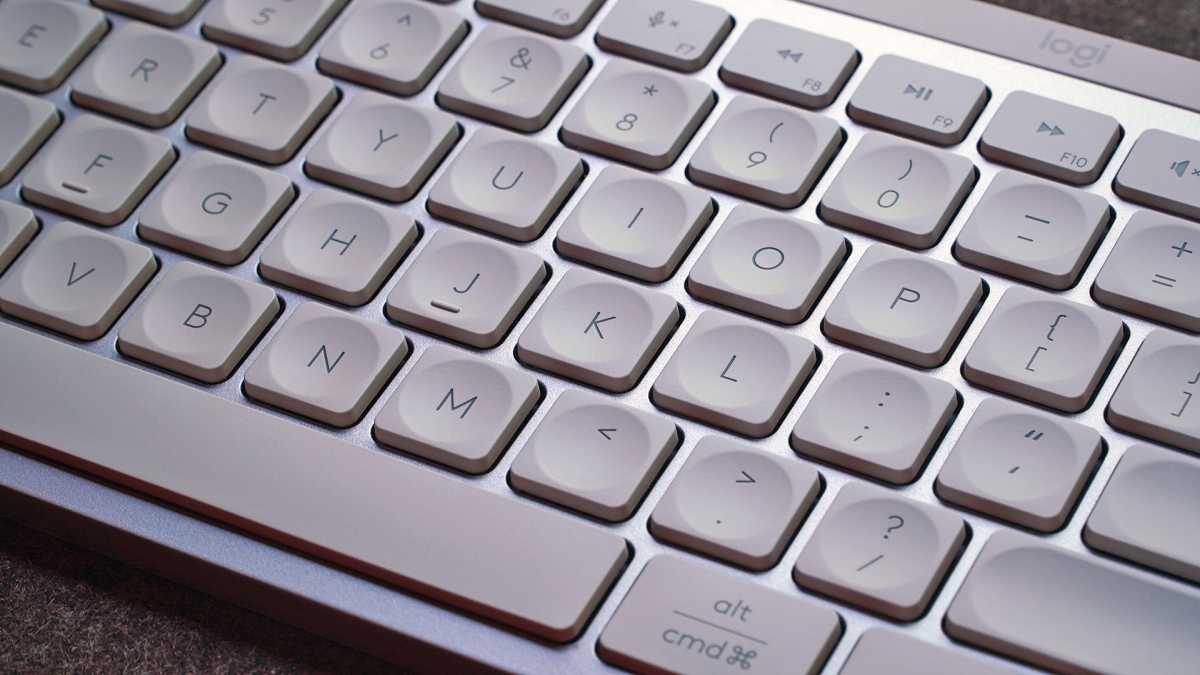 Michael Crider/Foundry
In terms of hardware, the MX Keys S now has "smart illumination," which automatically adjusts to the surrounding lighting conditions. The keyboard's backlights are still white only—which is fine, no one's binding custom Counter-Strike layouts on this thing—and mostly unnecessary if you're a touch-typist. But the addition of a smartphone-style ambient light sensor is handy, though strangely you still have to use Logitech's Options+ software in order for it to work (at least according to the packaging). There's also a battery-saving mode that will automatically shut the lights off when you hit 10 percent.
The MX Keys S also switches from the Logitech Unifying Receiver to Logi Bolt. Bolt uses Bluetooth Low-Energy as opposed to Unifying's more typical 2.4GHz proprietary wireless. But since Bolt is also proprietary, and doesn't work as an access point for Bluetooth or non-Bolt-enabled devices, it's effectively just a different flavor of Logitech's teeny-weeny multi-device dongle. Bolt and Unifying are not cross-compatible, which is a bit of a bummer if you've invested a lot into the latter. But since pretty much every wireless product Logitech makes also includes Bluetooth, you're still covered even if you're low on USB-A ports.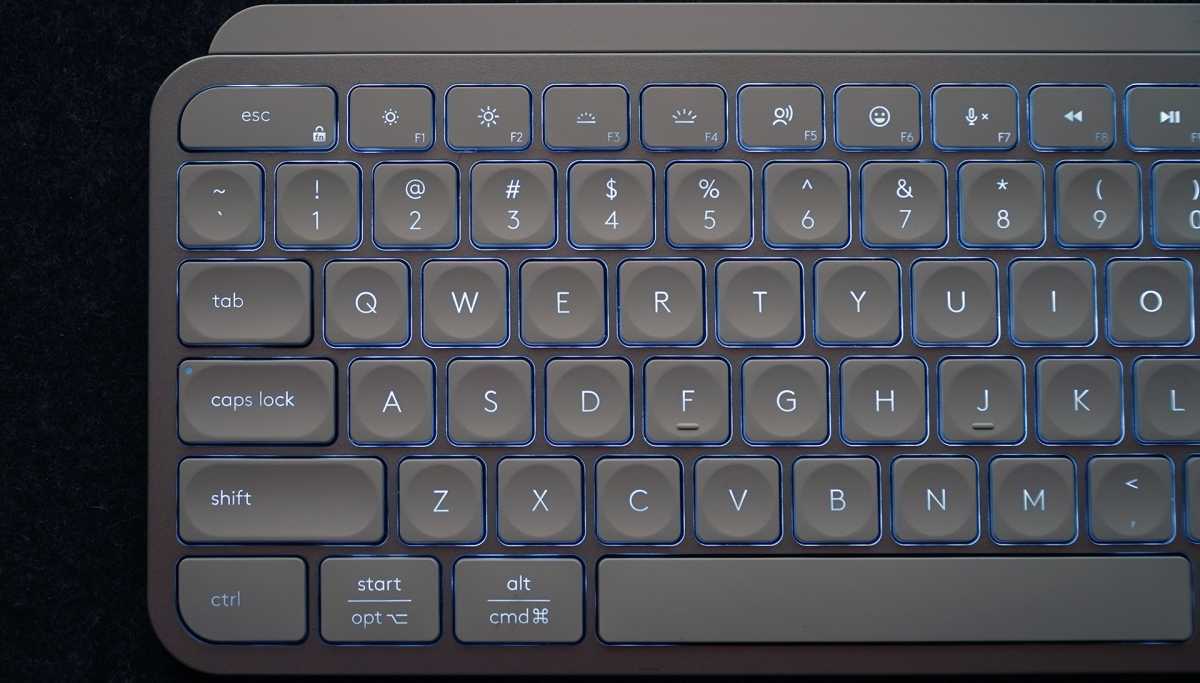 Michael Crider/Foundry
And…that's it. Yup, that's the extent of the hardware changes between the MX Keys and the MX Keys S. If it ain't broke, don't fix it.
What is Logitech Smart Actions?
Logitech's Options+ software covers pretty much everything you could want to customize for your keyboard, with the one limitation that custom keys are only available on the top row. It allows you to easily assign custom layouts for universal operation, plus bindings keyed to specific programs like your browser or Photoshop, very much like a gaming driver. Logitech Flow is a great way to manage multiple PCs with one keyboard and mouse. But none of that is new. The big selling point of the new keyboard is Smart Actions.
Michael Crider/Foundry
Smart Actions are, essentially, suped-up macros. So for example, I can set up a "start my morning" macro and open Outlook, Slack, my RSS reader, and Chrome with a single button press. It also has integration with deeper system settings. You can also change some system settings or rapidly input text in a classical macro fashion. And all of these functions can be layered on top of one another for some more complex behavior.
It's a nice idea, and Logitech has created an impressively easy interface for managing it all. Again, this is the company's bread and butter—if using Smart Actions were as complex as, say, making an IFTTT routine, most of its customers would balk. But outside of launching programs, I found its utility limited. I couldn't, for example, switch my audio device to my headset, switch my microphone input, and open Teams to activate "meeting mode." And the programs Logitech Options+ chooses to recognize as, well, programs, are very narrow. I use Outlook as a progressive web app (ditto for my RSS reader and Monday), and Options+ couldn't find the shortcuts necessary to launch them. There was also no option to add them manually.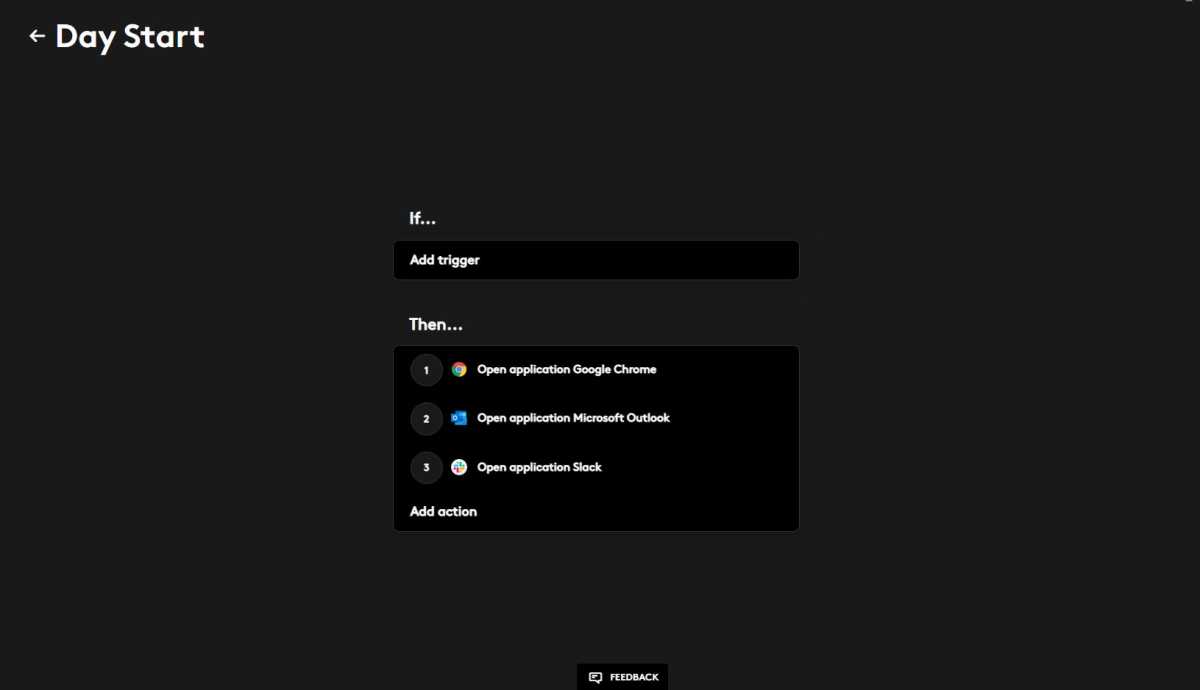 Michael Crider/Foundry
Smart Actions is launching in beta, so perhaps some of these wrinkles will be ironed out eventually. But at the time of writing, it's little more than a novelty, and certainly not worth the purchase of a pricey new keyboard. But a new purchase isn't necessary: Logitech representatives told us the functionality is coming to all MX devices at some point.
Typing on the MX Keys S
The typing experience on the MX Keys S remains excellent. Logitech uses a combination of a plastic scissor-style bracket and a membrane in order to give the keys a smooth and deliberate travel with mild give, sort of like a really nice laptop keyboard (right up there with my ThinkPad). Typing is quiet and unobtrusive, a definite plus if you work around others. The keys feel much more comfy than the most direct competition, the Apple Magic Keyboard.

Michael Crider/Foundry
You won't get the satisfying "click" of a mechanical board (or the noise that comes with it), but at this point if you're considering this board then that's not something you want. I do wish the keyboard came with more than one height option—they're called feet, Logitech, I know you've heard of 'em!—but the stylish low profile of the board is visually striking. If you need a keyboard with more ergonomic sensibilities, look elsewhere.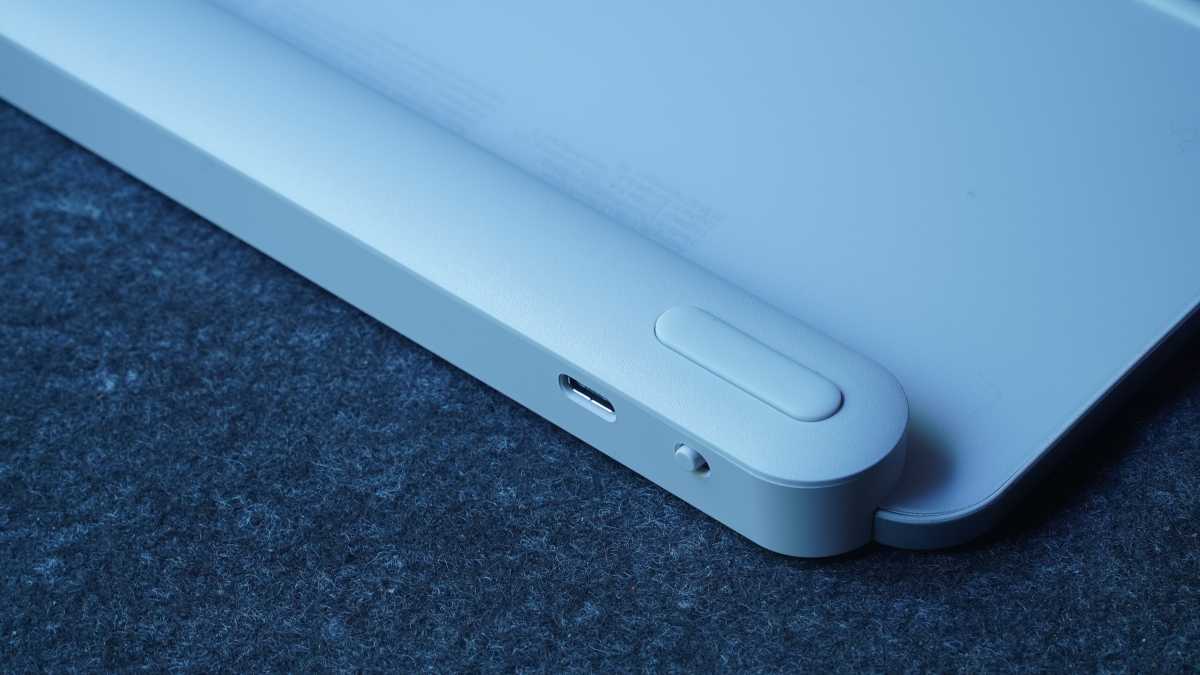 Michael Crider/Foundry
Recharging comes via a USB-C port, though I didn't need it in two weeks of testing, and switching between devices was fast and easy. I did notice that the Bolt connection seems a little more finicky than the old Unifying Receiver, which I want to blame on the fact that I have half a dozen active Bluetooth devices scattered around my office at any given time.
Should you buy the Logitech MX Keys S?
The MX Keys S will launch with a retail price of $109.99. That's a lot for a keyboard, but for Logitech's top-of-the-line, it's not too bad. It's also $10 cheaper than the original MX Keys, a savings that's all too infrequent these days. At the moment there's no word on a "Mini" variant, but I'm sure it'll be along before too long, and also sure that you'll be able to buy the MX Keys S at a significant discount within a few months. These things go on sale constantly.
Though it's an extremely gentle change, and the new Smart Actions is limited in its utility, the MX Keys design remains undeniably appealing in its new S variant. With a price drop on top of everything, it should be at the top of your list if you're hunting for a slim keyboard that combines functionality and style.
Best Prices Today: MX Keys S Keyboard