At a glance
Expert's Rating
Pros
Easy to travel with
Tracks on anything
New quiet clicks are, um, quiet
Cons
A bit pricey
No dongle in the box
Our Verdict
The MX Anywhere 3S doesn't do much more than its predecessor unless you really need quiet clicking, but it's still the best travel mouse around if you're willing to pay up.
Price When Reviewed
79.99
Best Prices Today: MX Anywhere 3S Mouse
What's the difference between the Logitech MX Anywhere 3 and the Logitech MX Anywhere 3S? If you can tell just by looking, you have better eyes than I do. Logitech's top-of-the-line travel mouse is physically indistinguishable from its last release, which isn't a bad thing. But under the hood it now has the "quiet click" tech of its bigger MX Master 3S brother, plus a new 8,000 DPI sensor. It's also using the new Logitech Bolt proprietary dongle instead of the Unifying Receiver.
Those changes probably don't mean much to you, unless your PC monitor is the size of a dining table and you can put that boosted DPI to the test. But even at a very slightly diminished value (the Anywhere 3S no longer includes a dongle, but remains the same $80 retail price), it's still one of the best small mice around.
Using the MX Anywhere 3S
The MX Anywhere 3S is on the smaller side, obviously, but not so small that it's uncomfortable to use for extended periods of time. My medium-sized male mits were able to use it for primary computing tasks for more than a week, though of course, I prefer something beefier. At a bit less than four inches long and, perhaps more crucially, about an inch and a quarter high, you'd have to be a very small adult to consider this as your primary mouse.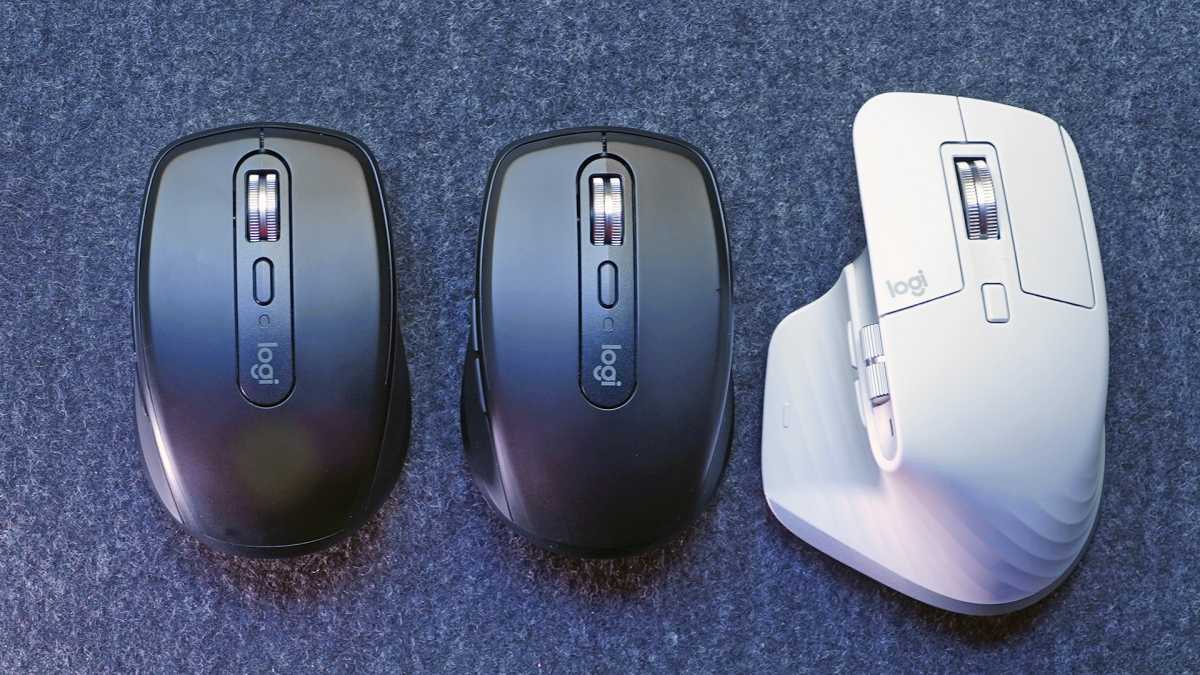 Michael Crider/Foundry
But that's okay, this mouse is designed to travel after all— "Anywhere" is right there in the name. And with the smooth pebble shape, it'll slide easily into any bag, or even in your pocket if you need to move in a hurry. Wide, forgiving primary buttons are comfy all day, and the side buttons are a little stiff, but you won't click them accidentally. A single non-standard button, which switches between standard scrolling and super-fast scrolling for the nicely knurled mouse wheel, rounds out the package.
Can the MX Anywhere 3S really go anywhere?
The other part of the "Anywhere" brand is that the mouse works on anything, up to and including glass. Personally I find that my pants leg is a much more frequent mousing surface on the go, but the Anywhere 3S handles both just fine. In fact I've got a bathroom scale that just happens to have a full mirrored surface (so I can check my weight and my nose hairs at the same time, I guess?), and the MX Anywhere 3S tracked on it with only minimal skipping. So if you need a mouse that truly works anywhere, yeah, this'll do it.
Another feature of the mouse's travel-friendly design is the ability to swap between three devices with a button on the bottom. As with previous MX mice, this works flawlessly, whether you're using Bluetooth or Logitech's proprietary Bolt USB dongle. (The new "S" variants of these mice ditch the older Unifying Reciever.)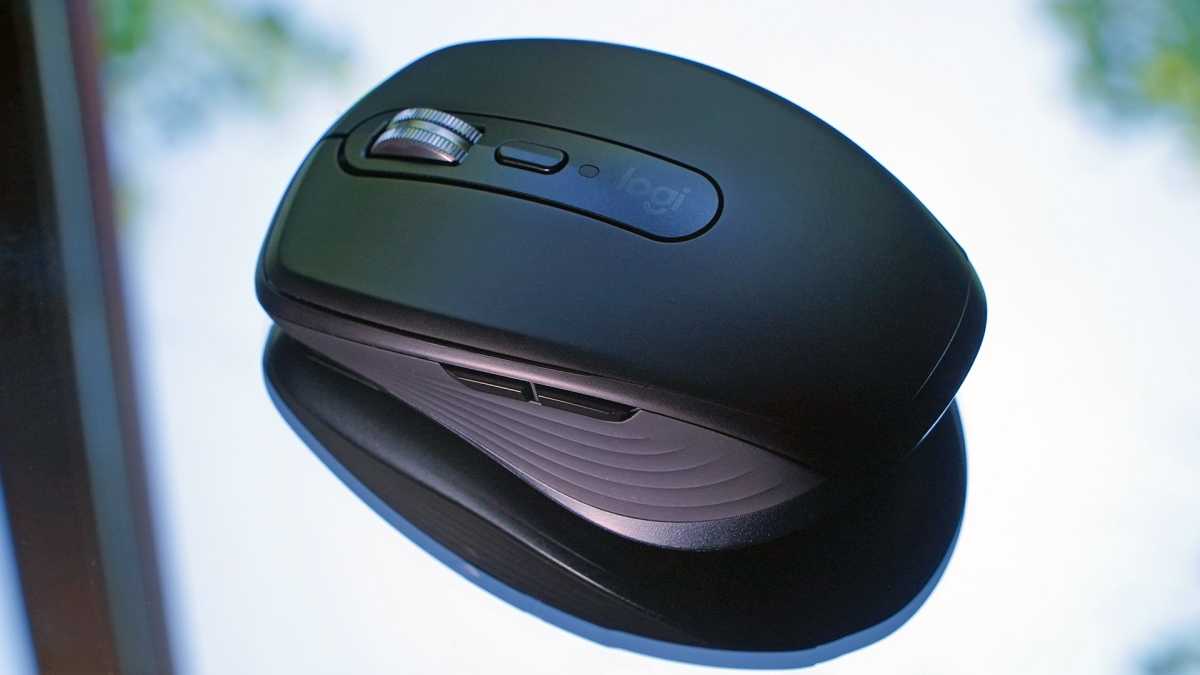 Michael Crider/Foundry
The lack of a dongle in the box might be a sticking point, since it was included with the MX Anywhere 3 at the same price. But since this is a travel mouse, and most people will be using straight Bluetooth for their devices rather than constantly occupying an increasingly-rare USB-A port, I can see the logic.
How did the MX Anywhere 3 perform?
Aside from the 70-day battery life — which I couldn't stress test during the review period, but having owned the Anywhere 3, I don't doubt it — the mouse's other distinguishing physical feature is the scroll wheel. It really is super-nice, especially for a smaller mouse, feeling heavy and solid underneath my finger. And the ability to switch between standard notched scrolling and rapid scrolling with the touch of a button is something you only appreciate after you've used it for a while…and find yourself missing on other mice. Don't want to switch? Fine, scroll fast enough and the mouse is smart enough to let it spin freely all on its own. This feature has been around for a few years, but is no less impressive for that.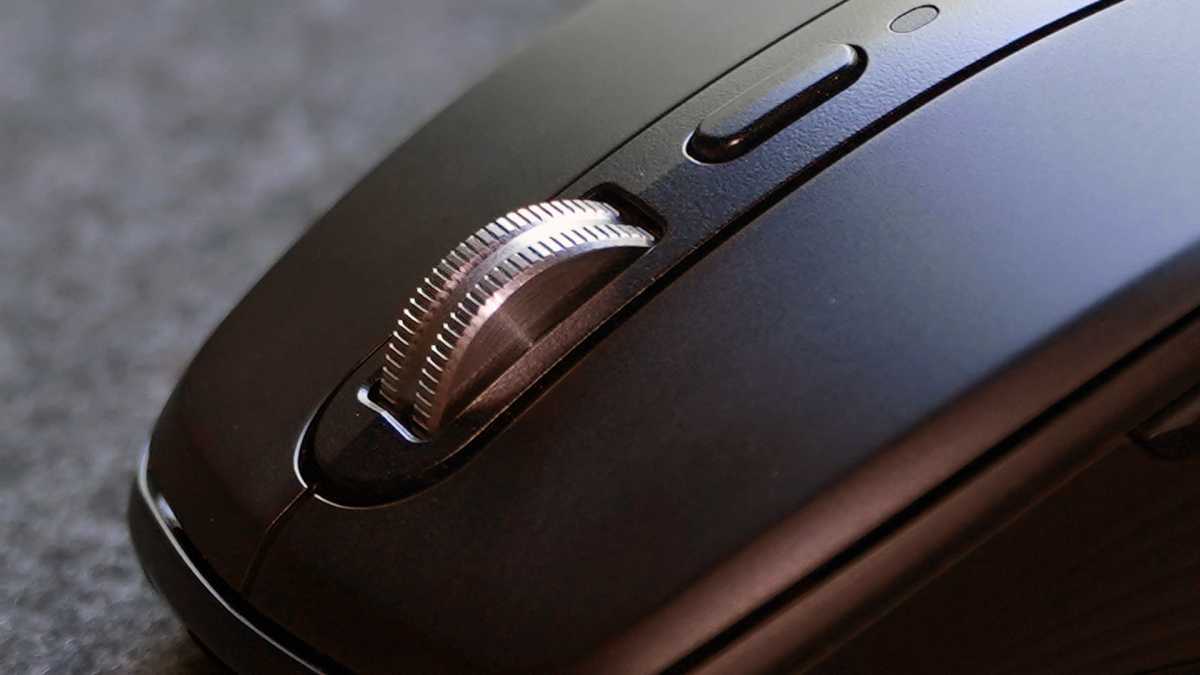 Michael Crider/Foundry
Speaking of which, if you dive into the Options+ driver software you can actually adjust the force of the notched scroll mode, from barely there to a much more satisfying near-click. This is a feature the previous model had, but it's still super cool. Something the older model didn't have is "quiet click," and indeed, the 3S is much quieter than the last model, just like the MX Master 3S. It's more of a "tap" sound than a "click." Which you prefer is a matter of taste, but I'm sure anyone next to you on a long business flight would appreciate the less noisy option.
The more advanced 8,000 DPI sensor — double the DPI of the last model, equal to the MX Master 3S — is nice. I guess. I never used it at anything near that sensitivity, and I can't imagine doing so, especially in a mobile environment. I suspect this is merely a case of Logitech consolidating its parts bin, which is fine.
MX Anywhere 3 software
In terms of software, Logitech Options+ is surprisingly great. It's certainly possible to use the mouse without it, but you'll be doing yourself a disservice. Logitech Flow remains a great tool for anyone who has to move between multiple machines, and the option to change some or all of the button functionality for triggered applications is much appreciated.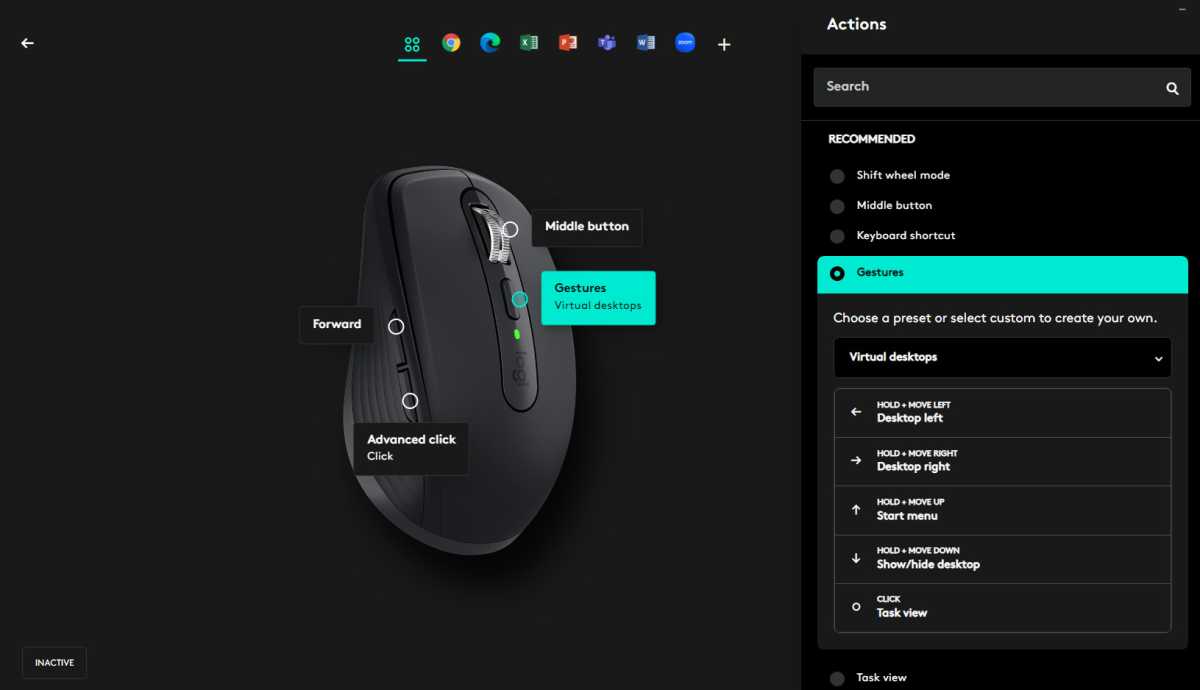 Michael Crider/Foundry
Technically the mouse works with Logitech's new Smart Actions system, but unlike keyboards or the big MX Master, I don't think there are enough buttons to make it truly useful here. You might just be able to get some more functionality out of Gestures, which lets you hold the button and move up, down, left, or right for more actions. But again, this seems like more trouble than it's worth when most of those (many, many) options are just a click or a keyboard shortcut away already.
Should you buy the MX Anywhere 3?
The MX Anywhere 3S isn't a huge change over its predecessor, but it doesn't have to be. The quieter clicking probably isn't worth an $80 purchase all on its own…unless your coworkers or significant other are asking for that specifically.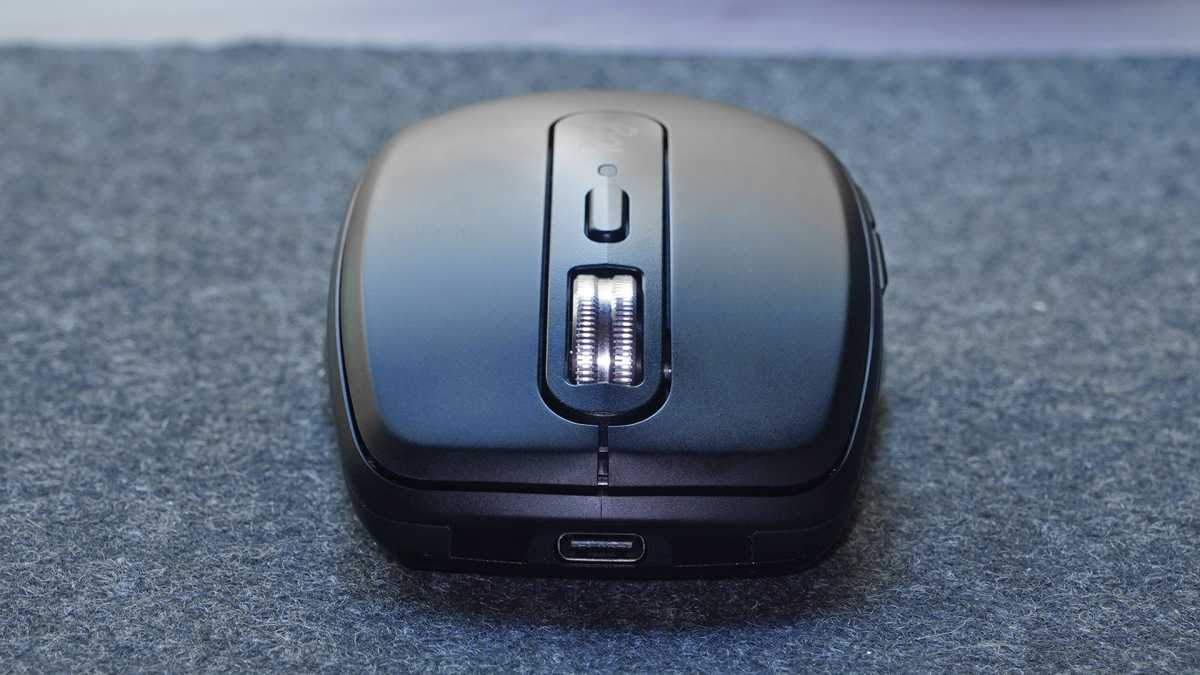 Michael Crider/Foundry
Still, if you're in the market for a small travel mouse and you don't mind paying a little above average for the top-of-the-line, you can't do better than this. Even if you don't actually need to use it on a mirror.
Best Prices Today: MX Anywhere 3S Mouse