Now that EVGA and its beloved Kingpin GPUs are out of the picture, there's room at the top for a new company to perch atop the no-compromises graphics card throne. And Asus's Republic of Gamers division just made a mighty convincing claim, reviving the long-dormant Matrix brand for a fire-breathing, chart-topping version of the monstrous GeForce RTX 4090, complete with tricks learned from years of building high-performance laptops.
"No reason to beat around the bush: the ROG Matrix GeForce RTX 4090 has the highest boost clocks of any RTX 4090 on the planet," Asus proudly crows in its announcement (while neglecting to specify those speeds). The liquid-cooled beast comes with a custom 360mm radiator and a trio of the company's ROG MF-12S ARGB fans, while a custom-engineered coldplate helps keep not only the GPU itself, but also the VRMs and memory chips cool. This thing was made to shatter 3Dmark Hall of Fame records.
But perhaps the most interesting part? The cooling material used to connect the GPU to all that heavy metal. The Asus ROG Matrix features liquid metal thermal compound rather than traditional paste.
Liquid metal offers significantly cooler temperatures than traditional paste, but it's also electrically conductive—which means if it's not carefully applied, the material could also short-circuit your graphics card. Gulp. But Asus has spent the last several years perfecting liquid metal application in a range of potent ROG laptops like the Zephyrus Duo, Strix G15 Advantage Edition and the ROG Flow X13, all of which scored highly in PCWorld reviews.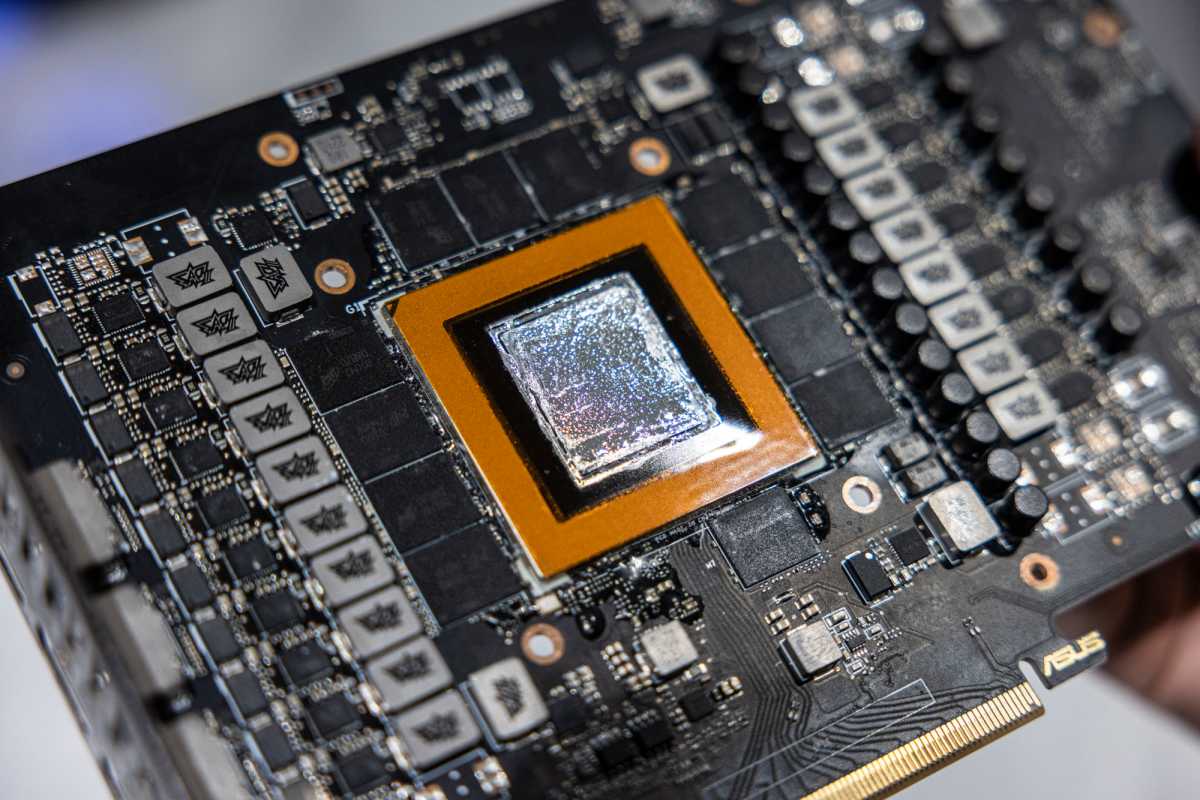 Adam Patrick Murray / IDG
Now Asus feels confident enough to bring liquid metal to the ROG Matrix RTX 4090. Here's how the company describes it:
"Building on years of expertise with liquid metal in the ROG laptop division, we have a patented production process that can safely harness the power of liquid metal while still allowing for vertical GPU mounting.

By applying a UV resin above the surface-mounted capacitors that border the GPU die, and then adding two additional protective layers between the die and the main PCB, we ensured that the ROG Matrix GeForce RTX 4090 exploits the incredible thermal transfer inherent to liquid metal with no risk of leakage."
Giddy up. And Asus is putting those lower temperatures to good use by giving buyers up to 600 watts of overclocked power, blowing past the stock 4090's 450W rating.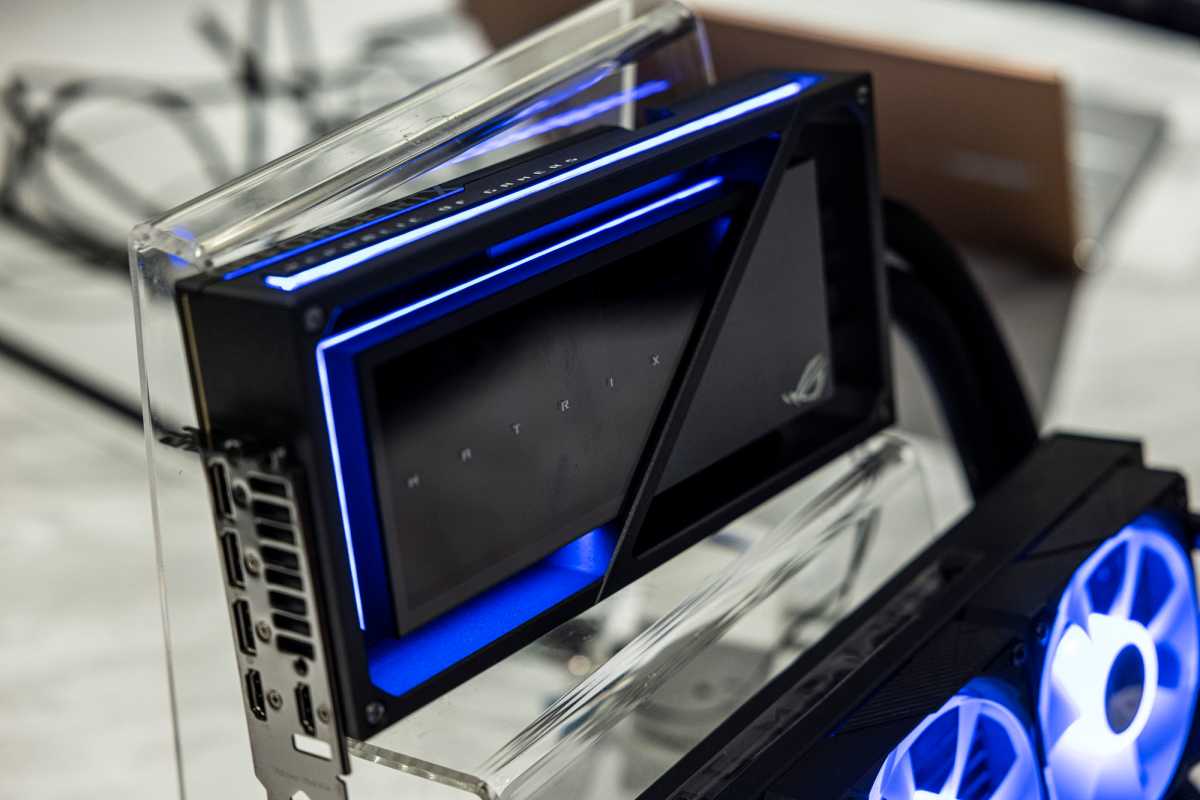 Adam Patrick Murray / IDG
Add in magnetic connectors that make cable management a breeze, a stainless steel backplate, and a ferociously attractive "hollow chamber" design augmented with the company's Aura Lighting RGB and it's clear that Asus revived the Matrix for discerning, deep-pocketed PC gamers. Asus hasn't officially disclosed pricing for the ROG Matrix RTX 4090, but considering that the RTX 4090 starts at $1,600 and previous Matrix GPUs cost $2,000 without all the fancy liquid metal and water cooling, expect this beast to put a dent in your savings account when it hits the streets next quarter.