Computex is the most vital PC show of the year, every year. Just look at the name! Taiwan's trade show is where computer vendors large and small unveil their latest, greatest gear ahead of the crucial back to school and holiday shopping seasons. If CES is where the industry showcases its vision for the future, Computex keeps it real.
Product cycles for the world's biggest chip vendors made this Computex feel somewhat muted. Intel and AMD skipped keynotes all together, while Nvidia spent two hours talking about AI rather than games. With no new CPUs or GPUs on tap, the usual barrage of fresh PCs packing new tech slowed to a trickle this year, as the next generation already arrived earlier this year.
But that gap also provided fresh opportunities. With laptops and chips taking a backseat, innovative peripherals flourished at Computex 2023, bolstered by exciting new software that promises to let you do even more with hardware.
Which reveals got us deeply, personally excited? This is the best hardware and software of Computex 2023. Giddy up.
Corsair iCue Link
There's a definite trend in PC building this year, something we're calling the War on Cables. And while we're still months away (at least) from new motherboards, cases, and even graphics cards designed to get cables tucked away from your central tower build, Corsair's cooling solution should be out this summer. The iCue Link system lets you daisy chain multiple fans, AIO coolers, and even coolant reservoirs along a single cable line.
The system can manage disparate cooling and lighting duties from its central hub, all accessible in Windows via the iCue software. I love the way that multiple adjacent fans don't even need cables, they just snap together with electrical contacts like LEGO blocks. The only downside is that it's a proprietary system, so you'll need to go all-in on Corsair-branded hardware to see the benefit. —Michael Crider
Fractal Design Terra case
Hot off the heels of winning The Full Nerd award for Best Case of 2022, Fractal Design follows up the popular North with Terra.
Terra is the company's newest small form factor case, coming in at 10.4 liters and sporting the same Scandinavian design features and wood grain accent that made the North so drool inducing. This sandwich-style case features anodized aluminum, gall wing doors, and configuration options that allows for unique mixes of hardware configurations. It's a perfect mix of style and functionality and is easily the next SFF case I'm going to build in. —Adam Patrick Murray
Acer Swift Edge 16
Acer
Acer's Swift Edge 16 refresh was one of the most interesting laptop announcements at a Computex that was…light on laptop announcements. No matter: The latest Swift Edge 16 squeezes a 120Hz 3200×2000 OLED display into a chassis that's somehow even lighter than last year's model, and with a AI-enhanced AMD Ryzen 7 7840U, to boot.
Yes, it's just a tad thicker depending on how you look at it. But that means a deeper keyboard (increasing from 1.0 to 1.3mm of key travel) and better cooling, too. It all implies a more comfortable, more powerful laptop — and did we mention that at $1,299, it's cheaper, too? —Mark Hachman
Frore's solid-state AirJet cooling gets real
I'm deeply intrigued by the War on Cables that Mike mentioned above, but for me, the single most exciting part of Computex 2023 is Frore Systems' radical "solid-state" AirJet cooling technology finally getting real. (That's what happens at Computex, remember!)
We've been following AirJet from the jump, covering the initial reveal, digging deeper at CES 2023, and even going on a Frore Systems lab tour. The magic of AirJet is a combination of exotic materials, geometry, and physics: The 2.8mm chip has cavities in the top full of vibrating membranes, which blast cool air across the heat spreader underneath, cooling down a CPU or other component. Despite the miniscule dimensions, it can send individual air particles whooshing over the heat spreader at up to 200 kilometers per hour, letting PC vendors cool compact components much more effectively than ever before.
And boy does it. AirJet started showing up in actual products at Computex 2023. First, Zotac's previously passively cooled PI430AJ Pico mini-PC embraced AirJet to upgrade from a two-core Atom processor to an Intel Core i3 with eight efficiency cores. That's a monumental leap in performance. Gordon also got a chance to see a Sabrent Rocket SSD running in a Thunderbolt enclosure to see the difference AirJet's active cooling can provide versus traditional passive designs.
Watch it in action in the videos above, but spoiler alert: AirJet is some of the most exciting PC technology I've seen in years. —Brad Chacos
Nvidia ACE for Games
Nvidia's Avatar Cloud Engine (ACE) for Games offers us what feels like one future of PC gaming—and it's an odd one that may not come to pass. That's not because it's not possible: ACE envisions a future where NPCs are actually AIs, with natural language interactions powered by the cloud and/or your GPU. Imagine getting into a prolonged debate with a generic RPG merchant about the merits of lagers versus stouts, and you get the idea.
That means, conceptually, that that merchant might know everything there is to know about the world, including the game's major twists and turns. Or not. Or maybe just a piece of gossip that will advance the story. Narratively, AI characters may bog down the main story or completely undermine it, meaning that game designers may simply refuse to use ACE. But if AIs enter society, they'll eventually make their way into gaming. ACE could be the way. —Mark Hachman
Mobile Pixels Geminos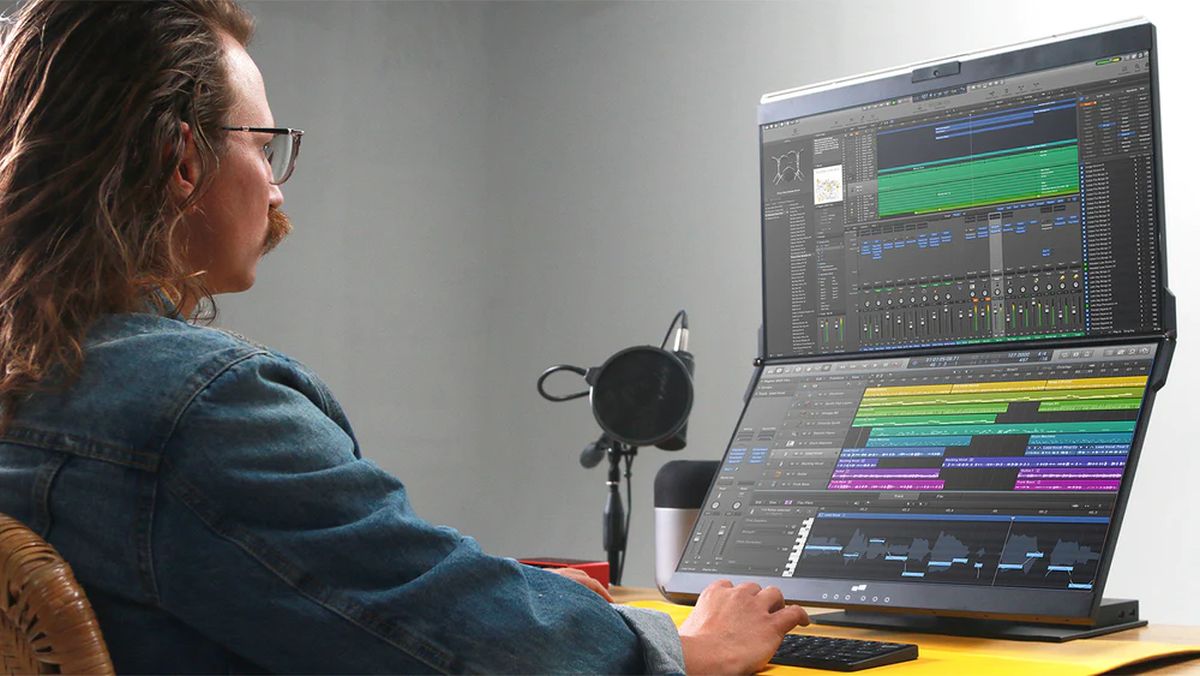 Mobile Pixels
I wasn't prepared to re-imagine the tried-and-true, side-by-side dual-monitor setup, but the Mobile Pixels Geminos has me doing just that. And this stacked pair of 24-inch 1080p displays makes a strong case for itself.
There's the ergonomic advantage of having both screens dead center in your field of view. (Both height and angle of the screens are adjustable via the stand's hinged and sliding mechanism.) There's the space-saving aspect, for crowded desks. And there's the extreme versatility enabled by all the extras: a built-in webcam and mic, a 10-in-1 dock, both USB-C and HDMI inputs, and compatibility with Windows, macOS, and game consoles, so you can even have each screen connected to a separate device.
It's a thoughtful design that takes into account many common use cases. All things considered, it's not that expensive either. Mobile Pixels has the Geminos listed on its site for $629.99. —Katherine Stevenson
Azza Sanctum 810 case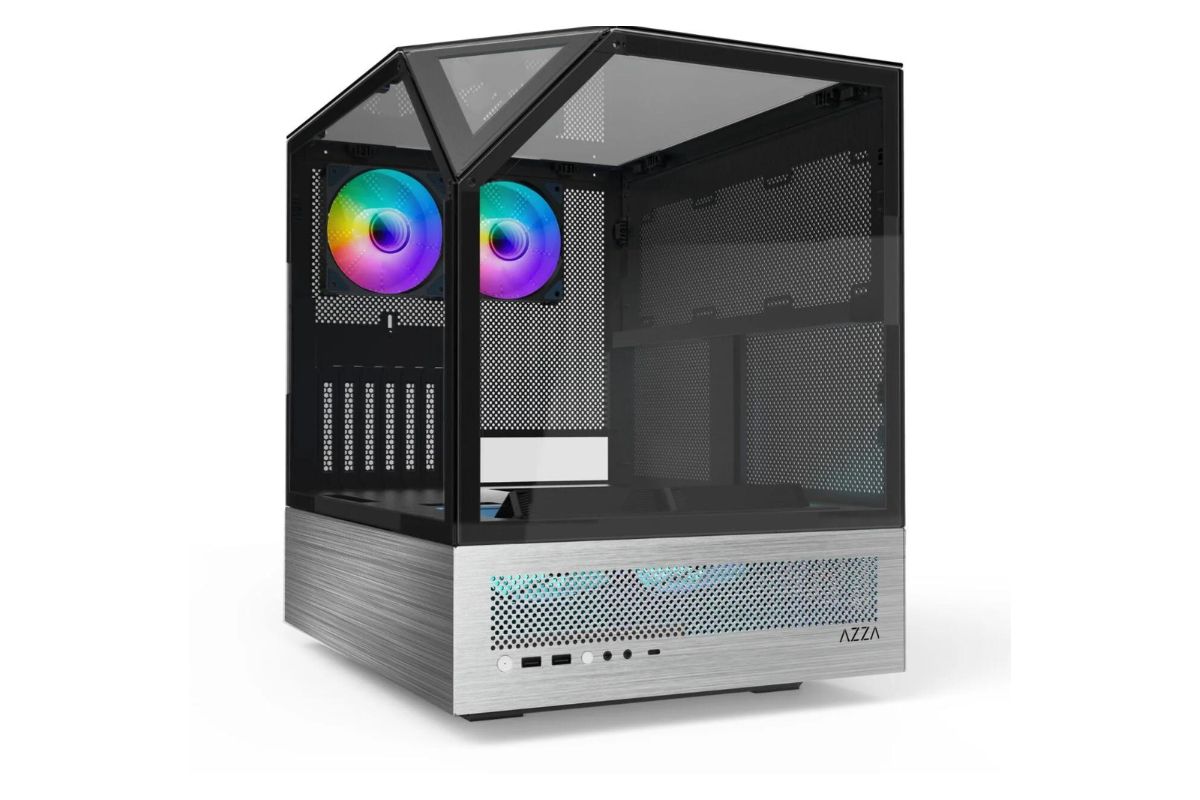 AZZA
I'm super pumped about Azza's funky new PC cases, specifically the Sanctum 810. It kind of looks like a futuristic terrarium at first glance due to its glass panels. The square build and angled top piece set it apart from more traditional-looking cases as well.
The unorthodox design is intentional, as it's meant to hold larger components and water-cooling systems. There's even quite a bit of space for cable management. The front fans are also positioned in a way that allows airflow through a mesh cover, which helps keep everything nice and cool. If you're serious about showing off your PC and have the space for it, the Sanctum 810 looks mighty fine. —Ashley Biancuzzo
Asus ROG Strix Scope II 96 keyboard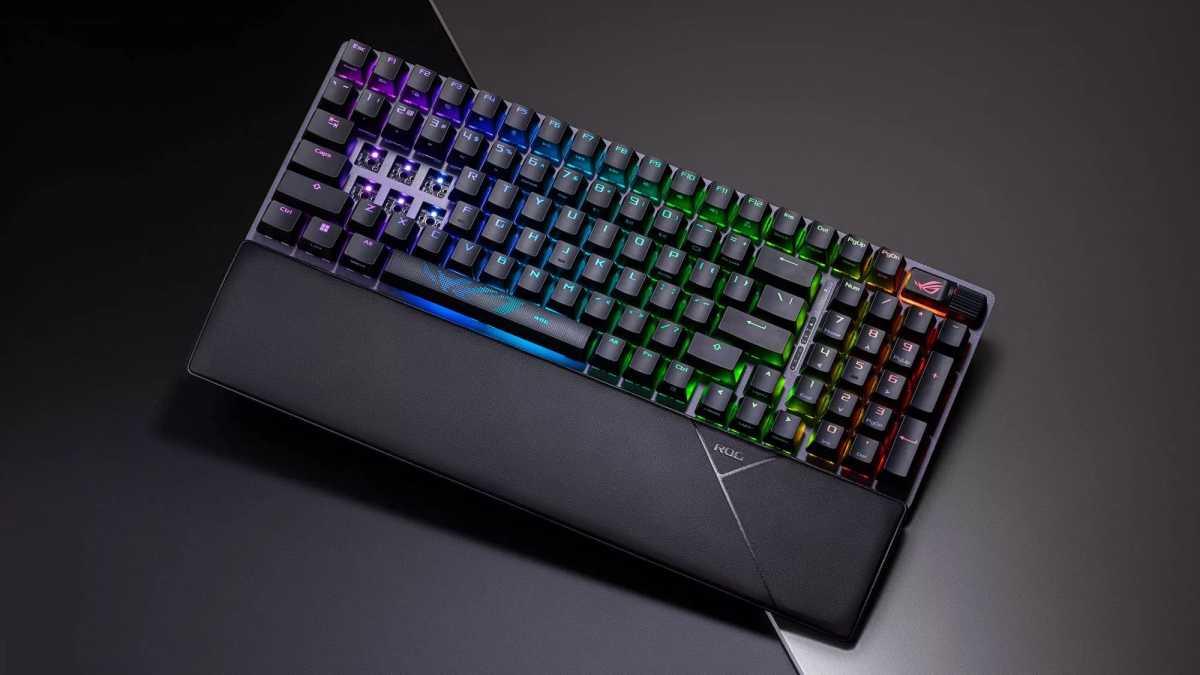 Asus
By the time you finish saying "Asus ROG Strix Scope II 96 keyboard" you may well be able to buy one. Despite the long name, Asus's first 96 percent ROG wireless gaming keyboard packs in some very spiffy features.
The keyboard's ROG PBT doubleshot keycaps and soft comfy wrist rest sound very appealing, but the main jam for most gamers will be the hot-swappable, mechanical ROG NX Snow Switches. ROG's latest mechanical switches use new composite materials on the top and bottom switch housings to dampen sound. But they also have factory-applied lubrication for smooth linear keystrokes and "thocky" acoustics.
But the real draw for me is the keyboard's Tri-Mode connectivity with ROG Omni Receiver. I'm hoping the latter will mean I can forget worrying about USB passthrough. While the Tri-Mode connectivity gives you three connection types—2.4GHz RF wireless, Bluetooth (up to three devices simultaneously) and a USB connection—the ROG Omni Receiver allows you to connect three devices wirelessly using a single USB dongle and "without compromising performance."
The keyboard layout looks promising too, offering all the functionality of a full-sized keyboard, but with bonuses like rad hotkeys preprogrammed for Xbox Game Bar and recording. —Dominic Bayley
MSI MAG A850GL power supply (and its yellow 12VHPWR cables)
It's the simple things in life that always amaze you. MSI's answer to what is widely believed to be the root of melting GPU cables last year was a little color. With the company's new 850-watt MAG A850GL power supply, the company has changed the 12VHPWR connection tips to a bright yellow.
That little splash of color works as a visual indicator to let PC gamers know if the cable has worked loose or possibly was not fully inserted. While some people still resist the 12VHPWR cable, the ship as sailed, and the MSI MAG A850GL's simple yellow cables could go a long way toward helping people avoid problems.
Cooler Master Motion 1 haptic gaming chair
Say hello to a new frontier for immersive gaming. Motion 1, a "haptic engine gaming chair" collaboration between Cooler Master and D-Box, aims to get your whole body in the game.
It uses more than 65,000 haptic effects such as movements, waves, vibrations, and textures. All of these supposedly combine to simulate the entertainment you're experiencing on screen. And just in case you're concerned about ergonomics, the Motion 1 includes magnetic lumbar support and a headrest as well. So at least you can save your actual body even if your in-game body gets pulverized in the virtual world.
The chair is already up for pre-order on Cooler Master's CMODX website retailing for $2,229.00. That's more than the Herman Miller Aeron ergonomic wonder-chair so you'll need to really be invested in the haptic technology to justify the expense. But at the end of the day gaming is about having fun, and a chair that makes the experience more immersive looks like a hell of a lot of fun. —Sam Singleton
PC components in actual colors!
Thermaltake
For the longest time, PC components have been limited in color. You'll see lots of black, and sometimes (but not always) some white and silver as well. Computer cases get more variety, with occasional options in wild shades like blue or red. (Ahem.) Inside the case? It can be work to find enough worthy components to do an all-white build, much less one with fun color accents.
But at Computex 2023, vendors are branching out, and it's wonderful. We saw multiple cases sporting mid-century modern hues, with Thermaltake even offering matching AIO coolers. Think pale turquoise, matcha green, forest green, and pastel pink—shades that can really pop against a white build, or add a subtle flavor to a black one. (A dark forest green AIO in an otherwise all-black PC? Yes, please.) Fingers crossed that this becomes a lasting trend—and one that brings even more colors into play. —Alaina Yee
Cooler Master Qube 500 Flatpack
Cooler Master
Adult Lego is popular, and for good reason—assembling a kit into a full item can be relaxing. Cooler Master is capturing that same vibe with its Qube 500 Flatpack case, which comes deconstructed. You put it together yourself.
The novelty of the design is compelling, especially since this fully modular case is simple yet flexible in both configuration and aesthetics. This 33L mini-tower can fit plenty of hardware inside—an E-ATX motherboard, a CPU cooler up to 172mm in height, a GPU as long as 365mm, a 280mm radiator, and up to three 3.5-inch drives. Not everything will fit at the same time, of course, but a lot will.
You can also swap the included panels for other colors, and the options include several fun shades. There's a bright yellow (aka "Bumblebee"), and then three dessert-colored pastel hues (mint, pink, and cream). With this mix of good looks and smart design, the Qube 500 could go a long way in popularity, especially with the company's encouragement of 3D-printed accessories. If it kicks off a new trend when it launches on September 15, I won't be surprised. —Alaina Yee
Cooler Master Sneaker X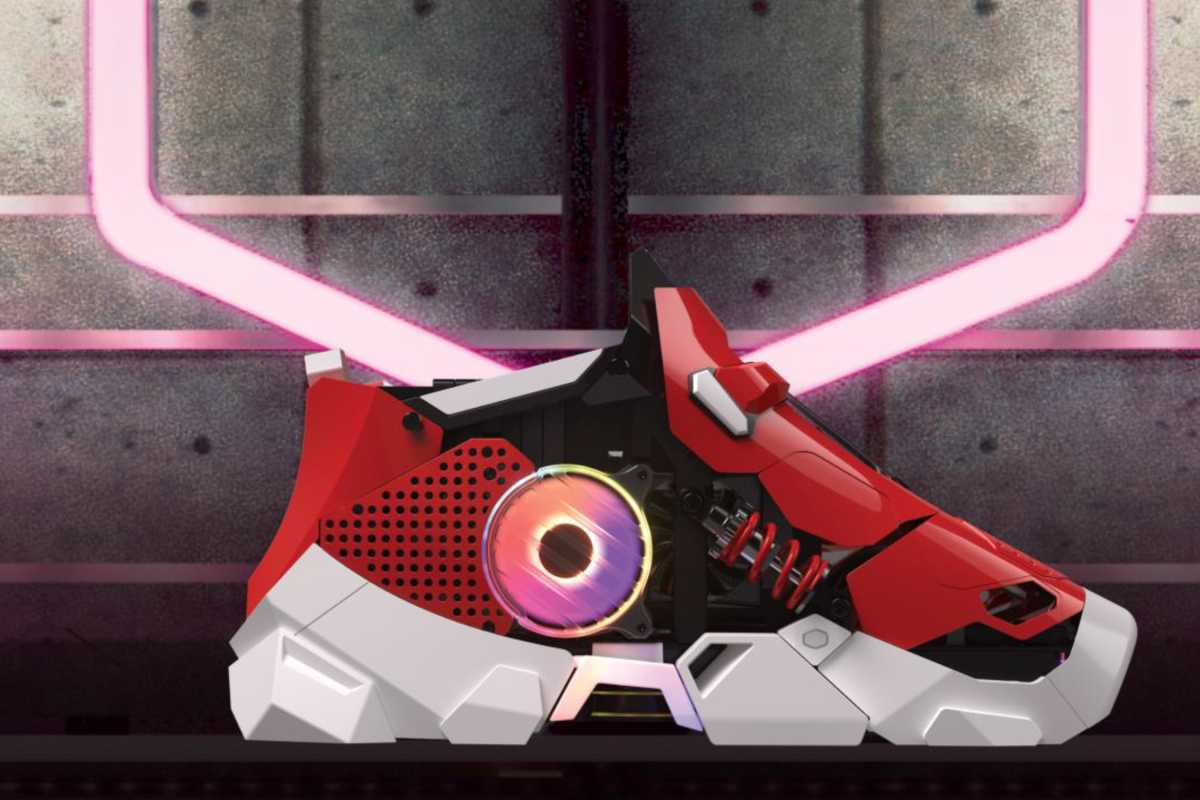 Cooler Master
I mean, it's everything you need to house a high-end gaming rig but it looks like a gigantic sneaker. What else needs to be said? (Maybe that it'll be $5,999 when it launches in July.) —Brad Chacos