Many PC gamers prefer the venerable keyboard and mouse, but controllers aren't just for consoles anymore. Controllers can actually improve the experience in certain games, particularly those ported from a console, and a controller can be a comfortable reprieve if you're already spending all day using a keyboard and mouse. There are as many controller options out there as there are games to play, so what's a PC gamer to do? We've tested numerous game controllers from high-end devices with customizable hardware to bargain-basement wired models, and here are the best controllers for PC gaming.
Further reading: See our roundup of the best Xbox controllers for PC to learn about competing products.
Xbox Wireless Controller (2020) – Best controller for PC
Pros
USB-C port is better for long-term support
Bluetooth connectivity
Refined, more tactile d-pad
Grippy textures and slimmer body
Cons
Rechargeable battery is not included
Share button is hard to reach
Price When Reviewed:
59.99
It's hard to find fault with the current-gen Xbox controller, which was released in 2020. Microsoft's Xbox Series X/S update to the iconic gamepad added several long-overdue features, including Bluetooth connectivity, a USB-C port, and a dedicated share button. It has the standard asymmetrical thumbsticks we see on other Xbox-style gamepads. They're smooth and accurate in our testing, but 8BitDo's Hall-effect sticks are likely to last longer.
The Xbox controller retails for $60, but it's regularly on sale for $50 or less if you don't demand one of the fancy colors or elaborate skins. That price doesn't include a battery—this controller still takes two AA batteries. However, that's enough juice for 25 to 30 hours of gameplay. Microsoft's add-on battery pack is $25, but third-party versions are as little as $10, and that's worth the price.
Microsoft's controller might not have a ton of bells and whistles like the Elite controllers or the 8BitDo Ultimate below, but the matte plastic body is sturdy, and we appreciate the microdot texture on the grips that make it less slippery in the hand. The more tactile, dish-shaped d-pad is a nice upgrade over most other controllers, too.
What really makes the Xbox Controller the best overall PC controller is simply that it works with everything. If a game has controller support on PC, it will understand the Xbox Controller without any coaxing. It also has a huge accessory ecosystem, offering docks, phone mounts, and more.
Read our full
Xbox Wireless Controller (2020) review
8BitDo Ultimate Bluetooth Controller – More features, at a price
Pros
Lightweight and comfortable design
Works on Windows, Android, iOS, and Nintendo Switch
Hall-effect thumbsticks for long-term reliability
Full remapping and customization support in 8BitDo app
Cons
Includes charging dock with 2.4GHz adapter
Nintendo Switch button layout can be confusing
Bluetooth is buggy on Windows
More expensive than Xbox controller at $70
Price When Reviewed:
$69.99
8BitDo made its name with retro-styled budget gamepads, but its Ultimate series controllers are worthy of even the most intense AAA games. The Ultimate Bluetooth Controller, as the name implies, has Bluetooth for use with smartphones and the Nintendo Switch. There's a 2.4GHz mode that works better with PCs, and it comes with the necessary 2.4GHz receiver inside the included charging dock. It also has a USB-C port if you don't have the dock handy or prefer wired gameplay.
The 8BitDo Ultimate Bluetooth Controller is slightly smaller and lighter than the Xbox controller (with batteries), but it feels very solidly constructed. We also appreciate the Hall-effect thumbsticks, which use contactless magnets instead of the potentiometers in most controllers. Thumbsticks are often the first component to go, causing the input to "drift" during gameplay. This won't happen with Hall-effect sensors in the 8BitDo Ultimate.
That's not the only advanced feature—the 8BitDo gamepad also has rear-facing paddle buttons, which you can assign controls or even macros using the 8BitDo Ultimate software. The interface is a little confusing at times, but it gives you full control over button mapping, thumbstick active areas, vibration intensity, and more.
The internal battery is good for at least 18 hours of gameplay (8BitDo claims two hours), so you don't have to buy a separate battery or burn through AAs like the stock Xbox controller. The only problem for PC gamers will be the ABXY button layout, which follows the Nintendo Switch design. It'll take some time to adjust if you're moving from an Xbox controller.
Read our full
8BitDo Ultimate Bluetooth Controller review
Sony DualSense controller – Limited support, amazing hardware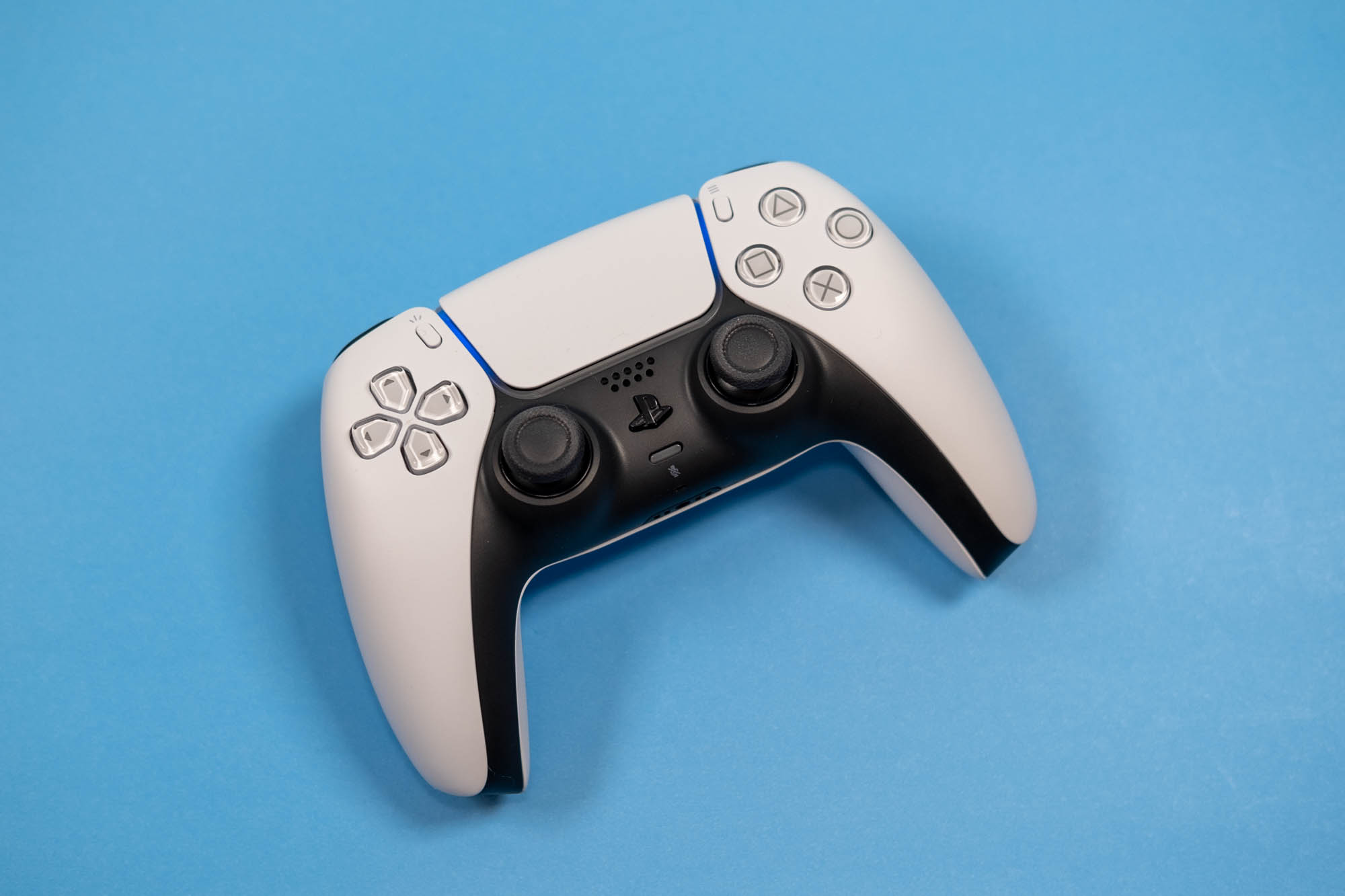 Pros
Very comfortable in the hand
Haptics and adaptive triggers are amazing
Built-in speaker
Cons
More expensive than an Xbox controller
Short battery life
Limited support on PC
If Sony's DualSense controller were fully supported in Windows, it would be the hands-down winner. While we cannot give it a full-throated endorsement—call it an honorable mention—the DualSense has its place in PC gaming. It's a little more expensive than the Xbox controller, but the $70 DualSense feels great in the hand, looks slick, and it makes Sony games more immersive with myriad high-end features.
The DualSense has a symmetrical layout compared to the Xbox controller, which has one thumbstick higher than the other. The buttons and d-pad don't exhibit any wobble, and the press is solidly tactile. In our testing, the DualSense layout is more comfortable, but the trademark shape buttons won't match the controls in non-Sony games. However, functions will map to the same button locations as they would on an Xbox controller.
The PlayStation 5's controller works as a generic wireless Bluetooth controller in Windows, but you'll have to connect it over USB for the best experience (we tested USB C-to-C and C-to-A cables successfully). That allows games optimized for the DualSense to access its advanced hardware features. Sony has ported a dozen popular PS5 games on PC so far, and it plans to continue doing so.
When paired with an optimized game, the DualSense can leverage all its awesome custom features, including haptic feedback so precise it can simulate the feeling of raindrops. The tension in the triggers also adjusts based on what's happening in the game (e.g. firing a bow feels physically different than firing a gun), and it's used extensively in Sony's games. There's even a speaker that plays select game audio to further immersion. If you want to get the most from popular titles like Spider-Man, God of War, and Returnal, the DualSense is a must-have. Altogether, Sony and other developers have enabled DualSense features on about 30 titles, with more on the way.
The DualSense has a built-in battery that's good for about seven or eight hours. We like the integrated solution versus Microsoft's continued reliance on AA batteries, but the DualSense goes dead a bit too fast. Still, that only matters if you're using it in Bluetooth mode.
Read our full
Sony DualSense controller review
What to look for in a controller for PC
Depending on your budget, you might have to make compromises on a controller's features. But knowing how different features can affect your experience will help you make an informed choice.
Feel
Your gameplay experience can be greatly impacted by the build quality of a controller. Mushy or wobbly buttons can be frustrating and cause mistakes in your games. Likewise, a controller that isn't comfortable to hold can be the difference between going out on a win and rage quitting.
Connectivity
Most controllers today are wireless, but there are times you might want to use a cable. A controller that sports both Bluetooth and USB-C offers the most options for connecting to your PC.
Power
Wireless controllers need power, and the way you keep them juiced up can vary. Cheaper controllers with AA battery compartments get the job done, but an integrated battery charged via USB-C is more convenient. We also like to see accessories like charging docks, especially if they're included with the controller.
Customization
The modern Xbox controller layout is tried and true, and the majority of controllers adhere to that standard—for most people, that's fine. For those who take their gaming more seriously, features like button remapping, programmable controls, and hardware customizations are nice to have.
How we test controllers
PCWorld's freelance and staff contributors have years of experience playing games individually, and combined, that metric no doubt stretches into multiple centuries. We believe the best way to test a controller is to rack up even more time gaming. We put controllers to the test in multiple genres, including shooters, RPGs, and fighters. This varied gaming experience helps to reveal any hardware shortcomings, latency, and compatibility issues.
We compare each controller's unique features, pricing, and support in order to make recommendations. Some features may make games more enjoyable, but others are just a novelty or a waste of money. If controllers use desktop applications for customization or access to features, we dive into that as well.