At a glance
Expert's Rating
Pros
Attractive and unique design
Excellent out-of-box SDR color performance
HDR is impressive in bright content
Cons
Local dimming not supported with SDR
Confusing menu system and options
Local dimming algorithm isn't perfect
Expensive for what's offered
Our Verdict
The Philips Evnia 7000 34M2C7600MV falls short of justifying its price despite its strong SDR image quality.
Price When Reviewed
$1,299.99
Best Prices Today: Philips Evnia 7000
The battle between Mini-LED and OLED technology continues to heat up. Enter the Philips Evnia 7000 34M2C7600MV, an ambitious Mini-LED contender looking to outshine its OLED rivals. It promises—and mostly delivers—a strong HDR experience, wide color gamut, and fluid gaming, but it also suffers a few flaws that hold it back.
Further reading: See our roundup of the best ultrawide gaming monitors to learn about competing products.
Philips Evnia 7000 34M2C7600MV specs and features
The Philips Evnia 7000's basic specifications are typical for a 34-inch ultrawide monitor. It has a resolution of 3440×1440, a refresh rate of 165Hz, and AMD FreeSync. These features are so common that you'd think they're mandated by law.
Display size: 34-inch ultrawide monitor
Native resolution: 3440×1440
Panel type: Vertical Alignment (VA)
Refresh rate: 165Hz
Adaptive-Sync: Yes, AMD FreeSync
HDR: VESA DisplayHDR 1400
Ports: 1x USB-C with DisplayPort Alternate Mode and 90 watts Power Delivery, 2x HDMI 2.1 with VRR, 1x DisplayPort 1.4, 1x USB-B upstream, 4x USB-A downstream
Stand adjustment: Height, swivel, tilt
VESA mount: Yes, 100x100mm, with bracket
Speakers: Yes, 2x 5-watt
Price: $1,299.99
Where this monitor differs is its Mini-LED backlight, which helps the monitor achieve VESA DisplayHDR 1400 certification. There are only a few alternatives, like the Viewsonic XG3421-2K and Samsung Odyssey Neo G9, that promise similar or better HDR brightness.
Philips Evnia 7000 34M2C7600MV design
The Philips Evnia 7000 offers a unique look with a white finish and speckled "terrazzo" pattern across the bezel and display stand. It also has a geometric pattern on the rear panel that further separates its design from the pack. The look is not as cohesive as the Alienware 3423DWF but more fitting for a typical home office.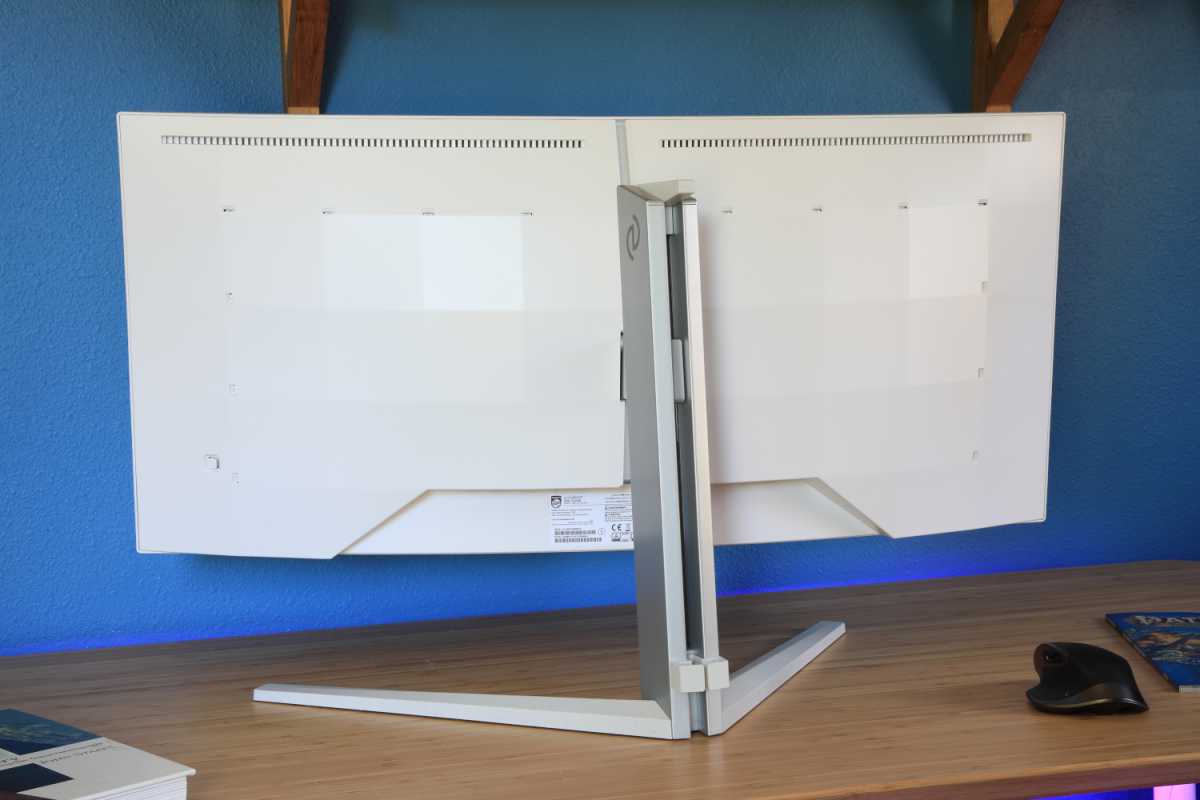 Matt Smith/Foundry
Philips integrates Ambiglow, an array of RGB LEDs that span the rear of the monitor. These light up to coordinate with what's displayed on the screen, adding immersion with bursts of coordinating color. While it can seem like a bit of a gimmick, it's genuinely fun, especially when used with fast and colorful action games
The design takes a turn for the worse with the stand. It's too wide, taking up excessive room on your desktop, and attaches to the monitor with an unusual, thin neck instead of a standard VESA mount. A bracket is included for compatibility with VESA monitor arms and stands, but this extra step feels unnecessary. On the plus side, the stand provides 150 millimeters of height adjustment, which is towards the top of what is typical on a 34-inch ultrawide monitor, as well as 40 degrees of swivel and 25 degrees of tilt.
mentioned in this article
Viewsonic Elite XG341C-2K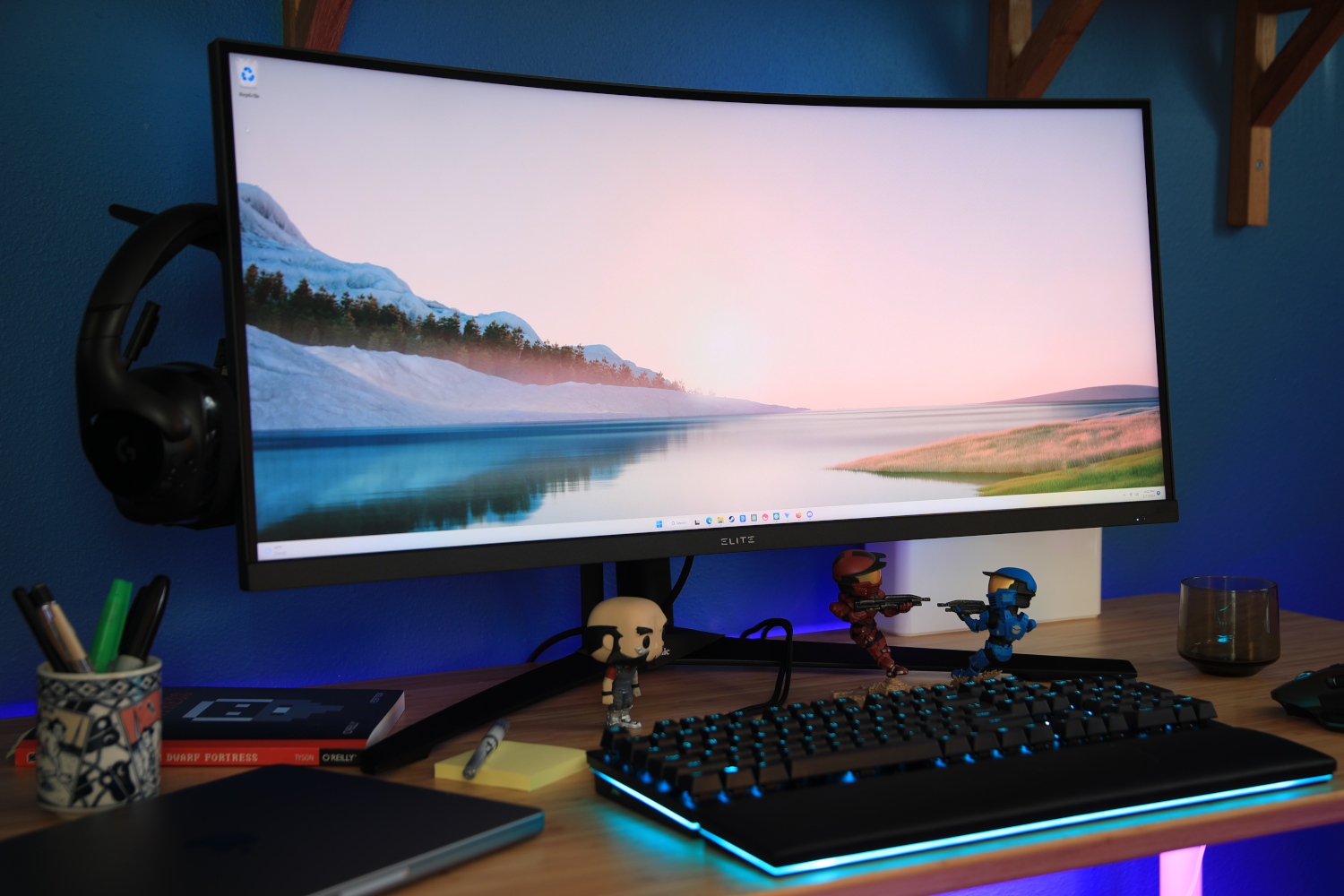 Price When Reviewed:
$1,499
This is a curved ultrawide monitor, but Philips opts for a 1500R curvature instead of the more common and aggressive 1800R curvature common to nearly all ultrawide gaming monitors. It may seem less immersive, depending on your preference, but also causes less distortion to the image. Personally, I like Philips' approach.
Philips Evnia 7000 34M2C7600MV features and menus
Philips delivers a wide range of connectivity, which includes two HDMI 2.1 ports and one DisplayPort 1.4. These are joined by a USB-C port which also supports DisplayPort alternate mode for a total of four video inputs.
The USB-C port provides up to 90 watts of USB Power Delivery. This isn't unusual for a premium monitor in 2023 but still somewhat unusual for a monitor that has a healthy range of gaming features. The Alienware AW3423DWF lacks this feature, for example, but the Viewsonic Elite XG341C-2K also supports it.
The USB-C port drives a USB hub with four downstream USB-A ports for wired peripherals. The USB-A port can also be driven by an upstream USB-B port in case your PC lacks a USB-C output.
A joystick on the monitor's right flank is used to control the on-screen menus. The joystick itself is smooth and responsive, but the menus are a total mess. For example, depressing the joystick once doesn't cause a shortcut menu to appear. Instead, you must press the joystick in varying directions to show different menus—meaning you must memorize what each specific direction will show.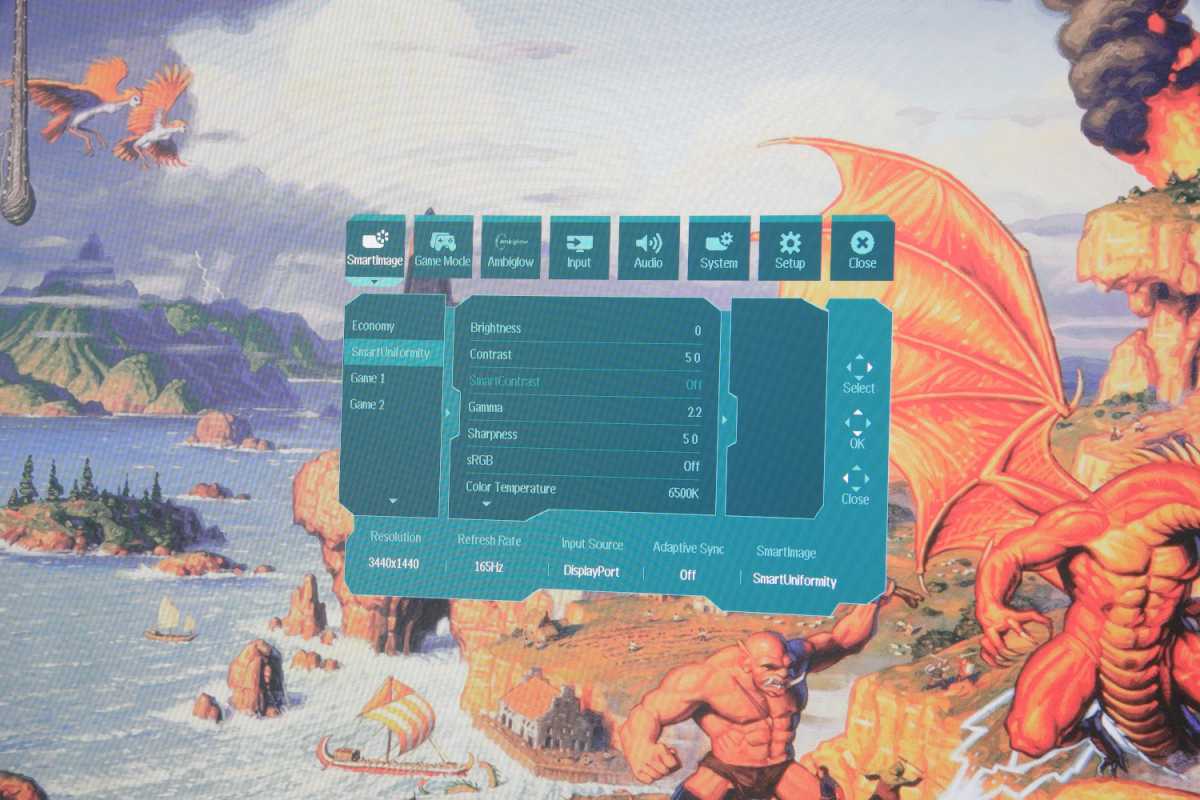 Matt Smith/Foundry
The oddities continue while exploring the menus, as menu options are confirmed or entered by pressing the joystick in a specific direction instead of depressing the joystick. It's a confusing and frustrating system.
At least the menu offers a healthy range of options. It includes precisely targeted color temperature and gamma presets, and sRGB mode (which restrains the wide color gamut), and several picture-by-picture and picture-in-picture options.
A pair of 5-watt speakers are built into the monitor. They're stronger than the speakers found in most competitors: Some, like the Alienware AW3423DWF, don't offer speakers at all. However, audio volume remains weak and sounds muffled, so the speakers only prove useful if you don't have desktop speakers or headphones to use
Philips Evnia 7000 34M2C7600MV SDR image quality
The Philips Evnia 7000 is marketed as an HDR monitor but, like all monitors, it will be used more often in SDR. Fortunately, the monitor performs extremely well out of the box and provides image quality that is both subjectively attractive and holds up under closer measurement.
Matt Smith/Foundry
The monitor's maximum brightness of 450 nits is extremely strong and stands out from both OLED and IPS ultrawide monitors. In fact, the monitor can reach a brightness of over 700 nits in certain circumstances, although this is tied to specific image modes that not everyone will want to use. In any case, 450 nits of brightness is more than enough to use in a sunlit room and, in my modestly lit home office, I generally used the monitor at around 20 percent of its maximum brightness.
Matt Smith/Foundry
The Philips Envia 7000 hit an impressive contrast ratio of 4060:1. That is slightly worse than the Viewsonic Elite XG341C-2K, but only slightly, and it's much better than IPS monitors like the ASUS ProArt PA348CGV. The monitor's brightness can't match that of an OLED panel like the Alienware, but the contrast is sufficient to deliver a good sense of dimensionality and depth.
It should be noted that this result is with the mini-LED local dimming backlight off. In fact, the monitor does not support local dimming in SDR, which is a strange and unfortunate decision. The monitor could perform much better if local dimming was available in SDR mode.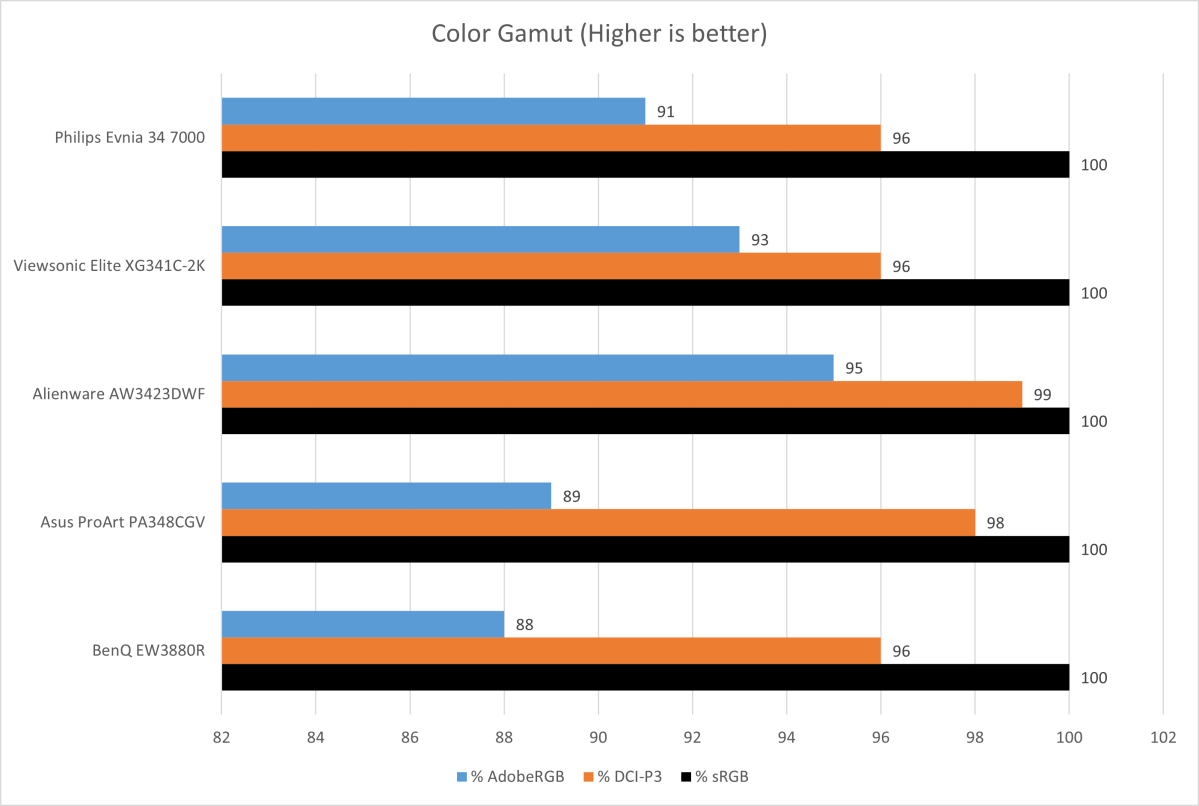 Matt Smith/Foundry
The monitor's color gamut spans up to 96 percent of DCI-P3 and 91 percent of Adobe RGB. This is a wide color gamut that's sufficient for most professional uses, and provides a vivid and highly saturated look in entertainment. The color gamut does not really stand out next to the competition, and in fact, it falls a bit behind OLED monitors—but I doubt anyone who uses Philips will come away disappointed by its color performance.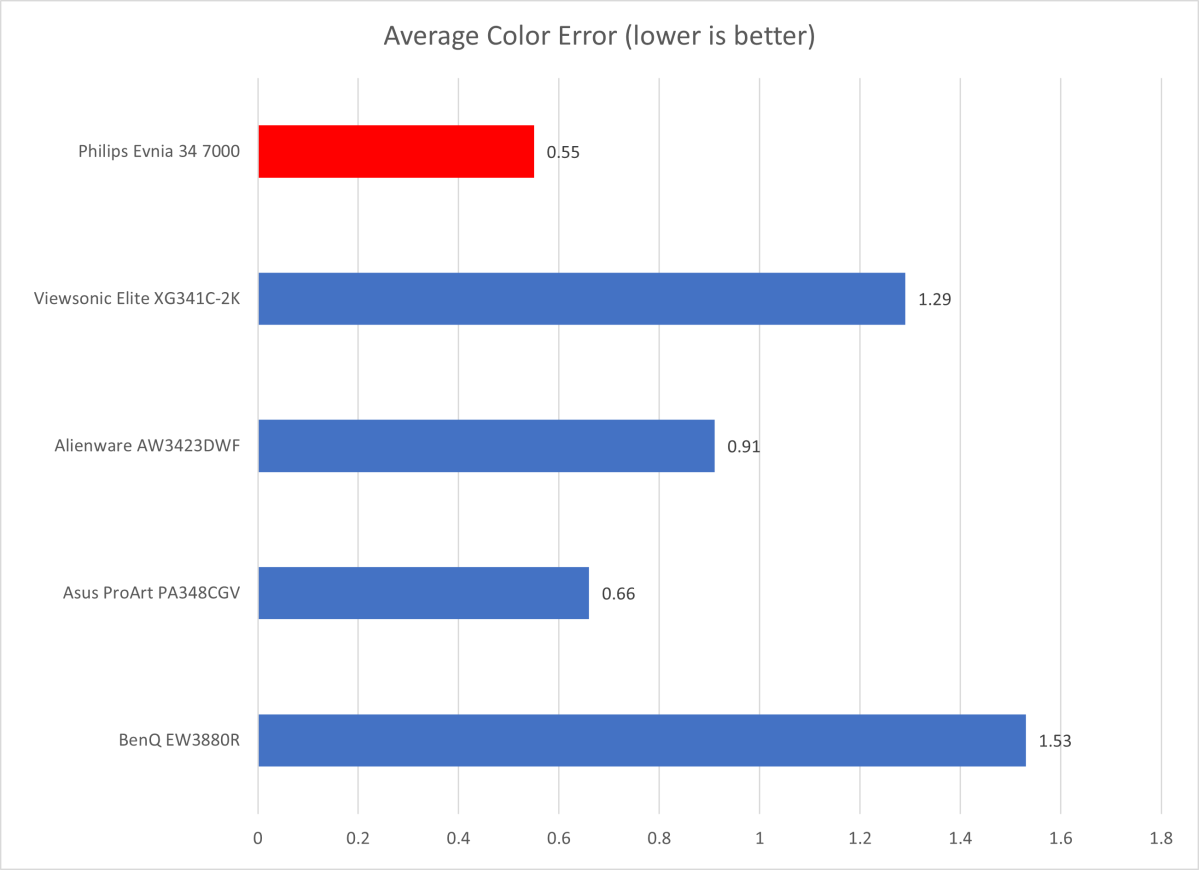 Matt Smith/Foundry
The monitor provides extremely accurate color relative to its competitors. All of the monitors shown on the graph perform well enough that color errors won't be easy to notice. Still, a lower color error is good news if you need a very accurate monitor for color critical tasks like professional photo editing.
The monitor also achieved a default color temperature of 6500K and a default gamma curve of 2.2. Both results are exactly on our preferred targets and indicate the image is accurate out of the box.
Resolution comes in at 3440×1440, which is by far the most common resolution for a 34-inch ultrawide monitor. It provides a sharpness that is similar to a 27-inch 1440p monitor with a pixel density of about 109 pixels per inch. The monitor usually looks extremely sharp, but some pixelization can be noticed in fine fonts when looking closely at the monitor. This resolution also, of course, is not high enough for editing 4K content, which will be a downside for some content creators.
Philips Evnia 7000 34M2C7600MV HDR image quality
The fact that Philips only enables local dimming in HDR suggests it should be well calibrated for HDR but, unfortunately, the monitor still runs into some problems.
Brightness is not the issue, as the Philips is VESA DisplayHDR 1400 certified, meaning it can achieve a maximum brightness of 1400 nits. This level of brightness provides great results in bright and colorful scenes. For example, a sunset on a cloudless day provides significant and subtle gradations of light around the sun itself, delivering a realistic and eye-catching look. Animated films that support HDR also look spectacular.
Still, none of the HDR modes offered a color presentation that entirely satisfied me. I noticed the default HDR game mode elevated the gamma of the display and caused a harsh reddish tint. Other modes did not have the gamma issue but did look a little too cool and blue. And since HDR tends to lock out a lot of calibration options, it can be difficult to tune the experience to your preference.
The monitor's local dimming, which is available in HDR content, drastically increases the maximum contrast ratio to 22,000 to 1 in the monitor's VESA DisplayHDR 1400 mode. That is an excellent result and provides a wonderful feeling of depth in HDR content. Unfortunately, this is soured by the Mini-LED backlight with 1,152 dimming zones. It offers a high number of dimming zones for a Mini-LED monitor in 2023, but blooming remains a noticeable issue and will cause bright halos around objects in a dark background.
On the whole, the monitor's HDR performance is best suited for bright, colorful games like Overwatch 2 or animated movies like Pixar's Up!. It's not a great monitor for enjoying dark, gritty games like Diablo 4. This is exactly the reverse of what's true for an OLED monitor like the Alienware AW3423DWF, which looks fantastic in dark and gritty games but can seem subdued in more vivid titles.
mentioned in this article
Alienware AW3423DWF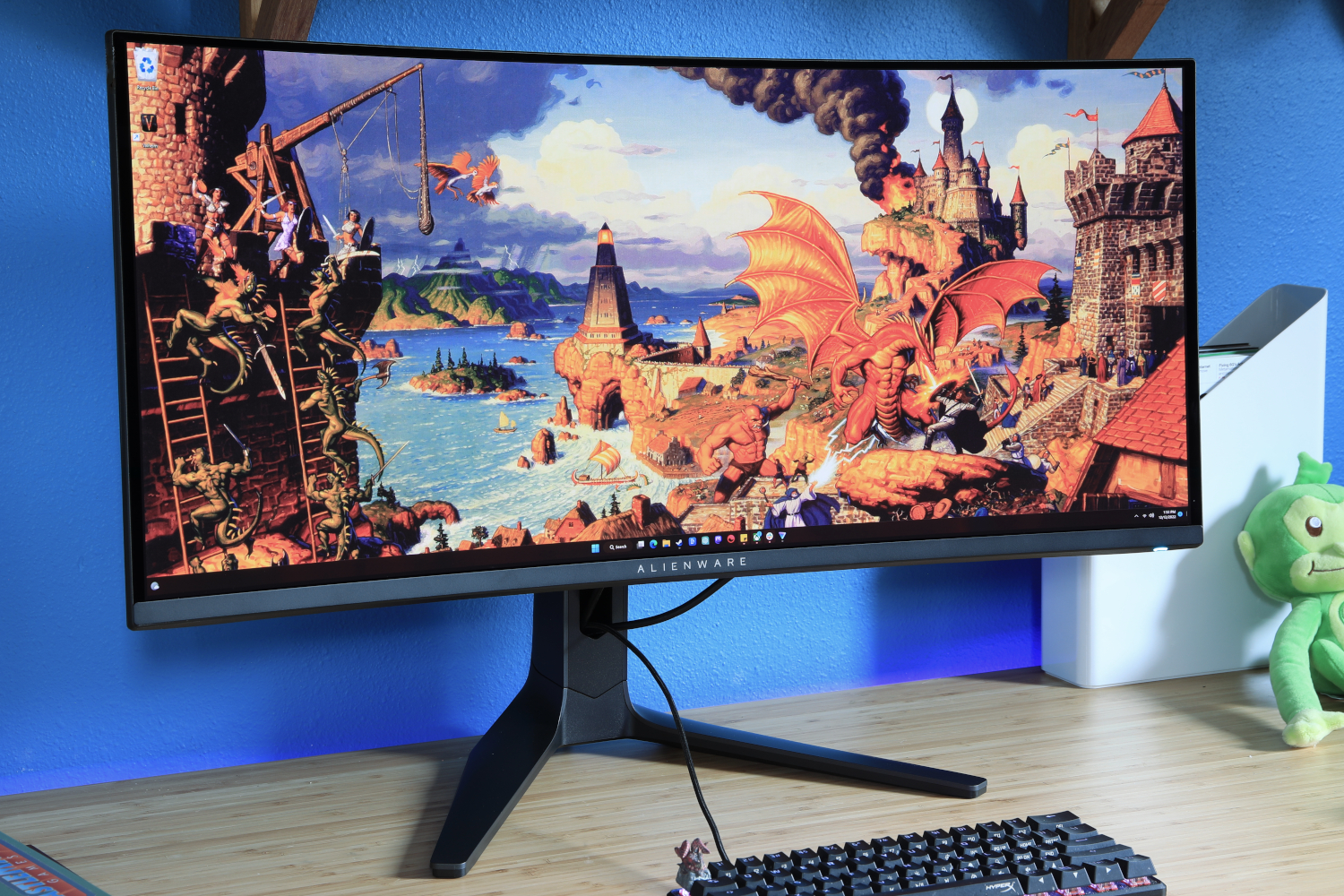 Price When Reviewed:
$1,099.99
Philips Evnia 7000 34M2C7600MV motion performance
The Philips Evnia 7000 has a maximum refresh rate of 165Hz, which looks good on paper. After all, it's the same as the Alienware AW3423DWF. Yet the monitor's real-world performance is not as impressive.
Blame the Vertical Alignment (VA) panel. This type of panel is known for having a problem called dark smear, which is caused by darker areas of the screen experiencing elevated pixel response times. This problem is evident here even when the monitor is used at its lowest SmartResponse mode of Fast. The Faster is worse still and the Fastest mode is comically bad, introducing major color shifts and huge dark streaks behind moving objects.
Motion can look reasonably clear with SmartResponse set to Fast, especially in brighter scenes, and the 165Hz refresh rate provides excellent responsiveness and fluidity compared to a monitor with a lower refresh rate. However, when compared with an OLED monitor, or even a quality IPS monitor, it's clear that Philips falls behind. The problem is not just an issue in games, either. Rapidly scrolling a web page or app with a dark background often makes its content illegible.
The monitor officially supports AMD FreeSync Premium Pro, which worked well in my testing with an AMD 6000-series video card. It should also work as a G-Sync Compatible display with Nvidia video cards, but this is unofficial and may not function in all cases.
Should you buy the Philips Evnia 7000?
The Philips Evnia 7000 has many strengths, but also several weaknesses, making it impossible to recommend at its MSRP of $1,300.
Philips' biggest problem is the Alienware AW3423DWF, an OLED monitor that outperforms the Philips in most metrics, aside from brightness, and can often be purchased for as little as $1,000. There are advantages to the Philips, such as far better HDR brightness and superior sharpness, but these perks are outweighed by issues like mediocre motion clarity and disabled local dimming in SDR mode.
Unfortunately, the Philips Evnia 7000 is the latest example of a promising Mini-LED monitor held back from its full potential.
Best Prices Today: Philips Evnia 7000