Pinnable windows floating in midair. Three-dimensional dinosaurs. Video calls. 3D castles emerging from the ground. No, i'm not talking about the capabilities of Apple's new Vision Pro VR/AR headset. These are all things that Microsoft's HoloLens could do when it launched roughly seven years ago.
Apple has a reputation for re-inventing technology, and boy, was that underscored in Monday's launch of the Vision Pro at Apple's WWDC.
For months behind-the-scenes reporting has indicated that even Apple employees have questioned the launch of the Vision Pro, an AR/VR headset that executives said was in the works for years. But what it actually is still isn't as clear as we'd like. Detailed spec pages accompanied Apple's launch of the Mac Studio and the new 15-inch MacBook Air. Not the Vision Pro: We know it supplies more than 12 million pixels per eye, but at an unknown refresh rate. And Apple carefully hid the cable running from the headset to the battery pack — which allows for only two hours of battery life, anyway.
To be fair, the most egregious Apple-esque extravagance, the Vision Pro's price, wasn't that far off the mark. Microsoft originally launched the HoloLens for a whopping $3,000, as a developer device. Apple didn't say so, but the Vision Pro's $3,500 price tag isn't aimed at even a typical Mac consumer.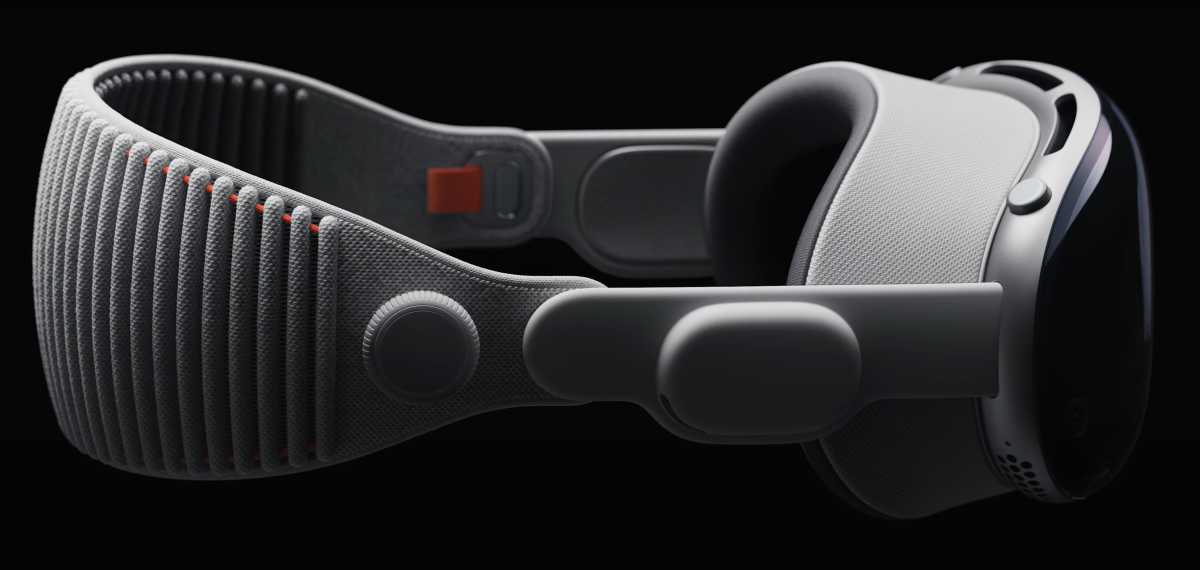 Apple
You'll hopefully hear from our colleagues at Macworld on what the Vision Pro delivers. Macworld's Vision Pro summary page reveals more about what it is: an augmented-reality headset that can dial into virtual reality by twisting a dial, with sensors that map the room using a depth camera. The real improvements arrive with how you will interact with content: the Vision Pro tracks your eyes, and external, downwards-facing cameras can watch to see if you "click" with your fingers.
Apple has apparently taken a very general approach to what the Vision Pro can do. Can it watch movies? Sure. Can users use it to work in Office, like the Spacetop AR laptop? Yep. Editing a photo using Lightroom? Why not. Facetime? Sure, including transforming you into an avatar. Bob Iger, Disney's chief executive, even appeared to show a concept reel about watching Disney+ inside AR, and an AR version of Disneyland's Main Street USA.
Apple
Okay, it's all cool, I guess. It's just that, compared to the original HoloLens vision, the future that the Apple Vision Pro promises looks so, well, blasé.
HoloLens: One of the best demos, ever
The launch of the original HoloLens was something that Microsoft never livestreamed. We could only describe it in our hands-on, and to my knowledge Microsoft never actually published a walkthrough of its experiences. It was certainly among the best demonstrations I've ever seen, which included the ability to place "holograms" around a room, pin a video window to a wall, and more. The Minecraft demo was literally jaw-dropping: The HoloLens turned an ordinary living room into a Minecraft set, with the ability to "detonate" TNT and "mine" into a coffee table that transformed into a 3D landscape. A demo Microsoft showed off at E3 hints at what we saw, especially the opening snapshot:
Other demonstrations included participants rewiring a live (as in, real-world) light socket, assisted by a pinned Skype window; walking across an AR version of Mars; and more.
Microsoft didn't bring all of these visions to life, including, sadly, the HoloLens version of Minecraft. But the original HoloLens sits in my office, and in 2019 I spent a few hours in our office late at night with Microsoft's AR headset, re-reviewing the HoloLens, as it were. Some of the applications were amazing for the time. Even if Microsoft canned Minecraft, a similar app, Conker's Bad Fur Day, used the depth camera to create platforming AR "levels" out of real-world floors, desks, and chairs.
This video I captured, from the HoloLens itself, shows some of the experiences that were available even then. The biggest obstacle? The limited field of view, which made the AR vision more like a porthole than a fully immersive experience.
At $1,500, the competing Meta Quest Pro didn't very practical, either. But chief executive Mark Zuckerberg at least reoriented his company around what he called the metaverse, even if Meta now appears to be refocusing on AI. The Vision Pro doesn't look like Apple quite understands what consumers will use it for, and hopes that developers will come up with an answer.
To be fair, that strategy has paid off before, with consumers and developers telling Apple what products like, say, the Apple Watch are actually good for.
Microsoft, though, didn't care about being dorky. Apple does, and the corded battery pack and the weirdly creepy EyeSight — where a front-mounted OLED screen reproduces your face when someone else approaches — don't do Apple's culture of cool any favors. Neither does the battery life. Two hours? That's barely enough time for a movie. Apple also notes that you'll get "all day battery life" when plugged in. How's that going to work?
The HoloLens could have been the Vision Pro. Again, it had a seven-year head start. Microsoft could have trimmed down the weight, added a better processor, and so on. Today, HoloLens is all but dead. Meta's metaverse isn't that far off, it seems. Apple? Well, it doesn't quite seem to know what it has on its hands. It just feels like some of us, at least, have seen it all before.