At a glance
Expert's Rating
Pros
Thin, light, and durable
Good SDR image quality
144Hz panel delivers good motion clarity
Inexpensive
Cons
No Adaptive Sync support
HDR is supported, but disappointing
Menu system offers little customization
Our Verdict
The Arzopa G1 Game serves attractive visuals and a 144Hz refresh rate in a portable, affordable display.
Price When Reviewed
189.99
Best Prices Today: Arzopa G1 Game
PC gaming is often associated with big, beefy desktop rigs, but many players enjoy titles on smaller, more portable laptops. The Arzopa G1 Game has this demographic in its sights, packing a 15.6-inch, 144Hz display that weighs just 1.36 pounds. It's not perfect, but budget pricing and strong image quality make it easy to recommend for PC gamers on the go.
Further reading: See our roundup of the best portable monitors to learn about competing products.
What are the Arzopa G1 Game specs?
The Arzopa G1 Game's basic specifications are identical to countless portable monitors. It has a 15.6-inch IPS display with a resolution of 1920×1080 and supports input over HDMI or USB-C.
Display size: 15.6-inch 16:9 widescreen
Native resolution: 1920×1080
Panel type: IPS LCD
Refresh rate: 144Hz
Adaptive-Sync: None
HDR: Yes
Ports: 2x USB-C, 1x Micro-HDMI, 3.5mm audio-out
VESA mount: None
Speakers: Yes
Price: $189.99
It ups the refresh rate to 144Hz, however, and tacks on HDR support. These features do add to the price—the G1 Game is roughly $20 to $50 more than the Arzopa A1 Gamut, which is otherwise very similar.
Arzopa G1 Game design
The Arzopa G1 Game surprises with a robust metal chassis that feels rigid in normal use. It's possible to flex the display with great effort, but it should hold up to minor bumps and scrapes, and its durability exceeds expectations at this price point.
There isn't much to the design, though, as Arzopa opts for thin display bezels that leave little room for aesthetic flourishes. The monitor's rear is a generic, blank slate of metal, but there is one quirk to note—a small hump in the bottom third of the display, which contains the electronics and provides room for the ports. Arzopa accounts for this in the design of its case, thankfully, so the display's profile remains flat when stowed. It's only three-tenths of an inch thick and weighs a mere 1.36 pounds.
The included faux-leather case attaches magnetically and converts into a stand by opening the front to meet the back, allowing a portion of the case to act as a kickstand. When used as a stand, it offers minimal tilt adjustment but successfully keeps the monitor in place when used on a flat surface.
Matt Smith/Foundry
Arzopa G1 Game features and menus
The Arzopa G1 Game offers two USB-C inputs and one mini-HDMI input for a total of three video inputs. Both USB-C inputs can power the monitor, and a USB Power Brick is included to provide power when connecting over HDMI or a USB-A to USB-C input.
This selection of ports is healthy but not uncommon for monitors in this price range. Competitors like the UPERFECT 16-inch portable gaming monitor and Magicraven 144Hz portable gaming monitor offer a similar range of connectivity.
Despite its affordable price, the G1 Game provides all necessary cables for its three video inputs. This includes a USB-C to USB-C cable, a USB-A to USB-C cable, and a full-sized HDMI to mini-HDMI cable.
The monitor's menu system is basic, allowing adjustment only for brightness, volume, and input switching. Simplicity is typical for a portable monitor, but I'd prefer to see a few additional options specific to gamers such as an on-screen crosshair or shadow boost feature.
Speakers are included but prove completely inadequate for enjoyable gameplay. That's not a surprise, as I've yet to encounter a portable monitor with passable audio. The 3.5mm audio-out jack provides an easy way to connect headphones, at least.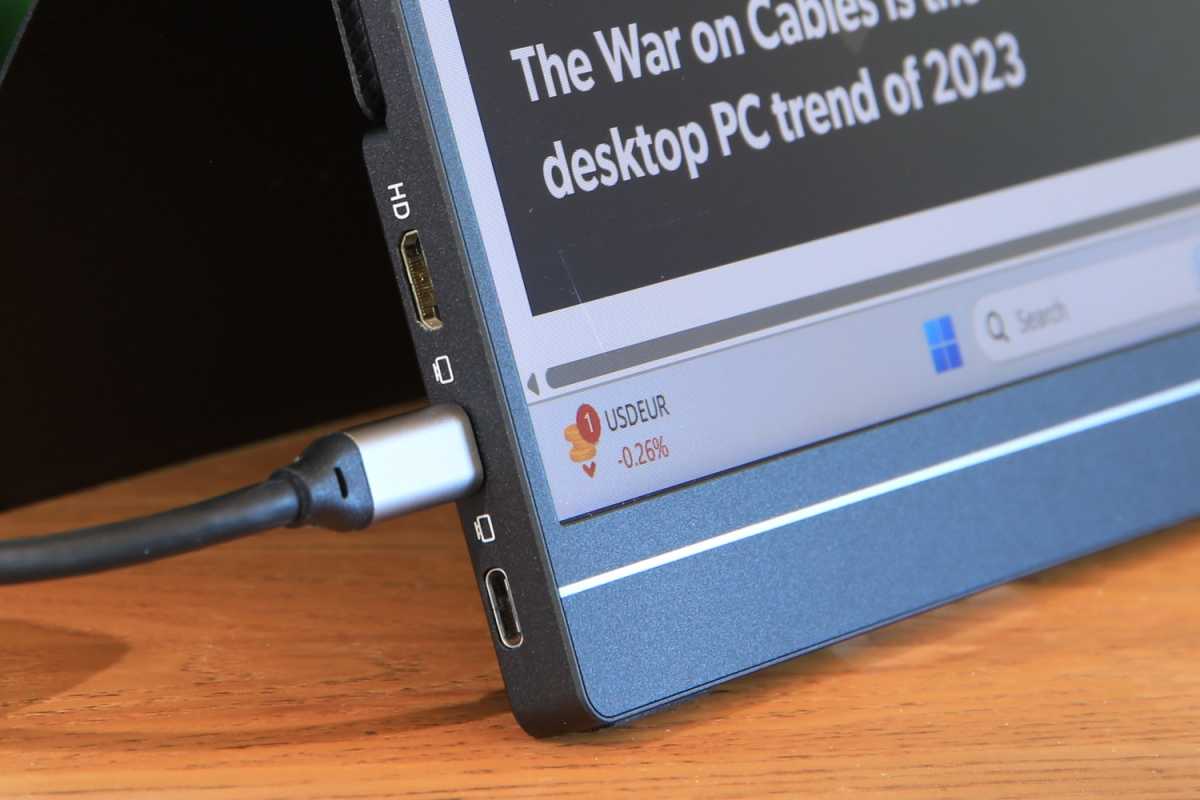 Matt Smith/Foundry
How is the Arzopa G1 Game SDR image quality?
As a gaming monitor, the Arzopa G1 Game is designed to handle entertainment, and its SDR image quality. The monitor has its limits, but it should impress gamers looking for a sharp and colorful image on a tight budget.
Matt Smith/Foundry
The G1 Game's image quality starts off strong with a maximum brightness of 277 nits. While this level of brightness is average for a portable monitor, the G1 Game is able to outperform a few competitors, such as the AOC I1601FWUX. The monitor's brightness and anti-glare coating provide a comfortable viewing experience in most situations. It will only look dim in rooms with bright overhead lights or large, sunlit windows.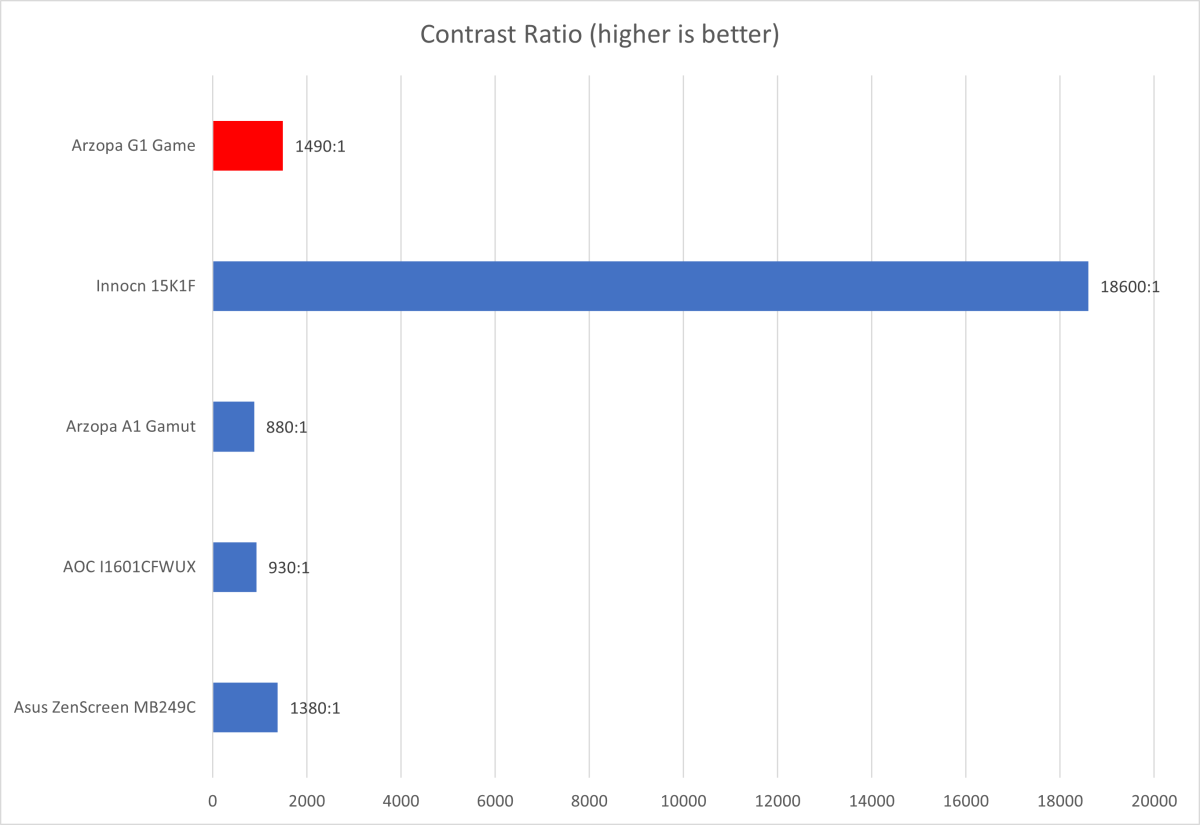 Matt Smith/Foundry
Testing the contrast ratio shows the wide range of results that can be found among portable monitors that are sold for $300 or less. The G1 Game's contrast ratio of 1490:1 is a big leap up from less impressive portable monitors including the company's own A1 Gamut and the AOC. On the other hand, OLED panels are easy to find in portable monitors and definitely outperform the G1 Game by a significant margin.
Even so, I thought the G1 Game had a pleasant sense of depth and dimensionality. That didn't surprise me, as its contrast ratio exceeds most full-sized gaming monitors available for $600 or less. Most inexpensive gaming monitors (including our favorite budget gaming monitor) use an IPS panel with a contrast ratio around 1000:1, which is noticeably inferior to the G1 Game.
Matt Smith/Foundry
The G1 Game's color gamut spans 98 percent of sRGB and 74 percent of DCI-P3. This is a solid result for a portable gaming monitor and provides enough color coverage to look realistic and accurate in most games. However, it won't provide the ultra-vivid and oversaturated look that is popular on modern displays that use more advanced display technology such as an OLED panel or Quantum Dots.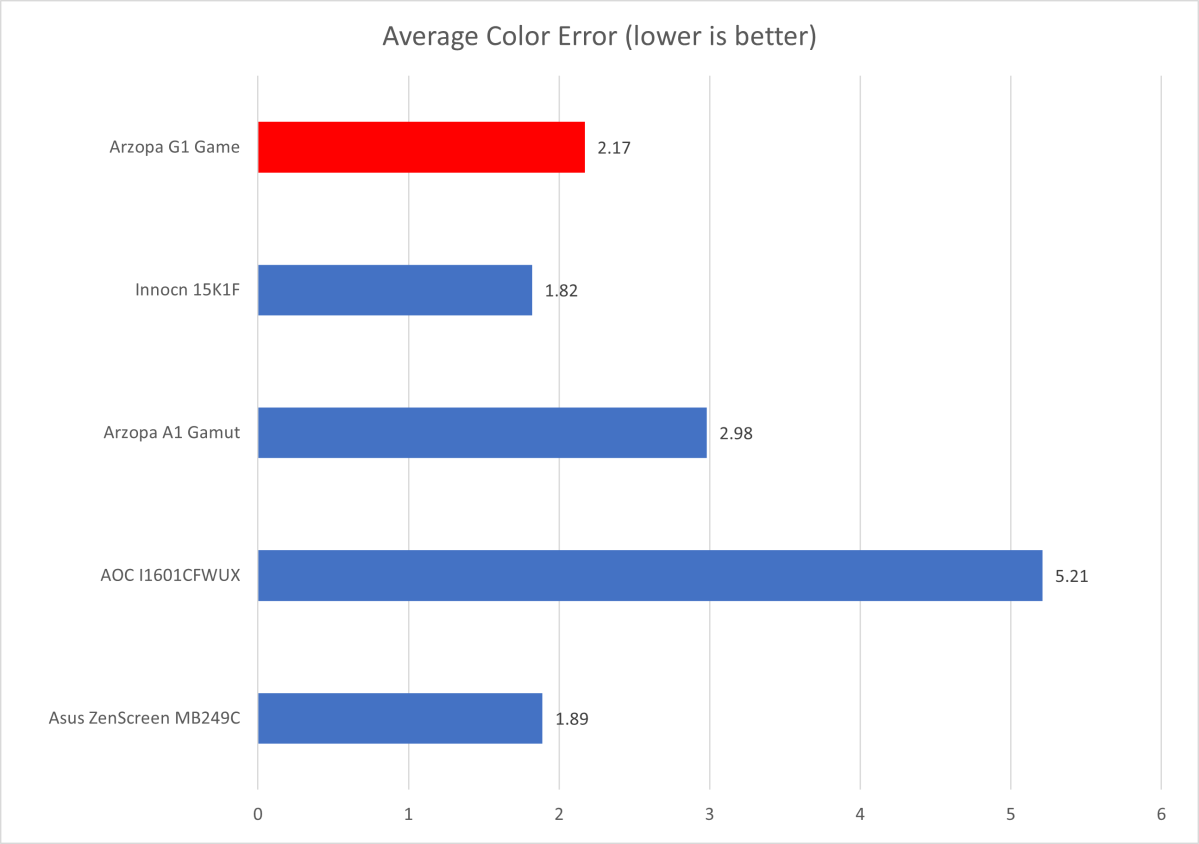 Matt Smith/Foundry
The monitor's color accuracy is excellent for the price, scoring surprisingly close to the INNOCN 15K1F. This level of color accuracy provides a lifelike image and will generally hold up to less demanding content creation workflows. Those who simply need to edit a few photos on occasion, or are looking to upload to YouTube, should have no problems with its performance.
The monitor's color temperature skews cool, however, with a measured color temperature of 7700K. This is responsible for a majority of the color error in this monitor's overall color performance, resulting in a somewhat sterile look. How much this will bother you is a matter of personal preference. On the plus side, the monitor's gamma curve comes in at 2.2, which is exactly on our desired target and indicates that content will look roughly as bright as it should.
Sharpness is a perk. 1080p resolution doesn't sound impressive but, when packed into a 15.6-inch display, it provides a pixel density of roughly 143 pixels per inch. That's better than a 27-inch 1440p monitor and only 20 pixels-per-inch less than a 27-inch 4K monitor. Games look crisp and attractive.
The Azorpa G1 Game's SDR image quality is solid overall. It handles bright and colorful titles like Overwatch 2 or League of Legends extremely well, yet is adequate for darker games like Diablo 4. A more expensive OLED competitor can handle dark titles better, to be sure, but these alternatives are much more expensive (and typically limited to a 60Hz refresh rate).
Arzopa G1 Game HDR image quality
Want a great, or even passable, HDR experience? Skip the Arzopa G1 Game. It can accept an HDR signal but lacks the brightness, color performance, and contrast necessary to provide an acceptable HDR experience. Games look different, but not better, with HDR turned on.
I'm not aware of any portable monitor available in 2023 that provides a good HDR experience, so the G1 Game's performance is to be expected. However, I'd rather see Arzopa drop HDR than implement it half-heartedly. Slapping HDR on the display is sure to disappoint gamers expecting an experience similar to a typical HDR television.
How is the Arzopa G1 Game motion performance
The Arzopa G1 Game is a 144Hz monitor but, unlike most gaming monitors, it doesn't make specific claims about the display panel's pixel response times. That's probably because they're nothing to brag about.
Unfortunately, the G1 Game lacks any form of adaptive sync, meaning it doesn't support AMD FreeSync and is not Nvidia G-Sync compatible. That can lead to screen tearing and negatively impact fluidity in motion. The lack of adaptive sync is understandable given the monitor's price, but competitors like the UPERFECT 16-inch portable gaming monitor deliver FreeSync for even less (on Amazon).
Test images from League of Legends and DOTA 2 showed that character profiles and background details were easy to make out and looked crisp even when scrolling rapidly across the screen. Character names and hitpoint bars were difficult to make out, however—a 240Hz or 360Hz refresh rate is required to make those details legible. The G1 Game delivers the boost in motion clarity that gamers expect of a 144Hz display, and it's a night-and-day improvement over a 60Hz alternative.
Should you buy the Arzopa G1 Game?
Arzopa's G1 Game is a good portable gaming monitor with an attractive MSRP of just $189.99. It provides pleasant color performance, strong contrast, and solid brightness for its price, and the 144Hz panel offers smoother, more responsive gaming than a 60Hz alternative. The monitor's lack of Adaptive Sync and shoddy HDR are disappointing but excusable. Gamers who want a simple, compact portable gaming monitor will be happy with the G1 Game.