We shouldn't have to fact check a multi-billion, strike that, multi-trillion dollar company, but we'd be remiss if we took the marketing claims that a company uses to sell a product at face value. For Apple's WWDC 2023 announcement of the MacBook Air 15, the company didn't get overly creative in its hype, but there are two claims we felt worth examining closely.
Claim: "In fact, the new Air is 12 times faster than the fastest Intel-based MacBook Air," Apple said in its hype video.
Fact check: For the record, the last Intel-based MacBook Air made by Apple is more than three years old and was built in the smaller and half-a-pound lighter 13-inch MacBook Air body. Weight doesn't always mean more performance, but it often does, and half a pound is a lot.
In this comparison, though, the CPU gets most of the credit. The new MacBook Air 15 uses an Apple Arm-based M2 chip with eight CPU cores and 10 GPU cores. Since Apple doesn't ever mention the exact CPU used in its Intel Macs, we looked it up on EveryMac, and the fastest of that series used a four-core 10th-gen Intel Core i7-1060NG7 with a base clock of 1.2GHz and boost clock of 3.8GHz.
Intel's 10th-gen Ice Lake chips were its first 10nm-based generation and were an improvement over the older 8th-gen, 14nm-based chips, but still it was dinged by some for the relatively low boost clocks. The 11th-gen CPU that replaced it, for example, pushed the turbo boost to 4.8GHz.
So how does Apple claim its "12x faster?" We have no idea, which is odd since Apple is comparing a MacBook with a MacBook and presumably any comparison tests it runs, can be easily validated.
Do we doubt Apple's claims? Not entirely, but it would really make us feel better to know what it used. We've kicked the tires on the M1 and M2 laptops and they are plenty impressive, so we don't think the 12x claim is too out of bounds, especially against such old hardware. But what is tested matters. After all, there are indeed some things on the 2020 Intel-based MacBook Air 13 that would likely still be faster than the MacBook Air 15 if you looked hard enough. Overall, we think the claim is mostly based in reality—we just don't think you'll get 12x performance in all tasks.
The real marketing sleight of hand though is comparing a 3-year-old laptop with its newest model. That's probably fair if Apple wants to get those with older MacBook Air laptops to upgrade—but obviously it's also to Apple's advantage to ignore the fact that the new MacBook Air 15 will only be marginally faster than last year's MacBook Air 13 and probably not a huge improvement over the original M1-based MacBook Air 13 either.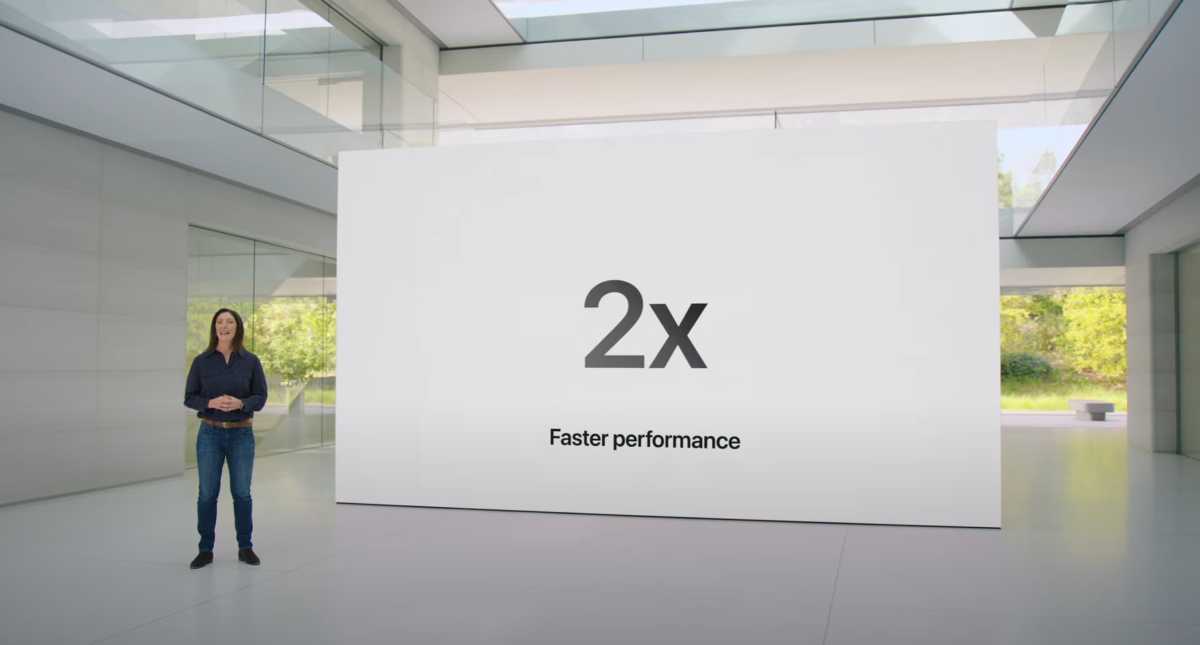 Apple
Claim: "When compared to the best-selling 15-inch PC laptop with a Core i7 processor, the new MacBook Air is up to twice as fast."
Fact check: Rather than comparing to a 3-year-old laptop, Apple apparently takes a swing at the newest PC laptops with this claim. So which laptop does Apple base this claim on? We don't know. The company does say the model "is based on publicly available sales data over the prior 12 months" but where the company sourced the sales data isn't disclosed.
Fortunately, Apple did publish more details of how it makes the "twice as fast" claim. That appears to be based on a comparison of a pre-production MacBook Air 15 with an 8-core M2, 8GB of RAM, and a 256GB SSD and a 15-inch laptop with a Core i7-based PC with Intel Iris Xe Graphics, 16GB of RAM, and a 512GB SSD, running Windows 11.
Unfortunately, not knowing the model that Apple is comparing the MacBook Air 15 to leaves a pretty big gulf for comparison. Was it a laptop with a Core i7 H-, P- or U-class CPU? Was it a 12th-gen or 13th-gen Intel CPU? Was it an even older laptop using even older hardware since it's based on sales history? While the MacBook Air 15 has its impressive graphics, why wasn't there discrete graphics in the 15-inch Windows laptop that Apple is comparing it to? On the majority of 15-inch PC laptops, discrete graphics from Nvidia are fairly common.
Apple does at least detail the tests it used for the claim: "Adobe Photoshop 24.3.0 tested using the following filters and functions: select sky, oil paint, adaptive wide angle, picture frame, and tree. Open source project built on macOS with Xcode 14.3 with Apple Clang 14.0.3; open source project built on Windows with Clang 14.0.6. Premiere Pro 23.3.0 tested using a 55-second clip with 4K Apple ProRes RAW media, at 4096×2160 resolution and 59.94 frames per second, transcoded to Apple ProRes 422 at 29.97 frames per second. Performance tests are conducted using specific computer systems and reflect the approximate performance of MacBook Air."
All three tasks are real tasks but there are some things you can quibble with. The tests in Photoshop are five certain tasks out of dozens and dozens of features in the application. Were the tasks "cherry picked" to be faster or representative of overall performance? We do know the Adaptive Wide Angle filter is generally optimized for Intel processors, which makes the selection feel somewhat fair. However, Apple has historically "cherry picked" Photoshop filters to make performance claims and was criticized for doing so when it used PowerPC processors.
We'll also note that for the Adobe Premiere Pro test, Apple picks media using ProRes RAW and converts it to ProRes. That's fine if you use ProRes, but we'll also point out that ProRes is a codec owned and operated by Apple and is about as close to home-court advantage as you can get. So is the new MacBook Air 15 "twice as fast" as the best-selling Core i7 Windows laptop? In some things yes, in others no. The reality is that the "twice as fast" claim is likely to be true only some of the time.