Most home PC builders just got their hands on PCI Express 5.0 hardware, or are still waiting on it to make sense in terms of either price or compatibility. But progress, or something that looks like it if you squint hard enough, marches on. The Peripheral Component Interconnect Special Interest Group, or PCI-SIG if you're in a hurry, just published version 0.3 of its PCIe 7.0 spec upgrade.
It's in testing right now and scheduled to be finalized sometime in 2025. It should theoretically hit at least some PCs and peripherals shortly after, though wider adoption tends to takes months (if not years).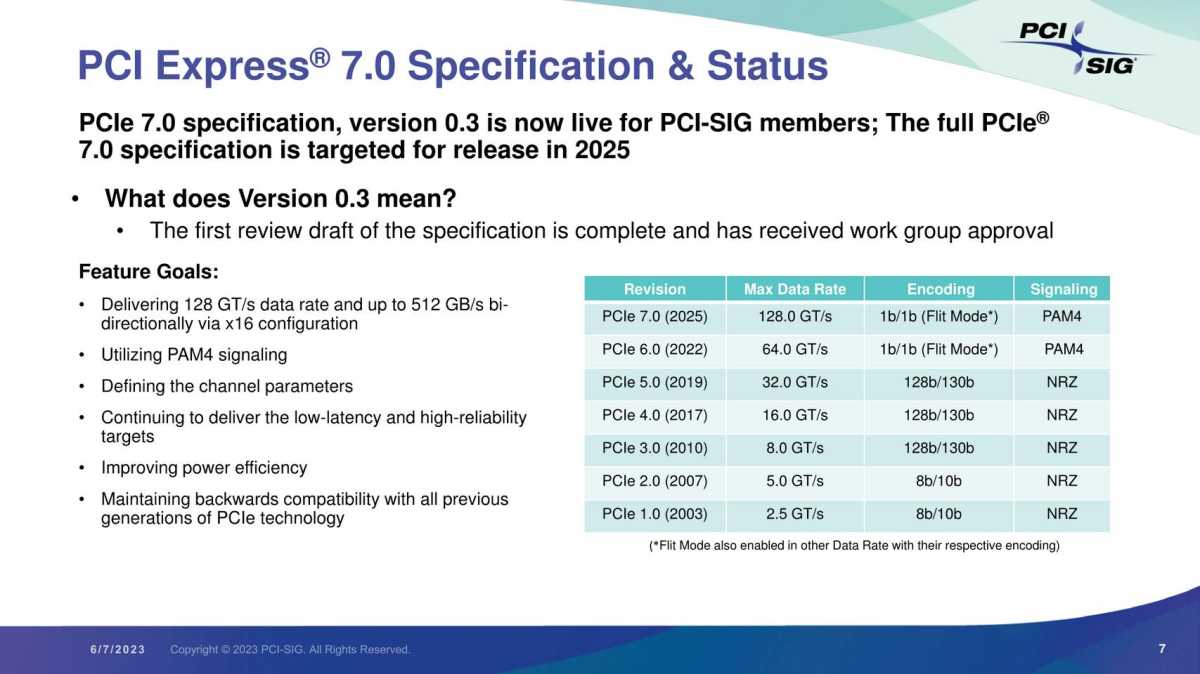 PCI-SIG
What's better about PCIe 7.0? According to the press release re-published by TechPowerUp, the more advanced tech will enable data transfers at up to 512GB/s in both directions on a full x16 connection. That's four times faster than today's PCIe 5.0 connections, continuing PCIe's trend of doubling speeds every generation. Other improvements include PAM4 support for improved electronic signaling, and better latency and power efficiency. Like previous PCIe releases, 7.0 will remain backwards-compatible.
But wait, what about PCIe 6.0? Technically, that's been available to hardware makers since last year. PCIe 5.0 has been around since 2019. So while version 7.0 might be on track to be finalized in two years, it'll probably be another two (at least) before there's any kind of push to actually implement the improvement in consumer hardware. Which is all well and good — it'll give me time to save up for a $5000 RTX 7090.