At a glance
Expert's Rating
Pros
Super-clean interface and setup
Affordable online storage
Local and online backup
Supports a wide variety of third-party online storage services
Flawless in our testing
Cons
No plain file backup
Solo client software is a tad pricey
Our Verdict

A super-clean interface, flawless backups, and an affordable 1TB yearly plan make Arq 7 Backup one of our favorites for backup. It also supports local and third-party online storage, and you can buy the client separately to use for those.
Price When Reviewed
$49.99 for stand-alone client I $59.99/yr for software subscription and online storage, 5 PCs
Best Prices Today: Arq 7 Backup
There are lots of good options for local and online backup, but Arq 7 Backup (both an online service and client) stands out thanks to its support for myriad third-party online backup services.
Arq even sells the client separately for use with said third-party online repositories. Due to our flawless testing experience with the program, that's something we can actually recommend.
Further reading: To learn about competing products, see our roundups of the best cloud backup services and the best Windows backup software.
Arq 7 Backup plans and features
The Arq 7 backup program on its own (single-seat, perpetual license) is a tad pricey at $49.99. But, the alternative Arq Premium subscription plan covers five seats, along with 1TB of storage, for $59.99 yearly.
That's $10 less than I'm currently paying for OneDrive through Microsoft's Office 365 service. Of course, that has the Office apps, but I opted for it predominantly because it was the cheapest 1TB online storage option at the time.
Note that the client software provided with the online storage plan becomes restore-only, not perpetual, if you cancel the service. Additional online storage is available at $6 per TB per month.
The lengthy list of storage destinations and protocols that Arq 7 supports includes: Amazon Drive AWS S3, S3-compatible services, Glacier, Google Cloud Storage, Backblaze B2, Dropbox, Google Drive, Minio, OneDrive, SharePoint, Storj, Wasabi, SFTP, Network volume (SMB or AFP), and direct-attached storage. Whew.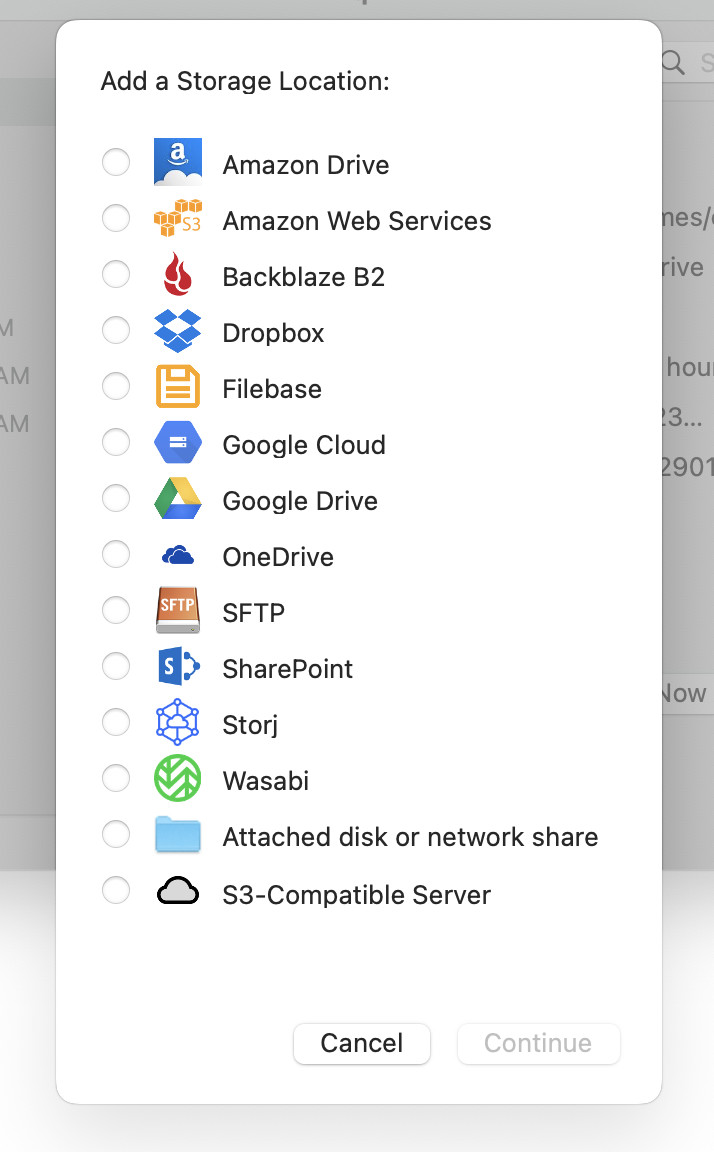 Arq 7 supports multiple jobs (or backup plans) that you can tailor to each particular service or device—e.g. you can back up just your vital documents to a free cloud service, and all your files to a more capacious account, a local hard drive, NAS box, etc.
The list of options supported by Arq 7 Backup is extensive: granular scheduling, network transfer throttling and interface selection, extensive retention rules, email reporting, encryption settings, immutable files (object locking), and a host of power/alert/performance options.
One minor nit I have with Arq 7 (and with many other backup programs) is that you can't assign multiple storage locations to a single backup job/plan. Most users have a single data set that they want to back up to multiple locations. There is, however, a workable alternative provided—exporting of your data selections as .json (Java Script Object Notation) data files that you can import into subsequently defined jobs/plans.
Another minor quibble about Arq 7 Backup is that there's no plain file backup option, i.e. simply copying files to another location. You need Arq 7 to restore your files from their proprietary containers (which do make many tasks easier and faster); you can't simply browse the destination using your OS and pull them off as you please.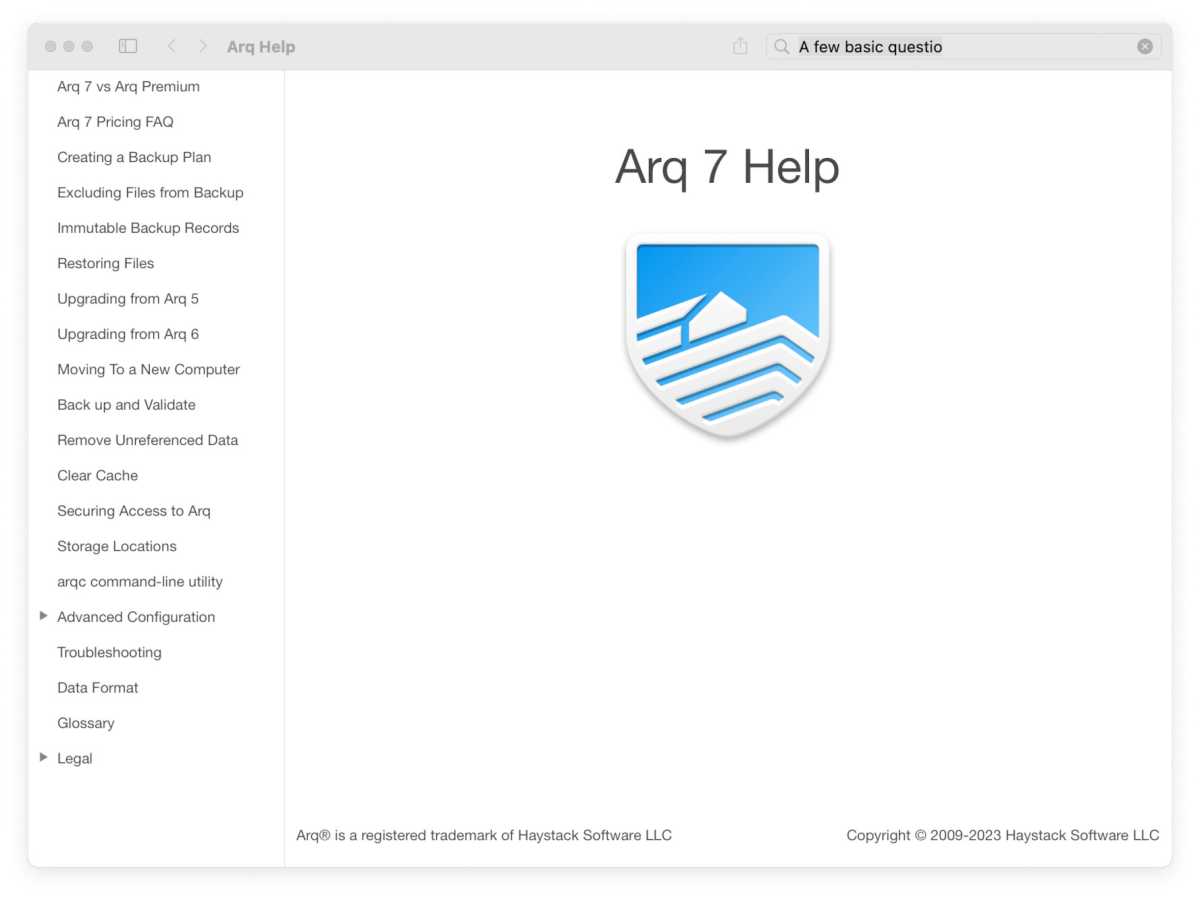 Arq 7 is a bit of a one-trick pony (straight backup), though it does that trick extremely well. But there are no goodies such as partition or drive image backups, cloning, disaster recovery via boot media, sync, etc. That's not a dig, just an FYI—though it is why I consider the price to be a bit on the high side.
If you want something more versatile for local backup, try the top-ranked R-Drive Image. But for leveraging multiple online services for pure backup, Arq 7 is unique.
The Arq 7 Backup interface
One of Arq 7's best attributes is its clean, concise interface. The backup chore can be intimidating to new users, so a logical, intuitive interface is an important consideration.
Arq 7 steps you through the destination and data selection, then leaves you on your own for advanced settings, offering a series of tabs with the related options. Hint: You're likely fine without adjusting the advanced settings. If not…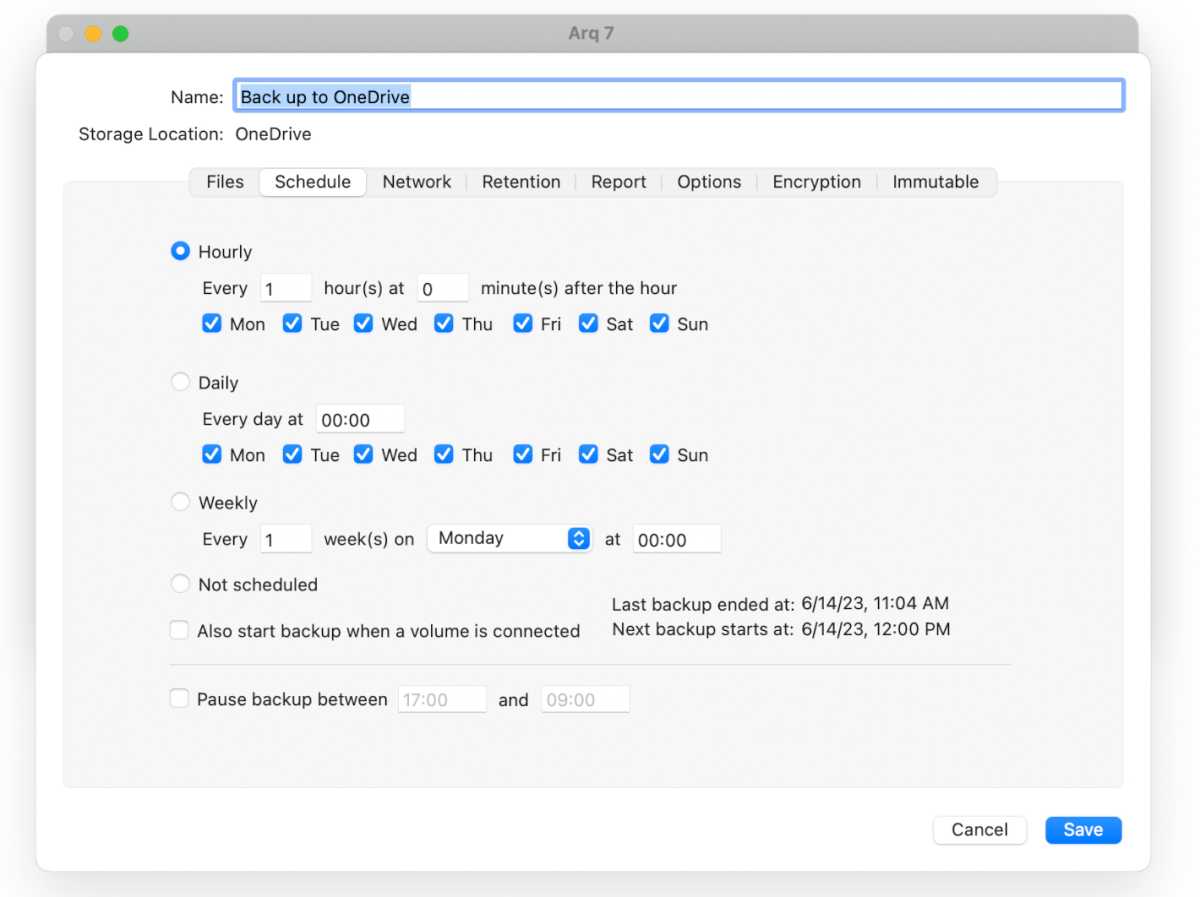 Just pretend you're the wizard, click on each logically arranged tab in turn, and you'll be okay. I promise. That said, if you're a complete neophyte you might want to bone up a bit on the concepts involved.
Various information is displayed in a tree to the left of the main window (shown below). This includes defined jobs (plans), dates of the backups, etc. There's a separate restore section with entries for each storage destination, though you'll need to drill down to the actual backup and date for the restore option to appear.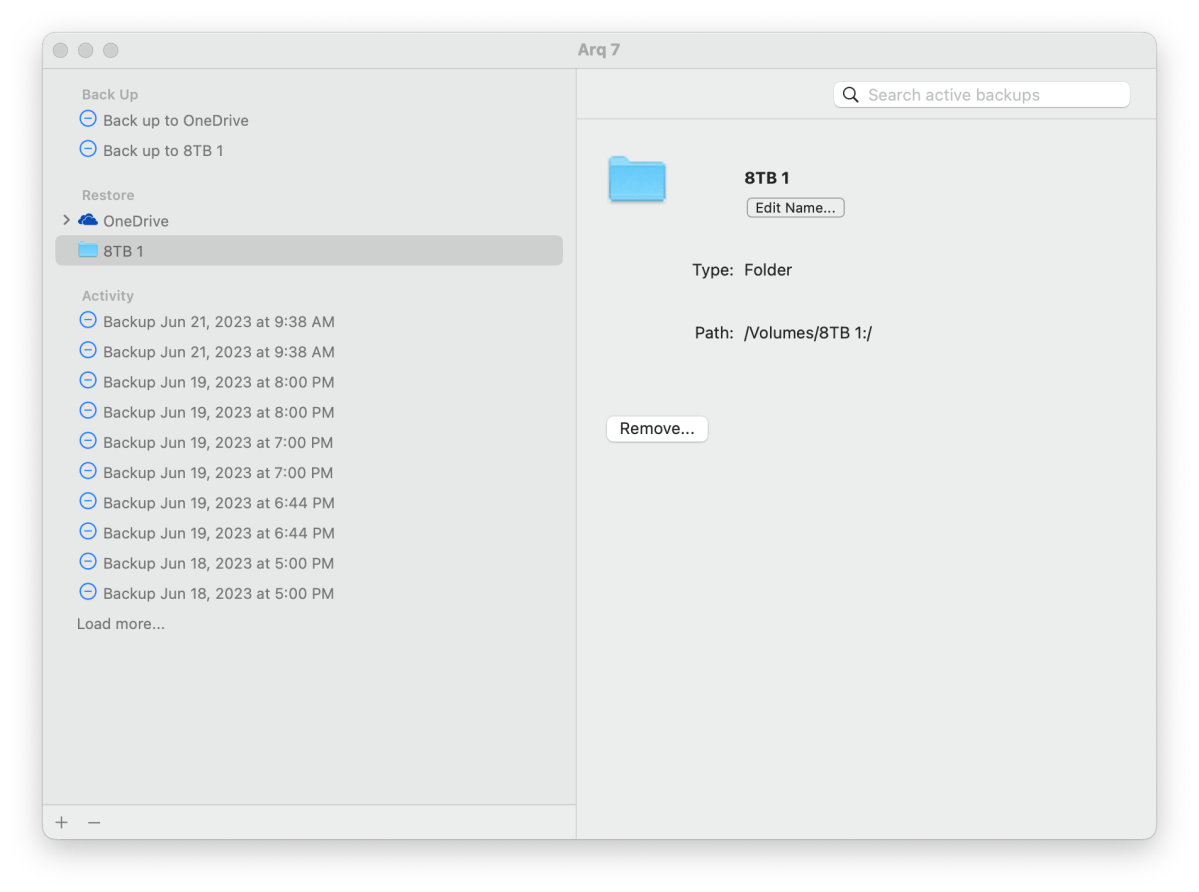 While it may take you a while to get up to speed on Arq 7's workflow, once you are, it's extremely efficient. I'll take that over the kind of hand-holding that slows you down in the long run any day.
How does Arq 7 perform?
Arq 7 performed flawlessly in my tests. Specifically, I used Arq 7 to back up data sets to OneDrive, Dropbox, and the company's own storage service. I also backed up to a local SSD and my main NAS box, and again, OneDrive. All proceeded quickly, without failure, and without impacting my overall system performance unduly.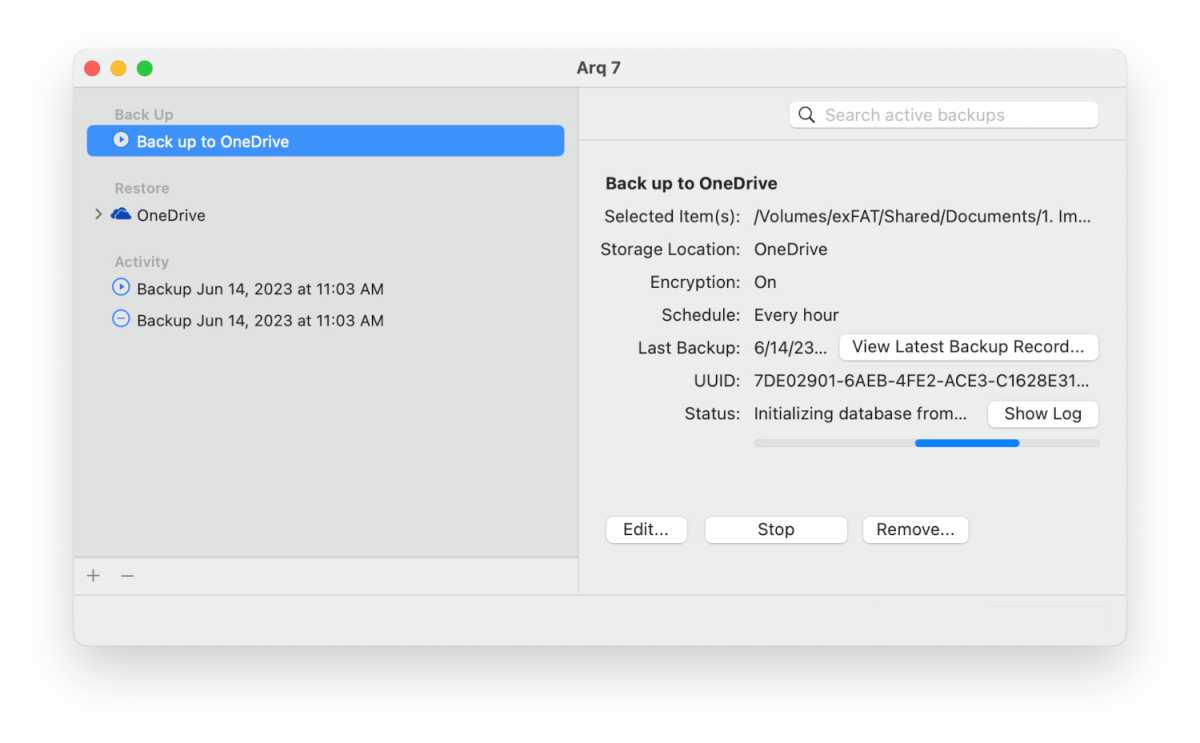 Jon L. Jacobi
Backup is a task with no room for failure and there were no glitches of any type to shake my confidence in the program. It's a matter of faith and Arq 7 inspired that.
Note that while I found Arq 7 particularly speedy, online backup durations always depend on the speed of your connection to the remote server.
Put succinctly, Arq 7 works, and it works very well.
Is Arq 7 Backup worth it?
I can't emphasize enough how important flawless performance is when choosing a backup solution. Data safety isn't something to play around with, as anyone who's tried to restore a bad backup can tell you.
I rank Arq Premium top-tier as a storage service, and the standalone backup client is a boon for users of other online storage services. That said, I'd be more emphatic about the latter if it were a bit cheaper.
Best Prices Today: Arq 7 Backup