Removable storage vendor Imation on Monday announced a new line of products ranging from hard drives and flash drives to Blu-ray Discs and removable tape cartridges, all with a range of encryption and security management tools.
Imation's new Defender Collection consists of seven products including four flash drives, two hard drives and an optical line of disc drives.
All have varying levels of Federal Information Processing Standardization 140 (FIPS) certification, according to, according to Jason Elles, Imation's global brand manager.
More secure products are expected later this year or next including secure solid state drives and Imation's current line of RDX-series removable hard disk drives that will have new security and management features, Elles said.
Keith Schwartz, a director at Imation, said the company has never released this breadth of products, or any products with such high-level encryption and remote management features.
"Obviously we've always had optical and flash products and hard-disk drives, but we've never had products that have had the authentication levels we're talking about, never had products that had anti- virus , never had products with central management and never had products that were validated at a FIPS level," he said.
The Defender products, all based on existing Imation hardware, include new security and management features that came as a result of recent partnerships between Imation and MXI Security, a managed portable security vender, and Encryptx Corp., a data security and policy control and management vendor.
All of the Defender series products have varying levels of security, based on MXI Security's firmware for user authentication, digital rights management and data encryption, including MXI's Bluefly Processor. Imation is using Encryptx's EncryptDisc AES 256-bit encryption and burning technology for its line of secure, printable optical media, including CDs, DVDs and Blu-ray Discs.
The company said the new products are aimed at enterprises in the financial services industry, the government and military, as well as some small business sectors and professional consumers. They are also being targeted at more than 100 countries around the world where Imation has its sales offices.
"The need for data security continues to increase among corporations and consumers," Liz Conner, Senior Research Analyst at IDC, said in a statement.
Imation's new products also include Imation's DataGuard rf Tape Tracking System, DataGuard Transportation and Storage Cases, SecureScan for LTO tape cartridges and DataGuard GPS (currently only available in Europe.)
The rf tracking system products deploy an RFID chip that not only allows tape cartridges and their packaging cases to be read scanned into local databases but also tracked by GPS in order to pinpoint their location during offsite transit.
Imation's products include the Defender Software Suite, which allows storage administrators to protect the hardware using Malware AntiVirus Scanning along with central device management. The suite includes Access Standard, Access Enterprise and Access Identity.
The new removable storage products include:
The Defender Optical is a self-encrypting, self-burning line of CD-R, DVD-r, DVD+R and Blu-ray disk drives that offer password authentication, an integrated password recovery option and are FIPS 140-2 Level 1 validated. The discs have a suggested retail price of $2.10 for CD, $2.50 for DVD and $7.50 for Blu-ray.
The Defender F50 Pivot flash drive.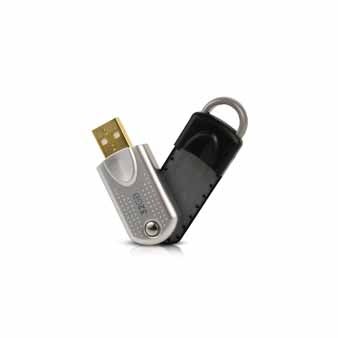 The Defender F50 Pivot flash drive has onboard anti-virus software and optional software-based encryption key management capabilities. The drive's being aimed at the medical industry, where IT managers want encryption, but don't need FIPS Level 3 validation, according to Elles. The drive comes with optional central management software and is validated for FIPS level 1, and comes in 2GB, 4GB, 8GB and 16GB capacities. The price of the F50 is still to be determined.