The Defender F100 flash drive.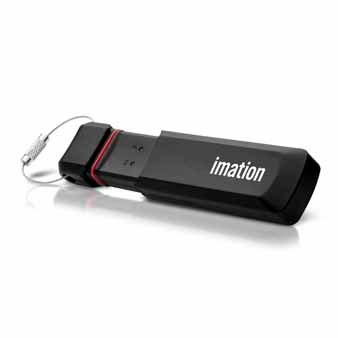 The Defender F100 and F150 flash drives have hardware-based encryption and are FIPS Level 3 certified. The drives come in waterproof and dustproof enclosures. The F100 has a plastic casing and the F150 has a metal enclosure. Both drives come with optional antivirus and central management software and have capacities ranging from 1GB to 32GB. The suggested retail prices for the F100 and F150 range from $54 to $299 based on capacity.
The Defender F200 biometric flash drive.
The Defender F200 is a biometric flash drive with hardware-based encryption that is awaiting FIPS level 3 validation and is aimed at preventing PC-based attacks with its two-factor authentication -- password and biometric authentication capabilities. It features an ergonomic biometric swipe sensor with hardware-based matching along with a tamper-resistant metal enclosure. Antivirus and central management software are optional. The drive comes in capacities ranging from 1GB to 32GB and has a suggested retail price of $99 to $349 based on its capacity.
The Defender H200 external hard drive.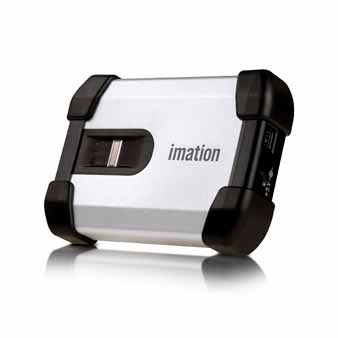 The Defender H100 and H200 are external hard drives. The H100 offers password authentication. The H200 features password authentication and a biometric fingerprint swipe pad. The drives both have hardware-based encryption and come in 250GB, 320GB and 500GB capacities. Both have optional antivirus software, central management software and are pending FIPS Level 3 validation. The suggested retail price is still to be determined.
All of the products are expected to be generally available this month or next.
In the future, Imation will release the Defender F175 Pivot, a flash drive in a metal casing, with FIPS level 3 validation, as well as a secure bootable flash drive with Windows or Linux OS.
"So having a complete secure laptop on a stick for corporations who want to ensure someone working remotely has got a secure desktop they can put in an untrusted host," Schwartz said. "I think you'll see us coming out with additional unique and differentiated products."
Schwartz also alluded to future products having enhanced features including RSA soft tokens, digital certificates and integrated SmartCard technology.
Lucas Mearian covers storage, disaster recovery and business continuity, financial services infrastructure and health care IT for Computerworld . Follow Lucas on Twitter at ? @lucasmearian or subscribe to Lucas's RSS feed ? . His e-mail address is lmearian@computerworld.com .
Read more about storage hardware in Computerworld's Storage Hardware Knowledge Center.
This story, "Imation Debuts Line of Secure Removable Storage Devices" was originally published by Computerworld.