At a glance
Expert's Rating
Pros
Expansive 17-inch 16:10 display
Thin chassis
Incredible battery life
Cons
High price without OLED display
Low-wattage GPU limits 3D performance
Low-res 720p webcam
Our Verdict
The Dell XPS 17 9730 boasts a sharp design, thin chassis, and long battery life, but the lack of an OLED display will be a deal breaker for many graphics pros.
Price When Reviewed
From $2,449 | Model reviewed $3,099
Best Prices Today: Dell XPS 17 9730
The big-screen laptop trend of recent has been moving from a 17.3-inch display with a widescreen 16:9 aspect ratio to a 16-inch 16:10 panel that results in a more compact and portable package with nearly the same screen real estate. Despite numerous refreshes over the past few years, the Dell XPS 17 still resides between these two popular panel sizes, with a 17-inch 16:10 display that's roomier than a 16-inch 16:10 display, but not quite as wide as a 17.3-inch 16:9 display. The result is an absolutely massive display for media editing, multitasking, and perhaps some light gaming.
Inside, the XPS 17 9730 serves up the latest Intel and Nvidia silicon. Our test system pairs a 13th-gen Core i7 CPU with RTX 4070 graphics. Dell prioritizes a thin enclosure over raw power, however, for this content creation laptop and opts for a low-wattage RTX 4070 that can't match the frame rates of gaming laptops with full-wattage RTX 40-series GPUs. And while the display's sheer size is certainly impressive, its 60Hz refresh rate is meh. Further, it's merely an IPS panel and not an OLED, which graphics pros and hobbyists can rightly expect at this price. We'd steer content creators toward the similarly priced Samsung Galaxy Book3 Ultra or Asus VivoBook Pro 16X OLED that boast large OLED displays.
Looking for more content creator laptops? If so, check out PCWorld's roundup of the best laptops for video editing.
Dell XPS 17: Specs and features
Our Dell XPS 17 9730 test system costs $3,349 from Dell, and I've seen it on sale for as low as $2,949. It features the following specs.
CPU: Quad-core Intel Core i7-13700H
Memory: 32GB
Graphics: Nvidia GeForce RTX 4070
Storage: 1TB PCIe NVMe M.2 SSD
Display: 17-inch UHD+ (3840 x 2400) 60Hz touch display
Webcam: 720p
Connectivity: 4 x Thunderbolt 4 USB Type-C, combo audio jack, SD card slot
Networking: Wi-Fi 6, Bluetooth 5.3
Biometrics: IR camera and fingerprint reader
Battery capacity: 95 Watt-hours
Dimensions: 14.7 x 9.8 x 0.77 inches
Measured weight: 5.4 pounds
Price: $3,199.99
The Dell XPS 17 9730 starts at $2,449 for a configuration with a Core i7-13700H CPU, RTX 4050 graphics, 16GB RAM, and a 512GB SSD. This baseline model features a 17-inch, non-touch display with a 1920×1080-pixel resolution. Our test system upgrades the graphics to an RTX 4070 GPU while doubling the RAM to 32GB and the solid-state storage to 1TB. The display also gets an upgrade to a 3840×2400 resolution and adds touch support. It was not included on our test system, but there is a CPU upgrade that moves you from the Core i7-13700H to a Core i9-13900H. In addition to the baseline RTX 4050 graphics and the RTX 4070 GPU on our test system, you also can configure the XPS 17 9730 with RTX 4060 or RTX 4080 graphics. There are also additional RAM (up to 64GB) and SSD (up to 8TB) options.
Dell XPS 17: Thin yet rigid design
The XPS 17 9730 shares the same enclosure as the preceding XPS 17 9720. It's an enormous expanse of a laptop that stretches nearly 15 inches wide and almost 10 inches deep. There's very little wasted space; with thin bezels on all four sides, the 17-inch 16:10 dominates the scene. You might have trouble fitting the XPS 17 9730 into your backpack because of its width and depth, but it's not a hulky laptop. It measures a trim 0.77 inches thick and weighs a reasonable 5.4 pounds.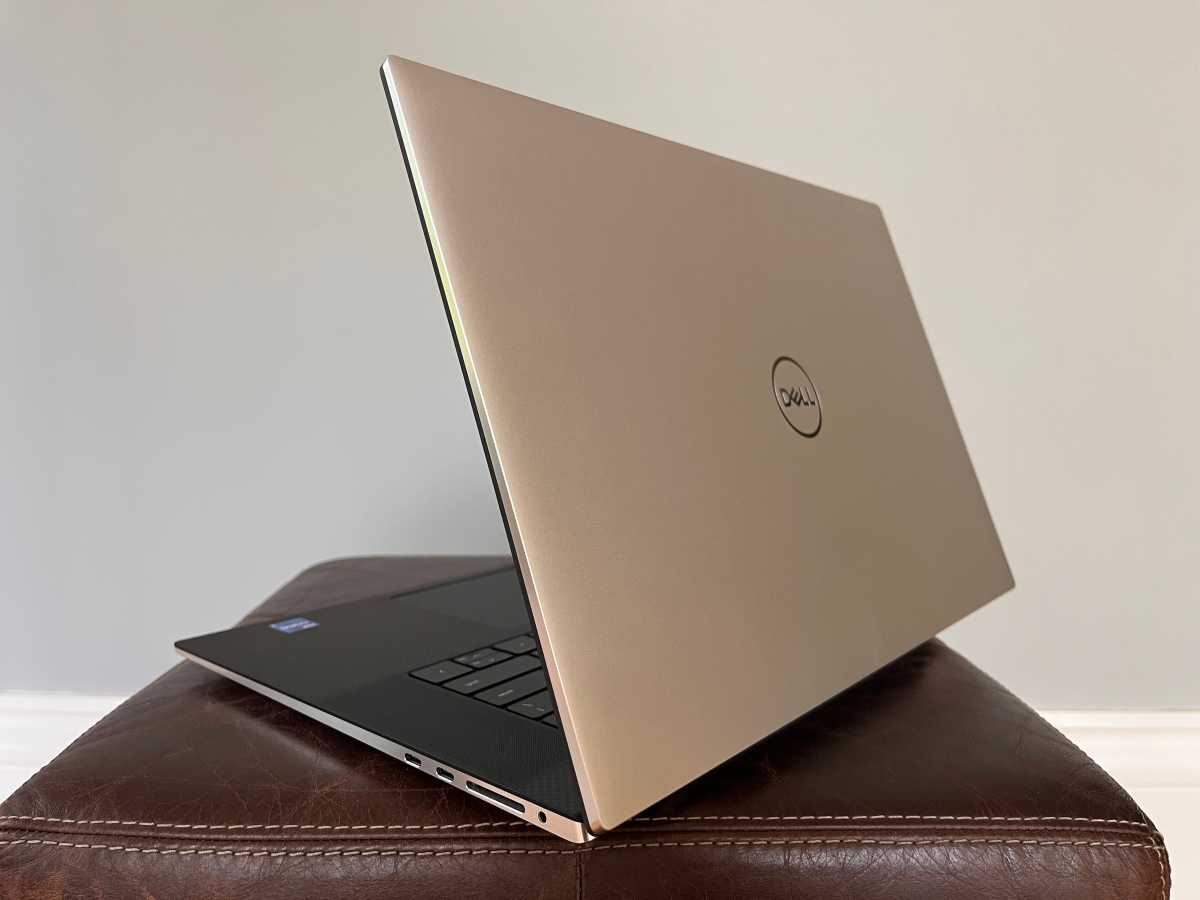 IDG / Matthew Elliott
The silver lid has the standard-issue, brushed-aluminum look, but open the laptop and you're greeted with a black keyboard deck with a carbon fiber finish running along the wrist rest and the narrow strip above the keyboard. The two-tone color scheme lets the XPS 9730 stand out from the all-silver or dull gray crowd. And the carbon fiber keyboard deck has a rubberized finish that has a pleasing feel and also is very effective at repelling fingerprints.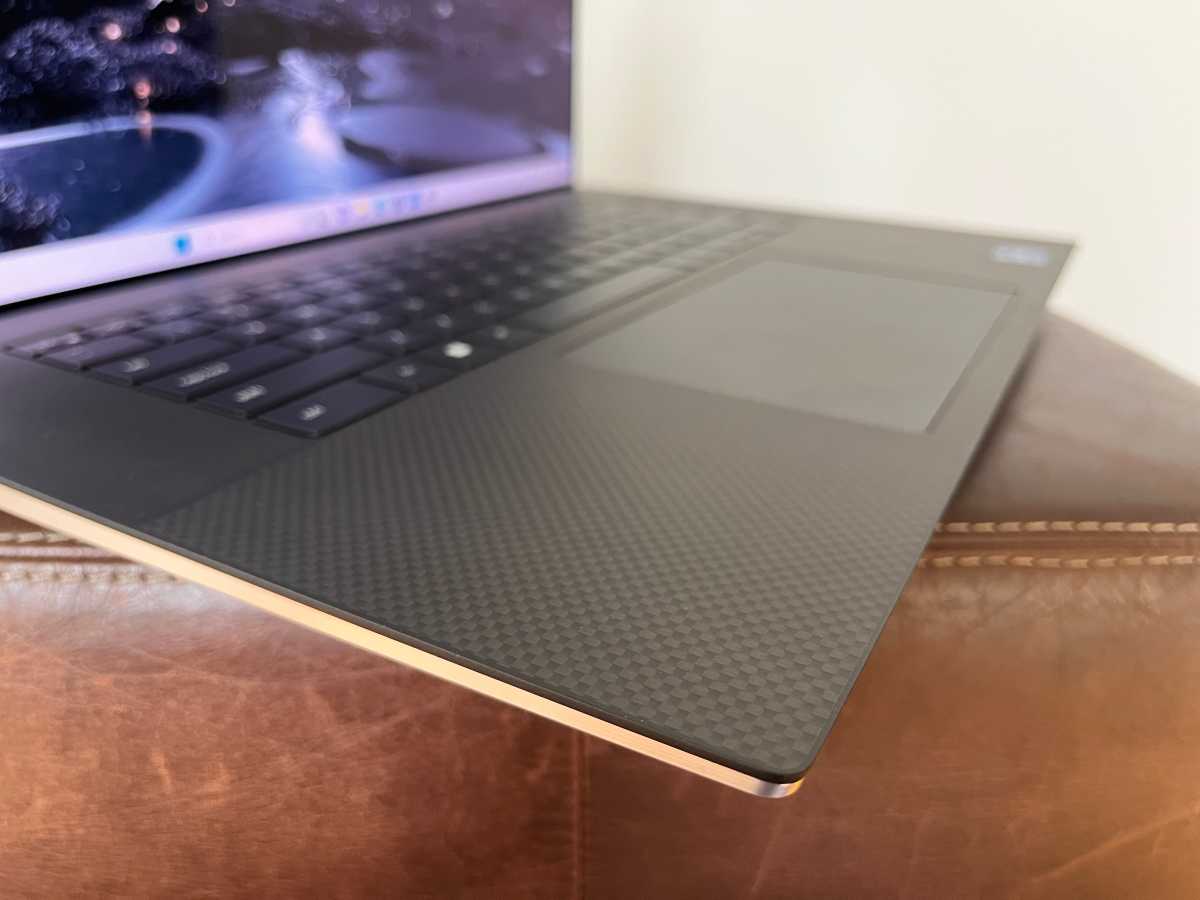 IDG / Matthew Elliott
Constructed from machined aluminum and carbon fiber, the XPS 17 9730 feels firm and rigid with little to no flex in the lid or keyboard deck, an impressive feat given its immense dimensions. Many large laptops tend to sag or flex toward their middles, and thin laptops often have flimsy lids that offer a worrisome level of protection for the display. With the XPS 17 9730, Dell pulls off the neat trick of building a thin, large-screen laptop with a solid overall feel.
Without a notch or lip on the front edge, opening the lid is a two-handed operation. I struggled to lift the lid with my fingertip and had to lift with from the side with both hands. Once opened, however, I found the keyboard to be quite comfortable. The keys don't have the plush feeling you get with a ThinkPad and instead offer a light, snappy feedback with shallow travel. I felt fast typing on it. Despite having the room for it, Dell opted not to include a number pad on the XPS 17 9730. And I didn't miss it. I liked having the keyboard centered below the display and above the giant touchpad.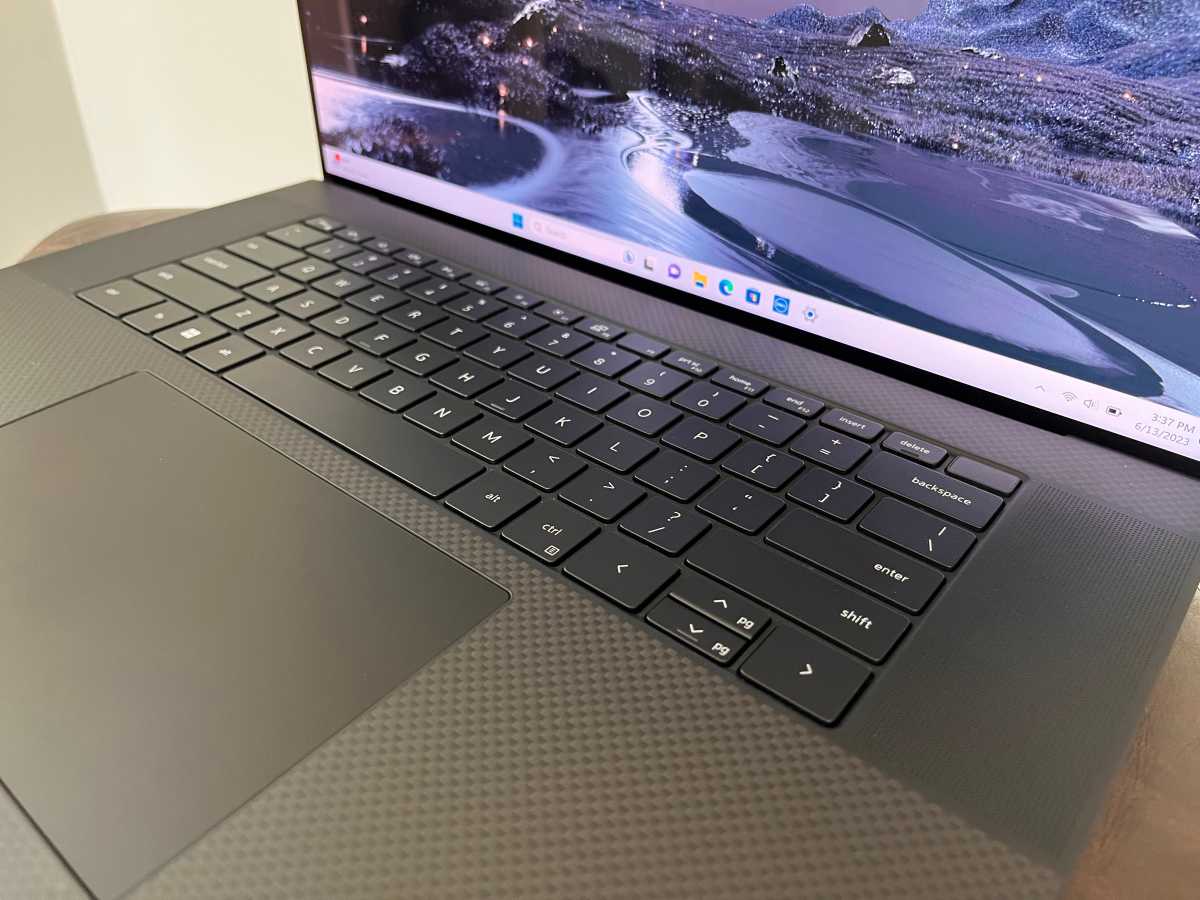 IDG / Matthew Elliott
The touchpad has a matte finish that allows for smooth, nearly friction-free gliding. It has a firm, quiet click response with the perfect amount of travel.
Dell XPS 17: Big, bright display (sans OLED)
Our test system features the $300 display upgrade that bumps you up from a 17-inch 1,920 x 1,200 IPS non-touch display to a 3840×2400 IPS touchscreen. Brightness (500-nit rating) and refresh rate (60Hz) remain constant across the two display options. I found the display at 550 nits to be even brighter than its rating, and I found text and images to be razor sharp. And yet I'm only mildly impressed with the 4K touch panel. Why? Because at a price north of $3,000, an OLED panel becomes a reasonable expectation. The XPS 17 9730's contrast ratio is fine, but it can't match that of an OLED with bright white and true black levels. For a high-end, large-screen laptop gear toward creative pros, a group that benefits more than most from the added color fidelity and contrast, it's surprising and disappointing that an OLED panel isn't offered.
Likewise, the display's pedestrian 60Hz refresh rate will be a disappointment to would-be buyers that might want to put the laptops RTX graphics toward a bit of 3D gaming when the workday is done. And video editors seek a faster 90Hz or 120Hz panel for smoother movement.
IDG / Matthew Elliott
The webcam is another disappointment. It's a grainy 720p camera of yore and not a high-res 1080p camera that's offered on nearly even laptop released in the last year or two outside of budget models. Frankly, it's shocking that a laptop at this price doesn't have an upgrade webcam. The XPS 17's enclosure may not be in need of an overhaul, but its webcam certainly is.
The string of disappointments end with the speakers. Dell packs four speakers into the XPS 17 9730 in the form of a pair of 1.5-watt tweeters and a pair of 2.5 woofers. The resulting sound is louder and fuller and more dynamic than that of a typical laptop with only two speakers. Dialog sounded clear and effects sounded realistic when watching movies and shows, and I even enjoyed music playback because there was a bit of a bass response to round out the sound.
The modern port selection features four Thunderbolt 4 ports with DisplayPort and power delivery support, which should satisfy most of your external expansion needs. Dell includes an adapter in the box that provides USB-A and HDMI connectivity. There's also a combo audio jack and an SD card slot. Wireless connectivity, however, is a step behind the times. The XPS 17 9730 supports Wi-Fi 6 and not the newer Wi-Fi 6E standard.
Dell XPS 17: Performance
Our XPS 17 9730 test system is based on the Core i7-13970HX CPU and GeForce RTX 4070 graphics. It also supplies a generous 32GB of RAM and a 1TB SSD. The 13th-gen Core i9-13900HX features Intel's hybrid architecture with performance and efficiency cores; it has six performance cores, eight efficiency cores, and a total of 20 processing threads. The RTX 4070 is a midrange GPU in Nvidia's latest GeForce 40 series behind the RTX 4080 and 4090 graphics processors. In our test system, it's set to run at only 60 watts, in large part to keep thermals in check inside the XPS 17's thin enclosure. By comparison, the gaming-focused Legion Pro 7 Gen 8 features an RTX 4070 GPU running at its maximum of 140 watts — a combination of the GPU's maximum power draw of 115 watts and 25 watts supplied by the CPU via Dynamic Boost.
First up in labs testing is PCMark 10, which measures performance on everyday computing work including office productivity tasks, web browsing, and video chats. The XPS 17 9730 scored above a 7,000, which indicates elite application performance, but it still trailed last year's XPS 17 9720 and its 12th-gen Core i7 CPU.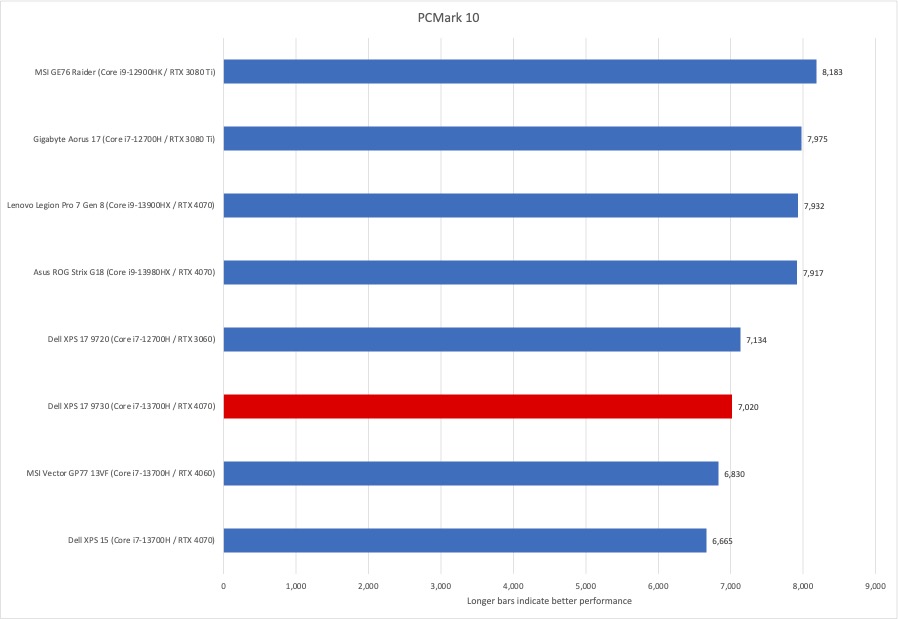 IDG / Matthew Elliott
Our HandBrake benchmark tests how a laptop is able to handle crushing CPU loads over a lengthy period—in this case, transcoding a 30GB MKV file to a format suitable for Android tablets using HandBrake, the free video encoding utility. The XPS 17 9730 again finished behind last year's XPS 17 model and actually finished last among the group of similarly configured and priced systems that are either midrange gaming machines or other content creation laptops.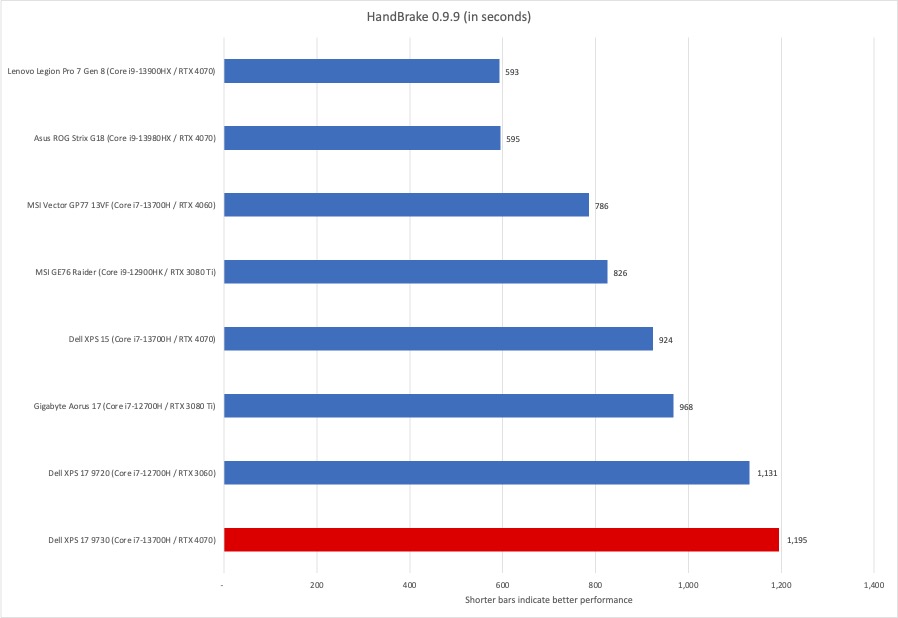 IDG / Matthew Elliott
Next up is Cinebench, another CPU-intensive test but one that renders a complex 2D scene over a short period of time. Again, the XPS 17 9730 finished near the end of the pack. The XPS 17 9730 is a capable content creation laptop but certainly not the fastest.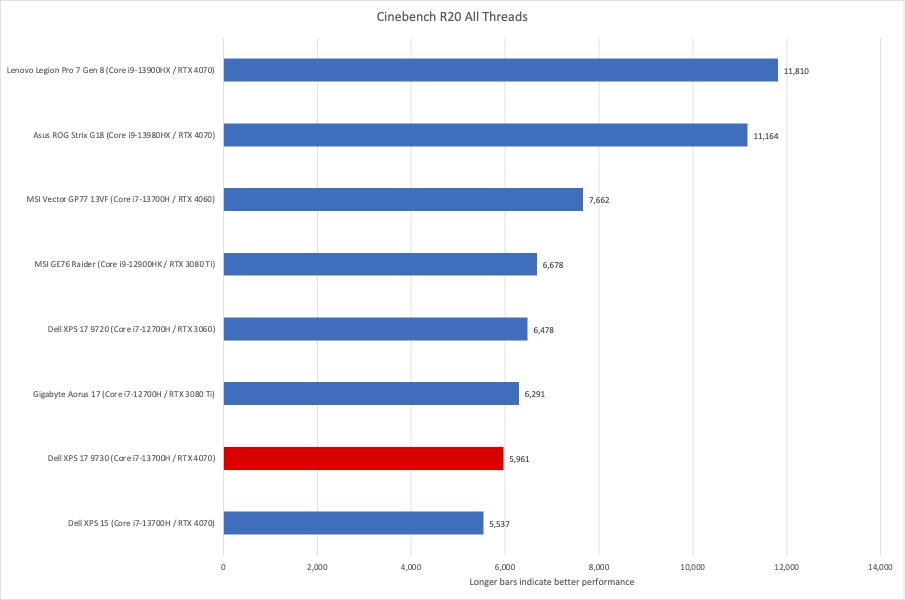 IDG / Matthew Elliott
Dell XPS 17: Graphics performance
Although the XPS 17 8730 isn't a gaming laptop, we still wanted to put its RTX 4070 graphics to the test. On 3DMark's Time Spy and Port Royal tests, it finished in the back of the pack, the leaders of which feature higher-wattage GPUs than our test system's 60-watt RTX 4070 GPU.
IDG / Matthew Elliott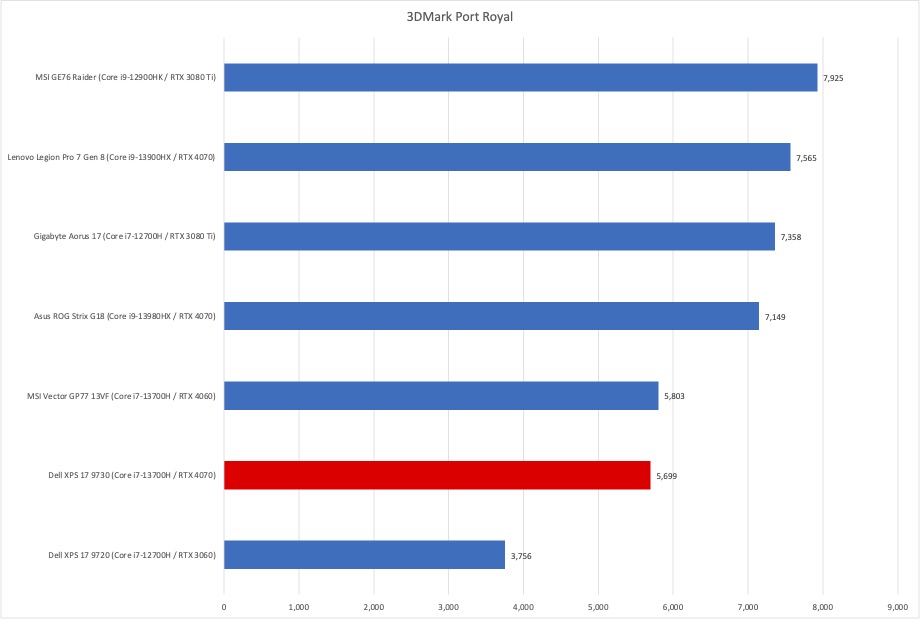 IDG / Matthew Elliott
On our real-world game benchmarks, the XPS 17 9730 produced playable framerates on our Shadow of the Tomb Raider benchmark at 1920×1080 resolution at the Highest quality preset but still trailed gaming laptops with GPUs operating at or near full throttle. We saw similar results on our Metro Exodus test, where the XPS 17 9730 averaged 39 fps. You'll need to dial back the quality settings or resolution to creep closer to a smooth framerate of 60 fps with Metro Exodus.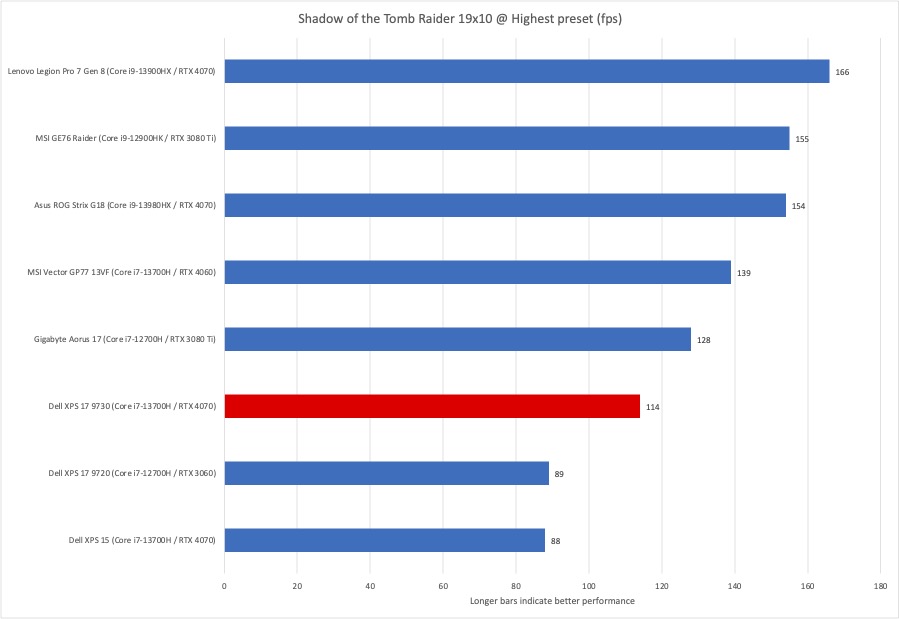 IDG / Matthew Elliott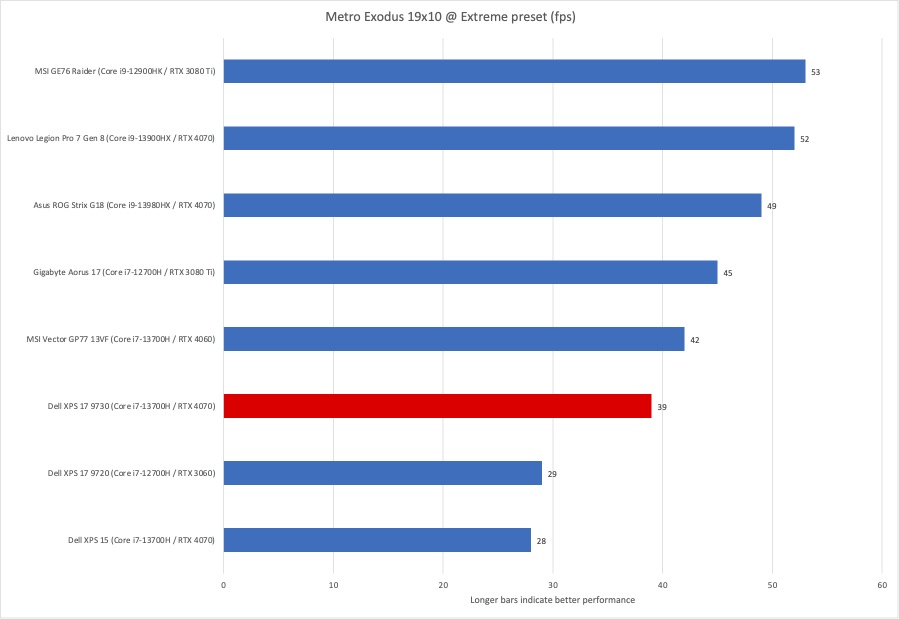 IDG / Matthew Elliott
Dell XPS 17: Battery life
To test a laptop's battery life, we loop a 4K video using Windows 11's Movies & TV app, with the laptop set to Airplane mode and earbuds plugged in. We set the screen brightness at a relatively bright 250 nits to 260 nits, which is a good brightness for watching a movie in an office with the lights on. The XPS 17 9730 excelled on our battery test, running laps around its higher-powered gaming competition by lasting nearly 11 hours on our demanding battery drain test. Still, it fell a few minutes short of the runtime of last year's XPS 17 model.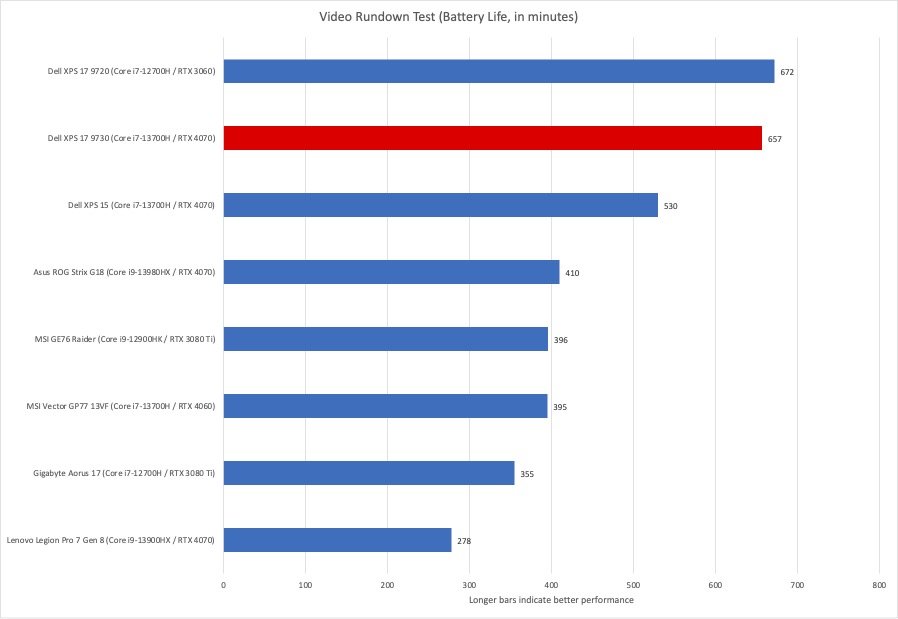 IDG / Matthew Elliott
Dell XPS 17: Should you buy it?
There's lots to like about Dell XPS 9730, from its expansive, 17-inch 16:10 display and thin, rigid chassis to its comfortable keyboard, roomy touchpad and outstanding battery life. The lack of an OLED display option, however, is a negative that will outweigh those positives for many content creators. With absolute black levels and stunning contrast ratio, an OLED display is far superior to any IPS panel and will be high on the priority list of any creative professional shopping for a laptop, if not at the very top. The lack of an OLED option prevents a stronger recommendation for the XPS 17 9730.