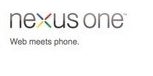 Well that was quick. Google, which got into the business of selling phones online a little over four months ago, is getting out of it. In an Official Google Blog post, Android honcho Andy Rubin explains that the company is pleased with Android's overall progress -- as it should be -- but that the Web store has been a disappointment. It turns out that people like to see phones in person before they buy them, and that they want a bunch of service plans to choose from. (Shocking, huh?)
When Google announced its Web store, it called it "a new approach to buying a mobile phone." It's saying that it will revert to an old approach: selling them through brick-and-mortar retail stores. (It's not entirely clear what sort of stores these will be, but in Europe you can already buy a Nexus One from wireless carrier Vodafone.)
for the Nexus One sounded iffy from the start, and in the wake of rumors of feeble sales and canceled plans for additional carriers, the only surprising thing about the company's change of plans is how swiftly they came. The turnabout is probably a tad embarrassing for Google, but it's also a logical move given the store's failure to make much of a dent in the phone-selling universe. Google's a much more impressive company when it brings radical inventiveness to a problem of long standing than when it does things for no clear reason other than that it can.
I'm not particularly saddened by the demise of the store in its current form, since the only clear benefit it offered over buying a phone directly from a retailer was the option -- not very popular in the U.S. -- of opting for an unsubsidized, unlocked model. It's sad, though, that Google failed to really shake things up with the unconventional business models that some of us fantasized about. A Googlephone sold at a phone store may still be an excellent phone -- I imagine Google may announce the Nexus One's successor as soon as next week at its I|O developer conference -- but it's going to be sold the same old way as any other handset.
This story, "Google Drops Direct Phone Sales: Good!" was originally published by Technologizer.