Bluetti AC180 At a glance
Expert's Rating
Pros
Class-leading AC efficiency
Full-featured app support with an offline mode
Really good value for the capacity
Cons
Mediocre DC efficiency
Relatively heavy for its capacity
Our Verdict
The Bluetti AC180 impressed us with its efficiency and is perhaps one of the top—if not the top—portable power stations we've tested.
Price When Reviewed
$1,099
Best Prices Today: Bluetti AC180
Bluetti's new AC180 is a stout portable power station with exceptional AC efficiency capable of—gasp—actually giving you 1,000 watt-hours of capacity. We're making our Pikachu surprise face because we've gotten so used to portable power stations touting their maximum capacity, but in real-world use delivering maybe 80 percent of that.
It's like a car company marketing a vehicle on its fuel-tank size, rather than the actual miles per gallon you get.
Bluetti's AC180 doesn't actually change that somewhat misleading marketing practice but with its overall capacity of 1,152 watt-hours combined with its exceptional efficiency powering AC devices, consumers can expect to end up with a nice round 1,000 watt-hours of capacity. which is at least more straightforward.

Further reading: See our roundup of the best portable power stations to learn about competing products.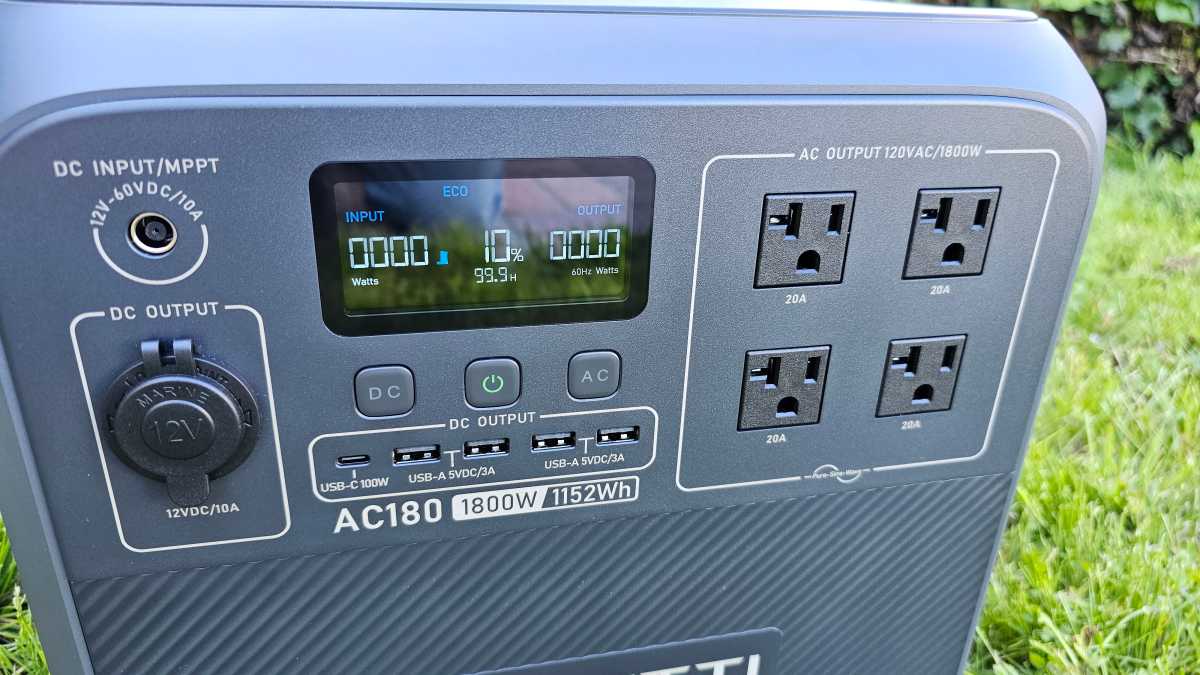 Gordon Mah Ung
What kind of ports does the Bluetti AC180 have?
For common household AC plugs, the AC180 features four well-spaced NEMA sockets to allow for large wall warts. All four are three-prong NEMA 6-20P but open grounded. If you do want to actually ground the AC180 for extra safety against a ground-fault, Bluetti provides a grounding port on the right side of the unit—a nice touch that many portable power stations skip.
Each port is rated at 20 amps or 1,800 watts, but you should remember that's the total for the entire unit. The surge rating for an AC port is 2,700 watts, which is in line with EcoFlow's Delta 2 series but lower than the Yeti 1500X's 3,500W and Jackery Explorer 1500 Pro's 3,600W. That 2,700 watt surge rating will lower voltage, too, so only certain appliances such as heaters, are likely to play nice.
For DC charging, you get four USB-A ports rated at a basic 15 watts, sadly without support for QuickCharge protocols or anything exotic. There's also a single USB-C port rated at 100 watts. We verified that the port supports up to 100 watts of USB-PD 3.0, including PPS, or Programmable Power Supply, rates from 3.3 volts to 21 volts.
For the DC port arrangement, we'd have preferred one more USB-C port, but we'll forgive it since Bluetti compensates by also including a wireless charging coil in the top of the unit that we tested to its 15-watt rating with a Samsung S23 Ultra.
You also get a "cigarette" power outlet rated at 12 volts and 10 amps. As we've said in the past—that works fine for most uses such as a phone or tablet charger, but certain portable appliances, such as some portable refrigerators and other high-power draw devices, may balk at the minimum 12 volts of power stations designed to run on a car's 14.5 volts when running.
For input, you get an AC inlet rated to hit 1,440 watts while charging, as well as up to 500 watts of DC charging over solar, as well as a car charging port.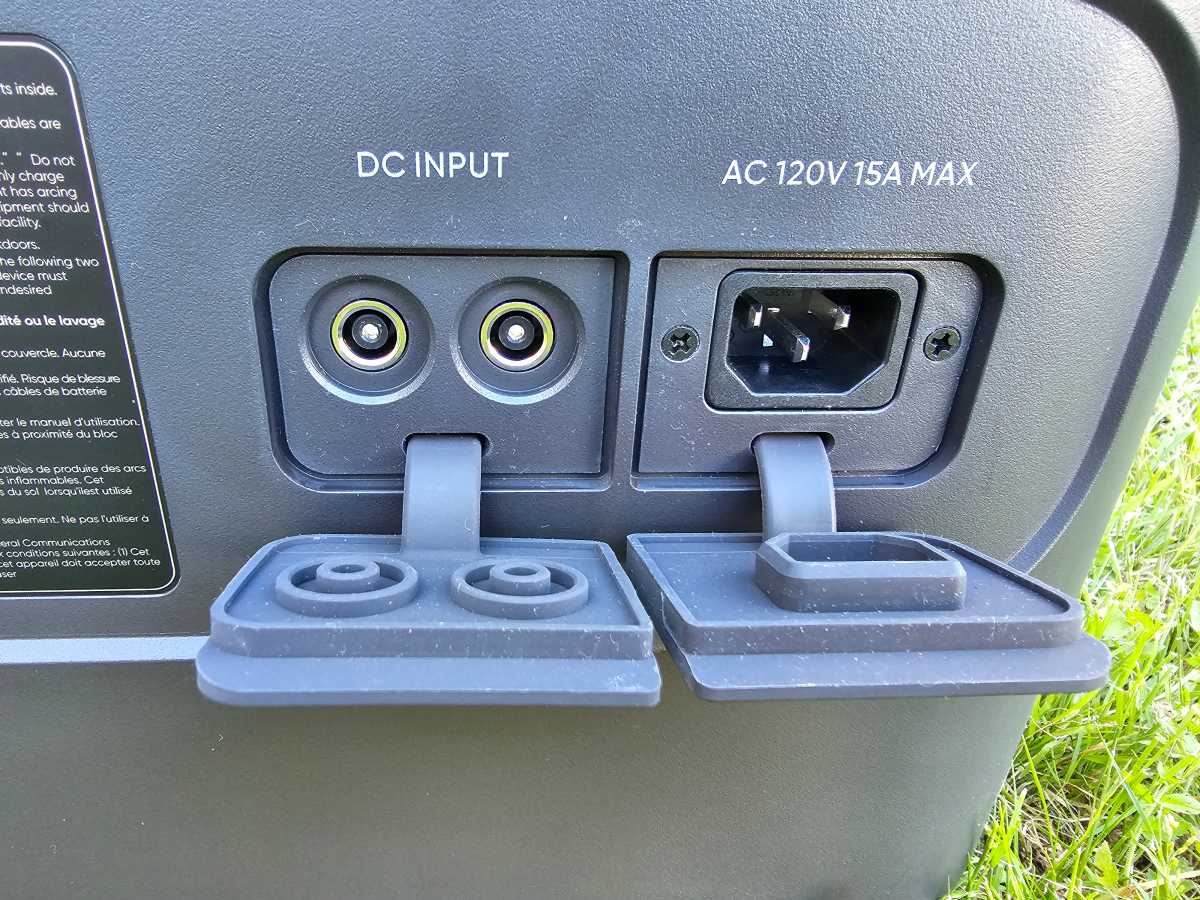 Gordon Mah Ung

What kind of battery does the Bluetti AC180 have?
Bluetti has long been lauded for being ahead of the curve in adopting lithium iron phosphate (LFP) battery chemistry versus NMC lithium ion cells. Essentially, that means much longer life cycles at the cost of slightly less energy-dense batteries. How much longer? Bluetti rates the AC180 at 3,500-plus full cycles before the battery can only charge to 80 percent of its original capacity. That's a class-leading rating. For example, the EcoFlow's Delta 2 is rated to 3,000 cycles to 80 percent. The disparity is even more stark when compared to NMC lithium ion cells, which can be rated at 500 or 800 cycles to reach 80 percent capacity.
mentioned in this article
EcoFlow Delta 2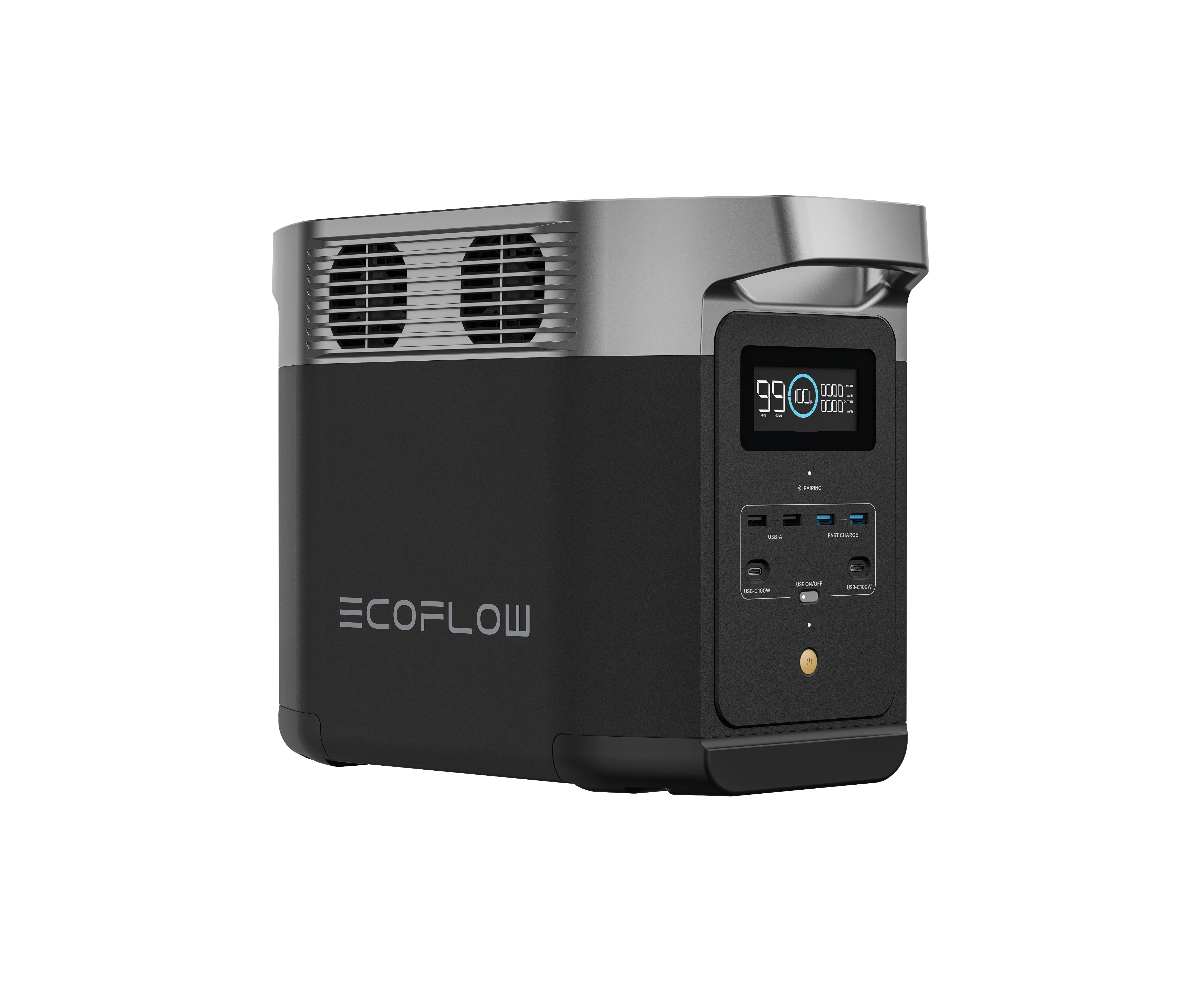 Price When Reviewed:
$899
We should note that the extended life or duty cycles is sometimes overrated depending on how you will use the portable power station. If you are using it in a full-time, off-the-grid situation, it's an important factor, but if you're mostly stowing it on a shelf in the garage and putting it to use maybe six days a year for camping or during a power outage, it's probably less of a big deal. What's nice, however, is that portable power stations with LFP batteries typically get a 60-month warranty compared to the 24-month warranty commonly found with NMC-based portable power stations.
For those interested in expansion capabilities, the AC180 can connect to Bluetti's 800 watt-hour B80, the 2,048 watt-hour B230, or the 3,072 watt-hour B300 for additional battery capacity.
How does the Bluetti AC180 perform?
None of this means anything if the AC180 won't perform. With the all-important AC—or the power you run your fridge and most home appliances off of—the Bluetti knocked it out of the ballpark.
We test portable power stations using two different AC loads: a higher 800-watt load using a space heater, and a medium load using a 200-watt incandescent light bulb. Under the 800-watt load, the AC180's 1,152 watt-hours gave us 970 watt-hours, or 84 percent efficiency. That puts it slightly ahead of the Jackery Explorer 1500 Pro's 83 percent efficiency and well ahead of the Yeti 1500X's 72 percent and Delta 2's 71 percent efficiency.
mentioned in this article
Jackery Explorer 1500 Pro
Price When Reviewed:
$1,699
When we tick down to a 200-watt load, the Bluetti AC180 performs even better giving us 1,007 watt-hours, or a very impressive 87 percent efficiency. While the competing units are also all in the 80s, they're all in the low 80s compared to the Bluetti AC180.
What this is means is that when running AC, the AC180 will simply give you more run time for the rated capacity than most competitors.
Where the AC180 falls down, however, is in DC performance. For that, we discharge the unit using USB-PD with a 60-watt load to simulate a typical small-to-medium laptop load. Of the units we've tested, the AC180 was the worst, with a 71 percent efficiency rating, which is far short of the Jackery Explorer 1500 Pro's 89 percent or the Yeti 1500X's 85 percent running DC.
As part of our review, we also inspect the pure sine wave output of a unit using an oscilloscope and found the AC180 to be fine. Although not quite as perfect as the Yeti 1500X's, it's not going to matter for most.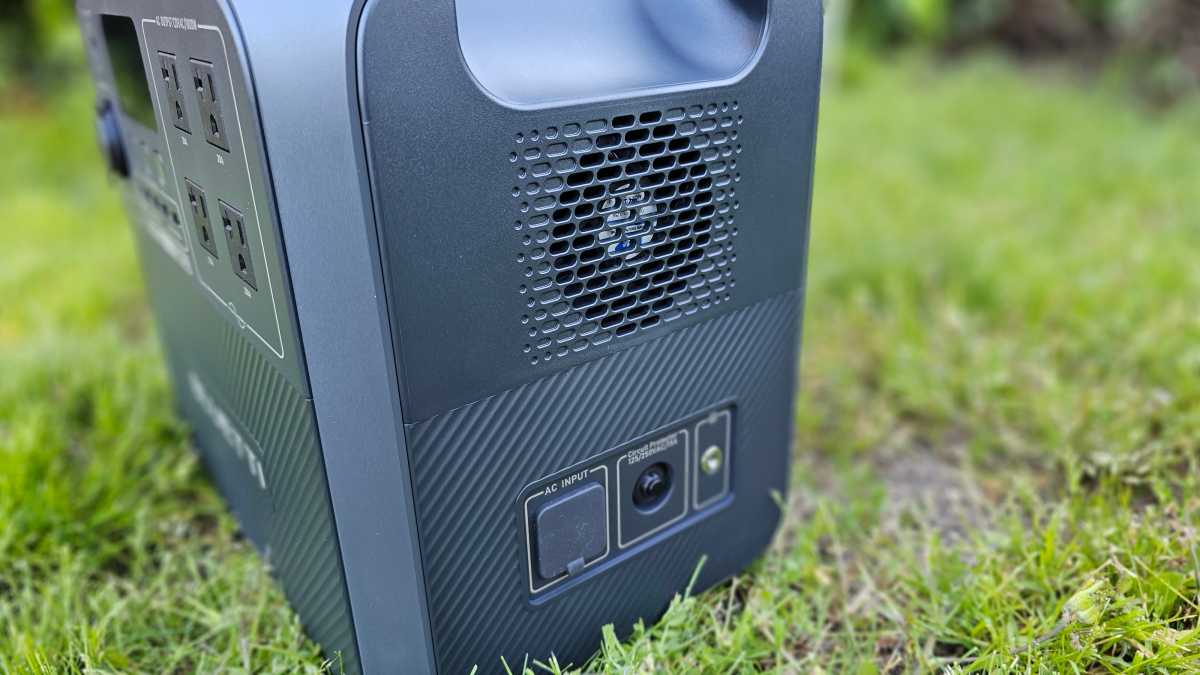 Gordon Mah Ung

How loud is the Bluetti AC180?
One incorrect belief about portable power stations is that they are "completely silent." That's simply not true at all times, as it's critical for both performance and safety to keep the battery and conversion circuits cool with fans. We've seen our share of fairly quiet portable power stations and our share of fairly loud ones too. Bluetti's AC180 falls into the category of reasonably quiet but definitely not silent.
Measuring the sound three feet away from the unit, directly across from one of its two fans, we found the AC180 would hit about 45 dBA under a 1,500-watt load, and under an 800-watt load that would drop to 43 to 44 dBA. That's much quieter than EcoFlow's Delta 2 thanks to the AC180's larger and slower spinning fans. On the other hand, we're kind of bummed that the Bluetti trips the fans under what we'd consider a pretty light load of 200 watts, albeit at a still relatively quiet 40 dBA.
The good news is that at under 100 watts, the AC180 fans don't fire up, meaning the power station will remain silent if you need it to run a medical device such as a CPAP machine.
How heavy is the Bluetti AC180?
Perhaps our biggest criticism of the AC180 is its weight. At 35 pounds for 1,152 watt-hours it's one of the chonkier units around. If you think about the unit in terms of rated watt hours per pound, the Bluetti AC180 is a little low at 32.5 watt-hours per pound. Compare that to the Jackery Explorer 1500 Pro, which gives you 40 watt-hours for each of its 37.5 pounds. Thanks to its efficiency though, the Bluetti AC180 makes up some ground and actually outputs more watt hours per pound than the hefty Goal Zero Yeti 1500x. Overall though, it's one of the heavier units around for its capacity.
Bluetti AC180 application support
The AC180 offers both Wi-Fi and Bluetooth app support for iOS and Android. Our review used the Android version, which is full featured and gives you access to settings on the AC180 on par with the advanced units such as the EcoFlow Delta 2. You can set charge rates, update the firmware, set when the ports shut off, as well as monitor how much power is being consumed and how much power is being fed into the unit by wall plug or solar.
One feature worth calling out is an offline Bluetooth mode that lets you control the unit when it's not connected to the internet. This is especially useful during, say, a power outage or when you're in the woods. More importantly, this also works if your phone doesn't have access to the internet. Some apps force you to log in to a server, so if your phone has no service, you can't control the power station.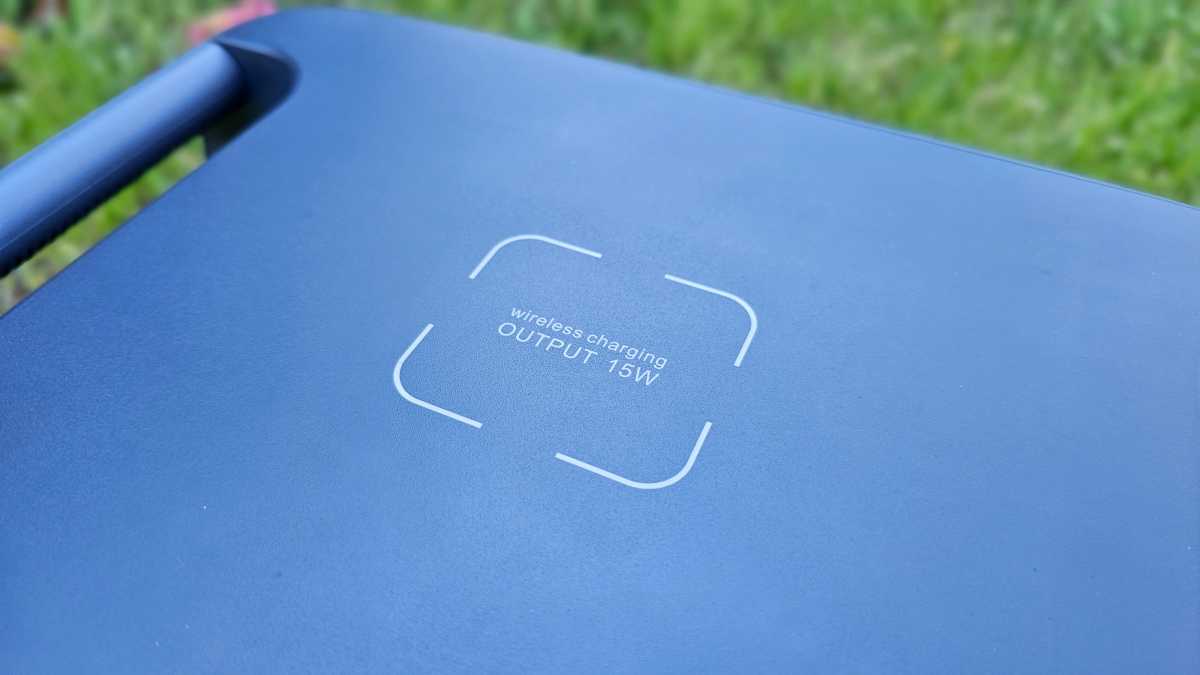 Gordon Mah Ung

What accessories come with the Bluetti AC180?
Out of the box, the AC180 comes with an AC charging cable, a car charging cable, and a solar charging cable.
Is the Bluetti AC180 worth it?
Considering Bluetti's premium brand, and its solid reputation, the AC180 offers a lot of value. It has a list price of $1,099 but kicked off its debut at $799.
With its 1,152 watt-hour rating, that's basically 69 cents per rated watt-hour, which is a bargain. Compare that to the EcoFlow Delta 2, which can be found for $849 on Amazon, or 74 cents per watt-hour, or the GoalZero's Yeti 1500X at $1.18 per watt-hour. Even at its list price of $1,099, you're paying 95 cents per rated watt-hour, which is still very competitive.
Other than its slight weight disadvantage and its mediocre DC performance, it's hard to find any deal-breaking faults with the AC180. You get leading AC efficiency, full-featured app support, the high life cycles of LFE chemistry, all wrapped up with a bow offering good value from a respected brand.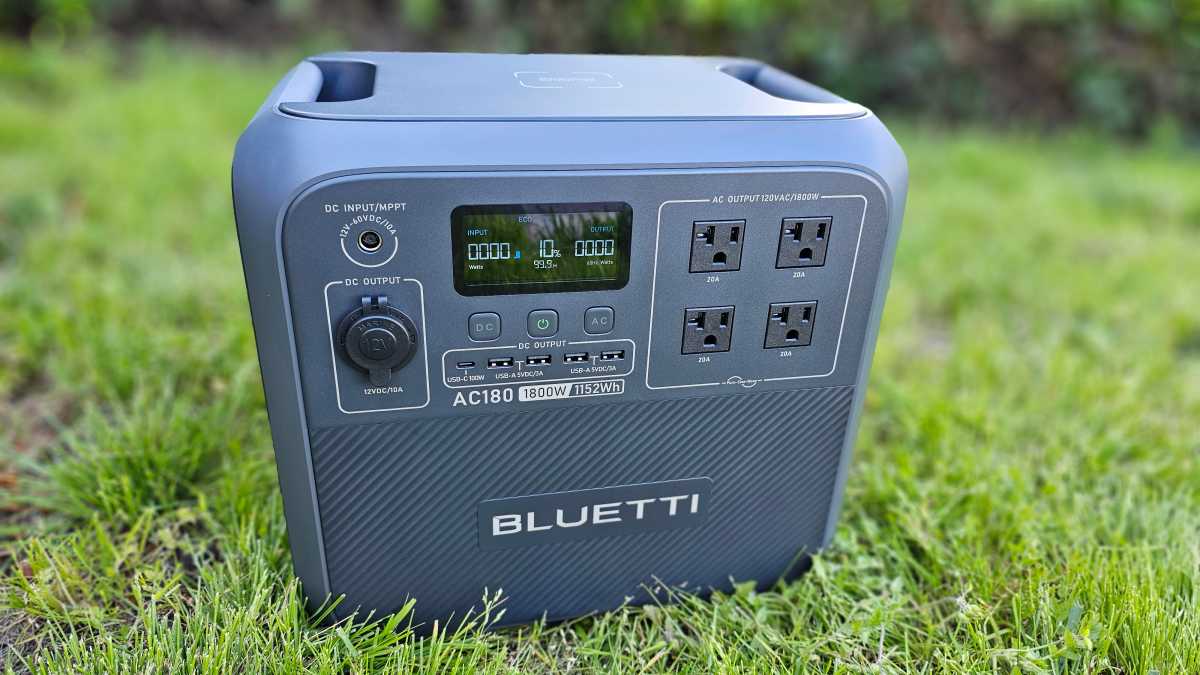 Gordon Mah Ung
Best Prices Today: Bluetti AC180