At a glance
Expert's Rating
Pros
Attractive design with significant ergonomic adjustment
Functions as Thunderbolt 4 and USB-C hub
Sharp, crisp 4K image
Cons
Limited image-quality customization
Color gamut falls short of alternatives
Overpriced
Our Verdict
The Lenovo ThinkVision P32p-30 is a sharp, crisp 4K monitor with a useful Thunderbolt 4/USB-C hub, but it's way too expensive.
Price When Reviewed
$1,075
Best Prices Today: Lenovo ThinkVision P32p-30
Office monitors are a hotly contested segment of the monitor arena. Unlike gaming and entertainment monitors, which trumpet incredible contrast and motion clarity, office monitors boast useful connectivity and adjustable ergonomic stands. The ThinkVision P32p-30 delivers both, but high pricing degrades its appeal.
Further reading: See our roundup of the best home office monitors to learn about competing products.
Lenovo ThinkVision P32p-30 specs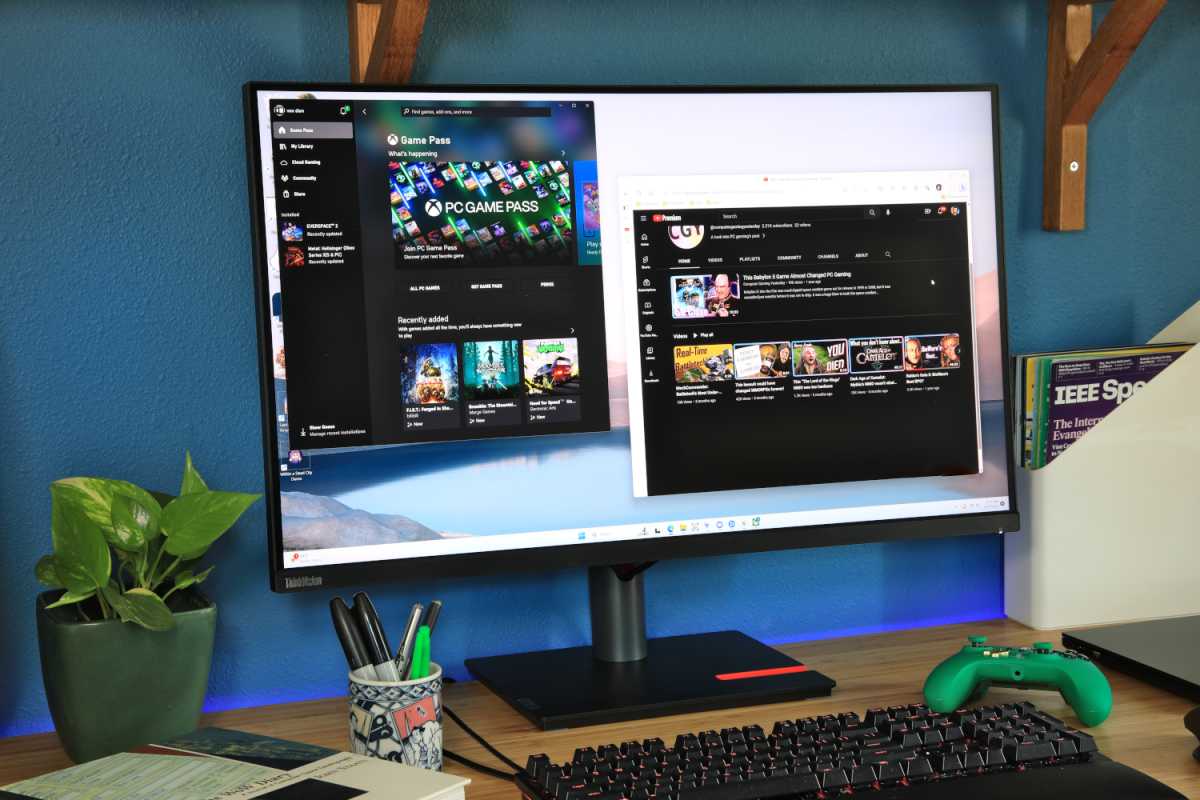 Matt Smith
The Lenovo ThinkVision P32p-30 is a high-end office productivity monitor with a 32-inch 4K panel. It also supports HDR, but it's not VESA DisplayHDR certified—which, as I'll discuss, has consequences for its HDR performance.
Display size: 32-inch 16:9 widescreen
Native resolution: 3840×2160
Panel type: IPS LCD
Refresh rate: 60Hz
Adaptive Sync: None
HDR: Yes, HDR10
Ports: 1x Thunderbolt 4/USB-C-in with 100 watts Power Delivery, 1x Thunderbolt 4/USB-C-out with 27 watts Power Delivery, 1x HDMI 2.0, 1x DisplayPort 1.4,1x audio-out, Ethernet, 1x USB-B in, 4x USB-A out
VESA mount: Yes, 100x100mm
Speakers: Yes
Price: $1,075
However, many office users care more about a monitor's added features and connectivity than its image quality. The P32p-30 has compelling perks. It supports both Thunderbolt 4 and USB-C, offers Power Delivery over two Thunderbolt 4 ports, and delivers significant downstream connectivity.
Lenovo ThinkVision P32p-30 design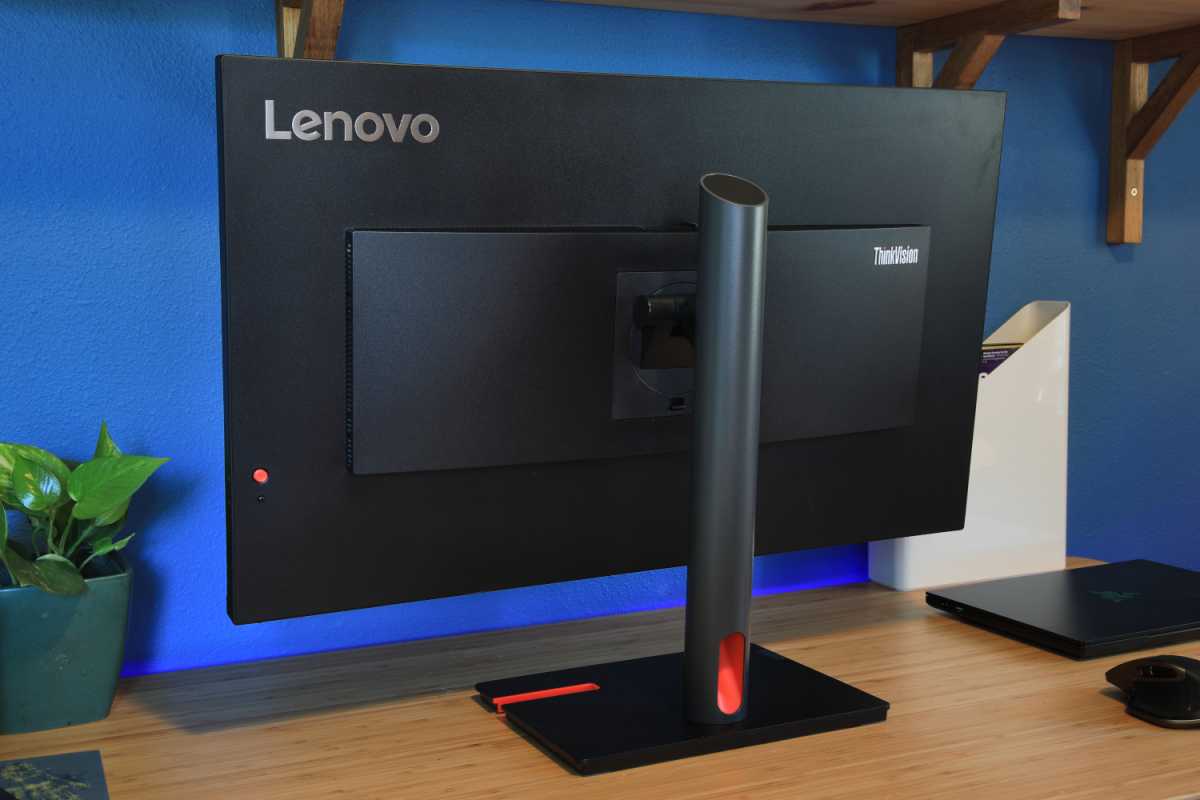 Matt Smith
The Lenovo ThinkVision P32p-30 opts for an elegant look with thin bezels along the top and sides of the monitor and a larger (but still rather slim) chin along the bottom. It's a similar story around back, where Lenovo chooses a simple, curved plastic rear panel adorned only by the Lenovo logo. The monitor looks modern but doesn't attract attention.
An ergonomic stand comes standard and adjusts for height, tilt, and swivel. It also rotates 90 degrees for use in portrait orientation. These features are typical for an office productivity monitor, but the P32p-30 offers solid flexibility with up to 155mm of height adjustment, 27 degrees of tilt, and 90 degrees of swivel. A 100x100mm VESA mount is adjustable for use with third-party monitor stands and arms, too.
In fact, the stand is the only portion of the monitor's design that stands out. It has a simple, flat-based design that doesn't take up much desk space despite the monitor's large 32-inch panel. The stand also has a small, red cut-out on its right side that can be used to hold a phone or small notebook upright. It's a small detail but, given how frequently I see a smartphone holder on modern work-from-home setups, it could prove useful.
Lenovo ThinkVision P32p-30 features and menus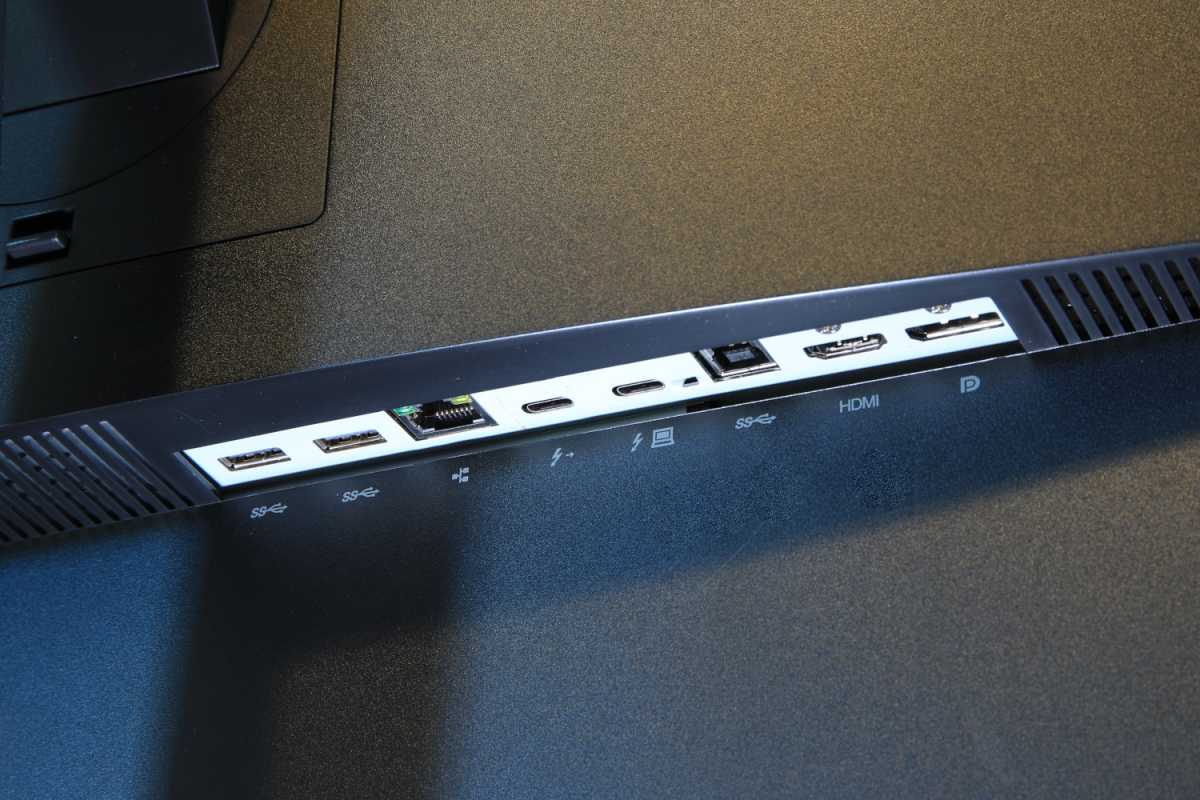 Matt Smith
The ThinkVision P32p-30 is a Thunderbolt 4 monitor and can be used as a Thunderbolt 4 or USB-C dock.
It provides one Thunderbolt 4 / USB-C and one Thunderbolt 4 / USB-C out. When the Thunderbolt 4-in is connected, it can expand a connected device's connectivity to four additional USB-A ports and a Gigabit Ethernet port. These ports can also be accessed over USB-B.
USB Power Delivery is supported, as well. The monitor can deliver 100 watts of Power Delivery over the Thunderbolt port, which is enough to handle most mid-range professional laptops. It can also provide 27 watts over Thunderbolt 4-out. That's handy if you want to pass data through to a device that requires power, such as a portable monitor or external hard drive. Many competitors only support Power Delivery over one port or, if multiple ports are supported, provide less power.
The P32p-30's connectivity is similar to the Dell U3223QE's, but with a few notable differences. Dell's alternative supports USB-C, but not Thunderbolt 4, and provides less USB Power Delivery overall. The Dell makes up for that with one additional USB-A downstream and DisplayPort-out.
mentioned in this article
Dell U3223QE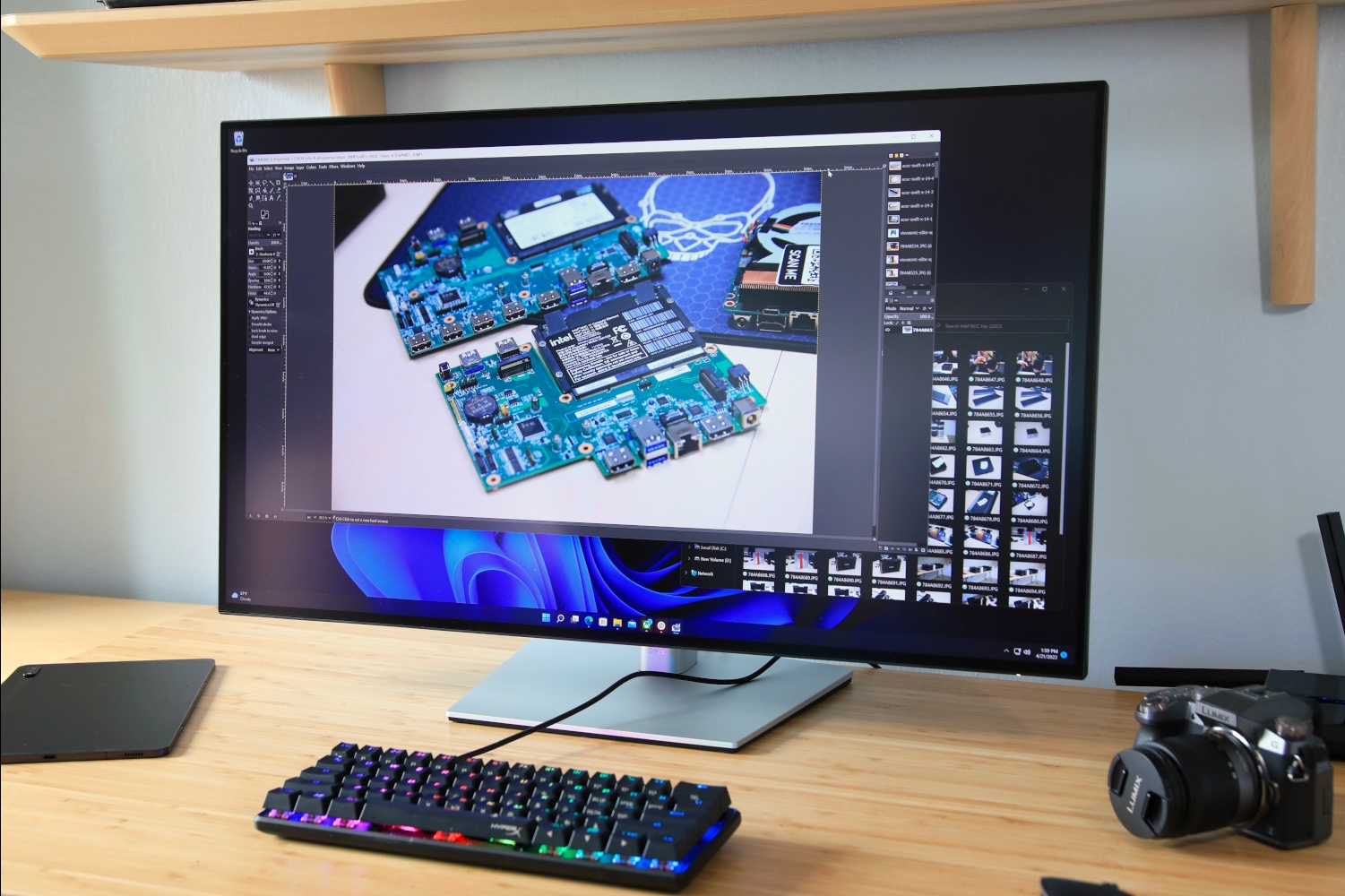 Price When Reviewed:
$1,149.99
Lenovo uses a joystick on the rear right flank to control the monitor's features and options. It's easy to access and responds quickly to input. Lenovo's menu system is solid, too, with clearly labeled options and a (relatively) large, high-contrast font.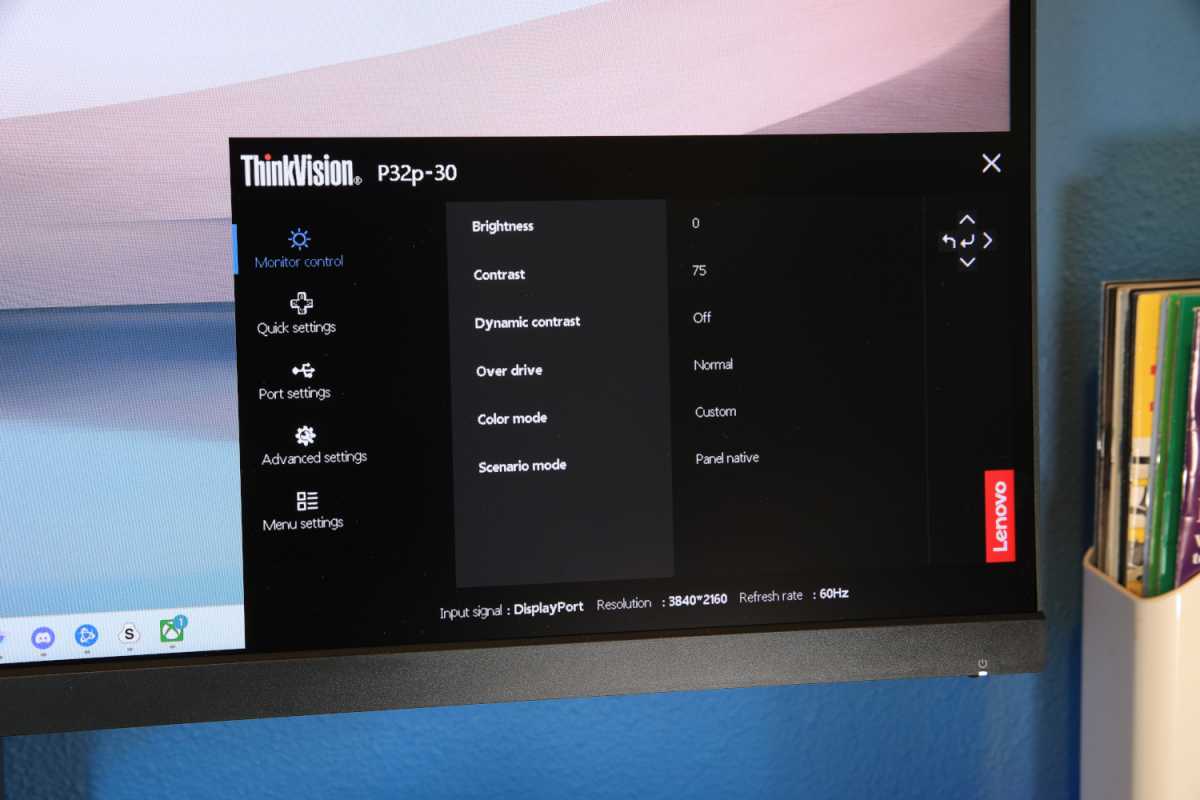 Matt Smith
Options are a bit light, however. The monitor provides several presets, which includes modes tuned for the sRGB and DCI-P3 color gamut, as well as a custom color mode with RGB customization. However, the monitor has only two color temperature presets and doesn't offer gamma customization.
The options instead focus more on office productivity. It provides a KVM switch, which makes it possible to swap between devices connected to the display when peripherals are attached to the monitor's USB ports, and a picture-by-picture mode. Speakers aren't included.
How is the Lenovo ThinkVision P32p-30's SDR image quality?
The ThinkVision P32p-30, like many office productivity monitors, is technically capable of HDR, but SDR is clearly the priority. Virtually all common productivity tasks, from spreadsheets to photography and even most digital design and art, still happens in SDR.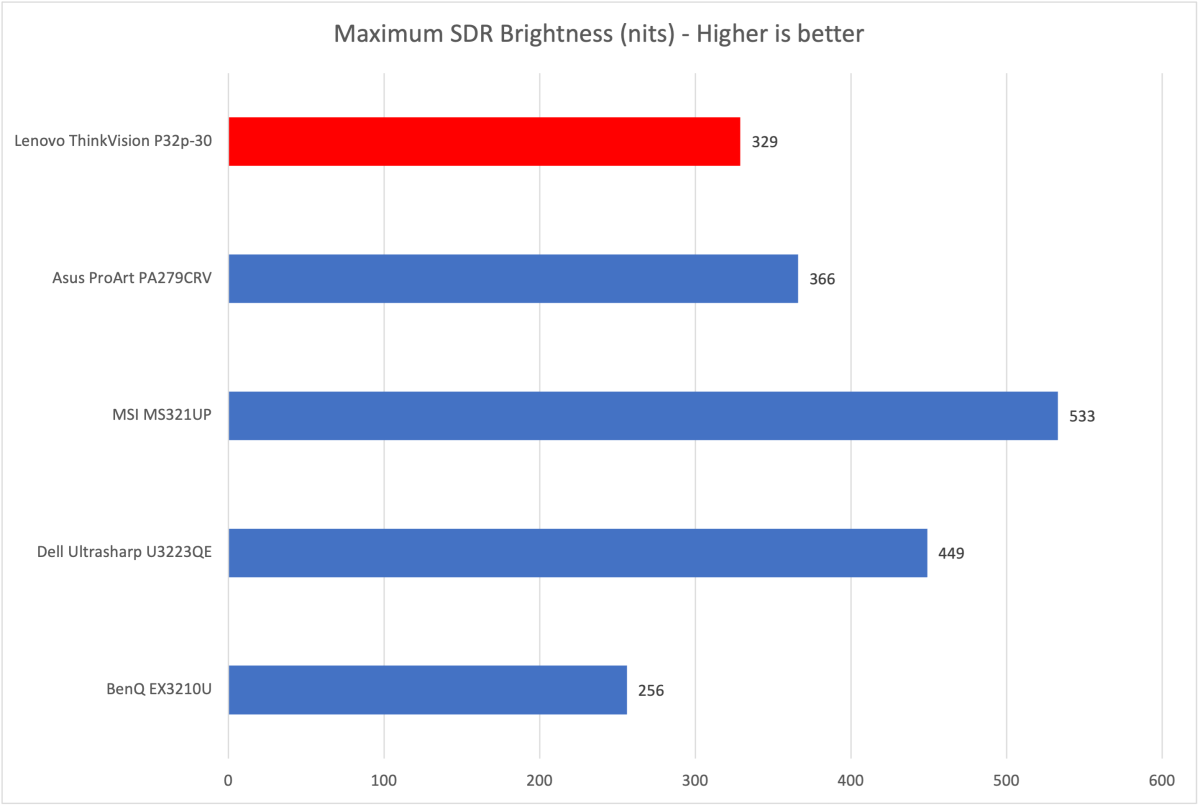 Matt Smith
Brightness comes in a bit behind the pack at a maximum of 329 nits. This, to be clear, is perfectly fine for SDR content and should hold up in most corporate and home office environments, which typically offer some form of light control. However, the ThinkVision P32p-30 might feel a bit dim in a very brightly lit office, or when used adjacent to a sunlit window. Lenovo's competitors score better and, as a result, will remain comfortable to use in brighter rooms.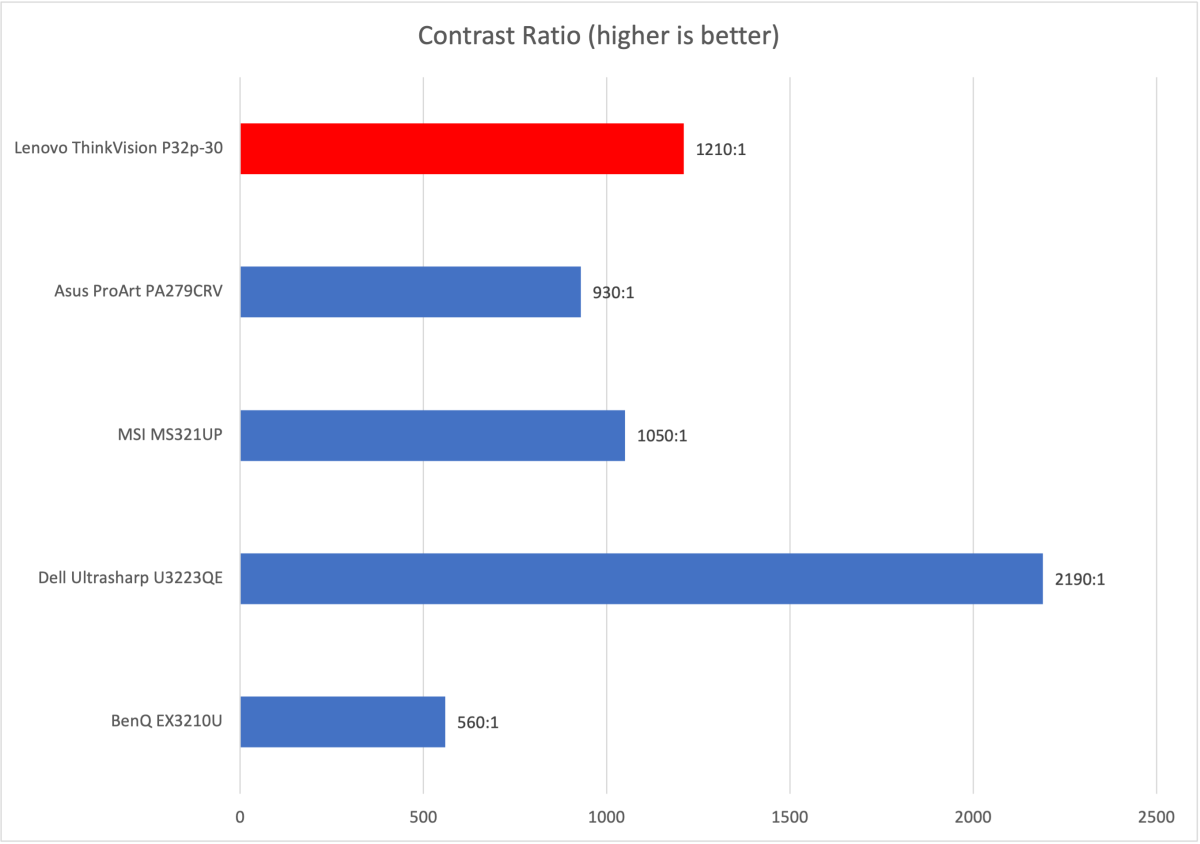 Matt Smith
While the P32p-30's brightness is so-so, it scores better in contrast with a maximum contrast ratio of 1230:1.
That is a good result for a monitor with a conventional IPS LCD panel and edge-lit backlight, and the P32p-30 outperforms most competitors. Dell's U3223QE takes the win, though, with a new IPS Black panel that can deliver a lower level of luminance in dark content.
The ThinkVision P32p-30's contrast offers a sense of dimensionality and depth that holds up best in a lit room. It does show "IPS Glow" in dark content, however, which casts a hazy gray across scenes that should appear black. This is a common problem with office monitors and can only be avoided with an upgrade to an OLED or Mini-LED display.
Matt Smith
The P32p-30's color gamut is a weakness, as it displays only 91 percent of DCI-P3 and 85 percent of AdobeRGB. That's not a bad result on the whole but compares unfavorably to most monitors in this price bracket.
This could prove a problem for content creators who need to work in a wide color gamut such as DCI-P3 or AdobeRGB, as the monitor will be unable to display a significant portion of colors in those gamuts. It also makes the P32p-30 appear less saturated and vivid than some competitors in day-to-day use. Again, it's not bad (indeed, most owners would see any reason to complain until the monitor is compared side-by-side with a competitor), but alternatives like the Dell U3223QE and Asus ProArt PA279CRV clearly beat the Lenovo.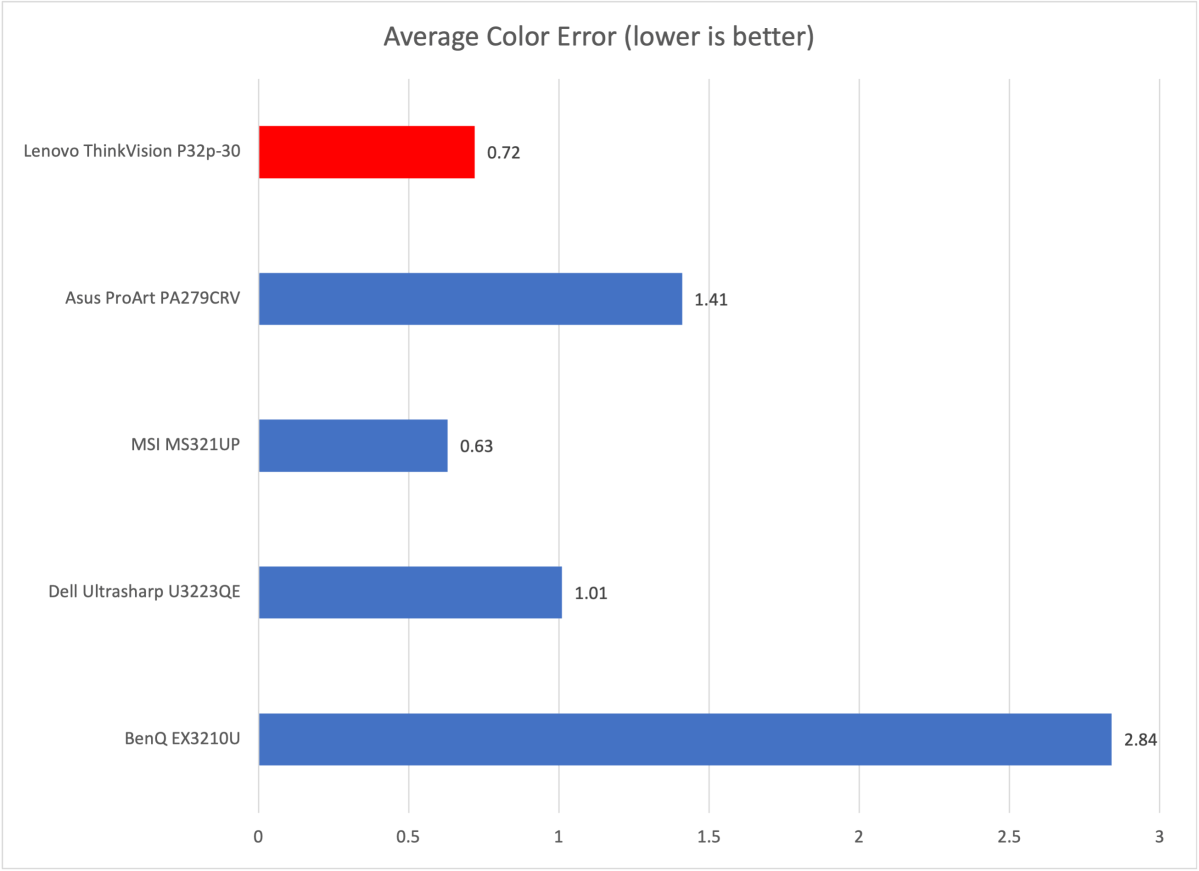 Matt Smith
While the P32p-30's color gamut is disappointing, its color accuracy holds up, delivering the second-best result in this competitive set. The monitor provides a realistic image, and content appears as its creator intended. That's important for photographers, digital artists and designers, and videographers.
The monitor also scored a gamma curve of 2.2, which is our preferred target, and a color temperature of 6600K, which is only a hair off our preference of 6500K. These scores, alongside the monitor's good color accuracy, add up to a balanced, realistic, and inviting picture that looks nice out of the box. In this sense, the P32p-30 subjectively seems to outperform its objective test results, providing a more natural and refined picture that might be expected given its modest color gamut.
Sharpness is a perk, too, as the P32p-30's resolution of 3840×2160 works out to a pixel density of 139 pixels per inch (ppi). That's much better than a 32-inch 1080p monitor, which offers only 69ppi, or a 32-inch 1440p monitor, which delivers 93ppi. The monitor's image looks extremely sharp and crisp with little to no visible pixelation around small fonts and interface elements.
The P32p-30's overall SDR image quality is good, but not remarkable. It provides a realistic, inviting picture that can handle a wide range of content well, but it's unlikely to impress.
How is the Lenovo ThinkVision P32p-30's HDR image quality?
The ThinkVision P32p-30 technically supports HDR10, but it lacks VESA DisplayHDR 400 certification, which means it can't reach a peak brightness of at least 400 nits. That agrees with my testing, which found the monitor's peak brightness was just 329 nits—a figure that didn't increase when HDR was turned on.
Even if the monitor were brighter, it would still face problems due to its relatively narrow color gamut, low contrast ratio, and lack of a dynamic backlight. Monitors with a simple edge-lit LED backlight, such as the P32p-30, are never a good choice for HDR, as they can't increase the brightness of highlights without also increasing the brightness of shadows. That's not a good recipe for HDR image quality.
How is the Lenovo ThinkVision P32p-30's motion performance?
Motion clarity is also mundane, as the ThinkVision P32p-30 has a standard 60Hz refresh rate and quotes a pixel response time no faster than four milliseconds. Those aren't impressive figures and they predictably lead to mediocre motion clarity. Most objects are visible, but significant blur obscures fine details. Small objects, like a baseball speeding across a pitch or a magic missile homing in on its target, appear as a blur streaking across the screen.
The monitor doesn't quote support for Adaptive Sync, either, so the monitor's refresh won't adjust to sync with the frame rate put out by your desktop or laptop's video solution. Gamers who don't engage V-Sync may see screen tearing or micro-stuttering, both of which reduce the fluidity of games in motion.
Is the Lenovo ThinkVision P32p-30 worth it?
The Lenovo ThinkVision P32p-30 is a competent but overpriced 4K office monitor. It nails the fundamentals of good SDR image quality with adequate brightness, contrast, and color accuracy, but its overall color performance is inferior to its competition. The inclusion of a Thunderbolt 4 / USB-C hub is nice, but many similarly priced competitors can match, or at least come close, to the P32-p30's functionality.
I can imagine situations where the P32p-30's Thunderbolt 4 support and superior USB Power Delivery, make it the right choice, but most home office users will be happier with less expensive alternatives like the Dell U3223QE and Asus ProArt PA279CRV.
Best Prices Today: Lenovo ThinkVision P32p-30