At a glance
Expert's Rating
Pros
Large and gorgeous QHD+ display
Connectivity options are decent
The build quality is exceptionally fine
Cons
CPU and GPU power is slightly wanting in this configuration compared to competitors
Keyboard layout is very conservative
It's a little too large and cumbersome
Our Verdict
The Razer Blade 18 is large, has an exceptionally fine display, and robust build quality. Plus, it's upgradability is a great future-proofing feature. Yet it slightly trails key rivals in the performance stakes and is pricier too.
Price When Reviewed
4499.99
Best Prices Today: Razer Blade 18
Razer has joined the 18-inch behemoth club with the giant Razer Blade 18 gaming laptop, whose primary market is going to be gamers seeking a desktop replacement powerful enough to get near-to desktop performance, but mobile enough to take on the road.
As one would expect, it's a premium offering, with some of its many merits including a beautiful 18-inch QHD+ display with a 240Hz refresh rate, exceptional selection of ports, very decent upgradability, and a stylish, robust design that shares all the hallmarks of its smaller equally well-made siblings.
Despite these wins, this configuration of the Blade 18 proved a tad undercooked in the performance department compared with some rivals that are also a lot cheaper. Consequently, it's likely not the best value option money can buy right now.
Looking for more options? Check out PCWorld's roundup of the best gaming laptops available right now.
Razer Blade 18: Specifications and features
On Razer's website you'll find Razer Blade models for sale with either an Intel Core i9-13950HX or Intel Core i9-13980HX. The former can be paired with your choice of Nvidia RTX 40 series video card, SSD storage unit and RAM, with prices starting at $2,899.99 for the most affordable model. There's only one model you can choose with a Core i9-13980HX. It comes with an RTX 4090 GPU, 2TB SSD storage and 64GB of RAM as standard, and has a price tag of $4,999.99.
If you're on a budget but still want a top-of-the-line RTX 4090 GPU, you'll save $500 if you choose the Core i9–13950HX configuration (my review unit's configuration) with costs $4,499.99. That's assuming you don't find a better deal on an 18-inch gaming laptop with similar specs elsewhere – which you can currently do.
For example, you can currently get an Asus ROG Strix G18 with 13th Gen Intel Core i9-13980HX processor and RTX 4080 GPU for $2,499.99 from Best Buy. Our benchmarking shows this laptop is a real performance dynamo too – even despite the step-down GPU.
That doesn't necessarily discount the Blade 18 as the best laptop for you. Its exceptional build quality, I/O options and upgradability are all very desirable features. But it's worthwhile knowing that – right now anyway – your dollar may go further if you look around. The specifications of our review unit are as follows:
CPU: Intel Core i9-13950HX
RAM: 32GB DDR5 / 5600 MHz
GPU: Nvidia GeForce RTX 4090
Display: 18-inch, QHD+ (2560 x 1600), 240Hz refresh rate, 16:10 aspect ratio, 100 percent DCI-P3 color, 3ms response time, G-Sync
Storage: 2 x 1TB PCIe Gen 4 SSD
Ports: 3 x USB-A 3.2 Gen 2, Thunderbolt 4, USB-C 3.2 Gen 2 (supports DisplayPort and power delivery), HDMI 2.1, RJ45 Ethernet port
Networking: Wi-Fi 6E (802.11ax), Bluetooth 5.3
Weight: 6.80lbs (3.10kg)
Dimensions: 0.86 x 10.84 x 15.74 inches
Battery capacity: 91Whr
Price: $4,499.99 at Razer
Razer Blade 18: Design and build
I may as well address the elephant in the room right away… last year's Razer Blade 17 was big enough for me. With a gorgeous 17-inch display, a large spacious and stunning keyboard, and chassis that I could slip into a backpack, why would I need anything bigger? Well, Razer thinks I do, hence this year's even more gigantic desktop replacement, which doesn't dwarf the Blade 17 but might be large enough to have its measure in a wrestling match or two, something I found myself actually doing with it.
That last comment was a little unfair. But seriously, its sheer largeness did make it quite cumbersome at times. It measures 0.86 x 10.84 x 15.74 inches to the Blade 17's 0.78 x 10.24 x 15.55 inches, a size differential that made the Blade 18 a little more awkward to perch on my lap or carry around the house. It's without a doubt the most desktop-bound laptop I've ever used.
Indeed, if you do happen to be balancing it on your lap and tip it to one side, you'd better hope you've got a beanbag or tower of pillows to catch your fall, because it's also very heavy. Again, not drastically more than the Blade 17, it weighs 6.80 pounds to the Blade 17's 6.6 pounds, but the weight increase has kind of pushed it to the upper limit of what a laptop should weigh.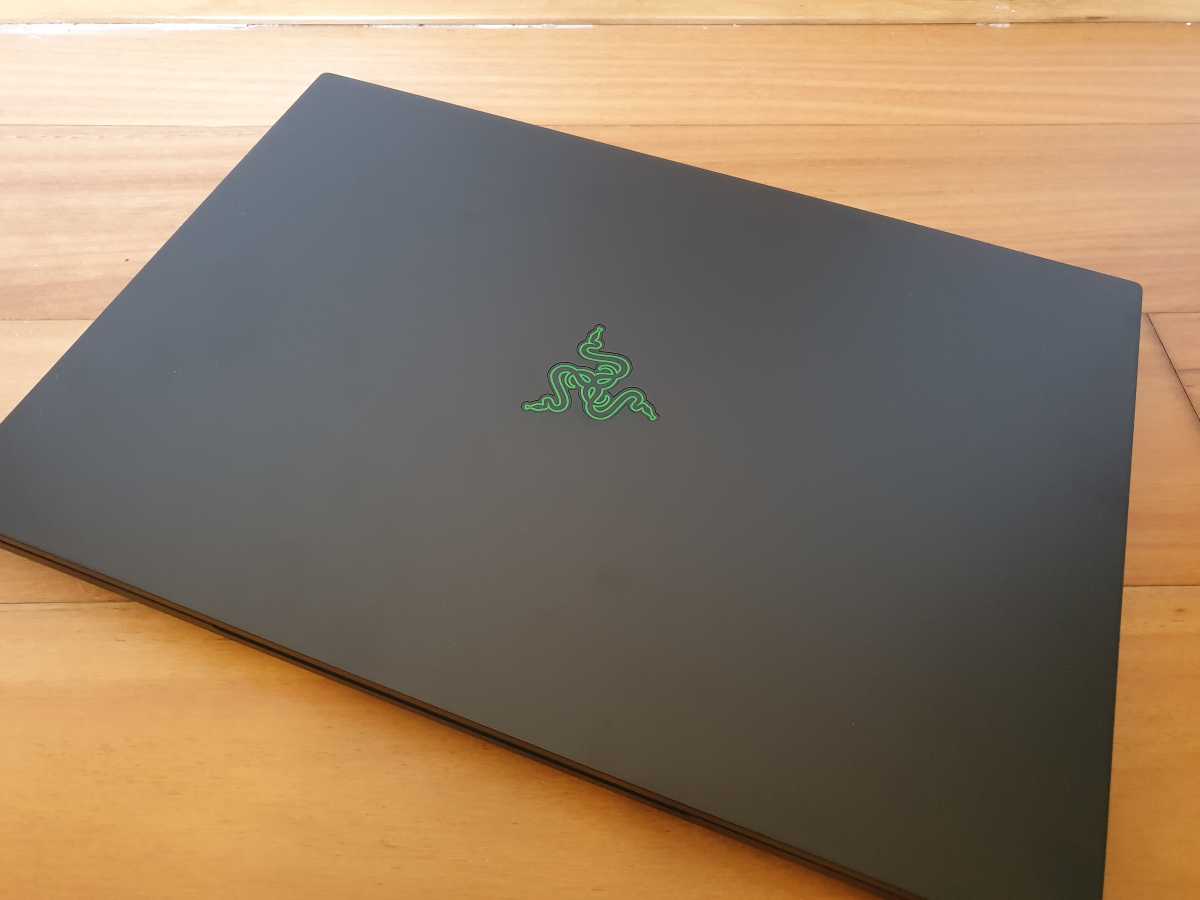 Dominic Bayley / IDG
Those little nit-picks covered, lets discuss its merits, of which it has many. First and foremost is its wondrous display which in every way is even more impressive than the Blade 17 or the Asus ROG Strix G18 for that matter. It's not only extremely large but the whole panel comes framed up with amazingly thin 4.6 mm bezels. It also towered above my 15.6-inch work laptop, it's tall 16:10 ratio panel providing a visual feast really worth savoring.
Its upgradability is another win. Razer has put a lot of thought into how you might actually want to use it like a desktop laptop. Hence inside the chassis you'll find two slots for RAM expandable to a maximum 64GB DDR5-5200MHz while two open M.2 NVMe spots allow you to upgrade to a maximum of 8TB dual sided SSD, so you can really max storage out, money permitting.
The cooling system is tailor made too, with a specially made vapor chamber that's bigger than any Razer forebear. This works continuously with a three-fan system that sounds remarkably quiet, even when AAA games are pushing the hardware's upper limits.
The laptop's styling also shows an enormous amount of flair and sophistication, as I've come to expect from Razer laptops. The slick anodized black exterior feels exceptionally smooth, and the anti-fingerprint coating works a treat dulling your fingerprints so that your device doesn't end up looking like a farcical polka-dotted accessory after playing.
Mentioned in this article…
MSI Titan GT77 HX 13V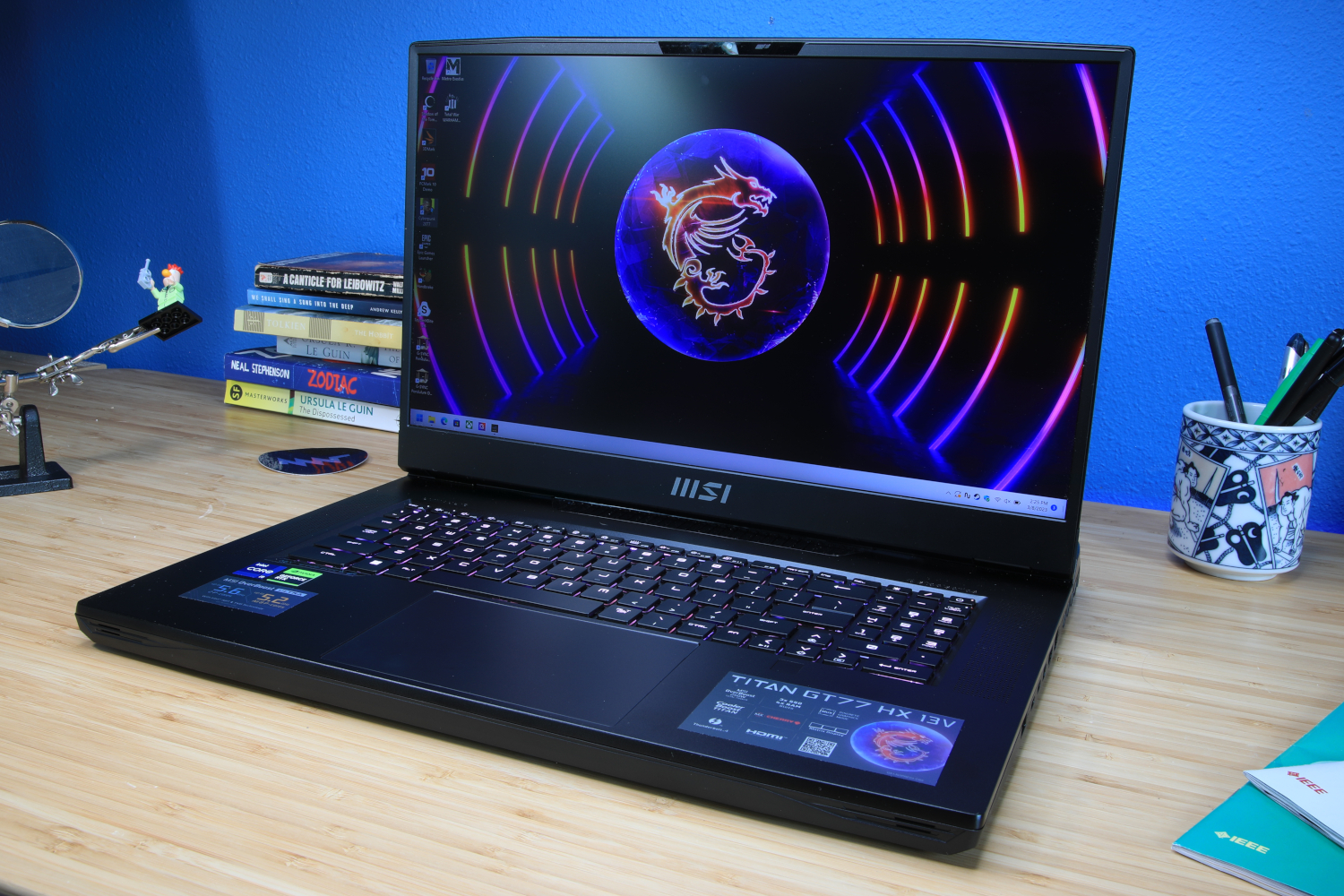 Price When Reviewed:
$5,299
That classic razer styling is backed by a respectable robustness. The whole chassis has been CNC-milled from a single slab of aluminum and it really shows – the hinges are tight and unyielding, and the base is as hard as a rock. In fact, here, if ever there was one, is a laptop that can take any number of bangs, scratches and wallops and will stand up again and again without breaking.
Razer Blade 18: Keyboard and trackpad
Like the Razer Blade 17, Razer has opted not to build the keyboard out to the full periphery of the laptop's chassis, leaving plenty of space for generous-sized speaker grilles either side. While that seemed like a lost opportunity in the Razer Blade 17, where the keyboard felt a bit cramped, in the Razer Blade 18 it really works to make everything fit well. Indeed, the larger sized keyboard is ideally proportioned, and the almost dime-sized keys feel nearly impossible to miss hit.
The key response is also balanced, being neither too mushy nor bouncy, despite the keys having quite a low vertical travel. The per-key backlighting looks brilliant too – it flashes green on start-up tantalizing you with all the possibilities you have to personalize the lighting effects and colors in Razer's Synapse 3 software.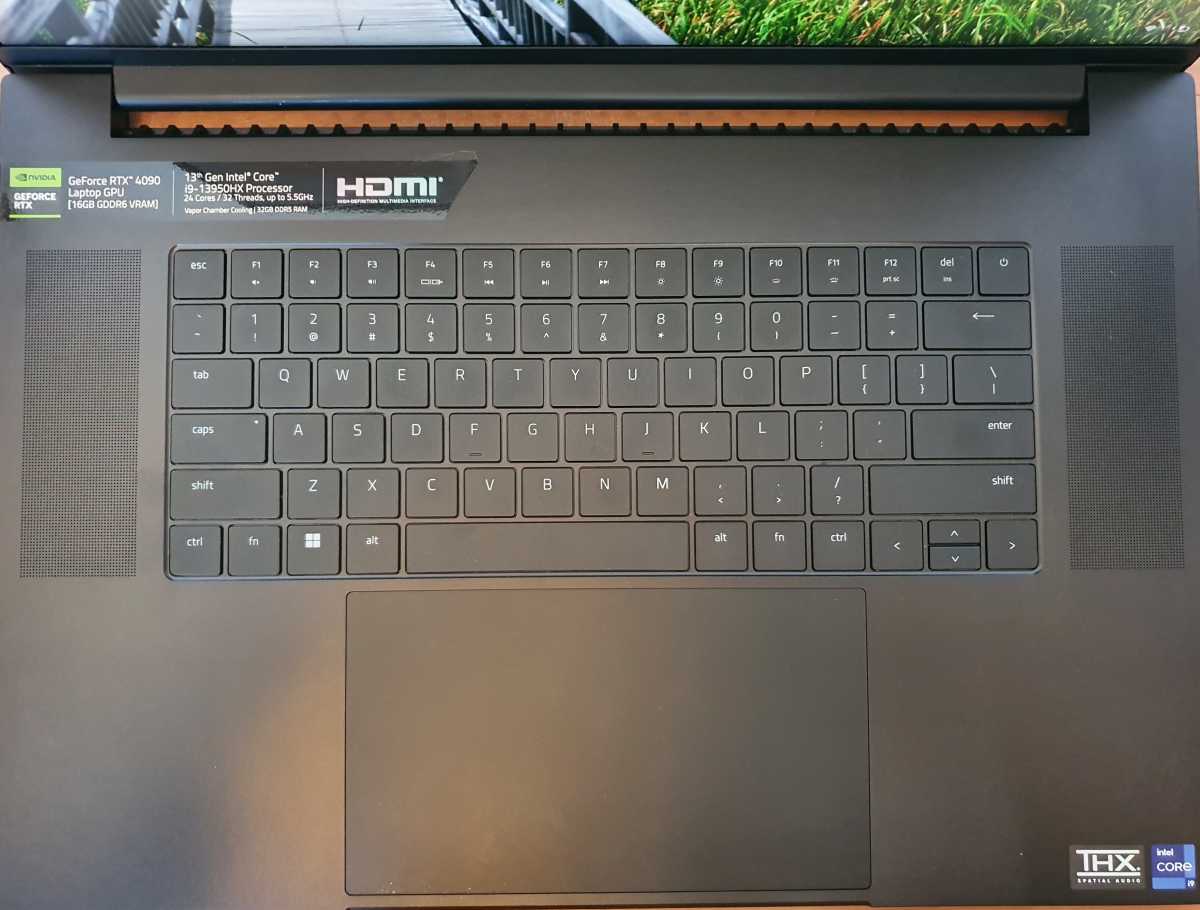 Dominic Bayley / IDG
That said, the layout is quite conservative. For one there's no media keys to speak of, which we've seen lately in some rivals. Personally, I would have easily put up with smaller keys just for a set of dedicated media controls or shortcuts to manage my audio.
Still, you do get larger-sized arrow keys than in the Blade 17, so you're now a lot less likely to accidently hit Right Shift. This is a very welcome change. The Microsoft precision trackpad is also top-notch in every way, as it's spacious, smooth, and responsive.
Razer Blade 18: Connectivity and audio
The Razer Blade 18's generous I/O options easily accommodated my must-have devices. I made short use of the three USB-A ports (that's one more than you get in the Asus ROG Strix G18) for gadgets like my Wi-Fi speaker, gaming mouse and a full-sized keyboard, but I still had a USB-C port and Thunderbolt 4 port free for my external SSD and smartphone.
On top of that, the HDMI 2.1 and Ethernet ports made my LAN gaming sessions considerably easier. They helped cut out some of the toing and froing that happens between friends before games start. For my part, I could simply just say: I've got all the ports, so just hook me up!
Mentioned in this article…
Asus ROG Strix 18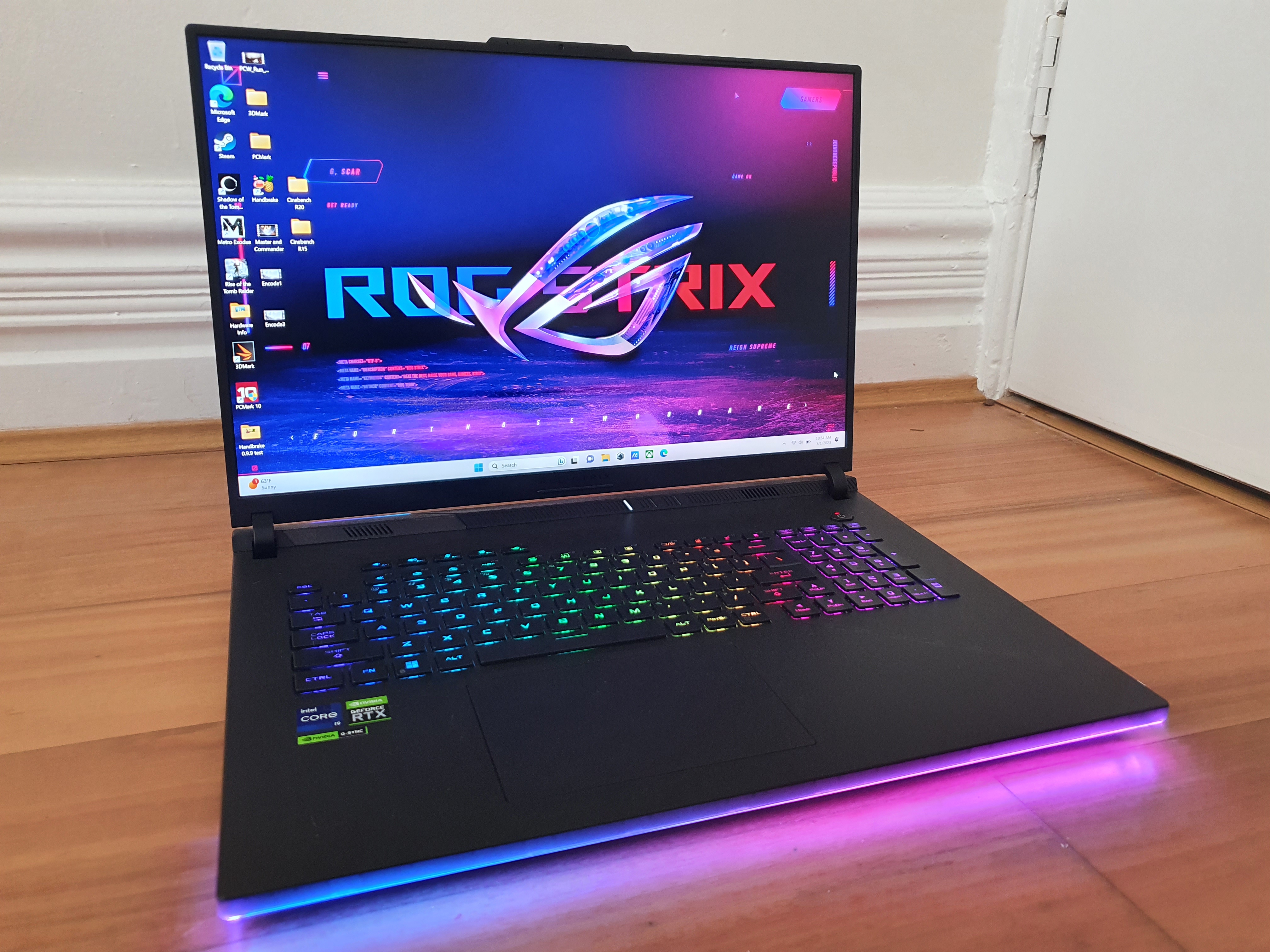 Price When Reviewed:
3899.99
The Razer Blade 18 also gets a thumbs up for its Wi-Fi 6E and Bluetooth 5.3 wireless connectivity, both these features are like a modern-day gauge for how well a premium laptop can handle the integrated connectivity demands and speed requirements gamers need to really be competitive. Consequently, it was nice to know the Blade 18 had my back with those things.
On the audio front, the Razer Blade 18 can muster a commendable sound. In fact, its six speakers (consisting of 2 tweeter and 4 woofers) produce a much more natural sound than you'll find in most other laptops. To that end, you can enjoy some very decent music, complemented nicely with clear mid tones, but also bass notes and highs that stay true, even at higher volume levels.
Razer Blade 18: Display and webcam
All Blade 18 models come with a QHD+ (2560 x 1600) display with a 240Hz refresh rate. While fans of 4K may be put off by the lack of a 4K option here, they really shouldn't be. It's a premium feature that delivers the perfect balance between detailed visuals and frame rates fast enough to keep you competitive.
Besides that, the display just looks spectacular. Notwithstanding its enormous size, which is memorable enough, just about every game I ran on it, Sniper Elite 5 and Green Hell included, all looked like they'd had graphics upgrades.
While videos and animations appear eminently smooth, the colors and darks in these moving images also look fabulous on the IPS-grade panel. The display's peak brightness level of 500 nits really does justice to how well the colors pop in stationary images, too. Although creators may still want to seek out a laptop with 1,000 nits display for professional design work or photo editing, in which they're likely to see even more brilliant colors.
Dominic Bayley / IDG
A 5MP webcam sits atop the display, which overall, does a decent job with both video and audio. You won't get the kind of images you'd expect from a Full High-Definition camera, however, and I did witness some glitching on more than one occasion. Still for a gaming laptop it's perfectly decent for simple gamer chats.
Razer Blade 18: CPU performance
Having already reviewed a close 18-inch competitor, the Asus ROG Strix G18, the question begged: Could the Razer outperform this performance juggernaut? A good deal of testing aimed to find out just that and the result was kind of surprising.
Consequently, I sized up my Razer Blade's Core i9-13950HX CPU against those from the Strix but also from another 18-inch behemoth, the MSI Titan GT77. These are both strong performers, each packing Intel i9-13980HX processors, the slightly zippier cousin to my laptop's CPU. For the actual benchmarking, I ran two standard tests, Maxon Cinebench's Multi-Threaded benchmark and a bespoke test that utilized the free HandBrake utility.
In the Cinebench benchmark, the Razer Blade 18 placed third, considerably behind its two 18-inch rivals. Even so, this result proves its suitability for a range of CPU-intensive tasks like AAA gaming and video editing or encoding. Although, it must be said… it's clearly no match for the Strix or the Titan when it comes to such tasks, both laptops almost doubling the Blade 18's score.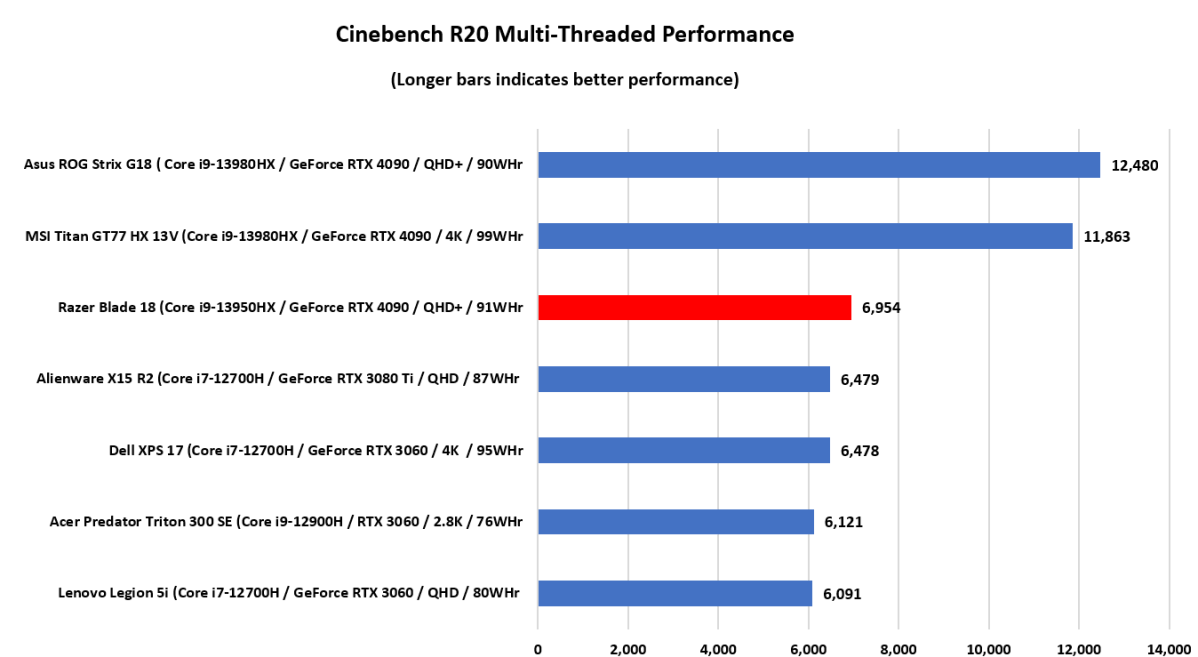 Dominic Bayley / IDG
The result of the HandBrake test is even less flattering. This CPU-intensive test is like a sprint to the finish line showing how well our laptop can keep thermals in check before it needs to throttle performance. While the Blade 18 handled this task with passable performance, once again it was seriously outclassed by both of its main competitors, as well as a field of older and less powerful laptops.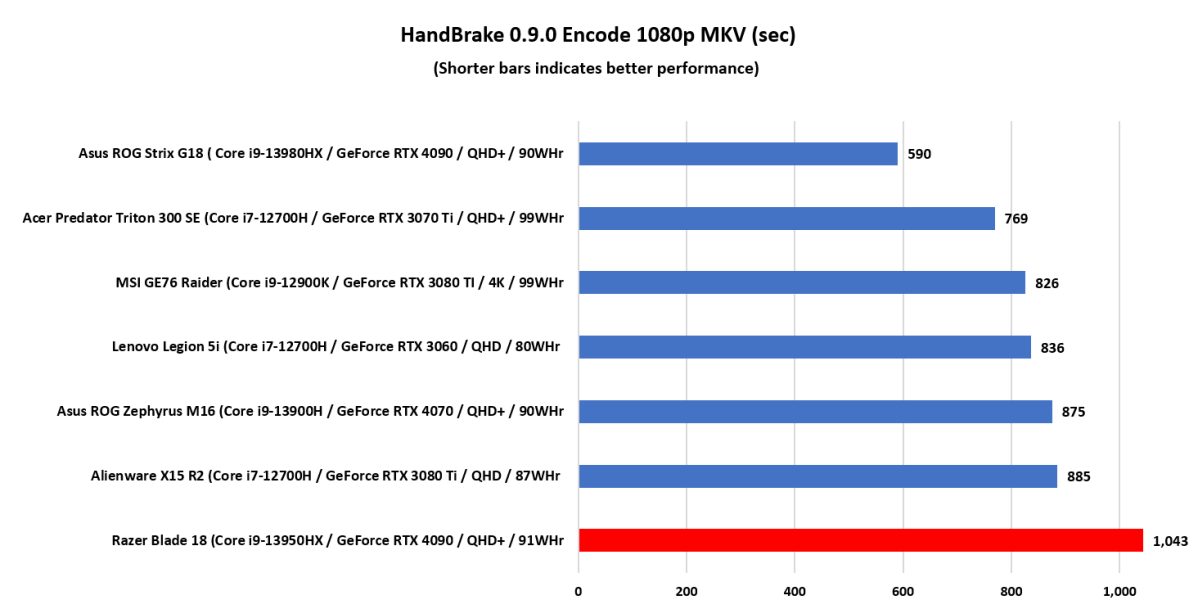 Dominic Bayley / IDG
What do these results mean? Put simply, they imply the Razer Blade 18's CPU performance, at least in this configuration, is a little off the pace of where it should be. While some performance differential was to be expected between our laptop and the i9-13980HX carrying 18-inch rivals, it really should have wiped the floor with the majority of the older laptops in the field.
As I mentioned earlier, you can buy the Blade 18 with a more powerful i9-13980HX CPU, which although we didn't get to test it out this time may have performed better. But doing so will cost an extra $500. Considering this model with an i9-13950HX and an RTX 4090 already costs an arm and a leg, any extra cost is enough to make even the toughest gamers wince.
Razer Blade 18: Gaming performance
As well as packing the top of the line Nvidia mobile RTX 4090 GPU in my review unit, Razer has tuned its Total Graphics Power (TGP) to the maximum 175-watt rate, which made me very keen to see just what it was capable of.
I've been lucky enough to witness the raw power of the RTX 4090 in quite a few laptops this year and there's no doubting its prowess. With 76 ray-tracing cores being one of its gun features, it's undoubtedly a dream card for gamers with pockets deep enough to get one and entirely suitable for the latest AAA games. Accordingly, here I was more concerned about getting a sense of how well the GPU could perform in the Razer Blade 18 than proving its performance chops.
To that end, I ran the 3DMark Time Spy benchmark. As you can see in the graph below, the Razer Blade 18 trailed the Strix and Titan in the Overall score category. However, it still outperformed a handful of laptops with older Nvidia RTX 30 Series GPUs. This result proves the Razer's GPU is highly adept at handling the most demanding graphical tasks.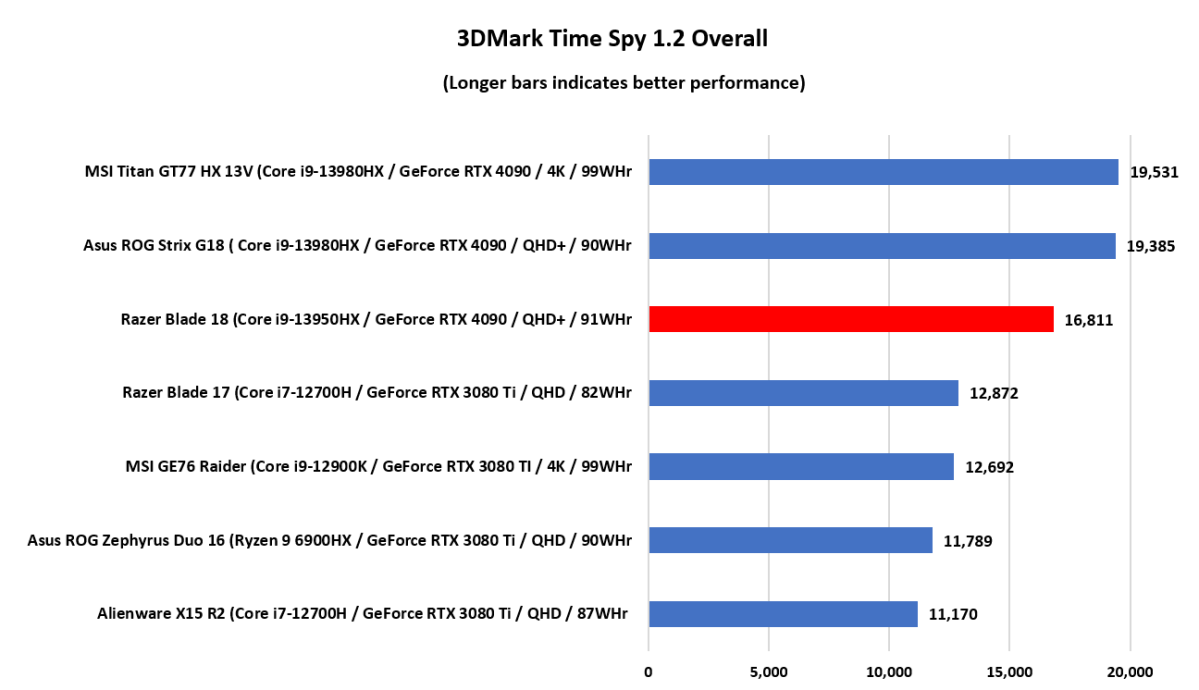 Dominic Bayley / IDG
Let's move into the gaming benchmarks. During the Shadow of the Tomb Raider benchmark, the Razer Blade 18 fared somewhat better, this time defeating the MSI Titan, but placing slightly behind the Strix G18. Its score of 179 frames per second is respectable.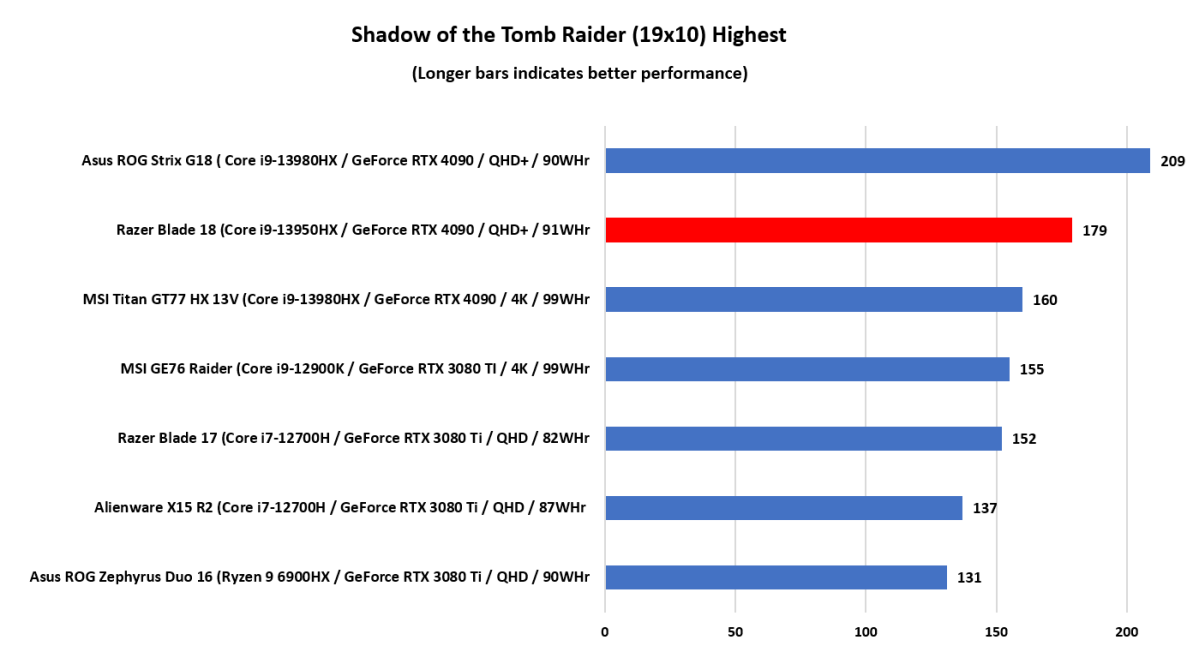 Dominic Bayley / IDG
Our Rise of the Tomb Raider gaming benchmark result is consistent with the above result. Here, the Razer Blade 18 outclassed the MSI Titan yet again but couldn't quite keep up with the Strix G18's pace.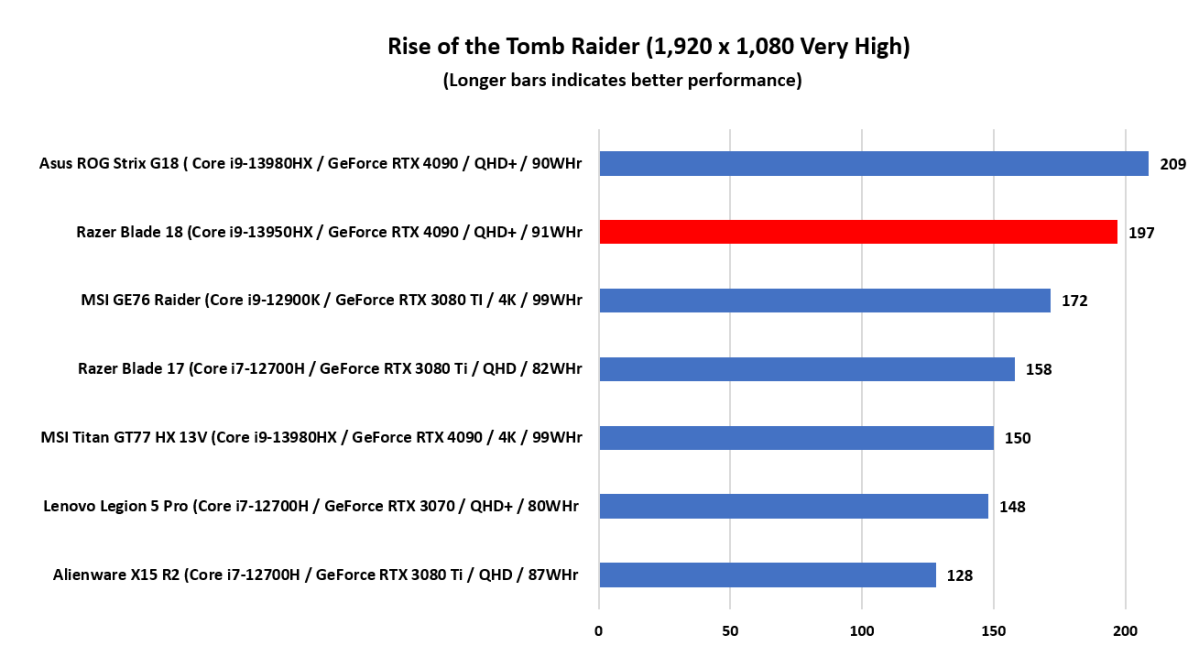 Dominic Bayley / IDG
There's no denying what we see here is mighty GPU performance and frame rates that any self-respecting gamer would be happy to have. The big question is… can you get better performance elsewhere and at a cheaper price? Unfortunately, the answer to that is… yes. As mentioned earlier, one example is the Strix G18 highlighted in our performance graphs, which costs just $2,499.99. That's a whopping $2,000 cheaper.
Even if the Razer is the superior option when it comes to build quality, a price differential like that is hard to resist. That's the biggest letdown with the Blade 18. It's not that the performance is all that bad, but that the price just doesn't match performance expectations, which are always high for desktop replacements for obvious reasons.
Razer Blade 18: Battery performance
To test the battery, we ran a 4K Hollywood movie set to repeat with the sound switched down to 50 percent and a cheap pair of headphones plugged in to manage the noise. Wi-Fi was switched to Airplane Mode while the keyboard backlighting was disabled for consistency with our other tests. The generated graph shows the time the 91 WHr battery ran out of juice, which was approximately six hours.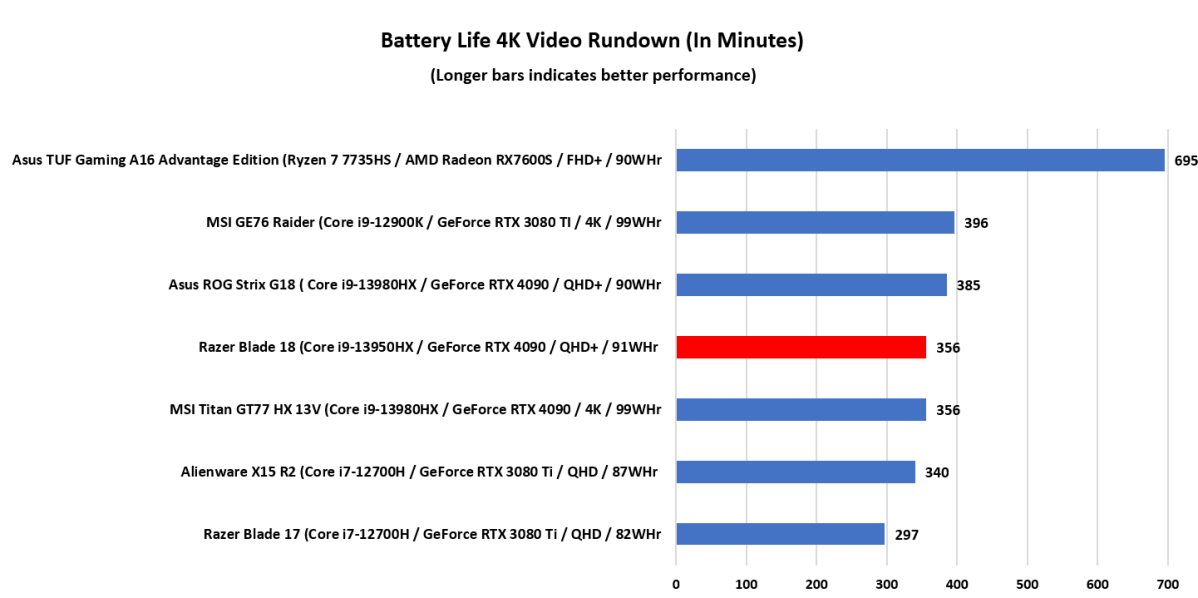 Dominic Bayley / IDG
That's a fairly average result. You can expect just three hours from the Blade 18 if you're gaming unplugged after charging the laptop to full capacity. That's approximately half the time of the Asus TUF Gaming A16, whose exceptional battery life is closer to what you'd expect a productivity laptop to have.
Razer Blade 18: Should you buy it?
The Blade 18 lets you personalize your build from the get-go, enjoy the latest high-end visuals on a huge and gorgeous 18-inch 16:10 display, and gives you the option to upgrade parts of your rig down the track. Yet, regardless the pros, one big factor is hard to overlook. Despite its high-end hardware, our performance results show it to be a little under cooked for the price being asked, which is $4,499.99. Consequently, if you have the money to shell out for the model with the zippier Intel i9-13980HX processor, you're likely to get more bang for buck from that. Otherwise, you should probably look around for a better deal.
Best Prices Today: Razer Blade 18