Project Planning and Coordination
Of course, collaboration isn't limited to single documents. Most groups come together to work on one or more complex projects, and keeping everyone coordinated and on task can be a challenge.
Online workgroup and project management applications aim to simplify this process, allowing tasks to be assigned or claimed, work-in-progress to be shared, and progress toward milestones and ultimate goals to be tracked.
Many of these tools have whiteboards, conferencing and file storage built in to keep as much of the team's work in one place as possible. For quick-and-dirty collaboration, such as throwing together a presentation on the fly at a conference or for a sudden meeting, these added features can get in the way; you might be better off using a "mono-tasker" like the brainstorming or document-creation services above.
But for long-term team management, having everything in one interface can be worth the learning curve that comes with the more-complex tools below.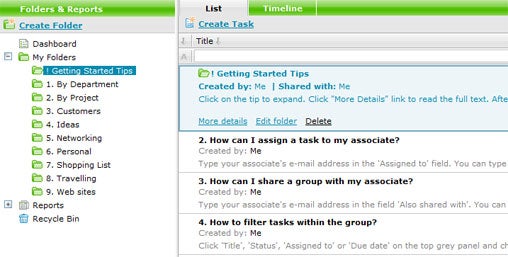 Wrike is a project management workspace that is distinguished by its e-mail-centric model -- projects and tasks can be added and shared by simply CC'ing e-mails with tasks to your Wrike account. Wrike uses folders to hierarchically arrange projects and subprojects, resources, reference materials or anything else you want to add.
Pricing is a little tricky; the rate depends on whether you want a user to be able to create, edit or assign tasks. For example, managers -- who can control task versions, create templates, build task dependencies and run reports -- cost $19.95 each per month; collaborators -- who can create and edit tasks, and view and update project plans -- cost $9.95 each per month. (This could get expensive for long projects with multiple team members, so in those situations you might want to consider one of the other project managers below.)

Somewhat more traditional than Wrike, WizeHive from PivotPoint Software allows you to sort projects and tasks into various workspaces, each with multiple pages, providing a great degree of granularity in how you view and act on tasks. Paid accounts start at $9 per month, though the free account offers plenty of space for small teams with only a few projects (1GB of storage for up to 15 pages or projects).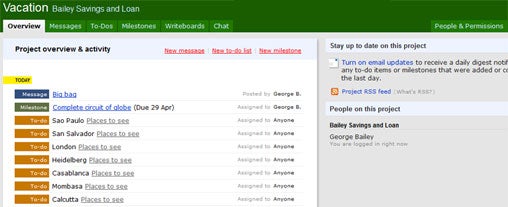 37signals' Basecamp has become something of a standard in project management apps, which among other things means it integrates with many other services and tools, including invoicing applications, time trackers, contact managers and reporting tools. For $24 a month, you can manage up to 15 projects and store up to 5GB of files -- plenty for most small teams.
The features are basic -- task lists, file sharing, and message boards -- but are incredibly easy to use, which makes Basecamp among the most intuitive project management apps out there.
Staying Connected
While we're used to public social networking services like Twitter and Facebook taking time away from our work, there's no denying that they can foster strong relationships with the people we friend or follow.
Private social networking applications, which can set up networks for small groups or teams, allow members to share files, Web pages and other information, as well as status updates so that everyone knows who's working on what and how far along they are. Used with the kind of fervor people bring to their nonwork social networking, they can be very useful tools for collaboration.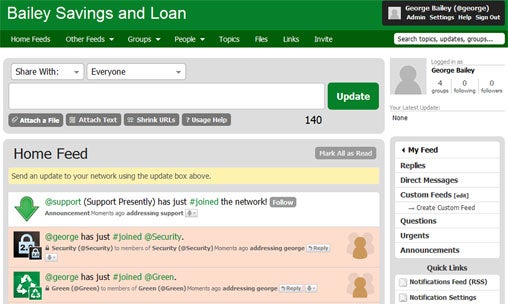 Intridea's Present.ly allows you to create a private Twitter-like update service in seconds, for free. You can set the privacy level by limiting users to people you invite or to people with a "yourcompany.com" e-mail address. Instead of Twitter's "Lists," Present.ly has "Groups," which let you lump together posts related to a specific project or team.
Present.ly supports the attachment of inline images, as well as documents and other files for easy sharing. Apps for the Palm Pre, Android phones, BlackBerries and the iPhone make it easy to read or post updates from anywhere.

Wiggio incorporates e-mail, text messaging, and online chat and conferencing with a Facebook-like stream of Web updates and a shared calendar. Users can set up both online meetings and offline events. They can also invite other users, share files or send mass messages to all users or members of specific subgroups using e-mail, text or voice mail. A built-in file editor allows you to collaborate on documents and track revisions from other users.
Wiggio is free; the developers plan to add advertising in the future to support the site.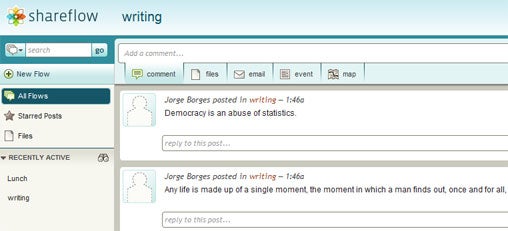 Zenbe's Shareflow is a Facebook-like stream of posts and shared files. Users create a new "flow" for each topic or project and can upload and preview files, as well as comment back and forth. Each flow has its own unique e-mail address so posts or files can be added from outside the application itself.
Shareflow accounts are priced according to the amount of storage: Free accounts have 1GB of storage, and paid accounts start at $20 a month for 5GB.
Google Wave: The Next Wave in Collaboration?
The elephant in the collaboration room is Google Wave, which was launched last year to massive fanfare -- and more than a little confusion. As reviewer Preston Gralla put it in his October 2009 review, "Google Wave is one of those services that's nearly impossible to describe to those who haven't used it."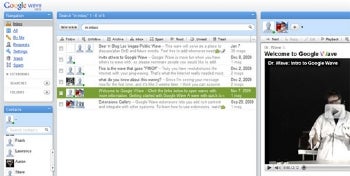 Google intends Wave to be the collaboration tool of the future, integrating document creation, e-mail and chat into a single interface. And Wave's open plug-in architecture allows third-party developers to add features like teleconferencing, mapping and polling.
Early users were enthusiastic about features such as real-time chat within the document itself, which allows full comment threads to be placed directly into the parts of a document that they relate to. Conference-goers have also had some success using Wave for real-time note-taking and sharing.
After months of invitation-only beta testing, Wave is now open to the public, and anyone can use it for free. Although Google promises that Wave is now faster, more stable and easier to use than in earlier releases, it is not yet refined or tested enough for critical use in business settings. Nevertheless, I'm mentioning it here because it could turn out to be a key collaboration tool down the road.
In the meantime, don't pass up the opportunity to make use of one -- or several -- of the other great collaboration tools in this roundup.
Logan Kugler is a frequent Computerworld contributor. His most recent article was "10 essential BlackBerry apps for travel."
This story, "Online Collaboration on the Cheap: 20 Free and Low-Cost Tools" was originally published by Computerworld.