Back in 2015, US company Valve had already released gaming systems with Linux. At that time, Steam OS was based on Debian and the hardware was built by companies such as Dell or Alienware. Despite the flexible price range between $400 and $6,000 US dollars, the idea turned into a financial flop. In addition, there was a lack of games and a functioning compatibility layer like Proton. The desktop mode was also hardly usable, but now it's different.
The Steam Deck is a mobile gaming console with PC hardware and Linux in the background. If performance is sufficient enough for the 6,000 games that are certified as "verified" or "playable" for the console, then that should be enough for a desktop replacement.
Better utilize your Steam Deck's features with these 22 useful tips and tricks.
Steam OS is based on Arch Linux
Valve has learned from past mistakes. Not only is the Steam Deck a mobile gaming device, but Steam-OS 3 is now based on Arch Linux. Similar to Manjaro, this will not be a rolling release, but will be delivered periodically.
The distribution benefits from faster releases of drivers and graphics APIs compared to the old Debian base. However, the system software with Linux kernel 5.13 (currently 6.1), KDE Plasma 5.26 (currently 5.27) and Qt toolkit 5.15 (currently 6.4) could be a bit more up-to-date. Thanks to Proton, games developed for Windows run better under Linux than with Wine alone. Desktop mode is also definitely usable now.
Steam Deck: Hardware and benchmarks
The AMD APU used is based on the Zen 2 and RDNA 2 architecture and is supposed to deliver the performance of a Ryzen of the 3000 series or a Radeon of the RX 6000 series. The quad-core CPU with eight threads clocks between 2.5 and 3.5 GHz. The working memory with 16 GB low-power DDR5 is also good standard. This equipment is identical for all deck variants.
The Geekbench 6 benchmark attests a single-core value of 1,191 for the most expensive Steam Deck version with NVME and 4,209 for multi-core. That's not exorbitant, but still more than many used laptop and thus absolutely suitable for desktop use.
The various models have different display glass (the 512 GB version is anti-reflective and is supposed to deliver better color values) and hard drives: 64 GB eMMC, 256 GB NVMe SSD, and 512 GB NVMe SSD. All of them can be expanded with a micro SD card.
Steam Deck doesn't come with a webcam, but you can still do voice conferencing thanks to its stereo microphone and speakers. The loudspeakers sound rather thin with music, but the speech comprehension is good.
Nevertheless, a headset via Bluetooth, jack plug, or USB adapter should be used. That's because the fan is clearly audible due to the close ventilation slots on the integrated microphones. In addition, the built-in Delta brand fan tends to whine.
Docking station for desktop use
Amazon
Peripherals can be connected via the USB-C port using an adapter, hub, or a suitable docking station. This turns the Steam Deck into a second monitor. The Steam Deck Dock offers three USB 3.1 ports, Gigabit Ethernet, Displayport 1.4, HDMI 2.0, and thus supports a maximum of two external monitors up to 4K at 60 Hz or 1440p at 120 Hz. An external monitor is mandatory for desktop operation in any case.
Looking to pick up a new monitor? Check out PCWorld's roundup of the best monitors available right now.
Without a connected power supply, the battery runs out of juice after two to eight hours, depending on use. In practice, sooner rather than later. Generally, there are no problems with everyday programs such as Libre Office, Firefox, Thunderbird, Gimp, Kdenlive, Darktable, Obsidian, and Steam. All the typical desktop programs can be installed and should run flawlessly.
Memory and access times are on external micro SD cards and hard drives without noticeable delay.
Steam-OS 3 (or Steam-Deck-OS) relies on the desktop KDE and additional programs are installed by default only as Flatpak via the App Store Discover or in the terminal. This is especially worthwhile for users who want to use more than the pre-installed minimum package in the terminal. The Steam package sources, however, lack several popular programs such as the info tool inxi. In problem cases or for installing a larger hard drive, there is a "SteamOS Recovery-ISO" along with instructions.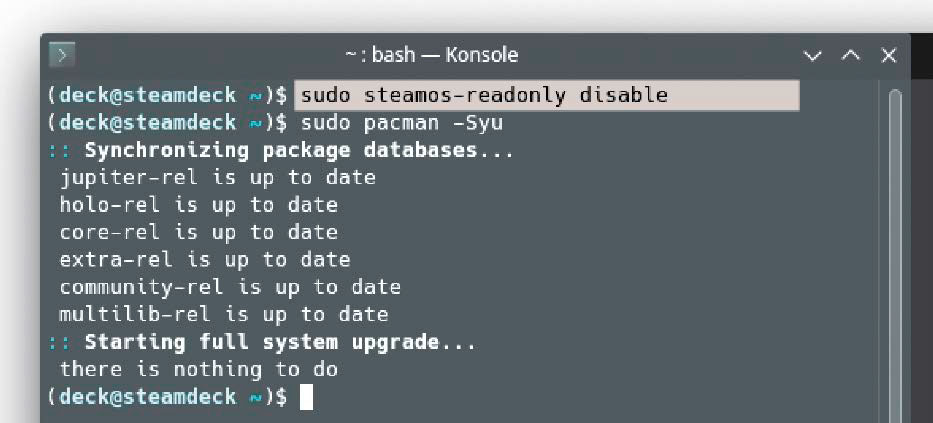 IDG
Security shortcomings: Valve only offers a pin function as a security option, which becomes active on startup or when waking up from standby and activating desktop mode. A removed hard drive or SD card with a home folder can therefore be read out without any problems.
A complete encryption of the file system (Full Disk Encryption) is only possible manually. In this case, however, a keyboard must always be available when the console is restarted. For sensitive data beyond the usage data of browser and file history, solutions such as Veracrypt should be considered.
Passwords for root and for the default user "deck" are not assigned and should therefore be created at the first desktop start with password in the terminal for the user account and with sudo su followed by passwd for root.
Steam Deck: Gaming and all-round PC?
IDG
The Steam Deck is a versatile piece of hardware. Valve remains a profit-oriented corporation and wants to lure users into the Steam universe yet Valve shows how to do it right with acceptable prices, interchangeable hardware, official spare parts, third-party products, and Linux as a free base with accessible desktop mode.
The performance is always sufficient for everyday tasks. With a docking station, it becomes a usable companion for browsing, streaming, mail, text, graphics, photo, audio, and video editing. In rare cases, the system lags behind the inputs for a second or two, but catches itself again.
The Steam Deck can easily replace a stationary laptop. Only the partly outdated software base and the lack of encryption options mar the overall positive impression. At least a new kernel is to be introduced with Steam OS 3.5.
This article, which originally appeared on PCWorld's sister site PCWelt, was translated from German to English.