Venerable mobile office suite Quickoffice has landed on the iPad. Quickoffice Connect for iPad carries an introductory price of $9.99, does Microsoft Office-compatible word processing and spreadsheets, and sports a user interface designed with the iPad in mind. (For instance, if you touch and hold the right side of a document, you get thumbnails of all the pages.)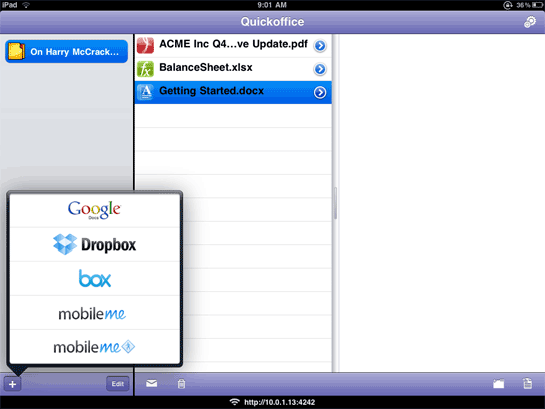 It also has built-in support for document sharing via Google Docs, Dropbox, Box.net, and Mobile Me, plus simple file transfers to and from your computer over Wi-Fi. (Click on the images to enlarge the screen shots.)
It's nice to see Quickoffice on the iPad. But for now, traditional archrival Documents to Go, which arrived on the iPad on June 1, is a better overall bet: Dataviz's product has more of the features I expect to see in an office suite, including numbered lists and a basic presentation editor (Quickoffice can display but not edit PowerPoint files). It also has search features both within documents and in its file manager, a capability that Quickoffice could really use. And it supports the same file-sharing services as Quickoffice and adds SugarSync.
Then there are Apple's own iWork apps -- Pages, Numbers, and Keynote, sold separately at $9.99 a pop. In multiple respects, they trump both Quickoffice and Documents to Go, with some of the best user interfaces on any iPad apps to date, full-blown editing features like styles and image handling, and much richer presentation support. But the file compatibility situation is truly miserable. It's a hassle to get documents in and out of the iPad -- and when I've tried to do so, the apps have frequently munged the formatting or refused to open external documents, period.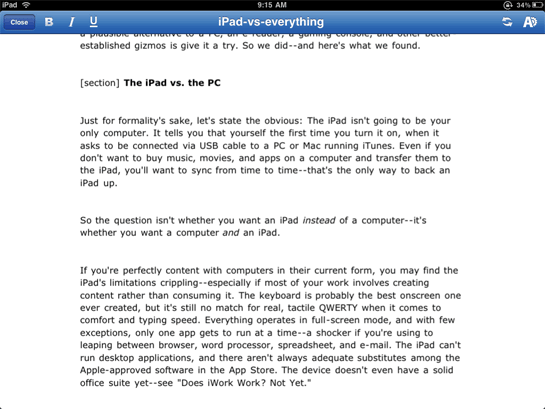 The iPad's potential to be a terrific business productivity tool is immense -- but it'll be fundamentally hobbled until it has at least one well-rounded and capable office suite that makes dealing with Microsoft Office files a cakewalk. Most of the features it needs are already here; they just happen to be scattered among three different suites.
I hope that Quickoffice, Dataviz, and Apple are all unsatisfied with their current products, and have more ambitious versions in the works. The best situation for iPad users by far would be if there were three solid office suites to choose from...
This story, "Wanted: The Perfect iPad Office Suite" was originally published by Technologizer.