At a glance
Expert's Rating
Pros
The solid top back is comfortable and stylish
Its 26,000 DPI sensor can target at lightning speeds
Bluetooth functionality makes it one of the most versatile esports mice you can get
Cons
The compact buttons can feel a bit cramped at times
There's just the one RGB zone to play with
It's more expensive than its predecessor
Our Verdict
The HyperX Pulsefire Haste 2 Wireless features a lighting-fast 26,000 DPI sensor, Bluetooth and 2.4GHz wireless connectivity, as well a dedicated DPI switcher, and still manages to be lighter and more affordable than some rivals. That makes it an outstanding choice for discerning gamers.
Best Prices Today: HyperX Pulsefire Haste 2 Wireless
The HyperX Pulsefire Haste Wireless really impressed me when it came out. Budget-conscious esports players could scarcely find a better mouse—with its pinpoint accuracy, ultra-light weight, and a price tag so reasonable you could barely believe the value, it was not only suitably primed to cross swords with performance goliaths in competitive matches but wouldn't make much of a dint in your tournament winnings either.
Based on that history, it was with bated breath that I sized up the pros and cons of the HyperX Pulsefire Haste 2 Wireless, HyperX's successor. The verdict? While the price is a little bit heftier than before, it's a very worthy sibling.
Further reading: See our roundup of the best wireless gaming mice to learn about competing products.
HyperX Pulsefire Haste 2 Wireless features
So, what features are worth drooling over this time? At least three things get my attention immediately. First and most notably, it weighs exactly the same as the Haste 1 Wireless—a lofty 61 grams, so it feels as light as a feather in your hand. That's despite the addition of an upgraded HyperX 26K sensor, and a new solid upper shell, which replaces the Haste 1 Wireless's perforated one.
A mere 61 grams also puts it in good company—making it 2 grams lighter than premium pro-grade esports mice like Logitech's G X Pro Superlight and the Razer's DeathAdder V3 Pro, both of which cost upwards of $60 more.
Suffice to say, that loftiness means the quick movement we achieved so easily in the Haste 1 Wireless is just as easily reproduced in the Haste 2 Wireless. Merely bump it and your curser will shoot across the screen like a falling star. Move it quickly for real and you'll need bionic vision to see the curser—yes, it's that quick.
Secondly, the Haste 2 Wireless adds Bluetooth connectivity to its super-speedy 2.4GHz connectivity, which is a feature that neither the Haste 1 Wireless nor a string of more expensive esports rivals have. So, in saying that, the Haste 2 Wireless is one of the more versatile esports mice you can currently buy.
Mentioned in this article…
Razer DeathAdder V3 Pro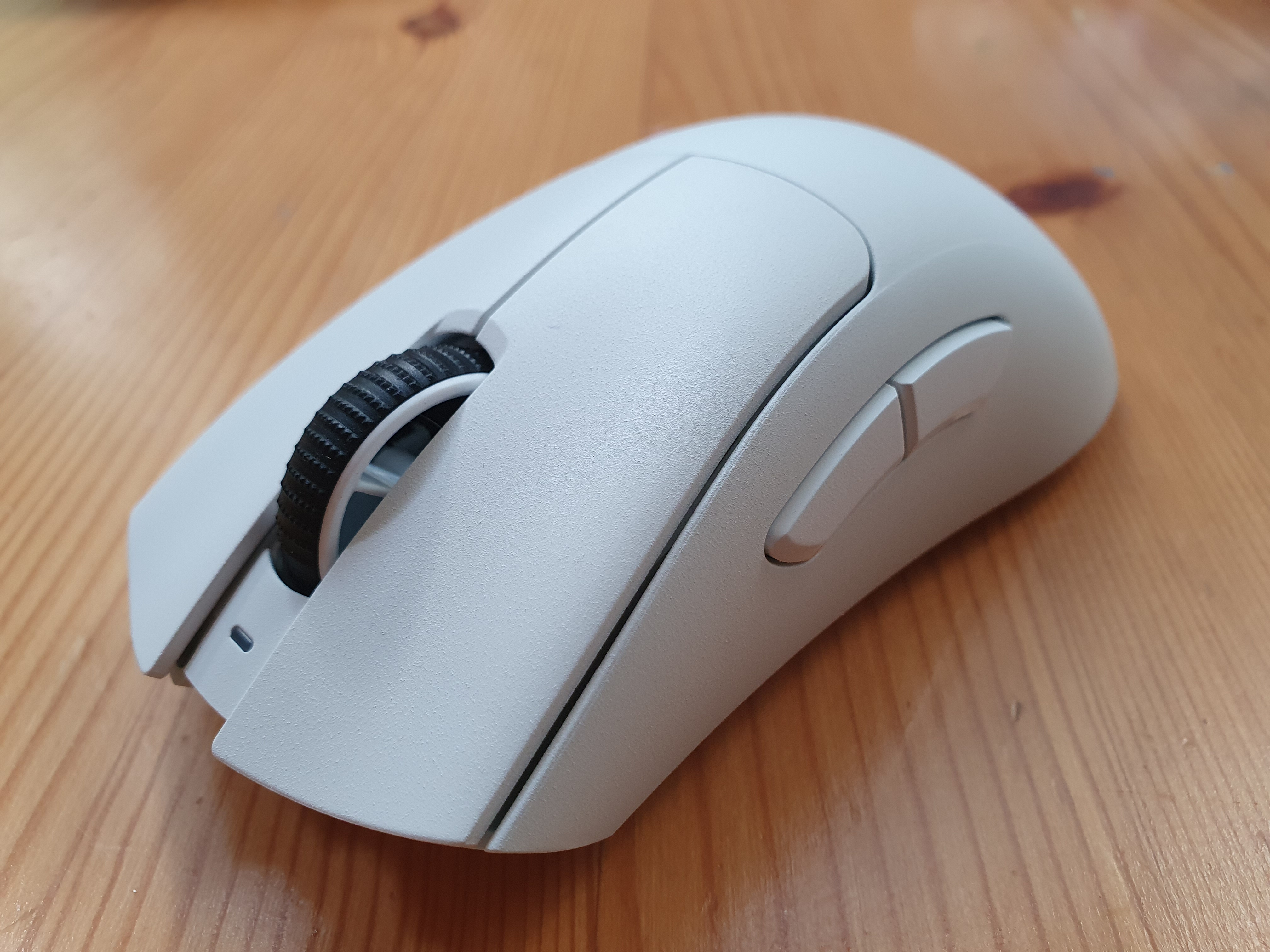 Price When Reviewed:
149.99
The third and most surprising thing to note about it is surely its price. Somehow HyperX has managed to keep it down to just $89.99—admittedly that's a steep increase over the original's $59.99 shipping price, but seems reasonable considering all the upgraded technology onboard, and when you compare it to the price of rivals like the $149.99 Razer DeathAddver V3 Pro.
Once again, esports players who give it a go will likely be more than satisfied with what they're getting for their money.
HyperX Pulsefire Haste 2 Wireless design and build
The Haste 1 Wireless's design is written all over the Haste 2 Wireless. In fact, from its symmetrical shape to its six compact programmable buttons, it looks very similar to before. But alas there are some refinements worth noting.
For example, while the button setup is identical, comprised of two main clicks, two buttons on the left-hand side, a single mouse-wheel click, and an unobtrusive DPI switcher—they feel much clickier and louder this time round. They've all been upgraded with custom HyperX Switches and are now rated for a whopping 100 million clicks—that's 40 million more clicks than the Haste 1's Golden Micro Switches.
Additionally, while there are no surprises in the dimensions—the depth, height, and width being virtually identical as before at 4.9 x 1.50 x 2.6 inches—the Haste 2 Wireless's solid top makes it functionally superior. How so? For one, it won't cause the dotty indentations claw grippers were prone to get on the tips of their fingers from pressing against the Haste 1's perforated top.
Mentioned in this article…
HyperX Pulsefire Haste Wireless
Price When Reviewed:
59.99
That's not even accounting for how much more comfortable it now feels too. While palm and fingertip grippers are unlikely to notice much difference in snugness levels, claw grippers will no longer feel like they're pressing down on a porcupine—a small point which is sure to win over a legion of new fans.
Regardless of grip type, though, the Haste 2 Wireless's matte plastic finish is a most welcome upgrade. In fact, the thousands of tiny bumps covering its body do a much better job of holding your hand firmly in place, providing a greater sense of control than previously. They also extinguish any sign of your fingerprints, so this mouse always looks sharp next to your rig.
The underside of the Haste 1 Wireless's successor has had a slight upgrade too. In addition to the four virgin-grade PTFE skates we saw in the Haste 1 Wireless, you now also get a full ring of PTFE around the sensor, so there's a noticeable absence of friction on tabletops.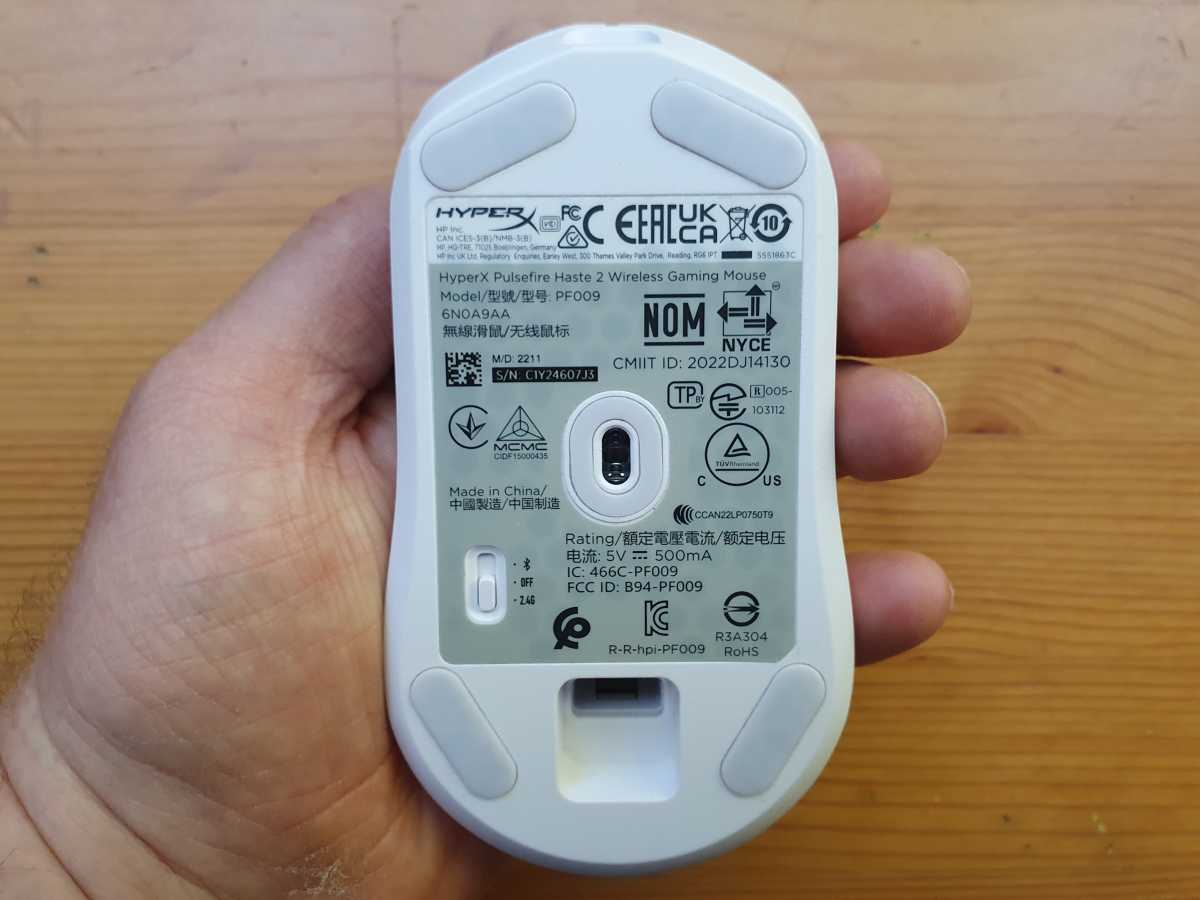 Dominic Bayley / IDG
The Haste 2 Wireless also comes with a useful set of accessories. A peek in the box reveals extra grip tapes, as well as additional PTFE skates. But you also get a 5.9-foot braided USB A to USB C paracord, which doubles as both a wired connection and a charger. HyperX claims the Haste 2 Wireless's battery lasts a very respectable 100 hours from a single charge.
Only black and white color options are available, but they each look remarkably stylish. The only visible signs breaking up my white review unit's visage were two attractive HyperX logos—one on top and the other on the left-hand side, each accentuating rather than spoiling its appearance. Clearly, this is a mouse worth showing off to your friends at every opportunity.
The one caveat to that is if your friends are diehard fans of RGB. That's because you still only get the one RGB zone located in the mouse wheel, which for an esports mouse of this caliber is a little underwhelming. Still, this is just a trifle that won't make any difference to your gameplay.
How does the HyperX Pulsefire Haste 2 Wireless perform?
The Pulsefire Haste 2 Wireless's sensor tracks movement at a maximum resolution of 26,000 DPI with an accuracy of 650 inches per second. A maximum acceleration of 50G and polling rate of 1,000Hz round out the rest of the sensor's performance specifications.
To test the sensor's performance, I loaded up a game of Insurgency, trying out a range character types from Riflemen to Snipers and switching randomly between the mouse's four preset DPI settings. Here, I made maneuvers ranging from quick short jerks to larger crisscross motions and circular movements, watching all the while for glitches or stuttering in my mouse's movement.
Indeed, the mouse handled superbly in just about every situation, no matter what kind of movement I used, or DPI setting it was in. The sensor tracked my movements perfectly and fluidly, without even the slightest hint of smoothing or stuttering. It seemed to me like its quick responsiveness even helped even out the playing field when I joined overseas servers and was lumped with tedious 300-millisecond pings.
While the wired version of the Haste 2 has an outstanding 8,000Hz polling rate, which allows it to send up to eight times more data per second and reduce latency to 1/8th of a millisecond, the Wireless version gets by with a 1,000Hz polling rate. That being the case, 1,000Hz is still perfectly fine for ultra-fast competitive play—I found I had all the speed and accuracy I needed to win out in most spontaneous firefights.
Dominic Bayley / IDG
The Haste 2 Wireless's symmetry and compactness was also a big asset to my play. I was delighted to find it slid around my mat with the same laser-like precision as I saw in the Haste 1 Wireless, which made pinpointing targets exceptionally quick. This was really something I noticed after ditching my mouse pad and playing on tabletops, the extra skates really making an impact on how smooth it moved.
But while I could pinpoint targets as quick as lightning, there seemed a bit of a disconnect in my firing. Don't get me wrong, that's not because the Haste 2 Wireless's buttons lack any responsiveness: they're impressively quick. It's just that they're not as well served by the mouse's design as some rivals—a point that deserves some explanation….
Put simply, at times I found myself craving two features that in my view would have provided a mechanical advantage to firing. Number one is a hump beneath my index finger, like the one you see in the Razer DeathAdder V3 Pro. Indeed, had my finger been slightly elevated like in the V3 Pro I'm sure I would have benefited from the same millisecond speed advantages I tend to get when playing with the Razer. It's a minor point, but one that serious gamers may want to take note of.
The other thing I really could have done with in the Haste 2 Wireless is slightly flared main buttons. Although the Haste 2 Wireless's compact buttons provided a comforting predictability to my aiming, when my clicking got really frantic, my index finger, which was a little cramped, tended to move slightly to the left, so that I experienced just the slightest lateral mouse movement. A little extra button space would have put a stop to that.
Although not a huge deal, that did occasionally mean that instead of hitting my target square-on at the kill point, I hit them somewhere less lethal. Could this drawback have affected my K:D ratio? Quite possibly.
Mentioned in this article…
Logitech G Pro X Superlight Price When Reviewed:
159.99
Still, these are just my personal musings. In fact, there will be tons of players that will actually prefer the Haste 2 Wireless's compact buttons and more symmetrical design.
Surely, in choosing the Haste 2 Wireless over mice with these asymmetrical traits, the upside is you can apply any of the three main grip styles and not have to worry about losing out on any performance. Plus, left-handers will find it a whole lot easier, too.
HyperX's Ngenuity software
HyperX's Ngenuity software is the Haste 2 Wireless's go-to software app, which you can download for free in just a minute from the Microsoft Store. In it you can assign functions to your six programmable buttons, adjust your DPI settings, and make color and effects changes to the mouse's RGB zone, too.
I mainly used Ngenuity to change DPI settings. You can simply add an additional DPI setting by hitting the + icon at the bottom of the app window, while changing the values of the four default DPI settings is as straightforward as moving sliders. The app also conveniently prompts you when you need firmware updates so there's no need to sift through HyperX's official website looking for them.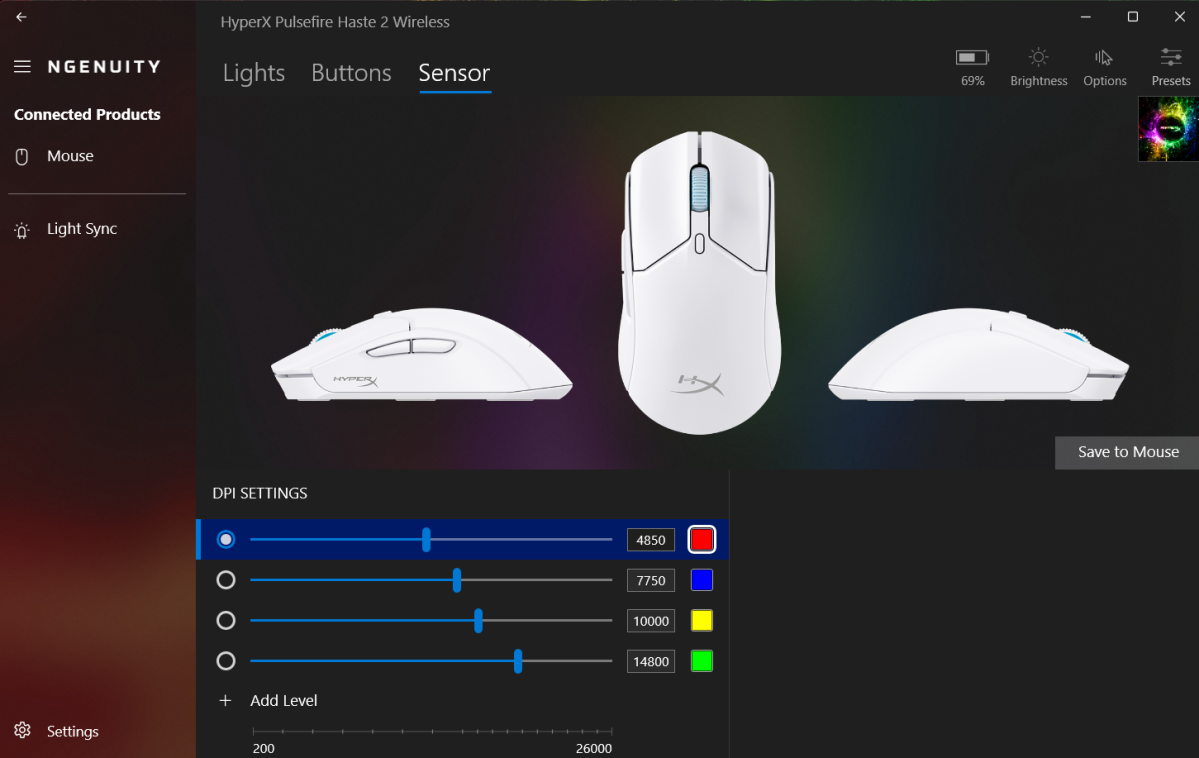 Dominic Bayley / IDG
Unfortunately, the Haste 2 Wireless doesn't have any onboard memory to store your pre-made presets—however, you can still save them within the app itself and switch between them with just a few clicks. Ngenuity also has a feature called Gamelink that will automatically activate presets that have been linked to your favorite games or applications, which saves you a ton of time.
Should you buy the HyperX Pulsefire Haste 2 Wireless?
HyperX's original PulseFire Haste Wireless was one of the best value esports mice you could buy at the time of its release, offering gamers a taste of pro-grade functionality at a reasonable price. A year on, the company has delivered a sequel that, while costing a little more than before, packs in some excellent upgrades whilst amazingly keeping the weight exactly the same.
Unless you need a particular shape of design for your trusty esports rodent or can't live without tons of RGB or an 8,000Hz Hyperpolling rate, this mouse has everything you could want. It'll also keep a ton of change in your hip pocket.