At a glance
Expert's Rating
Pros
Fast optical switches
Intelligent layout and function layer
Solid components
Almost all options available without software
Cons
Expensive
Sound dampening is ineffective
Our Verdict
For gamers who want a compact, wired board that's all about speed, the K65 Mini Pro is the best around. It's a bit pricey and the internal foam isn't doing much, but solid hardware and an excellent layout (with or without iCue) push it above the competition.
Price When Reviewed
$129.99
Best Prices Today: Corsair K65 Pro Mini keyboard
Have you looked at the market for mechanical mini gaming keyboards lately? You might think that's a pretty small niche, but it's absolutely swarming with competitors from manufacturers both big and small. So to make its latest itty-bitty keyboard, the K65 Pro Mini, stand out, Corsair did…well, not a lot, at least at first glance.
But looks can be deceiving. While the K65 Pro Mini doesn't wow you with flashy gimmicks or questionably useful add-ons like an OLED screen, it nails the basics and includes some features that gamers will love. Optical switches and high-quality materials make a statement all on their own.
I'd say that probably isn't enough to justify a hefty $130 price tag, especially for such a small board…except that the competition is about the same price. If you're willing to splurge and you want a solid, straightforward optical design shorn of unnecessary extras, the K65 Mini Pro is a good option.
Further reading: See our roundup of the best gaming keyboards to learn about competing products.
What sets the Corsair K65 Pro Mini apart?
The K65 Pro Mini differentiates itself from other mini gaming keyboards with a few specific features. It comes with PBT keycaps standard, and though that's becoming more and more common, this is a particularly well-made set with a nice rough texture that's very "grippy" during gaming sessions. The board has foam dampening inside the body, and perhaps most importantly, comes with Corsair's speedy and semi-proprietary OPX linear optical switches.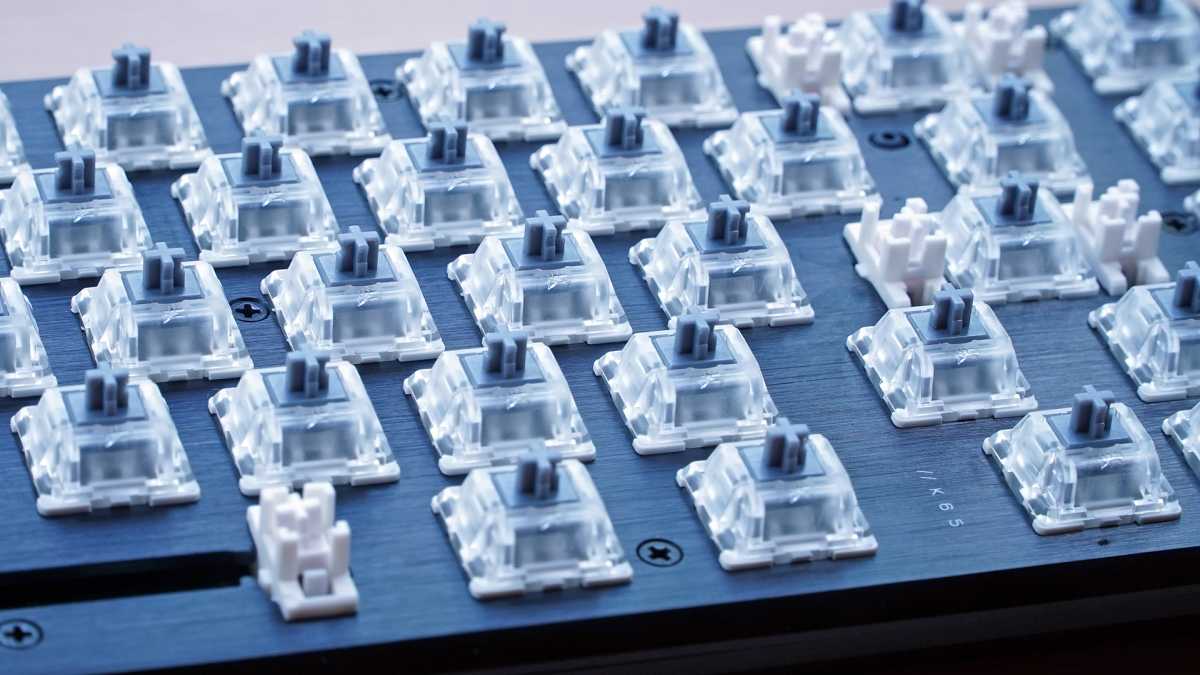 Michael Crider/Foundry
For the uninitiated, optical switches interrupt a beam of light to actuate a key press instead of waiting for a physical connection on an electrical contact. Combined with a smooth linear action, it makes the switches extremely fast and light with no scratches or bumps through the press. Corsair says this keyboard has two layers of internal sound dampening, proven by the exploded view. But if it's significantly quieter than other linear boards, I can't hear it.
Optical, linear switches are probably the best switches for gaming, at least in purely technical terms, even without the questionably necessary analog actuation of some of the most expensive boards. But the optical build does mean this board does without the hot-swap sockets for true customization beyond lighting and keycaps. For that feature, look elsewhere in Corsair's lineup, like the much more expensive K70 Pro line.
Corsair K65 Pro Mini's other features
But the K65 has other charms. These include the aforementioned PBT keycaps (standard), an impressive 8,000Hz polling rate (for those of you with literally superhuman reflexes), an aluminum top deck that's pleasantly solid while keeping a lightweight main body for traveling, a braided, detachable USB-C cable, and an intelligent layout that's helpfully illustrated by both the keycaps and the lighting system. Between that and the forgiving 65 percent layout with arrow keys, it might be the mini keyboard with the least amount of adjustment time.
Let me show you what I mean. See how the default position of the Delete key is right next to the \ key, only a few millimeters away from where it is on a standard layout? That leaves the far less-used Page Up and Page Down to be physically shifted. And media and volume keys are all clustered in the bottom-right corner, so they're easy to manipulate with one hand. The Print Screen key is matched to Fn+P, an obvious choice that a shocking number of smaller keyboards simply don't make. It's good stuff. And all this is clearly visible on the default keycaps.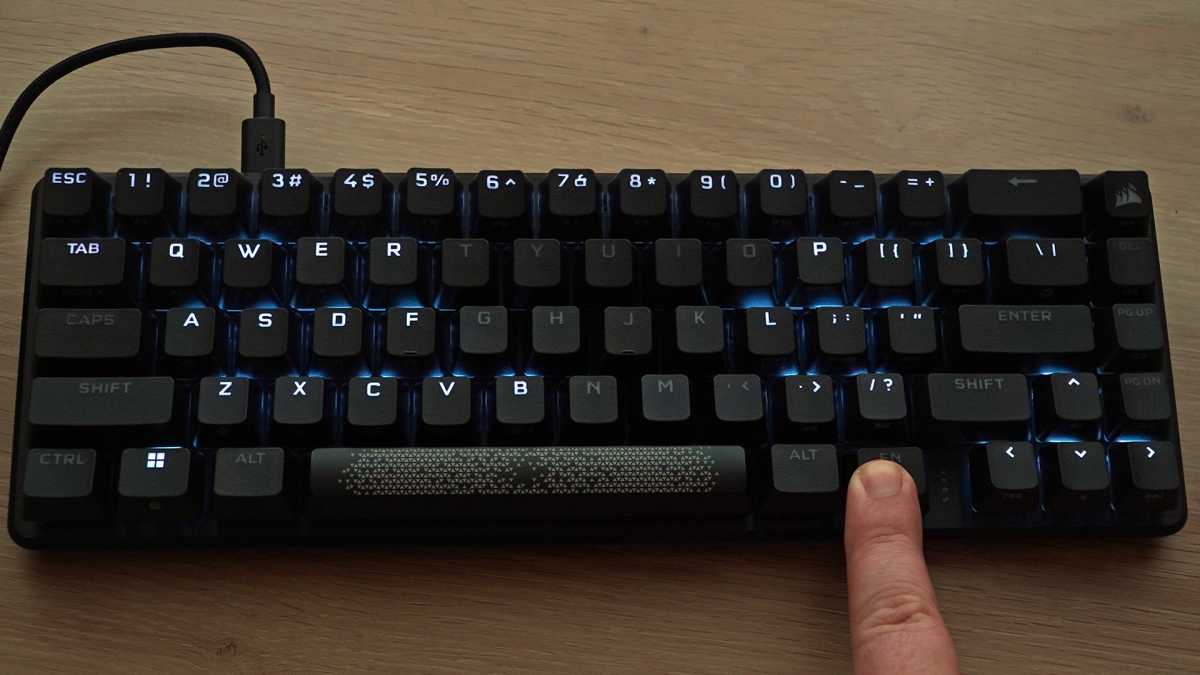 Michael Crider/Foundry
But the smartest tweak for usability is that the function layer lights up when you press the Fn key, instantly showing you which keys do what, and leaving the unused keys dark. It's a great little way to give you an instant refresh on functions even in the dark.
Who needs software?
Speaking of lighting, the K65 can do all the usual bells and whistles, and then some, through Corsair's iCue software. iCue is frankly a little clunky, but once you've assigned any custom layout and effect you want, there's no reason to go back. Since this is a wired board, there's no reason to turn down the lights or that fancy 8,000Hz polling.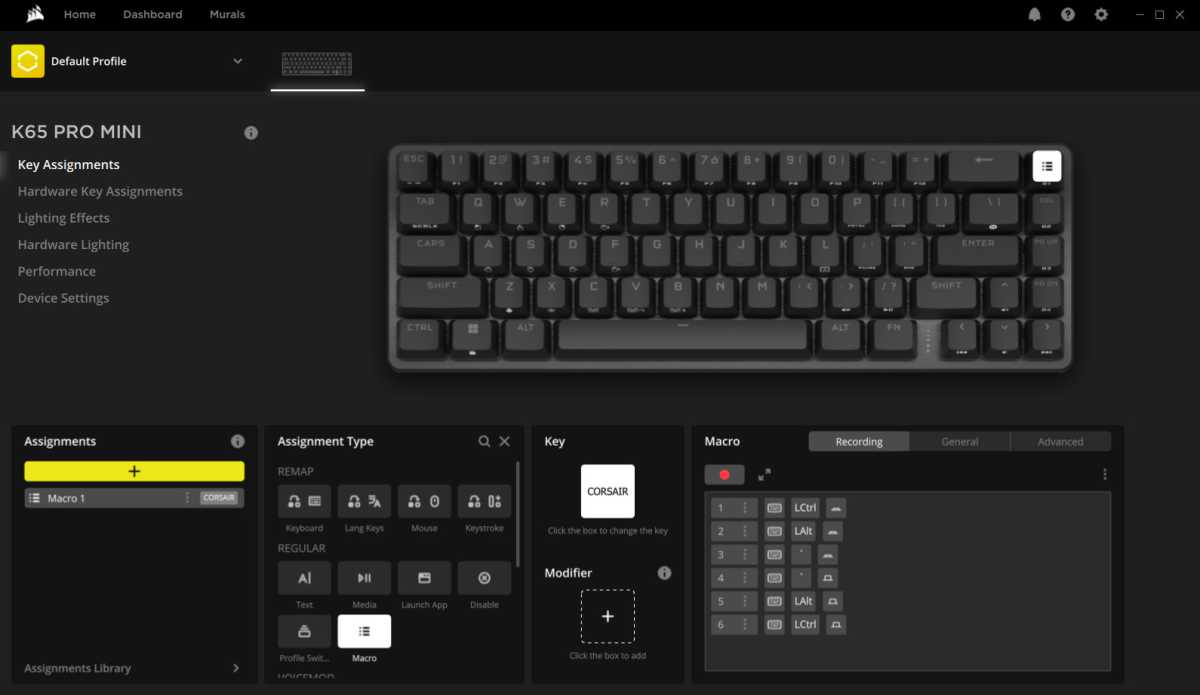 Michael Crider/Foundry
But here again, Corsair is showing some very intelligent work on the keyboard, as most of the important functions can be accessed without iCue installed at all. Custom macros can be programmed and cleared from the keys alone. Up to fifty (FIFTY!) custom profiles can be saved on the keyboard's local memory, cycled through with Fn+Z by default. You can even save up to 20 on-board lighting effects, selectable and adjustable via hardware only, if that's your jam. Fn+Win for 5 seconds will change the keyboard into PlayStation mode for the PS4 or PS5.
Michael Crider/Foundry
The only thing you can't do, with or without the iCue software…is move the Fn button. That was a big detraction for me on the similar-sized K70, but it's less of an issue here thanks to the extra keys, so you don't have to re-learn arrow controls. But still, I long for the day this is as easy on a mainstream board as it is on boutique builds with VIA compatibility.
Should you buy the Corsair K65 Pro Mini?
As for other gripes, they're few and far between. I wish the keyboard feet were double-staged for a slightly higher profile, and maybe that a wrist rest was included for the price. Which brings us to the value discussion: At $130, it's fairly up there, even for all that the K65 does right. You can get optical switches and more functionality from smaller brands like Epomaker for about half the price, and if optical isn't important, the G.Skill KM250 remains the budget board to beat.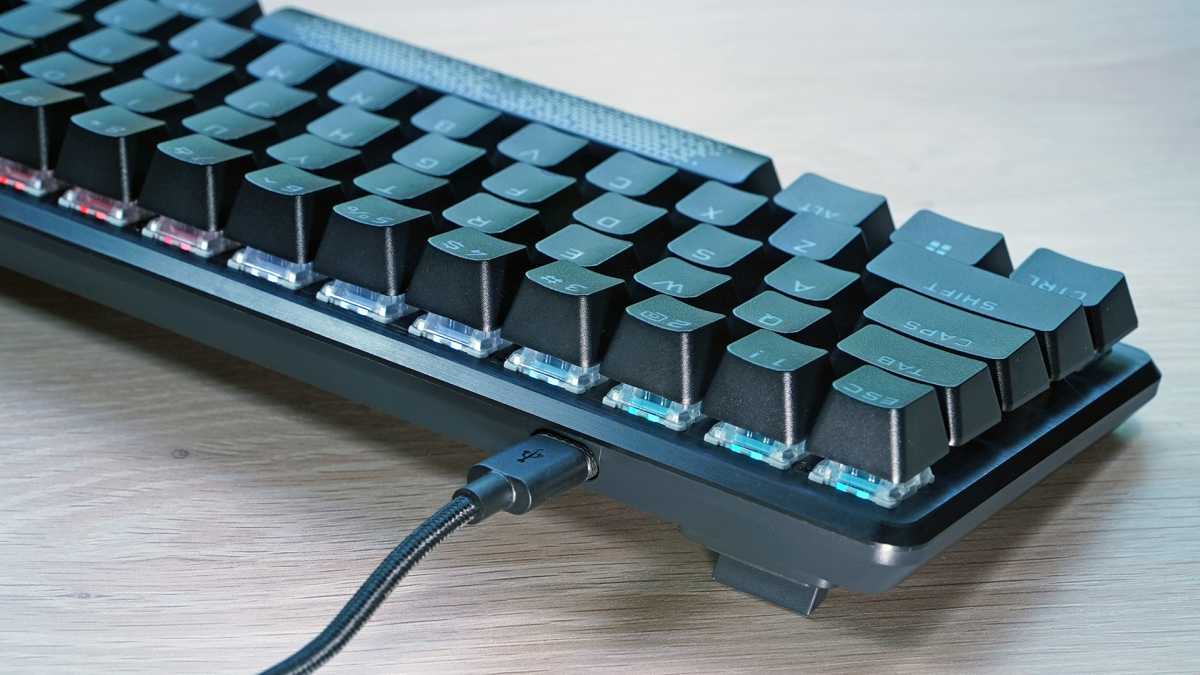 Michael Crider/Foundry
But if you're considering a Corsair board, odds are you want a mainstream gaming brand. That pits the K65 Pro Mini against the Razer Huntsman Mini (standard optical switches), at the same price but with a much more cramped layout, and the Roccat Vulcan Mini II, which swaps the PBT keycaps for a much brighter light show with its "floating" keycap design.
the budget board to beat
G.Skill KM250 RGB Keyboard

Price When Reviewed:
$39.99
Assuming a super-fast optical setup is what you want, and you don't care about the expensive analog upgrade on the Hunstman, I'd go with the K65 Pro Mini for its superior typing feel and intelligent layout choices. The fact that you can access so many functions without having to involve the iCue software is a big plus.
I wish it was cheaper…but you could say the same about almost any gaming keyboard these days, and it's in line with the competition. This is a brand-new design hitting retail today, so if you're feeling frugal, just wait for a sale. If you're not, go ahead and buy it with confidence.
Best Prices Today: Corsair K65 Pro Mini keyboard