AMD's Radeon RX 7000-series graphics cards (and their predecessors, the RX 6000-series) offer impressive power out of the box, especially for gaming. But with a little extra tuning you can get even more firepower out of them.
This guide explains how to get even more performance, efficiency, and picture quality out of AMD's modern graphics cards, using software tricks to optimize and accelerate their RDNA graphics architectures even further. Let's dig in.
Further reading: The best graphics cards
1: Faster through overclocking!
If you want to overclock your PC's graphics card, you'll be confronted with many unanswered questions at the beginning. You need to pay attention to some basic things so the project turns out successful.
Before you start overclocking, you need to know exactly which graphics card you're tinkering with and which technical specifications (e.g. clock frequencies) it has. We'll be using the $900 Radeon RX 7900 XT for our example below.
Sapphire Pulse Radeon RX 7900 XT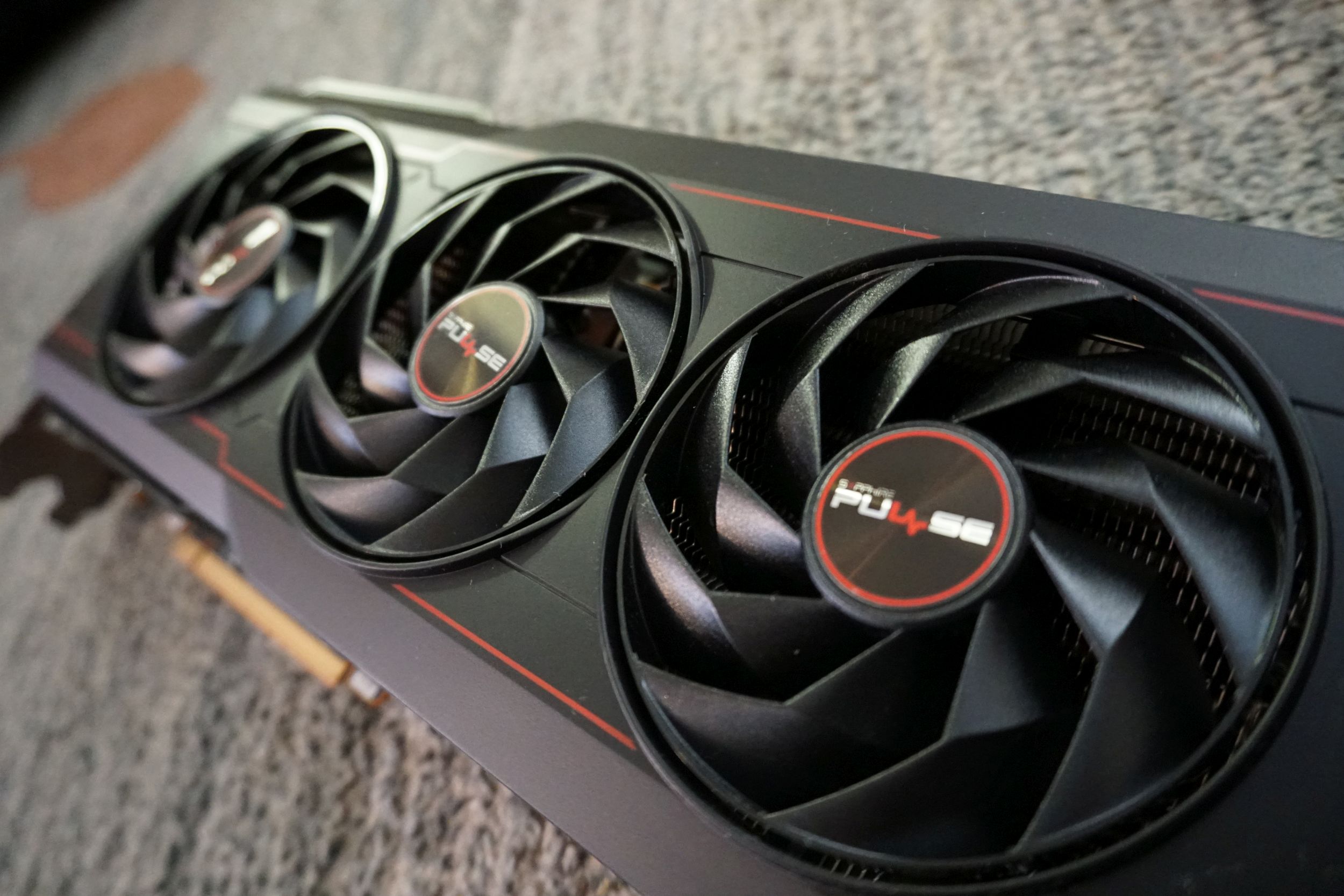 Price When Reviewed:
$899.99
First, search for the GPU's product page (or dig out your manual) and determine all the specifications relevant for overclocking (which we'll detail for this example below). You'll also need to install TechPowerUp's outstanding GPU-Z software to actually be able to actually monitor the relevant specifications — such as base, game, boost, and memory clocks — in real time. Fear not, it's free!
In the case of the reference AMD Radeon RX 7900 XT, the tool spits out the following technical specifications:
1.900 MHz base clock
2.400 MHz boost clock (maximum)
2.300 MHz game clock (average)
16 GB GDDR6 with 20 Gbps memory speed (10 GHz)
Our goal is to increase the maximum possible boost clock and thus the average game clock in games, and optionally maximize the memory bandwidth by achieving a higher memory clock. Radeon graphics card owners can use the integrated overclocking function in the company's AMD Software Adrenalin Edition rather than turning to a third-party tool like MSI Afterburner. AMD itself demonstrates how the overclocking feature works in detail in the video below.
Overclocked accordingly, you can expect to see up to 10 to 15 percent more performance (or frames per second) compared to the factory settings for the RX 7900 XT graphics card.
Important note: By overclocking or undervolting a GPU, you change important parameters such as the heat dissipation and power consumption of the graphics card. Please note that incorrectly set voltages can not only result in an unstable system, but also irreparable damage to the GPU. Overclocking isn't as dangerous as many people assume, but be sure to follow the guide AMD provided above!
2: More efficient through undervolting
GPU manufacturers always build a safety buffer into the factory settings of their graphics cards, balancing the highest possible stability by applying a little more voltage than necessary for many chips. The voltage of many Radeon graphics cards can be lowered within a certain range without causing crashes or instabilities, though like overclocking, the exact degree of change will depend on your specific GPU's individual silicon quality..
While overclocking is all about putting the performance pedal to the metal, with undervolting, the goal is to operate the graphics card with similar performance while drawing significantly less power (and thus, spitting out significantly less heat), as explained in-depth in our undervolting guide.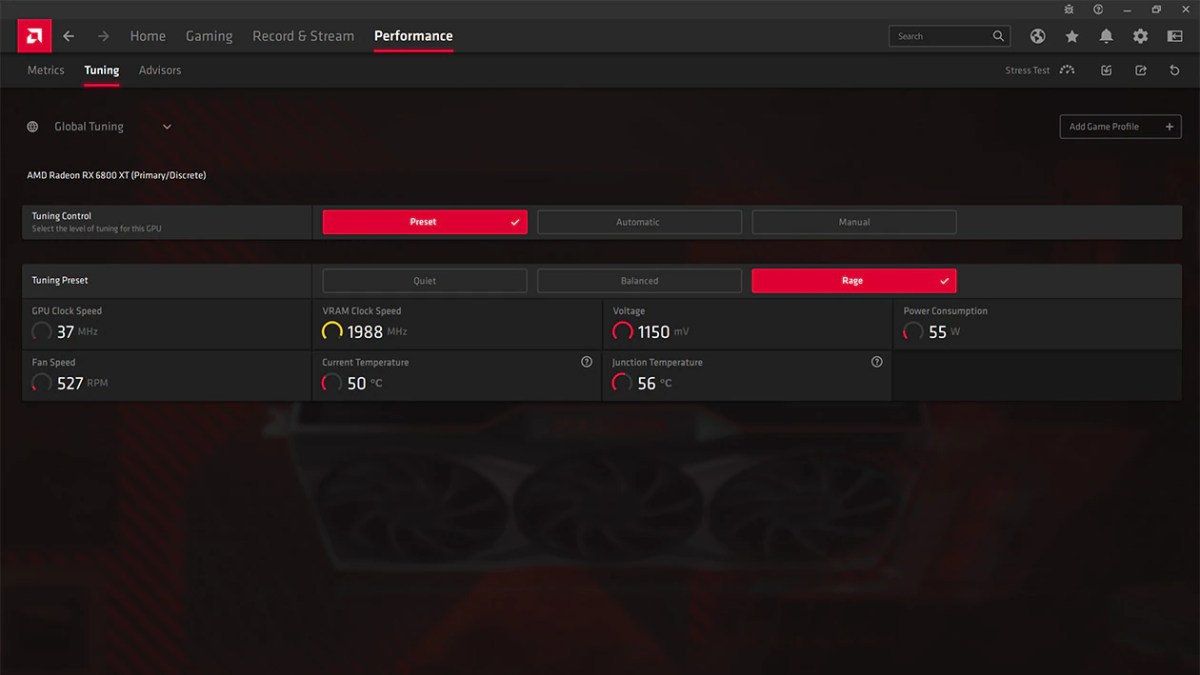 AMD
In the case of the AMD Radeon RX 7900 XT reference design, the voltage is 1.150 volts and can usually be lowered to 0.975 to 1.025 volts before the graphics card starts to clock down massively. Here, too, the so-called "sweet spot" must be discovered manually in order to be able to increase the efficiency to the maximum.
Once you've explored (and combined) appropriate overclocking and undervolting for your Radeon graphics card, it will ideally not only run faster, but also more efficiently and cooler.
3: More stable through stress tests
AMD Radeon RX 7600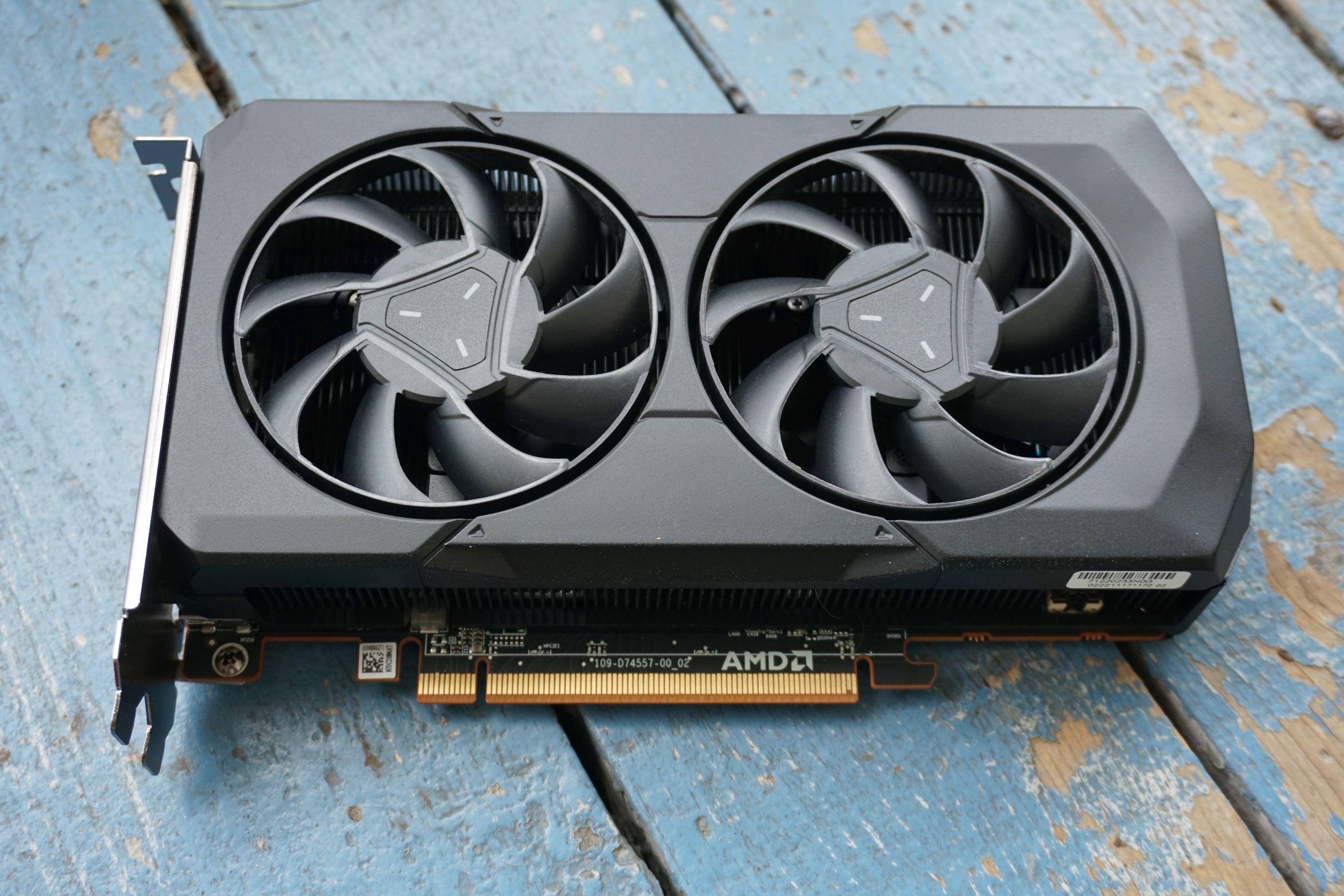 Price When Reviewed:
$269
To ensure overclocked and/or undervolted graphics cards remain stable even under heavy loads, running the following benchmarks and stability tests are a good idea.
Since loads (and especially the load peaks) for the GPU and the VRAM behave differently in games than synthetic stress tests, you should also play some of your favorite games and check them for stability. Ideally, the result is a faster, more efficient graphics card that can be operated with absolute stability. Check out our comprehensive guide on how to benchmark your graphics card if you want to go even deeper.
4: More beautiful thanks to upscaling
Users who like to play games in higher resolutions and enjoy the significantly improved picture quality are often confronted by a lack of raw performance from their graphics card, especially at 4K or ultrawide resolutions. But AMD has a solution for this as well.
AMD FidelityFX Super Resolution (FSR) is the name of the feature that first calculates images at a lower resolution internally and then "upscales" them to fit your monitor resolution using a software upscaling process. That technological combination means the frame rates and frame times in supported titles can be increased without having to upgrade to a new graphics card.
AMD demonstrates how this works with the popular open-world racing game Forza Horizon 5, which can be significantly accelerated with FSR 2.2, in the video below.
FidelityFX Super Resolution 2 is designed to deliver the best possible picture quality, with a final image that looks similar to or better than native picture quality, while also boosting frame rates in supported games, AMD says.
In total, more than 200 games support FSR, including many well-known games, such as:
Anno 1800
Resident Evil 2+3
Resident Evil Village
Red Dead Redemption 2
The Witcher 3: Wild Hunt
Hellblade: Senua's Sacrifice
Tom Clancy's Rainbow Six Siege
Uncharted: Legacy of Thieves Collection
Vampire: The Masquerade – Bloodhunt
Warhammer 40,000: Darktide
Microsoft Flight Simulator
World of Warships
Cyberpunk 2077
Dying Light 2
Forspoken
Diablo 4
The performance and efficiency gains from adding AMD FSR 2 are quite impressive, as AMD's benchmarks demonstrate.

AMD
5: Cooler thanks to Radeon Chill
AMD's Radeon Chill helps keep your graphics card (and thus your system, and room) cool and quiet.
This energy-saving feature conserves the battery of notebooks and reduces the power consumption of gaming PCs by controlling the frame rates based on your in-game movements. When there is intense movement, Radeon Chill runs the frames per second (FPS) up to a set upper limit (FPS limit). If there is no movement in happening in your game, the frame rate cap is automatically reduced, which saves energy and allows the graphics card and the rest of the system to run cooler and quieter.
AMD demonstrates how AMD Radeon Chill works in the video below.
Radeon Chill works with most titles that use DirectX 9, DirectX 10, DirectX 11, and DirectX 12 from Microsoft as well as the free graphics API Vulkan, which is mostly used on Linux.
Just like overclocking and undervolting, Radeon Chill can be activated directly via the AMD graphics driver and the AMD Radeon Adrenalin software.
6: Smoother thanks to AMD FreeSync
the best ultrawide gaming monitor supports amd's freesync premium pro
Alienware AW3423DWF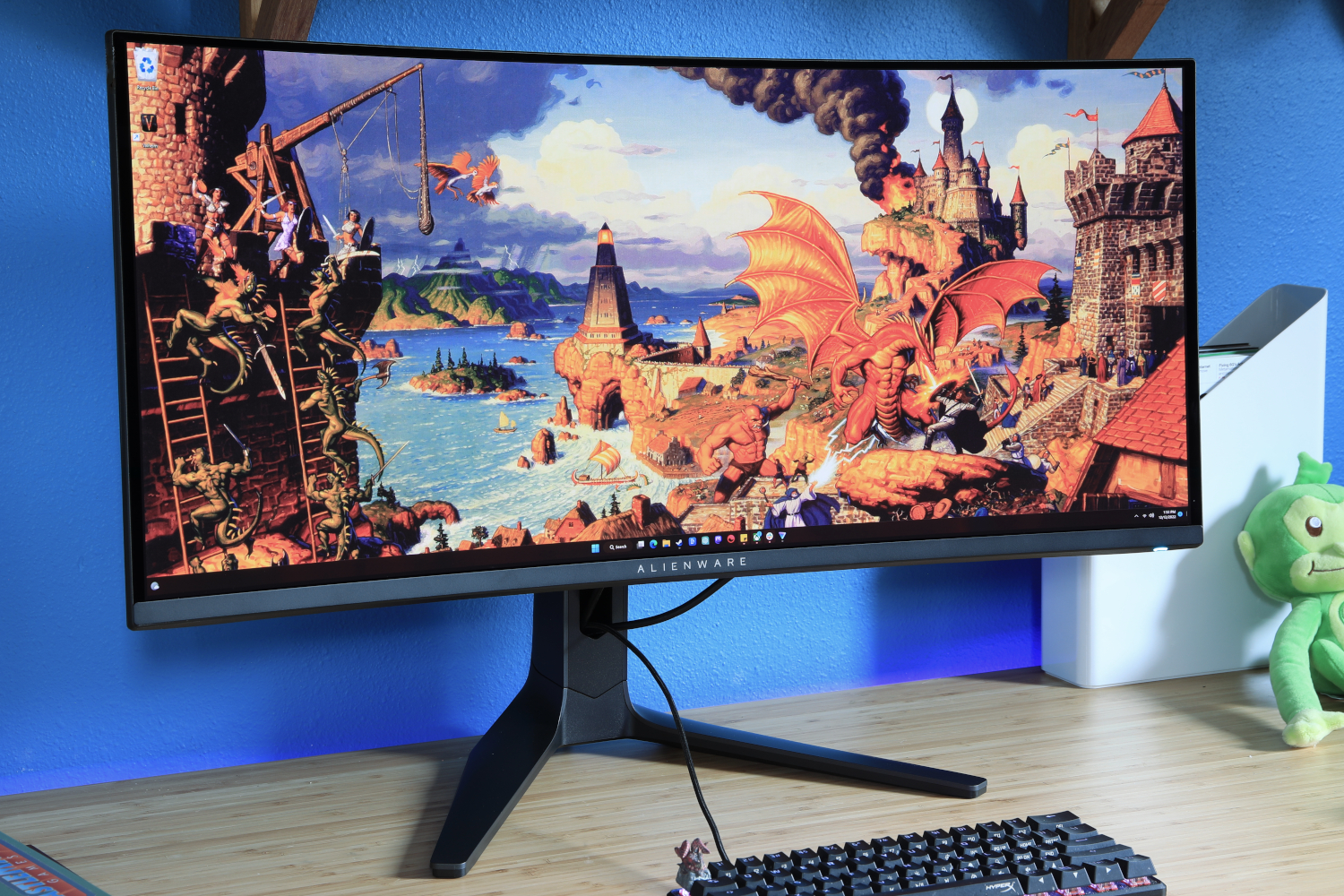 Price When Reviewed:
$1,099.99
No distortion. No jumping visuals. Just gaming.
That's how AMD describes its adaptive synchronization technology for monitors that support a variable refresh rate to avoid "tearing" and reduce stuttering. AMD FreeSync technology delivers smooth, judder-free gaming performance at virtually any frame rate, without distorted or clipped frames.
The latest higher-tier versions of FreeSync, AMD FreeSync Premium and FreeSync Premium Pro, also support refresh rates of 120Hz and above, Low Framerate Compensation ("LFC"), and HDR gaming.
To use AMD FreeSync, FreeSync Premium, and FreeSync Premium Pro, a compatible monitor is required. More than 900 monitors from various manufacturers have been certified accordingly and support the adaptive synchronization technology.
This article has been translated from German to English and originally appeared on pcwelt.de.