At a glance
Expert's Rating
Pros
Attractive, sturdy design
Excellent USB-C connectivity
IPS panel improves contrast
Solid color gamut
Cons
Doesn't support HDR
Only 60Hz refresh rate
No Adaptive Sync
Our Verdict
The Dell Ultrasharp U3824DW is a large, attractive monitor with a laser-like focus on office productivity.
Price When Reviewed
$1,529.99
Best Prices Today: Dell U3824DW
Big ultrawide monitors often prioritize image quality to satisfy gamers, but Dell's U3824DW takes a different tactic. It's a beefy 38-inch display that combines good image quality with extensive USB connectivity, decent speakers, and easy-to-use image-quality customization. The monitor makes significant sacrifices, but its perks are sure to please shoppers looking to connect many devices and peripherals to a single display.
Further reading: See our roundup of the best ultrawide monitors to learn about competing products.
What are the Dell U3824DW specs?
The Dell Ultrasharp U3824DW's connectivity leaps out. The monitor has an incredible range of ports (14 in total), which support numerous display inputs, USB-C, USB-A, and Ethernet. It also has an IPS Black display panel that roughly doubles the contrast ratio of older IPS displays.
Display size: 38-inch 21:9 ultrawide
Native resolution: 3840×1600
Panel type: IPS Black LCD
Refresh rate: 60Hz
Adaptive Sync: None
HDR: None
Ports: 2x HDMI, 1x DisplayPort 1.4, 1x USB-C with 90 watts Power Delivery and DisplayPort 1.4, 1x USB-C 3.2 Gen 2 upstream (data only), 4x USB-A 3.2 Gen 2 downstream, 2x USB-C 3.2 Gen 2 downstream with 15 watts Power Delivery, 3.5mm audio-out, RJ-45 Gigabit Ethernet
Speakers: Included, dual 9-watt
Price: $1,529.99
However, Dell skips numerous entertainment features such as HDR, an enhanced refresh rate, and Adaptive Sync. These omissions are annoying given the monitor's high price, but its perks outweigh its problems.
Dell U3824DW design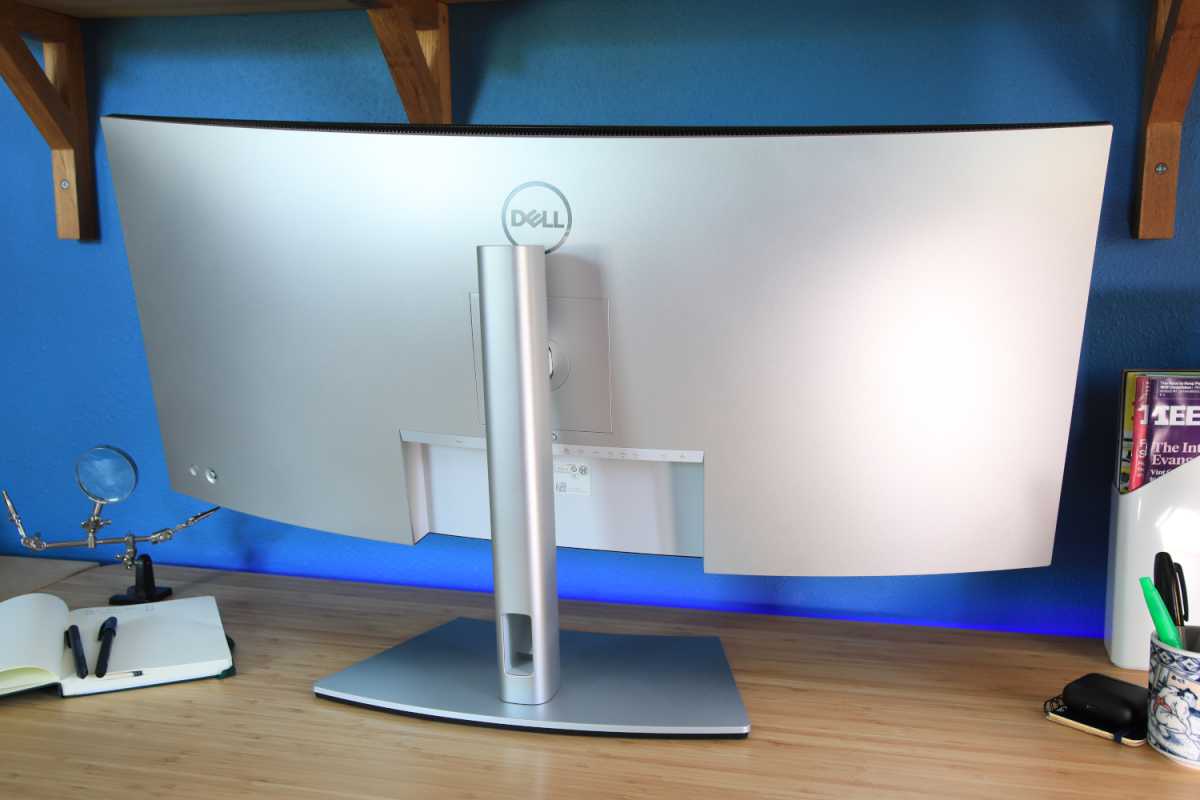 Matt Smith
The Dell UltraSharp U3824DW relies on the company's familiar design language to provide a subdued and professional look. A sweeping silver rear panel is paired with white accents and a slim black bezel surrounding the display. It's simple yet classic, and should work well in any home or corporate office. Dell's competitors, such as the Asus ProArt and Viewsonic VP/Elite Series, are attractive but less luxurious, as they tend to rely on black or gray plastic with a rougher feel.
Though curved, the U3824DW's curve is modest. That makes sense given its focus on productivity. A more pronounced curve can be more immersive in entertainment but distorts the appearance of the image, which can be distracting when editing a photo or video. This is a matter of personal taste, of course, but I think the U3824DW's subtle curve is suited to its purpose.
Plastic is used across all display panel surfaces, but as with most Dell monitors, the materials feel sturdy and don't allow much flex when the monitor is handled. The monitor is relatively heavy for its size at nearly 20 pounds without the stand, so you'll need a high-quality monitor arm if you intend to use one.
Fortunately, the bundled stand is excellent. It feels sturdy, keeps the monitor planted, and takes minimal desk space despite the monitor's large overall size. It also adjusts for height, swivel, and tilt, though it doesn't rotate into a vertical orientation. A 100x100mm VESA mount is available for third-party monitor arms and stands.
Dell U3824DW features and menus
Matt Smith
Connectivity is arguably the reason to buy the Dell UltraSharp U3824DW over its competitors. The monitor has extensive USB connectivity and plenty of video inputs.
Let's start with video: The monitor has two HDMI ports, one DisplayPort, and one USB-C with DisplayPort Alternate Mode, for a total of four video inputs—a healthy number for any monitor.
The USB-C port also extends connectivity to four additional USB-A downstream ports, as well as two USB-C downstream ports. Gigabit Ethernet and audio out are also available. These downstream ports can be driven by either the USB-C port with DisplayPort Alternate Mode or a second USB-C upstream port. Because of this, the monitor offers a KVM switch mode, which allows you to easily switch between two connected computers.
One thing the monitor does not have is a USB-B upstream port, and this means that you will need a USB-C port on your computer or an adapter to access the monitor's downstream USB connectivity. This feels like a sign of the times as past Dell UltraSharp monitors have included USB-B.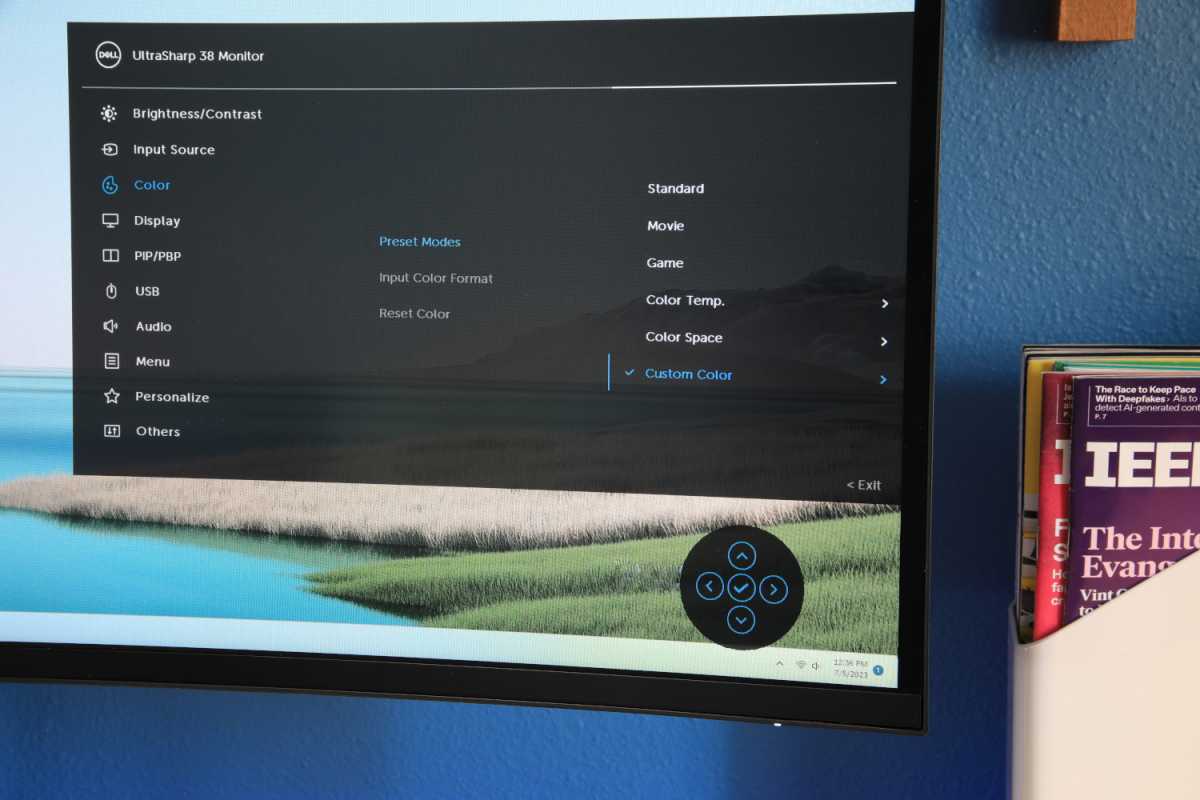 Matt Smith
The U3824DW offers intuitive, easy-to-use menus controlled by a joystick on the monitor's right flank. Image-quality options span the usual, like brightness and contrast, but also offer several color temperature modes and a custom color mode that allows for customization of color saturation, hue, gain, and offset. The image-customization options here are suitable for most content creators. The monitor also offers a picture-by-picture mode which effectively turns the monitor into two monitors, each displaying a different input.
While the joystick is smooth and responsive, the monitor can also be controlled with Dell Display Manager, a Windows utility that has access to most of the monitor's features and can change them on the fly. Display Manager is a useful addition, and one not found on most productivity monitors.
The U3824DW's extensive feature set is rounded out by a pair of 9-watt speakers which are competent, if not amazing. They provide strong, clear audio that can handle podcasts, YouTube, casual gaming, and music at lower volumes. BenQ's EW3880R has a built-in woofer that beats the Dell U3824DW's audio quality, but the U3824DW is otherwise superior to its competitors.
How is the Dell U3824DW's SDR image quality?
The Dell UltraSharp U3824DW is a pricey monitor designed to handle both office productivity and content creation, so its SDR image quality needs to be up to par. Fortunately, it has an IPS Black panel that delivers strong results.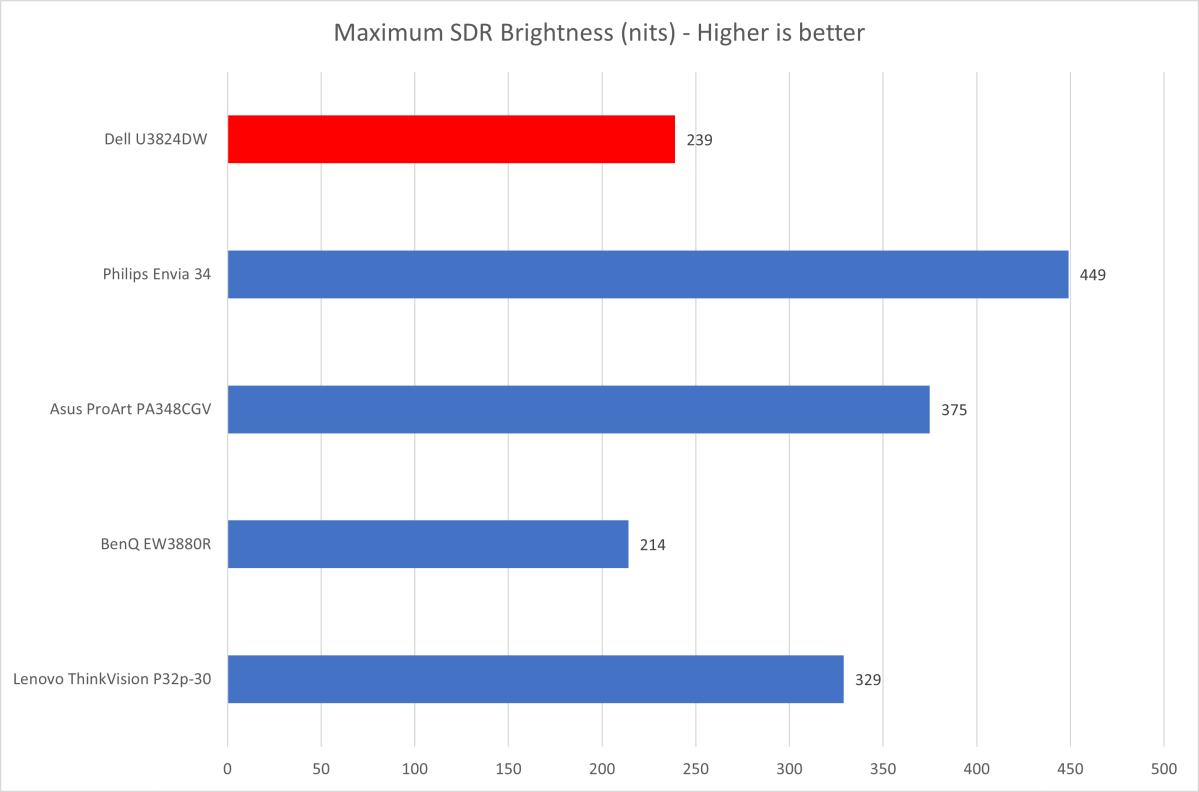 Matt Smith
Admittedly, the monitor doesn't get off to the best start with brightness, as it achieved a maximum of only 239 nits. That's fine for use in a typical office with blinds to control outside light, but it can look a bit dim in bright rooms. Competitors like the Asus ProArt PA348CGV and Philips Evnia 34 7000 are more capable here.
Matt Smith
Dell strikes back in contrast thanks to the IPS Black panel, which can reach lower black levels than conventional IPS panels. That translates to an improved contrast ratio of 2080:1. The Philips Evnia 34 can do better, thanks to its Mini-LED backlight, but most IPS monitors lag far behind the U3824DW.
The monitor's superior contrast provides better results in dark content, where shadowy scenes show more detail. IPS glow, a problem that creates a hazy gray look in dark scenes, is not eliminated but noticeably less visible than with most IPS monitors.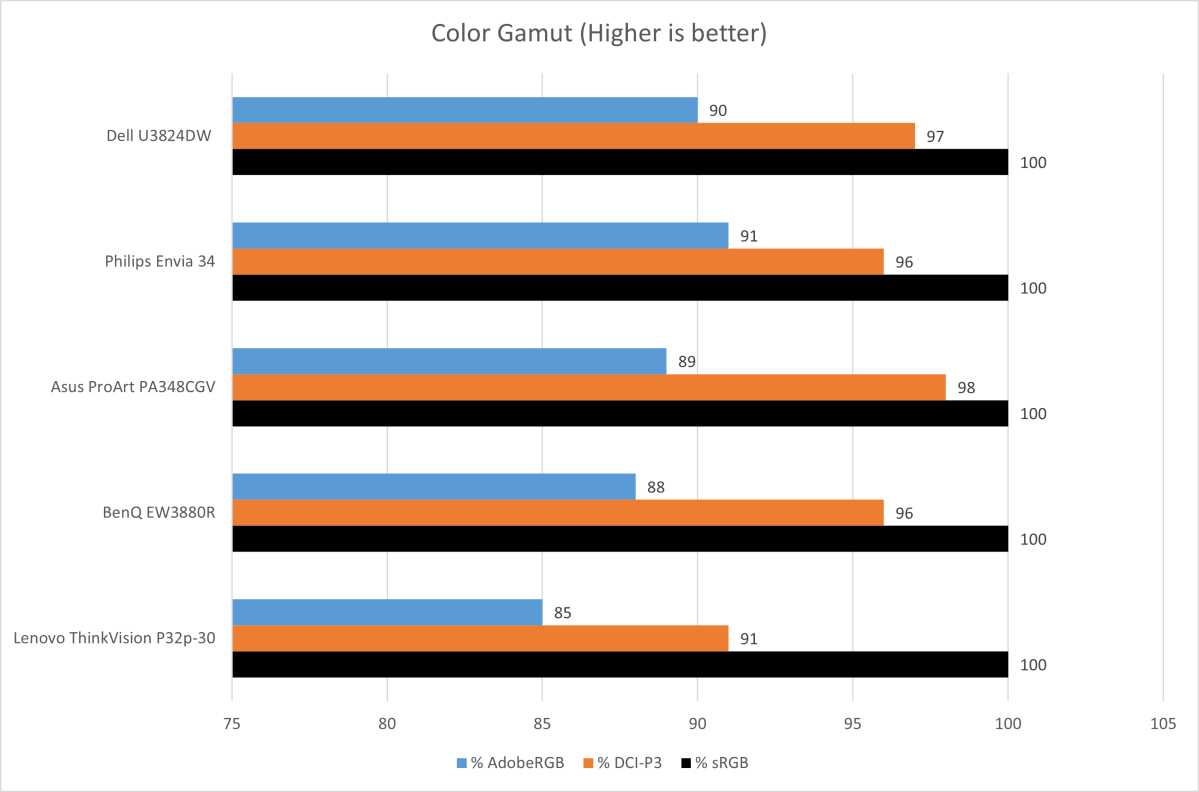 Matt Smith
Dell's color gamut is extremely strong for this category, covering up to 97 percent of DCI-P3 and 90 percent of Adobe RGB. These results are similar to the Philips Evnia 34 7000 and a bit better than most comparable monitors. The monitor's color gamut is suitable for most professional photography, videography, and other content creation tasks, and lends a vivid, vibrant look in day-to-day use.
Matt Smith
Color accuracy is merely okay out-of-the-box. The U3824DW offers a lot of image customization options, so errors in the monitor's color should be manageable with calibration. Still, I think Dell should step up its game on its factory color calibration. A monitor of this caliber shouldn't be defeated by less expensive alternatives.
The U3824DW achieved a default gamma of 2.2, which is precisely what we like to see. It indicates content should look about as bright as its creator intended. Color temperature came in at 6300K, which is a bit warm, and the monitor's default image is a tad reddish compared to most of its peers.
mentioned in this article
Asus ProArt PA348CGV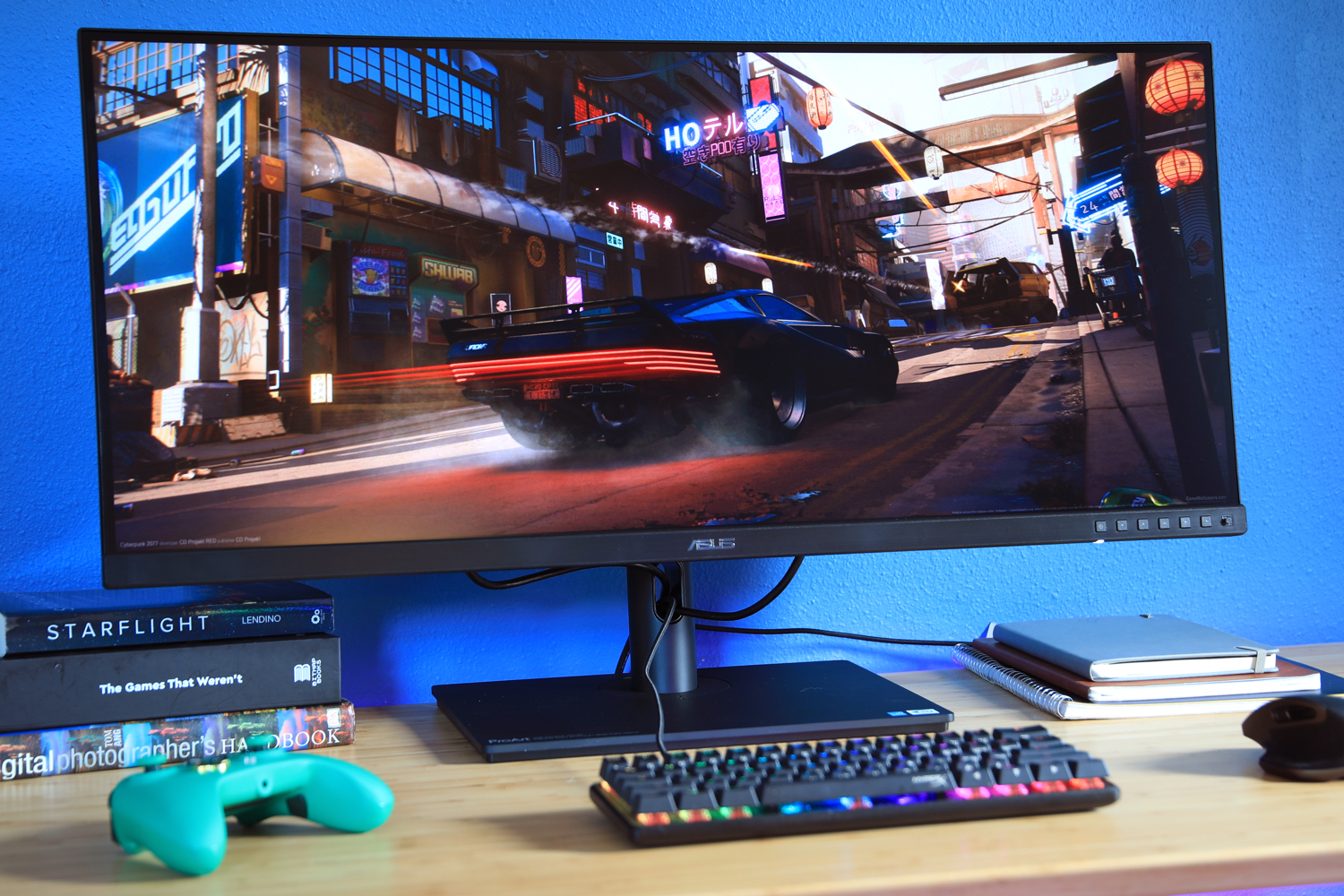 Price When Reviewed:
729.99
Sharpness is solid, as the monitor's 3840×1600 resolution provides a pixel density of 109 pixels per inch. That's essentially identical to a 27-inch 1440p monitor or a 34-inch ultrawide with 3440×1440 resolution. Unfortunately, native 4K content remains out of reach, as that requires a resolution of 3840×2160, but the U3824DW remains plenty sharp for productivity, web browsing, and gaming.
The Dell U3824DW's overall image quality is well-suited for both day-to-day office productivity and more demanding content creation tasks. Whether it's good enough to justify the price depends on your needs. Mini-LED monitors, like the Philips Envision 34, will deliver much better brightness and contrast at a comparable price—but they lack the U3824DW's extensive connectivity.
How is the Dell U3824DW's HDR image quality?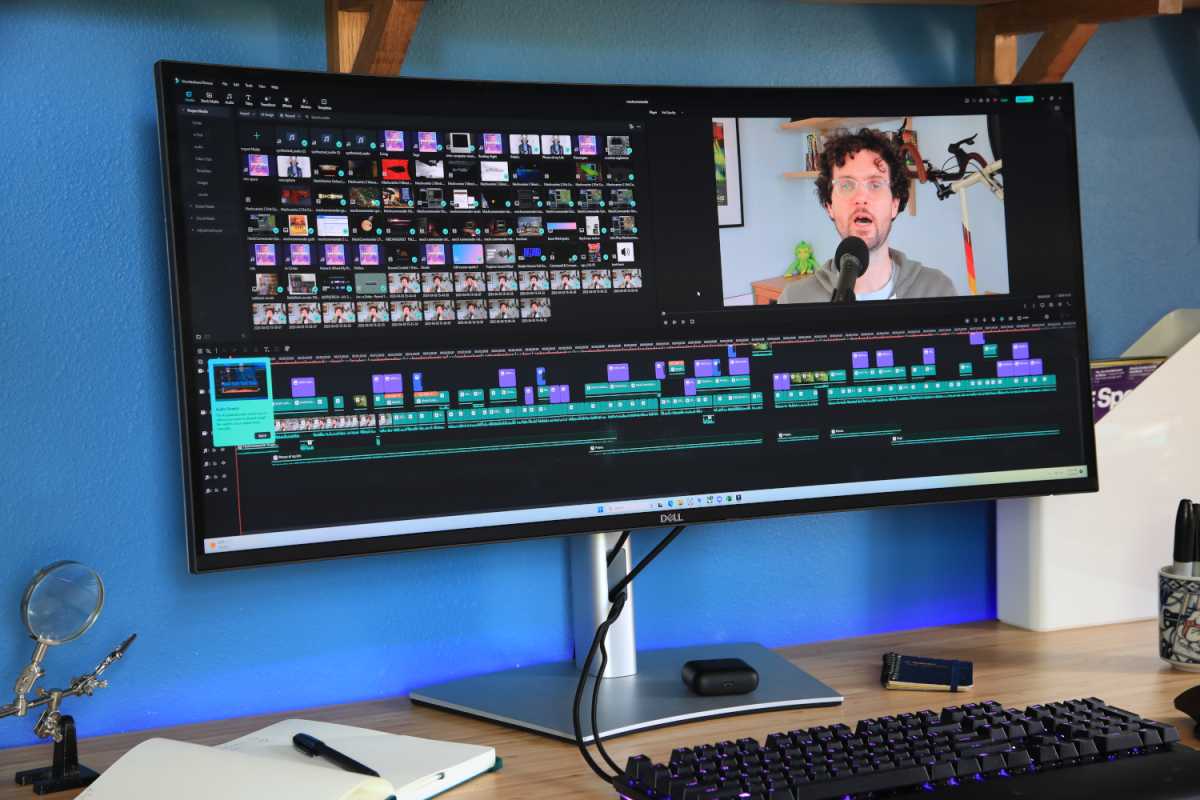 Matt Smith
The Dell U3824DW doesn't support HDR. This will prove a problem for content creators who plan to work on HDR content. However, it's clear that this monitor is not well-positioned to provide a good HDR experience, so I don't think the lack of HDR will disappoint most owners. Just keep it in mind when making your selection. If you want HDR, you're going to want to look at a Mini-LED or OLED monitor.
How is the Dell U3824DW's motion performance?
Gamers should give the U3824DW a pass. It provides a maximum refresh rate of just 60Hz and lacks Adaptive Sync. Games look quite good on the monitor thanks to its wide color gamut and solid sharpness, but fast-paced titles show a lot of motion blur. It's another trade-off for the monitor's extensive connectivity.
Is the Dell U3824DW worth it?
The Dell Ultrasharp U3824DW aims squarely at office productivity, and that's where it excels. It delivers a one-two punch of great image quality and extensive USB connectivity. These key features are supported by an easy-to-use menu and many image-quality customization options. Some nice-to-have features like HDR, an enhanced refresh rate, and Adaptive Sync are sacrificed, and that limits the monitor's appeal. However, those looking for a big ultrawide specifically built for work will find the U3824DW provides a wealth of connectivity and functionality unavailable from most competitors.
Best Prices Today: Dell U3824DW