I'm a cheap, cranky old journalist with two kids and not a whole lot of patience. Microsoft, bless them, caters to people like me via a Windows 10 and Windows 11 feature called Delivery Optimization, which should save me time, money, and bandwidth by using other PCs on my home network to download updates. But I haven't been able to get it work consistently, and boy, does that tick me off.
Chances are that you've never heard of Delivery Optimization, which should do one thing and do it well: if you download a Windows app or an update to any PC on your network, any other PCs on your network can download it from that PC, bypassing the Internet. This eliminates the need to download and re-download updates again and again. And why haven't you heard of it? Because it stinks.
If you live in a rural area, the mainstream tech press doesn't care about your problems. If you live in California, the media who live in the Northeast (which is to say, most of them) don't care about Delivery Optimization, because it doesn't cost them a dime just to re-download everything. Why? Because after Verizon provided unlimited bandwidth to FiOS users, Comcast was pressured into eliminating its data caps with most of the Northeast states after first suspending them during the pandemic. But that benefit isn't available to anywhere else Comcast serves, which sucks.
If you're not willing to pay your Internet provider for unlimited data (and why should you?) all of that extra data costs money. For my family of four, Comcast Xfinity allows me 1.2TB a month, which goes fast with a pair of near-teenage boys and a media-savvy wife. Beyond that, I'm charged $10 for every 50GB I go over. For games and video, that adds up.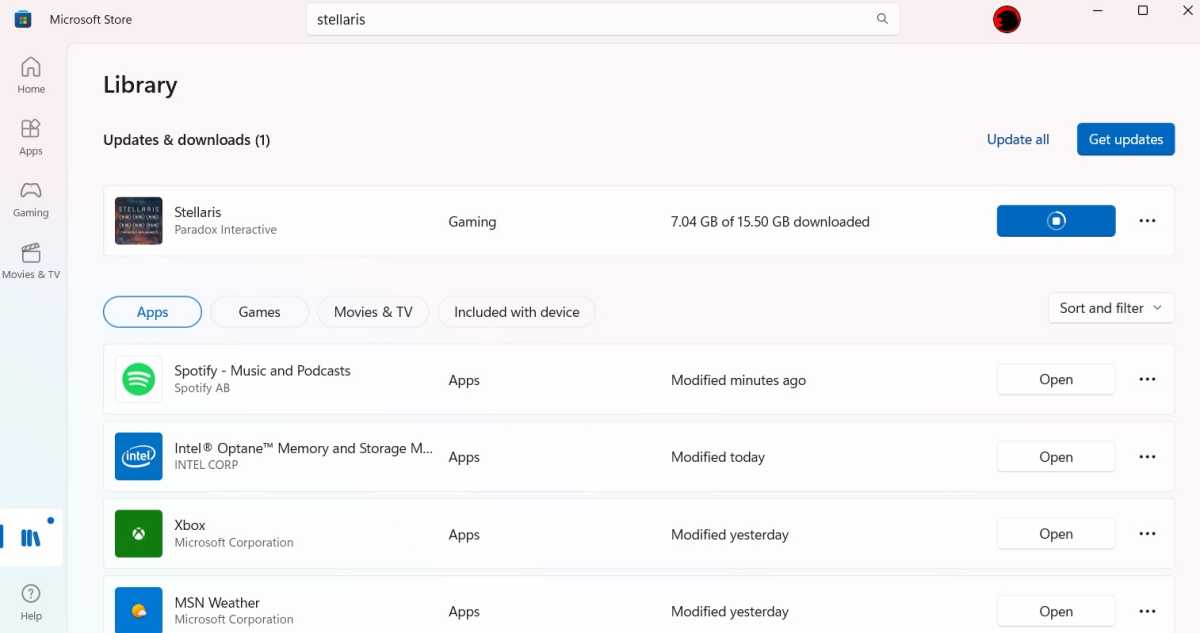 Mark Hachman / IDG
Meanwhile, I have a few laptops that I use for testing. I'll play a game on the Xbox or on the PC. That adds up, too.
Delivery Optimization should help solve that problem. Within the Windows 10 and 11 Settings menu, you can toggle Delivery Optimization on using Settings > Windows Update > Advanced options > Delivery Optimization and the toggle to "allow downloads from other PCs." Two more links appear near the bottom of the page: Advanced Options and Activity Monitor, which allow you to actually manage the amount of data your PC uploads and downloads from the Internet, versus what it receives from your nearby PCs.
For whatever reason, though, only a tiny fraction of my downloaded updates arrives from other PCs on my network, if that. Neither am I uploading anything to those PCs, or even to the Internet, though I've had that option toggled on, too. I feel the frustration of this random soul, who bemoaned the fact that all anyone ever searches for is how to turn Delivery Optimization off, rather than on.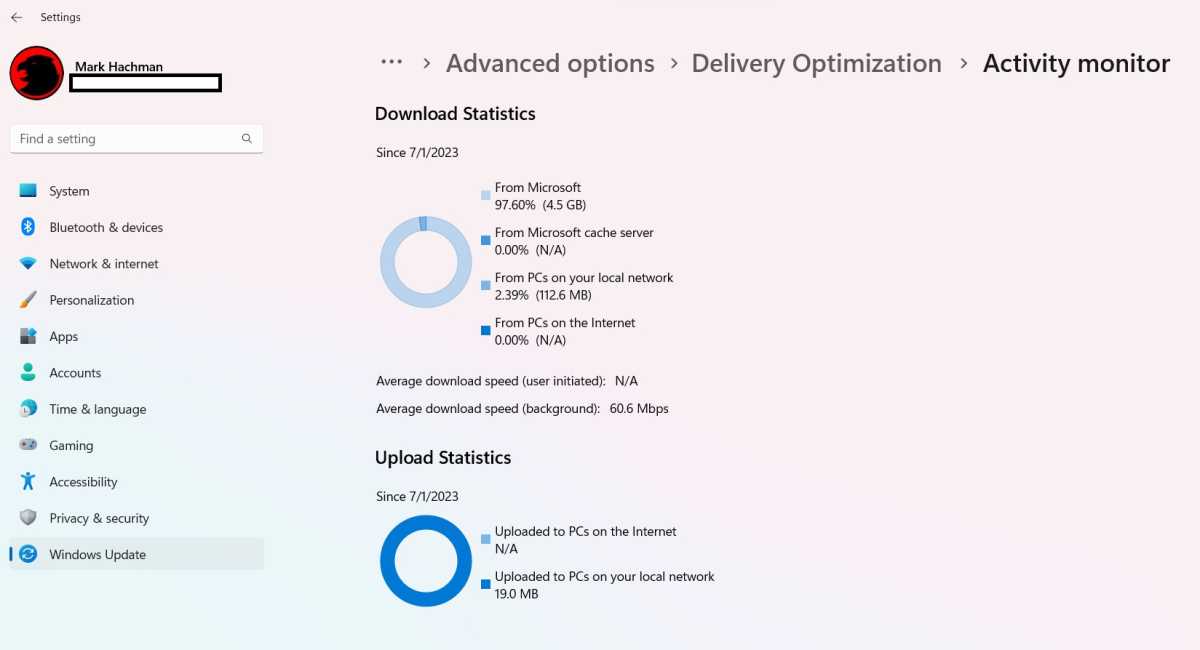 Mark Hachman / IDG
There are two ways to help determine whether or not Delivery Optimization is running: first, open the Run menu (Win + R) and enter services.msc . You should see a list of services on your PC, along with their status. The Services window identified the Delivery Optimization service as running, and set to begin automatically. So, no luck there.
I also tried a method suggested by Brien Posey of TechGenix: Open an elevated PowerShell session and enter the following command: Get-DeliveryOptimizationStatus . That should produce an output where you can check the number of client peers from which the download originated. It should hopefully more than 0, which signifies that just the Microsoft server was used.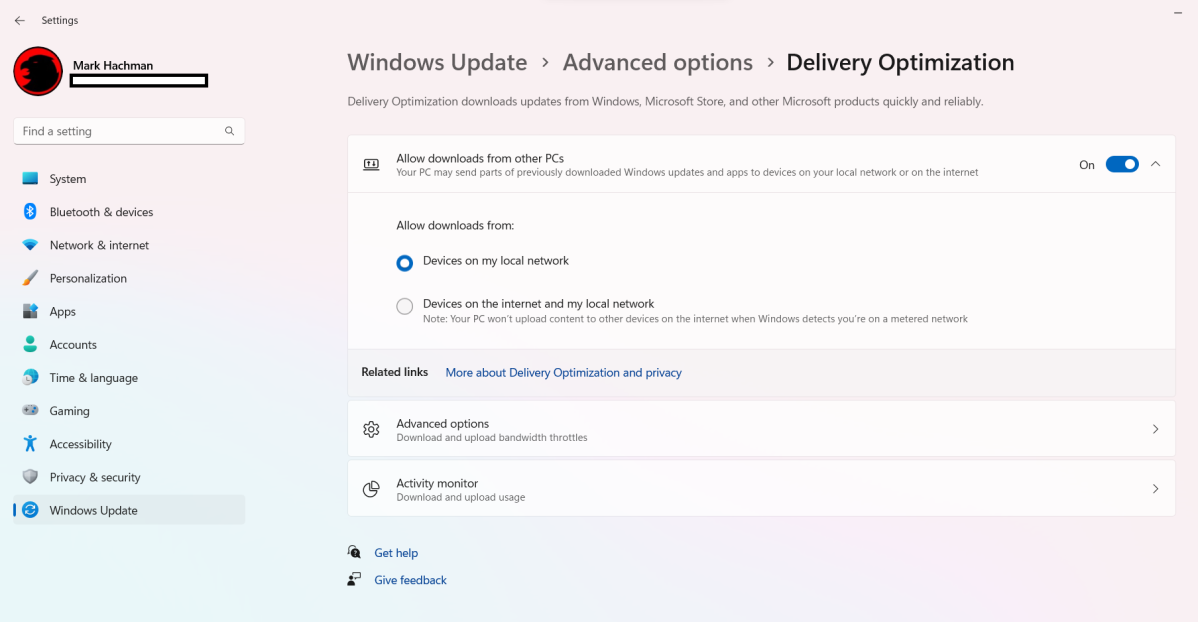 Mark Hachman / IDG
Neither method seemed to tell me whether or not Delivery Optimization was working. And yet, my Windows Update delivery monitor indicated that it did work, though for just half a gigabyte or two. But why? And on what files? I don't know. Something happened, though nothing meaningful. So yes, it feels like Delivery Optimization is just taunting me.
The trouble with sharing apps and data among multiple PCs is the fact that the connection can be extremely sensitive to a variety of factors: whether they're on the same network, whether devices are protected by a firewall, the versions of Windows each device is running, and so on. Those are some of the issues you have to manage with an app like Mouse Without Borders, for example.
Some of this falls upon the user's shoulders. But Microsoft's rather skimpy Delivery Optimization support documents focus on managing Delivery Optimization, or at least managing user concerns that their PC will unwittingly spray data all over the Internet. There's really not all that much about what to do if Delivery Optimization simply fails to work.
Mark Hachman / IDG
The problem, though, is a real one. Not all of us benefit from multi-gigabit Ethernet service. Maybe Microsoft engineers do, working from their campus in Redmond or via high-speed connections from their homes. But many workers still work over slow, remote, Internet connections with limited data caps. If the FCC won't work to eliminate data caps entirely, than maybe Microsoft can help out those of us who have to put up with them.