One of the biggest issues with the new crop of "artificial intelligence" tools is that of attribution: No matter what output you're looking for, the text and images that generate it has to come from somewhere, generally writers and artists that go unattributed. At least a small part of that problem might be solved with Stability AI's latest product. Stable Doodle, based on the popular Stable Diffusion AI system, generates fully-rendered artistic works, but uses your own drawings as a baseline.
The results are impressive. A quick and sloppy doodle on my iPad resulted in the above set of rendered AI images, at least one of which wouldn't get a second glance as a bit of corporate art in an office or slapped on a greeting card. Stability AI says that "anyone with basic drawing skills and online access can generate high-quality original images in seconds." We've seen similar tools before, like Nvidia's Canvas, but nothing quite so fast or dramatic.
Stability's claim seems to hold true, but the tool isn't as wide-open as it initially seems. In addition to a base image, Stable Doodle asks for a text prompt to generate images, a sort of hint for the AI system if it can't tell your Picasso scribble is supposed to be Don Quixote. Deliberately skipping the text prompt made my "doggy" look like the kind of slightly unsettling mishmash you might associate with AI art from two or three years ago. It also seems to be leaning a lot more on the text than the image if it's unsure of things. Replacing my doggy image with a slapdash spaceship, but keeping the "doggy" text promp, resulted in…more dogs. Dogs which were notably lacking in spaceshipy features. One of them even had an AI-generated "signature."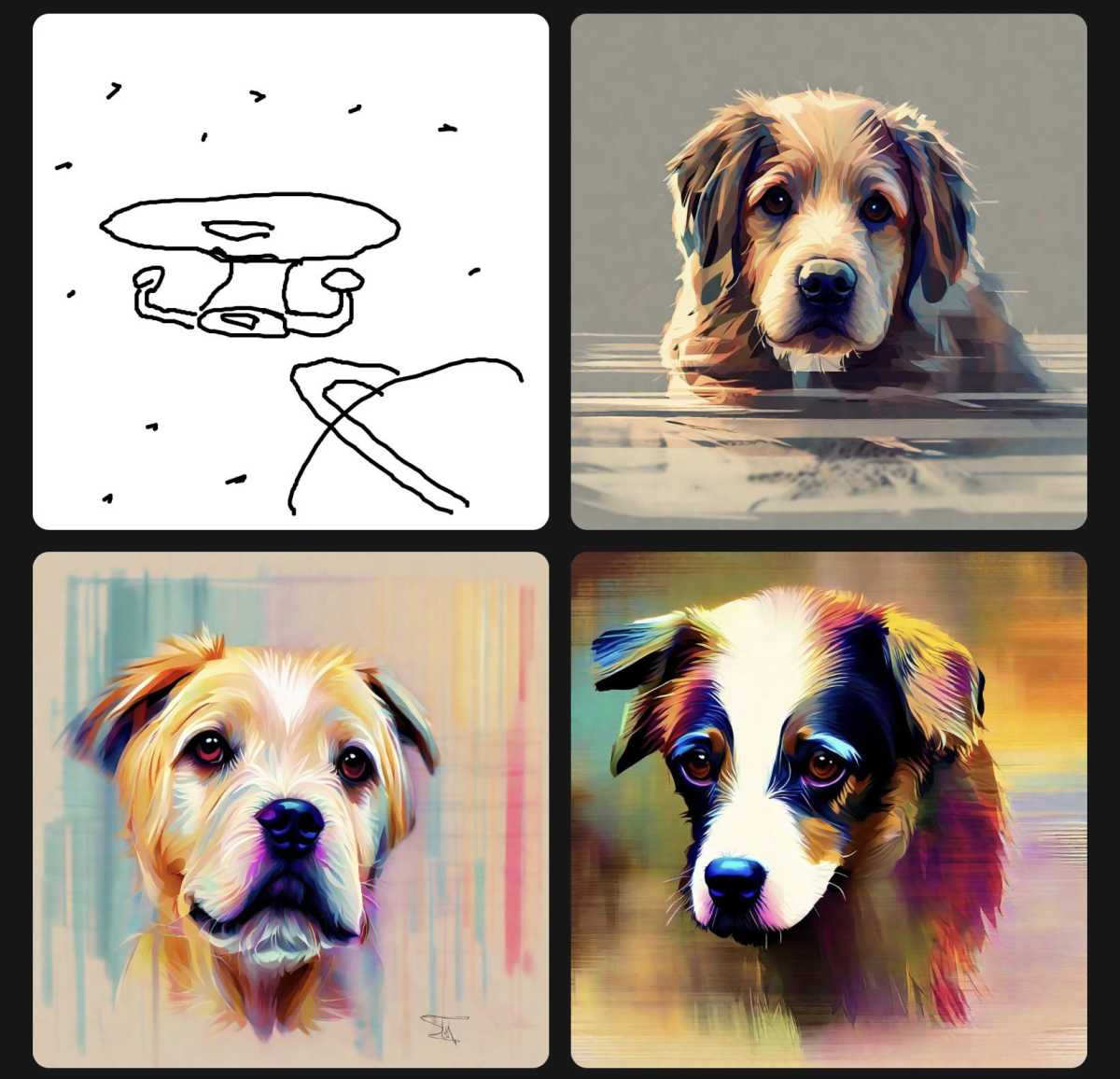 Michael Crider/Foundry
For further guidance, users can choose among a handful of pre-selected styles, from digital art to photorealistic images to the rather on-the-nose "origami." Presumably all of these styles are based on specific sets of trained images, so the issue of attribution (or lack thereof) rears its ugly head once again. Sometimes the output seems to be wholly generating its own images, with little to no guidance from the doodle.
Even so, it's fast and high-quality, so it might find a set of eager users. Once low-resolution preview images have been generated, you can select one to download in HD quality. Stability AI imagines Stable Doodle as a way for laymen to quickly create high-quality images for "presentations decks and websites, or even create logos," a representative told TechCrunch. You can try the service out now, though you'll need to create a free account to get more than one set of image previews.