Starfield is the next big game (and the first new IP in a long time) from Bethesda Game Studios, the iconic developer behind the Fallout and Elder Scrolls series. The release is eagerly anticipated, and many gamers can hardly wait to discover the vast universe of Starfield.
But that wish might not come true for all PC gamers: Bethesda published the system requirements for Starfield on Steam a few weeks ago and they show that even for low graphics settings, a reasonably high-performance gaming PC is required.
Starfield – System requirements on Steam
| | Minimum requirements | Recommended |
| --- | --- | --- |
| Operating system | Windows 10 version 22H2 (10.0.19045) | Windows 10/11 with updates |
| Processor | AMD Ryzen 5 2600X, Intel Core i7-6800K | AMD Ryzen 5 3600X, Intel i5-10600K |
| Memory | 16GB RAM | 16GB RAM |
| Graphics | AMD Radeon RX 5700, NVIDIA GeForce 1070 Ti | AMD Radeon RX 6800 XT, NVIDIA GeForce RTX 2080 |
| DirectX | Version 12 | Version 12 |
| Memory | 125GB available memory | 125GB available memory |
| Other | SSD required | SSD required |
In addition to a graphics card on the level of an AMD Radeon RX 5700 or Nvidia GeForce 1070 Ti, a RAM configuration of at least 16GB is required. That is also sufficient for the recommended requirements, however. You should also free up plenty of space on your SSD, because at least 125GB is required. And we deliberately wrote "SSD" and not "hard drive," because Starfield is perhaps the first game that requires an SSD to play.
the best pcie 4.0 ssd
WD Black SN850X

These system requirements are still very vague so far and do not give us exact information about what resolutions and levels of detail they're designed for. Our guess is that the minimum requirements should apply to gaming in 1080p at low settings, while "Recommended" probably applies to 1440p gaming at high settings. For 4K gaming, even the recommended components are unlikely to be sufficient. Bethesda is expected to announce more details as the launch gets even closer.
Further reading: The best SSDs
Bethesda publishes system requirements again, only with AMD components
Steam isn't the only place Bethesda released Starfield's system requirements, though. As part of its partnership with AMD (so Starfield comes free with the purchase of some AMD components), Bethesda has released a slightly more detailed specifications sheet, but it only includes AMD components.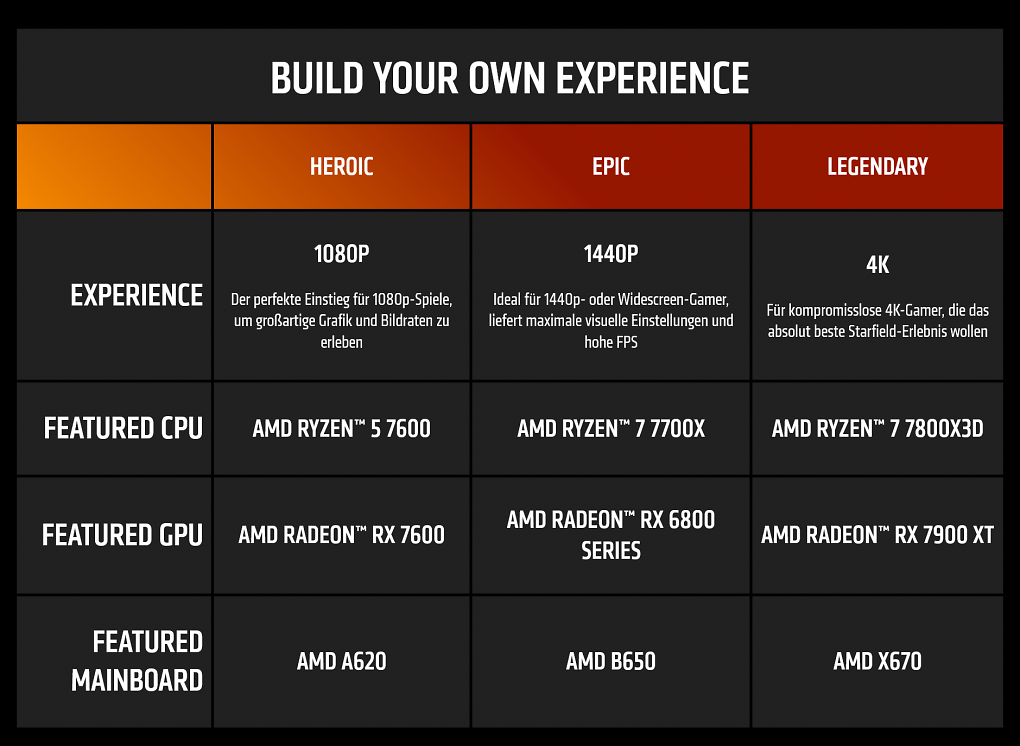 Bethesda Game Studios/AMD
At least these AMD-centric system requirements reveal which graphics settings can be achieved with the listed hardware. These are not your classic minimum and recommended settings, as the PC configurations are supposed to be able to achieve high frame rates at high settings in their respective resolutions.
This article was translated from German to English, and originally appeared on pcwelt.de.